We switched web hosts again today, just after signing up with Synthesis hosting last week. While one can argue that one short week is not long enough for anyone to provide substantial feedback about a specific platform, we'd like to share a few insights regarding why we decided to make yet another switch, specifically as they relate to Synthesis Hosting's strengths vs. limitations.
To give you some background information, we're not affiliated with Rainmaker Digital LLC (update as of September 19, 2015: we became Rainmaker Platform affiliates as we have no complaints 2 months into it) in any way other than being paying subscribers of their products. To make things more interesting, we were able to test out three of their products: The Genesis Framework (affiliate link), Synthesis, and The Rainmaker Platform (affiliate link), during a very serious time of need–when our website got hacked. While we certainly wouldn't wish this upon anybody, getting your website hacked is one of the best times to assess the effectiveness of certain products, especially the ones that claim that they have awesome security features.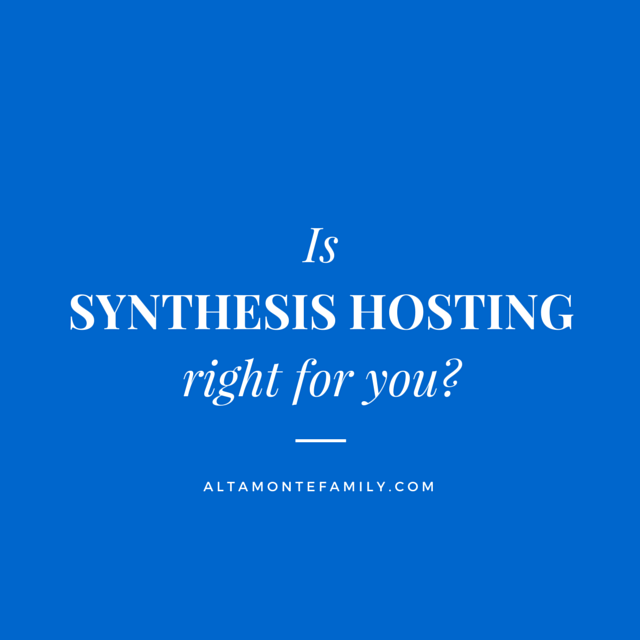 Our Short-Lived Experience With Synthesis Hosting
We know, we know–the above header makes it sound like we're dissatisfied with Synthesis hosting.
It's actually quite the contrary–we're pleased to report that after 1 week of being with Synthesis (and doing the grunt work to clean up our hacked site), Google finally removed our manual spam action earlier this week. We previously shared a screen shot of how Synthesis hosting made a huge impact on our crawl stats as seen on our Google Webmaster dashboard (we're sharing the screen shot with you again, below).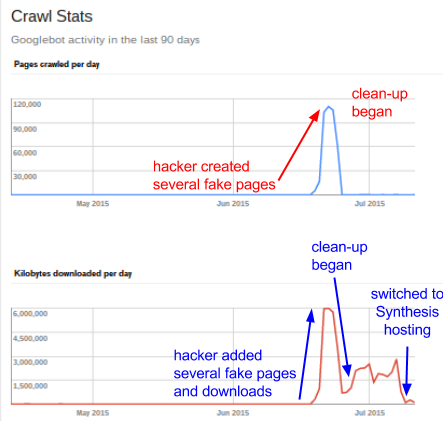 As it turns out after the hack, Google bots started to astronomically crawl our site because the hacker created several fake pages. The number of pages crawled per day dropped after we essentially removed all of our pages (since our site was only 2 months old at the time), however, something was still using up our (previous) server's bandwidth despite the removal of these pages.
NOTE: We're not subject matter experts, so this whole bandwidth usage thing is beyond us. However, it really did seem odd that the "kilobytes downloaded per day" continued to increase despite the pages being taken down! During that same time period, we could see the hacker(s) returning / attempting to re-infiltrate our site, every single day! That's when we decided to switch to Synthesis hosting. The result? We saw the drop in "kilobytes downloaded per day", immediately.
Synthesis Hosting: Its Strengths
Because of our short-lived relationship with Synthesis, we're not able to provide a comprehensive list of strengths. However, we certainly can provide you with a list from the perspective of a website owner who recently suffered (still suffering, mind you) from a WordPress hack.
WordPress Security.  It seems that Synthesis does a great job with this as they claim to constantly monitor their servers against malicious attacks. We haven't seen any red flags on our site lately, and as we noted above, Google has removed not one but two of our manual penalties, after we made the switch to Synthesis hosting.
Brute Force Protection.  We haven't gotten locked out of our own WordPress Admin dashboard (anymore) due to several brute force attempts by multiple hackers.
WordPress Admin Dashboard Security.  Because Synthesis has removed the Theme Editor function from the WP Admin dashboard, hackers would have to find another way to infiltrate a WordPress site. This also presents a limitation for the WP user (which we will cover under "Limitations").
Fast Load Times. Our site loads incredibly fast on our devices–desktop, laptop, tablet / iPad, and smartphone.
Uptime. Contrary to our previous host when we experienced several "Website Temporarily Unavailable" notifications or super-slow load times following the downtimes, Synthesis hosting has kept our website happy and healthy for the 1 week that we were with them.
Support. While we no longer get the 24 x 7 chat support (as we did with our previous host), Synthesis would send us email replies sometimes within minutes and often after a few hours (but no more than 4 hours) after we submit a ticket. Although the response time may be inconsistent, the quality and professionalism of the response have always been excellent. There were times when we saw the results before they even had the chance to reply (they fixed the problem before deciding to contact us)!
Compatibility With VaultPress.  We use VaultPress to backup our files in addition to Synthesis' built-in backup system, simply because we believe it's always good practice to have a third party backup system in place. When we switched to Synthesis hosting, all we had to do was reconnect VaultPress via our new WP Admin dashboard and select their one-click restore! When we ran into migration problems due to caching, Synthesis was quick to fix it for us! Our website was up and running (like nothing changed) within minutes.
Synthesis Hosting: Its Limitations
Our initial experience with Synthesis wasn't all that rosy, however. As with anything new, there are adjustments that you will need to make along the way.
Here are a few limitations that we found:
Theme Styling Limitations.  Genesis premium themes don't have a lot of built-in styling options unless you know how to make changes using the Theme Editor (or you purchase premium plug-ins). Because Synthesis has removed the Theme Editor from the WP Admin dashboard to reduce security risks, we had to do the changes via FTP. While others prefer doing it this way, we found it to be a minor inconvenience, especially when our focus should be on creating content and promoting it so that we could start reconnecting with our readers.
The Added Cost of Plug-In's.  Although of no fault to Synthesis, we would need to purchase more plug-in's in order to accomplish our website's goals and objectives.  We found ourselves spending hours researching and vetting new plug-in's to reduce our security risks. We were actually ready to make several new plug-in purchases until we suddenly realized the opportunity cost involved in researching, vetting, purchasing, and maintaining these plug-in's!
The Importance Of A Solid Web Host and WordPress Security
Nearly a month has gone by since our website got hacked. We would like to get back on track soon, and we would like to do so with a solid foundation–a solid web host. While it's financially more costly to do so, we feel that it's worth the investment so we can focus more on building great content to better serve our online community. All of these security, maintenance, and web design details have been draining our creative juices as well as our time and resources; it's better to leave the job with trusted experts so we are not overleveraging our skills, talents, and abilities. More importantly, we do not want to put our readers at risk whenever they visit our website. Sure, we may lose readers as we start "gating" our free content in exchange for an email address to provide access to our free library. Security comes with a price–we don't want to make it too easy for hackers to easily access our downloads and exploit them. Of course, they can always find different ways to do bad things; we just don't want to wave a flag at them identifying ourselves as easy targets.
So, Who's The New Web Host?
We have been thinking of testing out the new The Rainmaker Platform (affiliate link) for a few weeks now, most especially after experiencing the tragic effects of a hacked site not that long ago. Instead of directly signing up with Rainmaker, we decided to give Synthesis hosting a try, first. After all, we reasoned, we already own all of the Genesis premium themes, and Genesis, Synthesis, and Rainmaker all belong to Rainmaker Digital LLC, as noted above. We wanted to observe how Synthesis fared while we were trying to repair our hacked site, before taking the leap to upgrade to the new Rainmaker platform (which, by the way, is hosted on Synthesis).
The verdict?
So far, so good (with a few adjustments, as expected); it's only Day 1. We'll be sharing our initial assessment regarding the new Rainmaker platform with you, soon. In the meantime, feel free to check out Rainmaker Platform's FREE TRIAL (affiliate link in the image / banner, below) while it's available!
Looking Ahead
We remain optimistic about keeping our young website alive. We know that in time, God will give the increase. In the meantime, we will continue to sow so that in due time, we will be ready to reap God's fruit 🙂 We are not giving up!
And let us not be weary in well doing: for in due season we shall reap, if we faint not.

Galatians 6:9 KJV
Disclosure: Unless otherwise noted, AltamonteFamily.com is by no means affiliated with any of the companies or organizations mentioned in this article. AltamonteFamily.com has not been compensated in any way nor has AltamonteFamily.com been influenced to write about these products. This post is a result of the personal observations and independent research of members of AltamonteFamily.com. All opinions solely belong to AltamonteFamily.com.