Our kids love to create their own recipes by trial and error, especially when it comes to using the Blendtec blender to make their own smoothies and milk shakes. They would happily peruse through the Blendtec recipe book, looking for easy recipes, and would then suggest things to add to our grocery list!
Of course, we don't let them use the Blendtec unsupervised, although it doesn't really have any sharp blades. It is, however, very powerful and super loud! The plus side? It's easy to use and easy to clean!!! It's our kind of blender!
Anyway, our kids decided to come up with their own version of the White Chocolate Banana Nut Milk Shake. They looked at the available ingredients at home (well, there's a bias here–let's say, they selectively looked at the ingredients that they liked the most), took note of the measurements, and threw them in the blender. They pressed the "Smoothie" button, added the topping–and viola! They have a milk shake!
Of course, they could only dream that anything that they'd decide to throw into the Blendtec would turn into ice cream, as long as they pressed the "Ice Cream" button 😉
Well, this milk shake is the closest to ice cream that they were able to create on their own, without the aid of any recipe book. Feel free to try it for yourself–it's a pretty sweet treat, especially with the Sunshine State's scorching summer heat!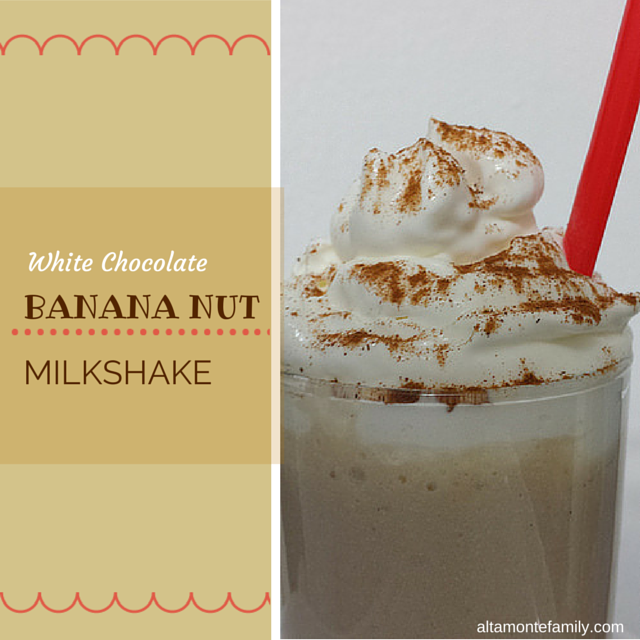 RECIPE: White Chocolate Banana Nut Milk Shake
Serving size: 1 milk shake
Ingredients for the Milk Shake
8 oz unsweetened almond or coconut milk
1 large frozen banana
2-3 drops pure, organic vanilla
+/- 1/8 cup White Chocolate Chips
Ingredients for the Topping
Coconut milk whipped cream
Ground cinnamon and / or organic raw cacao powder
Directions
Combine all of the milk shake ingredients in a Blendtec blender and select "Smoothie" (any other blender will do)
Add the whipped cream
Dust with some ground cinnamon (or organic raw cacao powder)
Enjoy!!!
Disclosure: As of the time of writing this post, AltamonteFamily.com is by no means affiliated with any of the companies or organizations mentioned in this article. AltamonteFamily.com has not been compensated in any way nor has AltamonteFamily.com been influenced to write about these products. This post is a result of the personal observations and independent research of members of AltamonteFamily.com. All opinions solely belong to AltamonteFamily.com.