This shop has been compensated by Collective Bias, Inc. and its advertiser Honeywell.
All opinions are mine alone. #ConnectYourHome #CollectiveBias
---
If you've ever experienced any water damage before, you know very well that it's a serious threat. It not only destroys the structure of your home but also the stuff inside it. In some cases, the damage may extend to your neighbor's property. Not fun, especially when you have to pay for all of the damages and repairs–including your neighbor's bill. Been there! We also had to cancel our baby shower last year when our new-ish water heater started leaking in our garage. Taking care of our home is an ongoing learning process, and we're here to share some of that knowledge with you with simple ways to keep an eye on potential water damage in your home–including an easy and affordable way to leverage technology for early detection using the Lyric™ Wi-Fi Water Leak and Freeze Detector by Honeywell!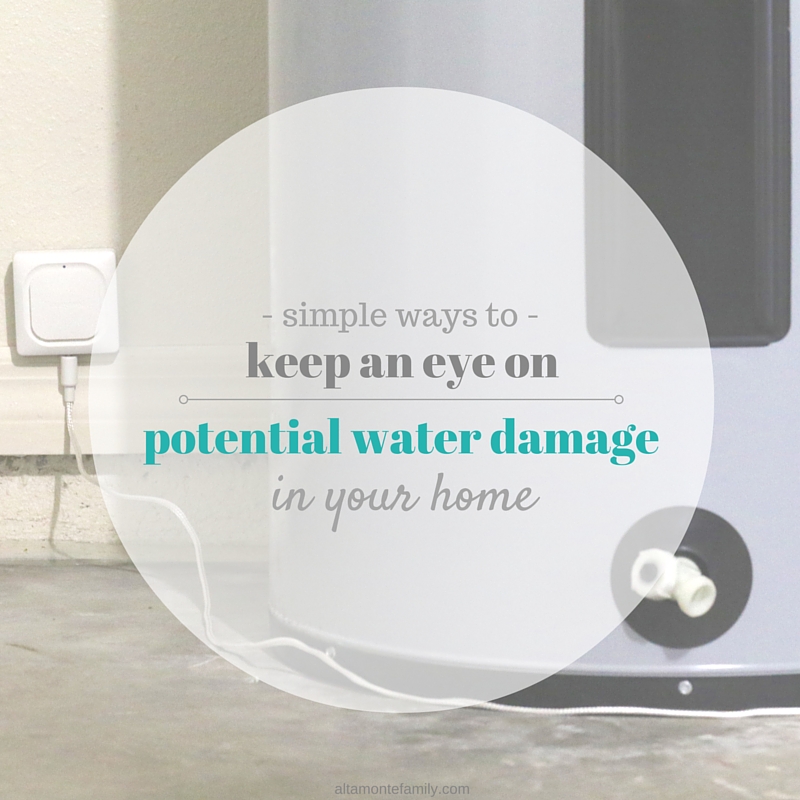 5 Ways To Keep An Eye On Potential Water Damage
We know about the challenges involved in monitoring and maintaining a home, especially with a busy work and personal life! It's difficult to constantly keep an eye on everything: Are the gutters full of leaves? Which light bulb went out this time? Which door isn't closing all the way? While we can't have physical eyes on our home at all times, we can take simple steps to monitor our home (with the help of technology) as well as ensure that we're not contributing to the problem.
These 5 tips are all about early detection and prevention:
Tip #1:  Monitor water-related appliances and pipes
We travel a lot, so worrying about what could possibly go wrong both outside and inside of our home while we're away is not foreign to us. Honeywell's Lyric™ Wi-Fi Water Leak and Freeze Detector is our newest addition to our lineup of cool devices that make for a smart home to give us an added peace of mind. It's an easy way to monitor water-related appliances and pipes to reduce the risks of leaks and frozen pipes. Here's a quick video to see how it works:
If you like receiving alerts and notifications about the important stuff on your smartphone or tablet, then this smart device (along with Honeywell's suite of connected home devices, which includes the Lyric™ thermostat) is certainly worth your attention! While the Lyric™ Wi-Fi Water Leak and Freeze Detector can't stop the water damage, the immediate alerts can potentially offer us time to do something about the potential water leaks and pending issues (the device syncs to an app on your smartphone). We'll get to the easy installation process in a bit.
Tip #2:  Clean your roof gutters regularly
All those leaves that are building up on your roof? They not only weaken the integrity of your roof; they also clog up your gutter, causing water to gush out onto the sides of your home. This is bad for your siding as well as your foundation… not to mention potential roof leaks. This also makes for damp conditions, which encourage rot, mold, and insects–not good!
Tip #3:  Stay away from unclogging chemicals
While unclogging chemicals offer a quick-fix solution, they're also a great example of "out-of-sight-out-of-mind". Here's what we don't see: they're eating away at the pipes, setting us up for future leaks. This is when small issues suddenly turn into big problems. Investing in an inexpensive drain snake would be the better alternative, although it will require a bit more of your time.
Tip #4:  Avoid pouring grease down your kitchen sink
Just as the bad fats clog up our heart and arteries, the pipes (and septic system, if you have one) in our home are at risk for blockage and damage when we pour grease down the kitchen sink. What we don't see: the grease can congeal and cling onto the pipes. A simple solution would be to save empty wide-mouthed jars or cans and use them to store the grease until it congeals. Then, scrape it off and dump it into the trash (we prefer to do this just before our scheduled trash pick-up). Don't forget to save those containers for the recycling bin 😉
Tip #5:  Check your water bill
Unless you have a well or catchment system, monitoring your water bill is a very easy way to detect any possible water leaks in your home. This is one of those bills that we do not set to auto-pay.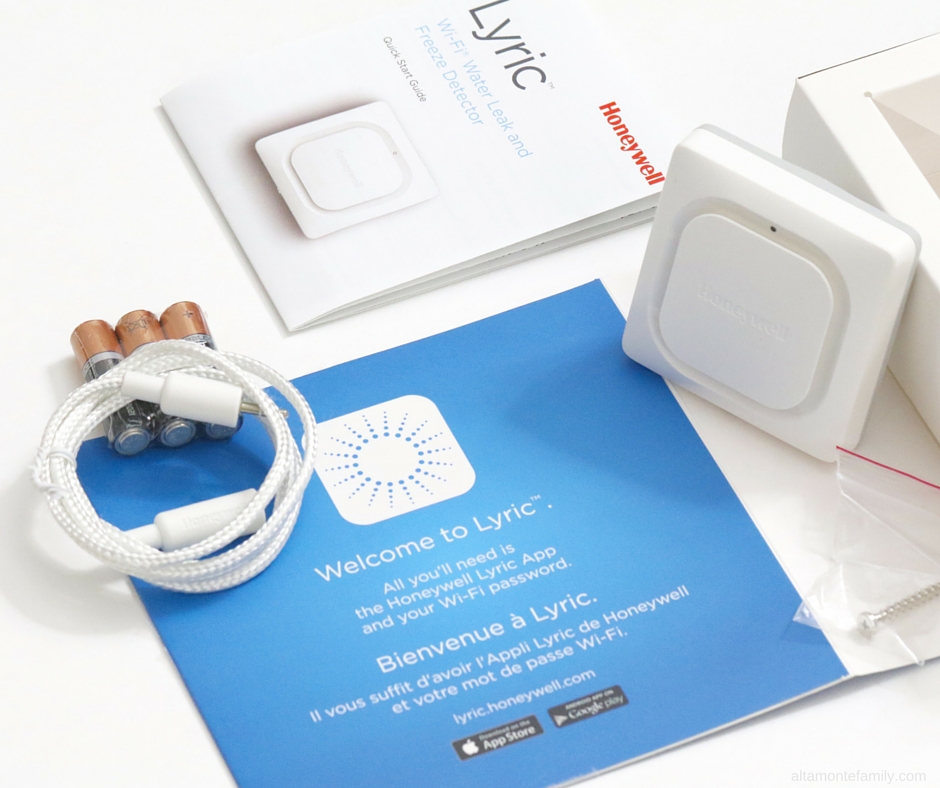 Lyric™ Wi-Fi Water Leak and Freeze Detector Installation
Don't be intimidated–really. The Lyric™ Wi-Fi Water Leak and Freeze Detector is a user-friendly DIY Home Protection solution. Like other smart devices we're familiar with, it directly connects to our home's Wi-Fi (no extra hub required) and it's so easy to install in minutes!
The Lyric™ App
Installation is as easy as downloading the Lyric™ App on your smartphone or tablet and allowing it to guide you through the simple set-up with step-by-step instructions.
From the Lyric™ app, you can see all of your Lyric™ Water Leak and Freeze devices and even control your Lyric Round Wi-Fi thermostat to prevent possible freezing. You can also set who will receive notifications (which can include a trusted circle of friends, family, and/or neighbors who can help with monitoring water-related issues in your home while you're away). We love how the device allows us to lean on others more efficiently, especially when we're traveling!
Before installing the Lyric™ Wi-Fi Water Leak and Freeze Detector…
Before installing the detector, we first tested it by following the instructions on the Quick Start Guide to connect and configure the device.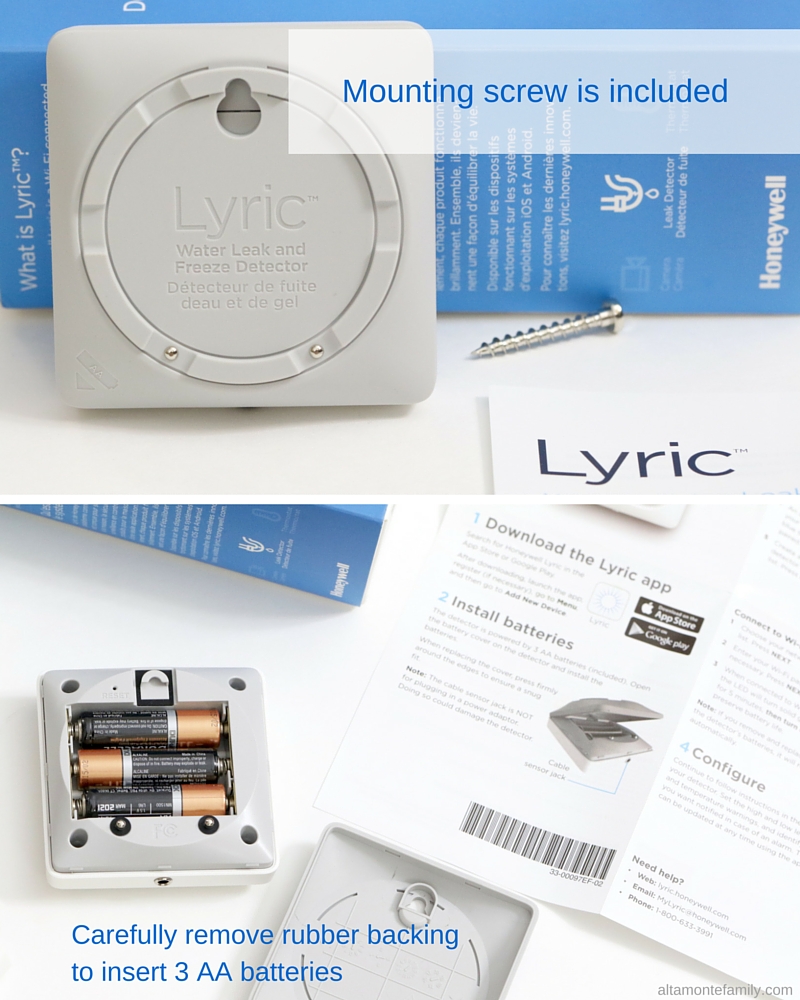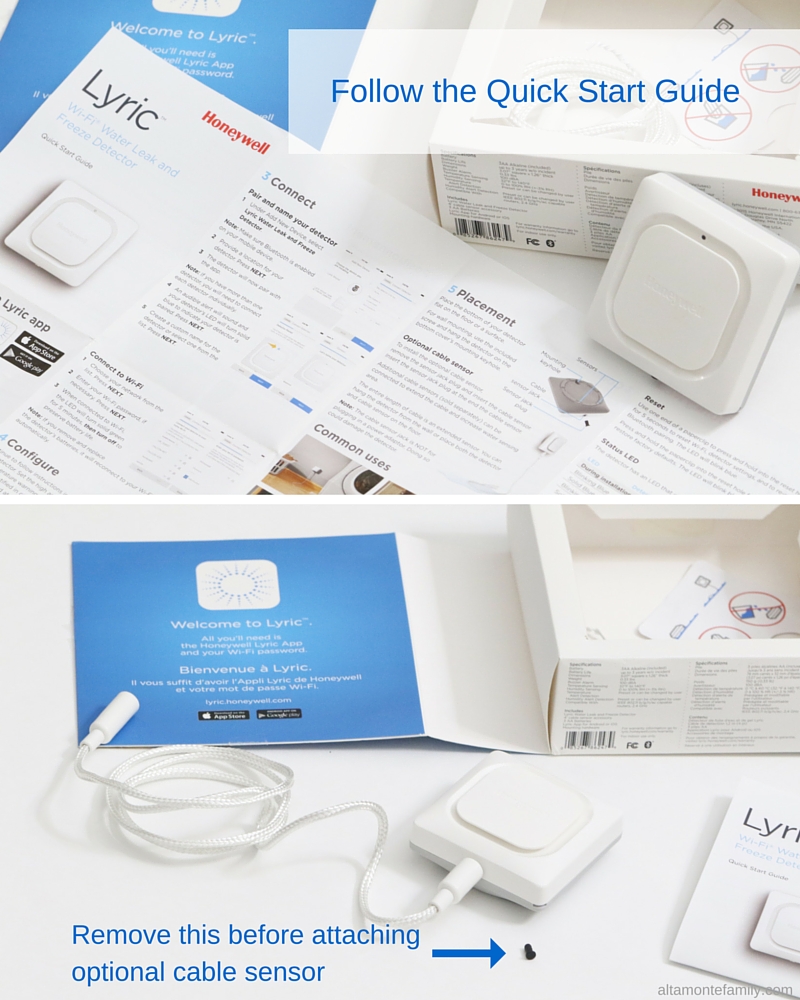 As you read through the Quick Start Guide, you can test your device before continuing to Placement (Step 5).
To test the Lyric™ Wi-Fi Water Leak and Freeze Detector, we placed it in shallow water, with sensors down.
IMPORTANT: Do NOT dunk or submerge the device in water. Do NOT pour water over the device!
Installing the Lyric™ Wi-Fi Water Leak and Freeze Detector is easy!
We placed the Lyric™ Wi-Fi Water Leak and Freeze Detector where it can keep an eye on the culprits and monitor dampness so that it can do what it's designed to do: to give you an early alert and potentially avoid unexpected costs and unforeseen damage caused by flooding.
Choosing A Location
We chose to mount our device in the garage right next to the water heater (since we've had water heater problems before and have since replaced said water heater) and wrapped the water-sensing cable around the water heater.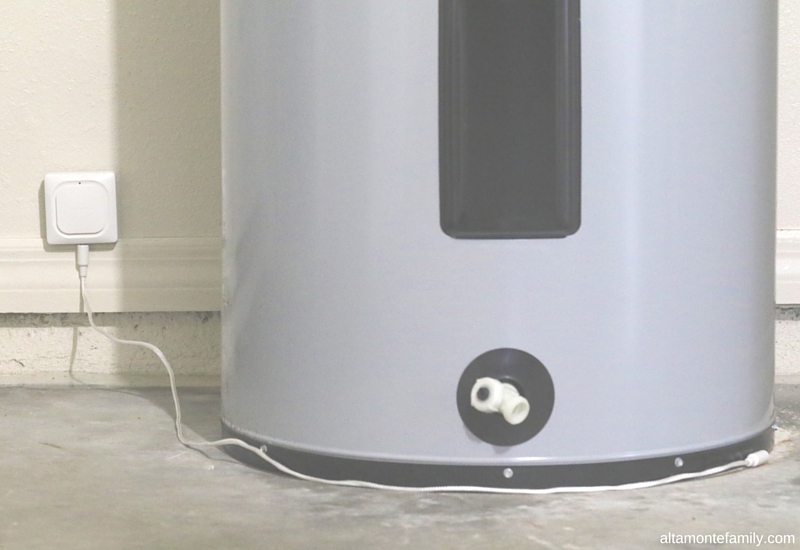 Here are other good locations for the device: near the washing machine, dishwashers, toilets, sump pumps, and under sinks. The Lyric™ Wi-Fi Water Leak and Freeze Detector monitors dampness and detects conditions that can lead to freezing pipes or impending moisture issues through built-in temperature and humidity sensors.
Ready to take the next step into turning your home smart?
We know firsthand how early detection helps us to potentially save lots of money. Here's what we love about the Lyric™ Wi-Fi Water Leak and Freeze Detector:
It's Bluetooth- and Wi-Fi enabled
It's mobile-friendly (it syncs seamlessly with the Lyric™ smartphone and tablet app)
It provides an early warning system whether we're in or out of the house (it gives off a loud 100 dB siren for when we're at home as well as provides mobile alerts)
It's battery-operated (with up to 3 years of AA battery life)
It's reusable (after the Lyric™ Detector has sensed water, it can be reset to continue monitoring for future water and moisture problems)
It comes with a 4-foot water sensing cable (which can be placed around objects and along floors, cracks, and other spaces) that can be extended with additional cable sensors for up to 500 feet of continuous coverage
Before you go on your next trip (or much needed vacation), consider investing in a Lyric™ Wi-Fi Water Leak and Freeze Detector for an added peace of mind.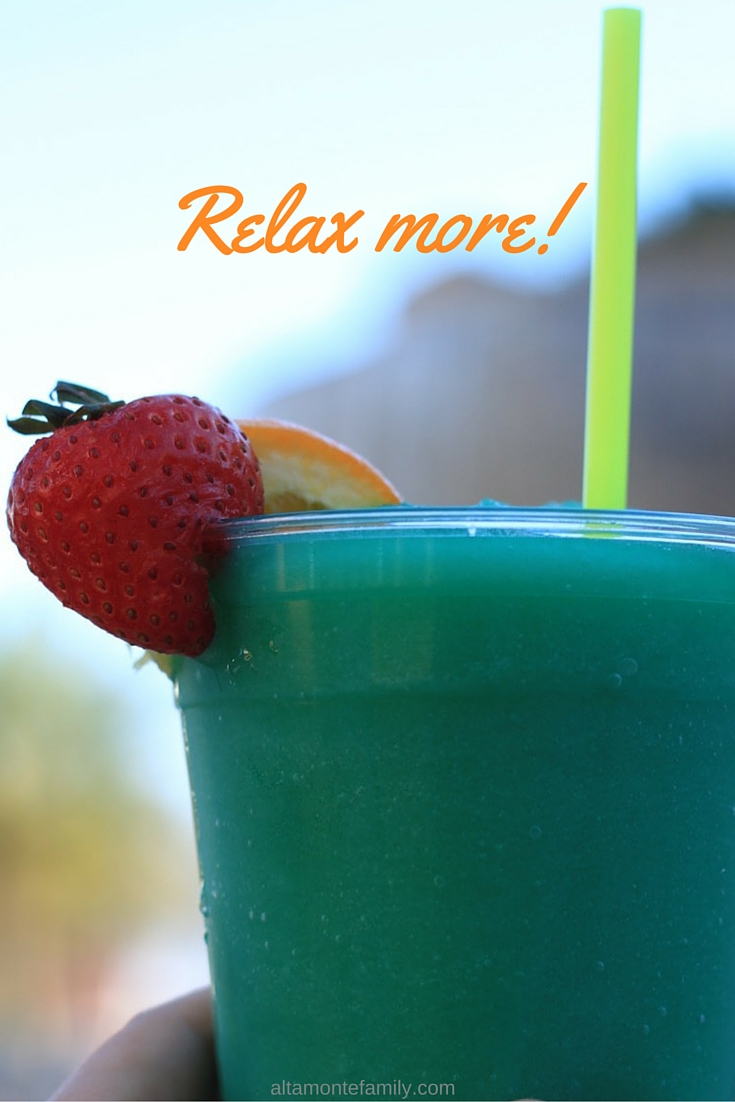 ---
We're Social! If you liked today's post, feel free to share, bookmark, or pin it! Follow us on Pinterest, Facebook, and Instagram for more updates on our latest projects and adventures.