This shop has been compensated by Collective Bias, Inc. and its advertiser.
All opinions are mine alone. #IDSimplyPure #CollectiveBias
---
Happy happy happy Spring! Can you tell we're simply happy? Spring is one of our beloved seasons because it's time for our plumeria to start waking up! We celebrated with a Waffle Bar with our favorite choice of toppings… oh, and Kona coffee (we know, we know–we still gotta post some pics about our Hawaii trip)! As if that weren't enough, we made some delicious coconut flour ("flourless") waffles in 3 different flavors: caramel, hazelnut, and vanilla! Ready to join us for some party inspiration, perhaps a Spring or Mother's Day Brunch? Jump right in…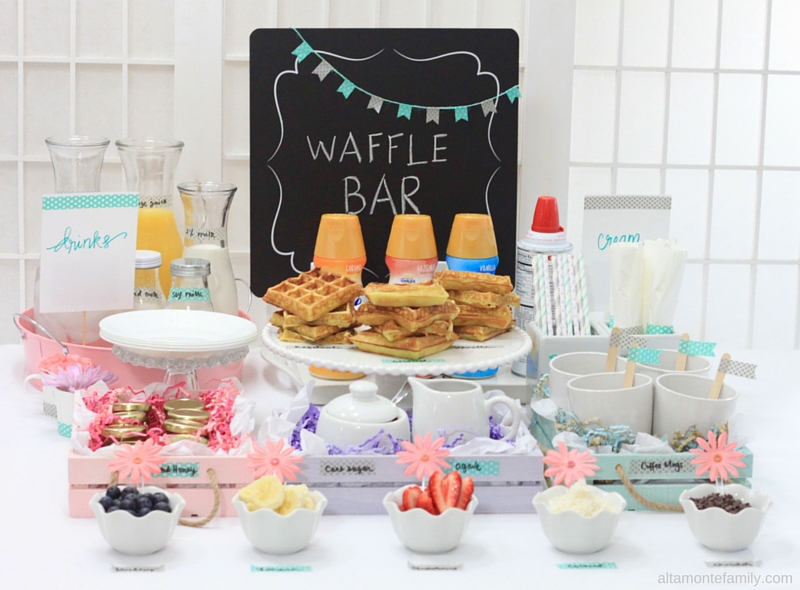 Waffle Bar Toppings
Okay, let's talk toppings. Of course, you can go crazy with the selection based on your palate's preferences. Here's what we chose:
Organic blueberries
Organic bananas
Organic strawberries
Organic unsweetened coconut flakes
Semi-sweet mini chocolate chips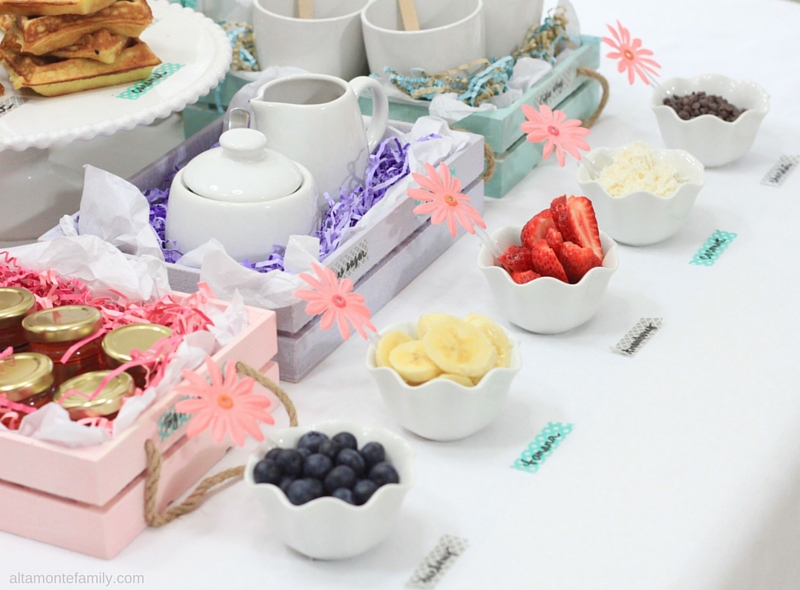 To seal the deal, we also served 100% Hawaiian honey in those itty-bitty jars, and then some–organic cane sugar and Agave nectar.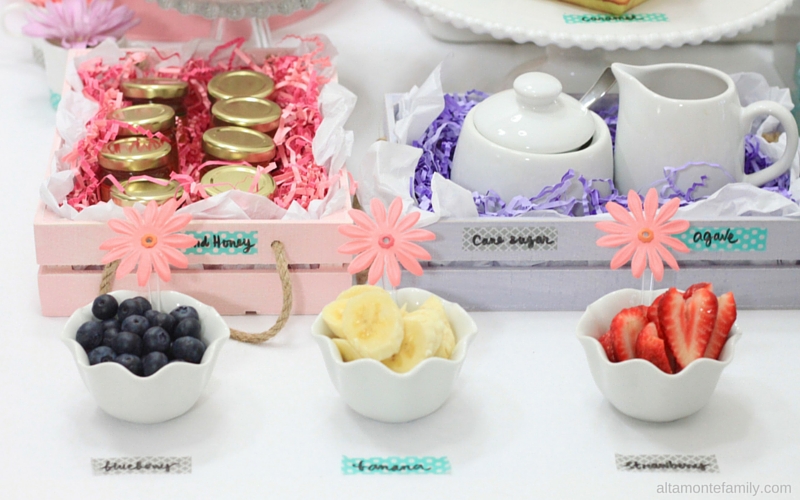 Besides the obvious Kona coffee, we couldn't help but bring back some natural sweetness from the Big Island…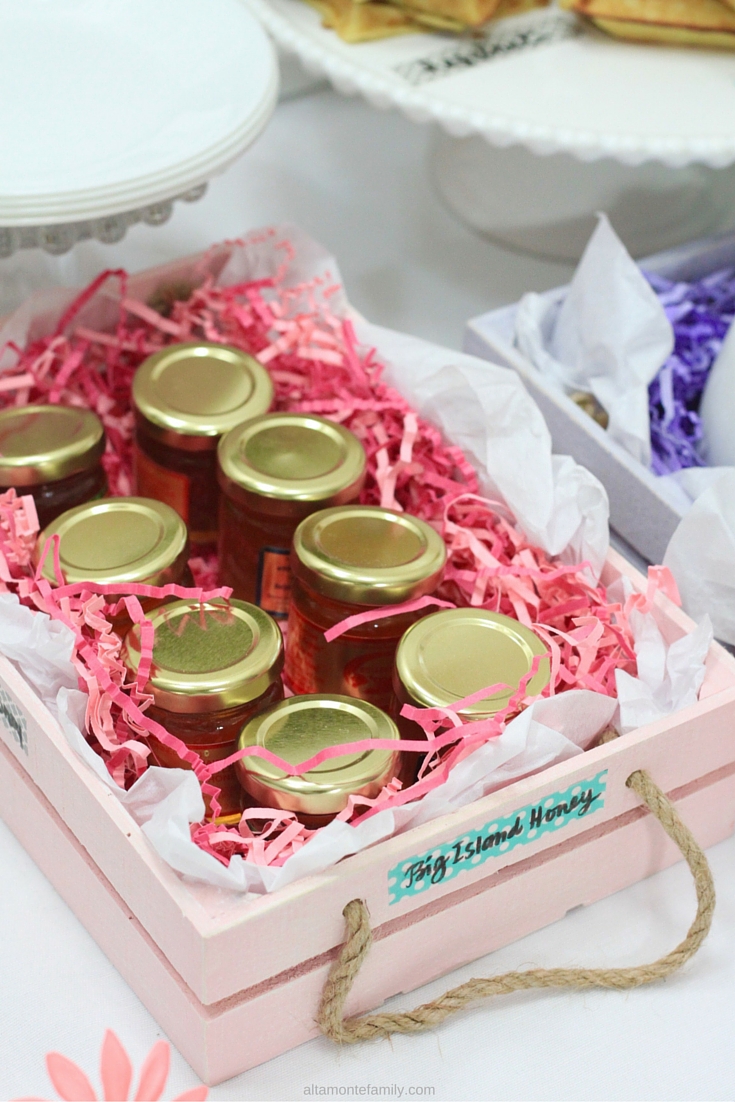 Mmm… gimme some of that 100% pure honey straight from Hawaii! The coconut flour waffles (or Kona coffee) were waiting to join forces with any of these delightful honey flavors:
Hawaiian Macadamia Nut
Hawaiian Ohia Lehua
Hawaiian Christmas Berry
Hawaiian Tropical Honey
Coconut Flour Waffles in 3 Different Flavors
You may have already noticed by now that flavors abound in our Waffle Bar. In case you missed it, we added some excitement to our coconut flour waffles! We served them in 3 different flavors: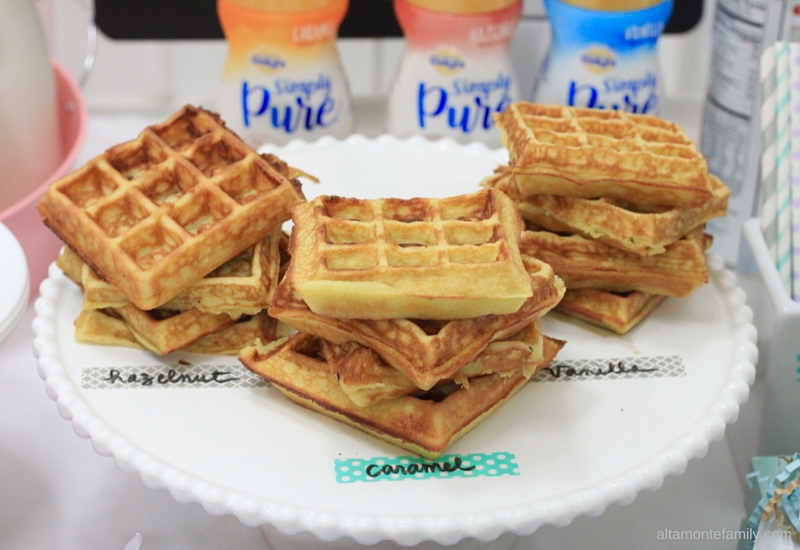 Did someone just say "flavored waffles"? We're all in!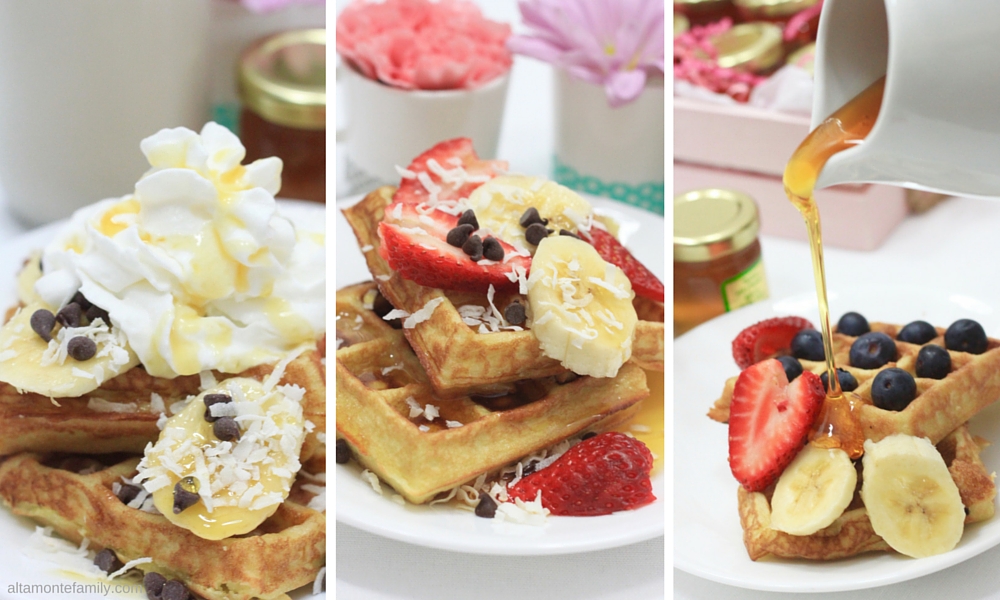 It would be very difficult for us to go back to serving plain waffles during any of our Waffle Bar parties (or on any regular day, for that matter)! Made with International Delight Simply Pure Coffee Creamer to flavor them, we don't need to add any milk or flavoring of our own, since these coffee creamers already have real milk, cream, and sugar in 3 simply delicious flavors: Vanilla, Caramel, and Hazelnut. We think that coffee creamers have earned their right to be talked about as "every day" and not just for special occasions!
We'll share the recipe for these flavored coconut flour waffles in just a sec. We hope that you'll also enjoy them for the "every day" just as much as you would for special occasions!
Family Friendly Beverages
If we've somehow managed to make you thirsty with all of the flavor options and ode to honey that we just shared, don't worry… our selection of family-friendly beverages will also be sure to please. Here are some ideas to get your "creative juices" (no pun intended) flowing for your next Spring party:
100% All-Natural Florida Orange Juice (with pulp)
2% Milk
Unsweetened Vanilla Almond Milk
Soy Milk
Iced Water
Kona Coffee
Tea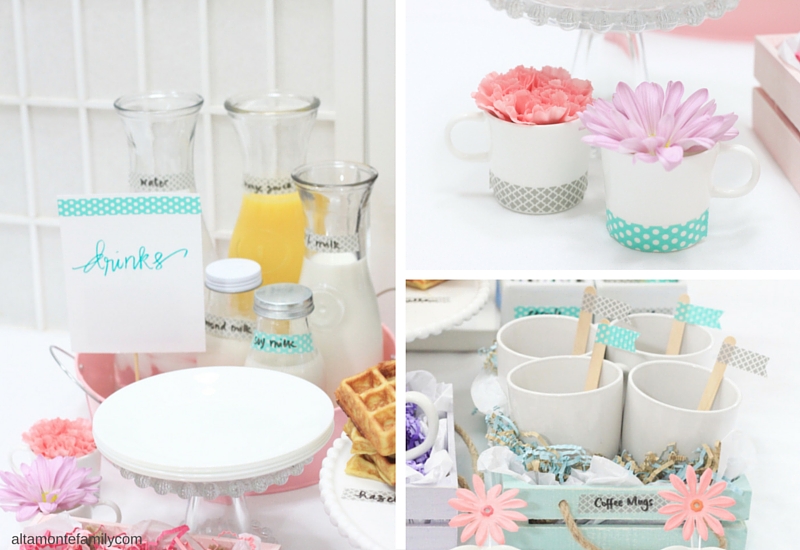 Coffee Creamer Flavors
Decisions, decisions… it's all about options! Even coffee creamers deserve to have their own flavor selection on our party table!
One of our guests clearly made the decision between coffee or tea. She flavored her Kona coffee with International Delight Simply Pure Coffee Creamer and chose her favorite caramel flavor to make her very own Kona Caramel Iced Coffee. Oohhh… that sounds really good!
With only 5 simple ingredients, we couldn't believe how deliciously fun these Simply Pure coffee creamers tasted! They're made with real milk, cream, and sugar and come in 3 different flavors–so now we're thinking vanilla latte, blended hazelnut frappe… hmmm, what else?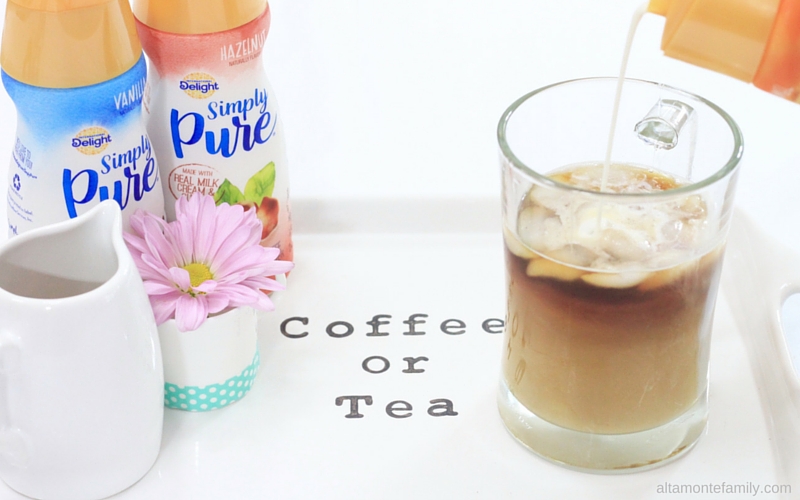 We were so happy to find all 3 Simply Pure coffee creamer flavors at Walmart! They're not only a great addition to our coffee, they also make some scrumptious flavored coconut flour waffles.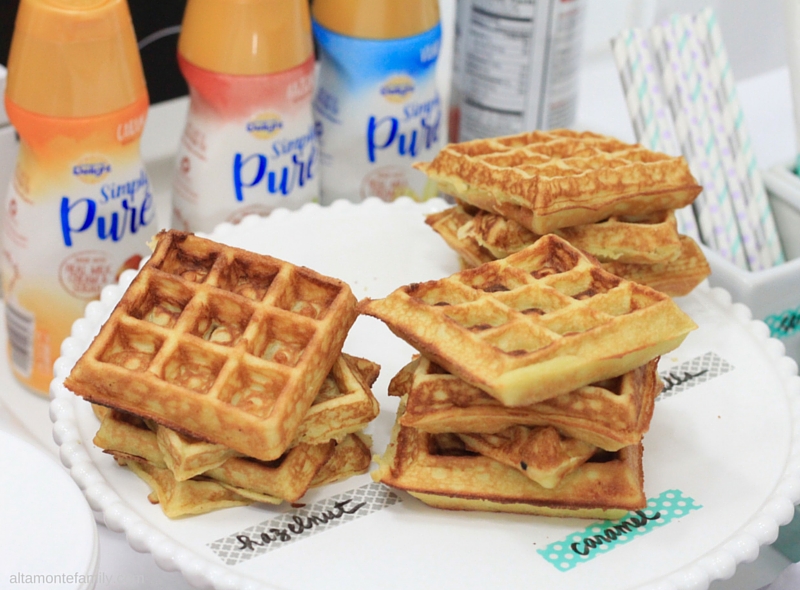 Recipe: Coconut Flour Waffles – Caramel / Hazelnut / Vanilla
It's common for many of us to use coffee creamers in the morning for breakfast or for special occasions like a Spring Brunch or party, especially when it's time for dessert. Who would've thought that flavored coffee creamers would make one of the best coconut flour waffles that are crisp on the outside and fluffy on the inside?
Servings: Approx 12 Belgian waffle mini squares* (4 mini squares per "set")
Prep Time: 5 minutes
Cook Time: 2- 3 minutes per waffle (using stove top waffle iron)
Ingredients:
8 free-range organic eggs
1/2 cup organic cold pressed extra virgin coconut oil
1/2 cup coconut flour
1/4 tsp baking soda
1/4 tsp sea salt
1/2 cup International Delight Simply Pure Coffee Creamer** (your choice: caramel, hazelnut, or vanilla)
Cooking spray (or simply brush oil onto waffle iron)
* We like to break them up into 4 mini squares since coconut flour waffles are more filling than the traditional breakfast waffle that's made with regular flour.
**Reduce amount of creamer to 1/4 cup for crispier waffles, if preferred.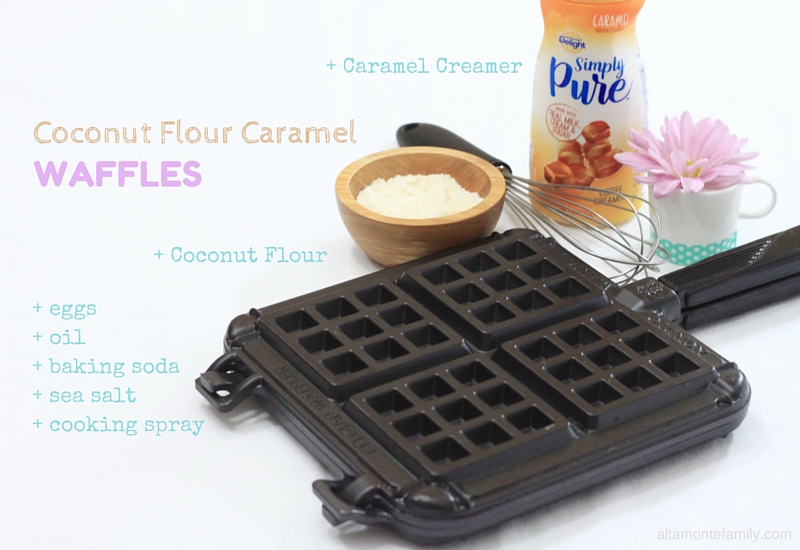 Directions:
Pre-heat waffle iron to medium high on stove top while preparing batter
In a large mixing bowl, whisk eggs until well beaten
Slowly add in melted, room temperature coconut oil
Pour in the rest of the ingredients and mix
Brush / spray oil onto waffle iron and reduce heat to medium
Scoop up some of the batter (we use a small ladle) and pour into waffle iron
Cover waffle iron and carefully flip over to cook the other side for another 2 minutes or until waffle is golden brown
Cut waffle into quarters, if desired and serve with your choice toppings
Enjoy!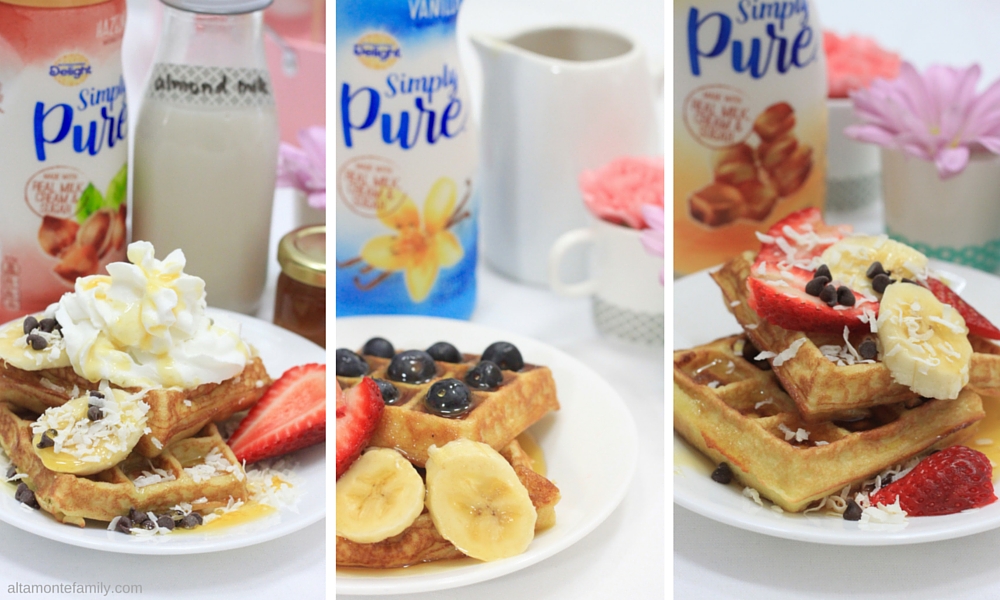 Spring Pary Decorations
To add some "spring" to our step and to our party, we placed some fresh flowers with a little bit of water inside a few demitasse (espresso) cups. For some pop of color, we added a strip of washi tape on each cup.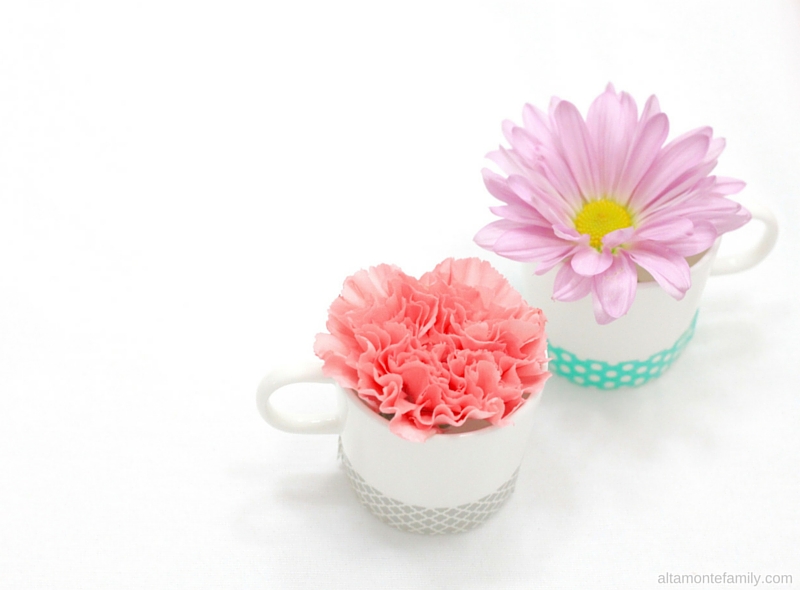 We're a big fan of washi tape more for its functionality and practicality than its "cute factor". Plus, it's quite affordable (unless we were to whip out our "real" washi tape made with Chiyogami paper made in Japan).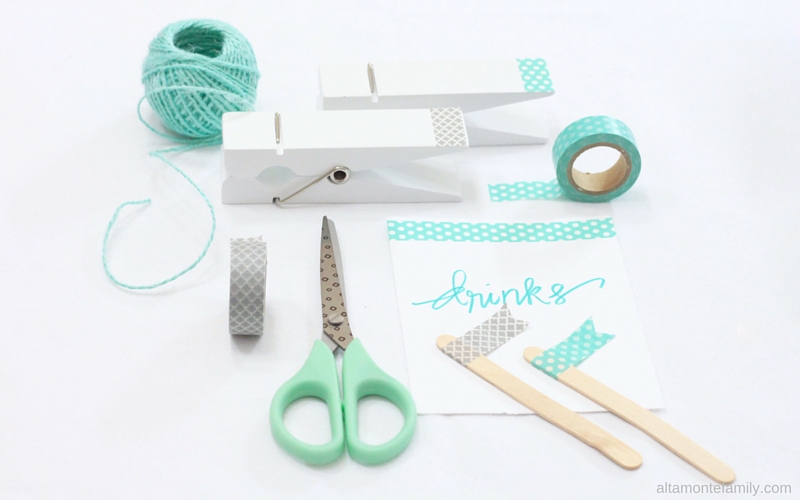 We used 2 complimenting washi tape colors to decorate and label the food on our table. Super easy, without losing that special "handmade" element.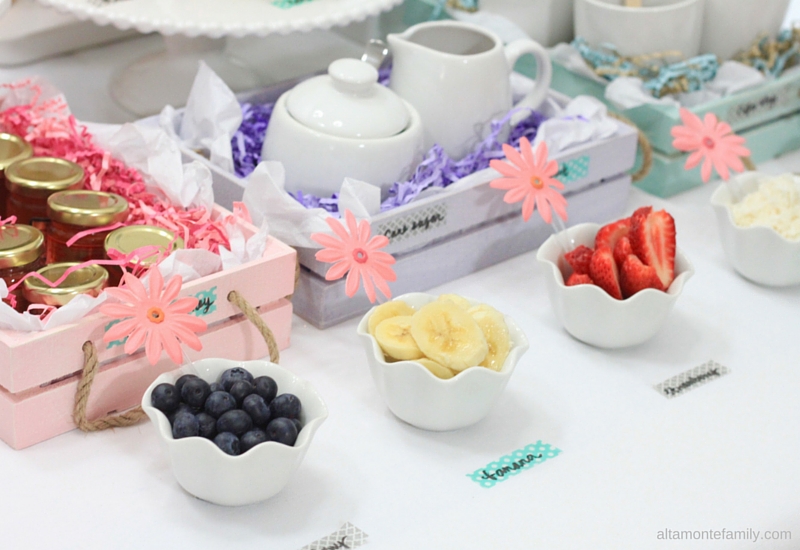 A colorful assortment of paper shreds made for a nice "nest" inside our wooden crates. We lined the crates with white tissue paper to discourage any "renegade" paper shreds.
We also added floral toppers to the mini plastic forks that graced our waffle bar toppings. Using a grommet setter, we "punched" flower-shaped grommets onto silk flowers before hot-gluing them onto the mini plastic forks.
To be sure, we held the forks upside down prior to gluing to make sure that none of the glue gets onto the base of the fork. To be extra sure, we also washed and dried the base of the fork prior to use.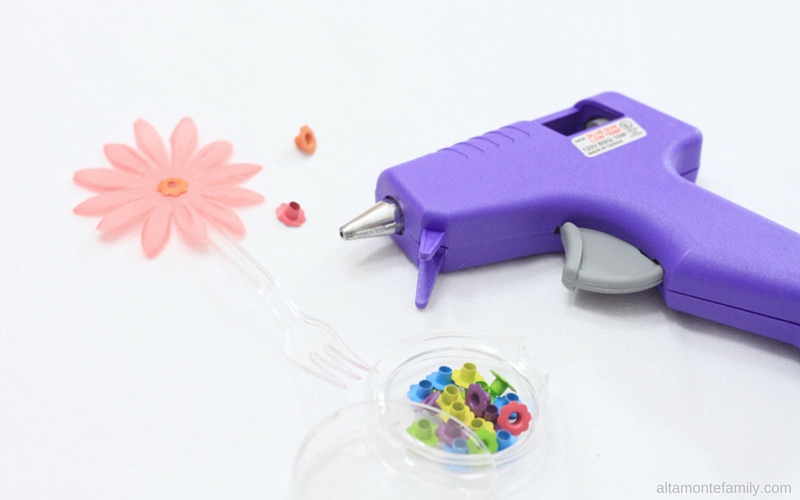 Party Essentials
We like to use a variety of trays, wooden crates, and cake / dessert stands to group and hold our food together. They add to color, balance, and symmetry besides making clean-up more of a breeze. Plus, they help to maintain orderliness by "gently communicating" a message to our guests regarding where specific food items belong on the table.
Other party essentials include the following:
White tablecloth
Small bowls
Small plates
Carafes (1 liter and half-liter)
Milk bottles
Ceramic sugar and creamer set
Coffee mugs
Paper straws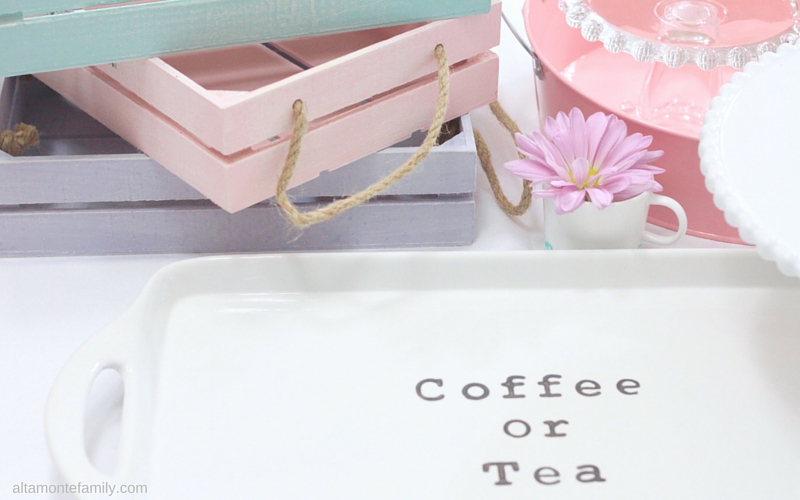 We also used plastic utensils wrapped in disposable napkins secured by washi tape.
If you're wondering about the chalkboard sign, it was actually a repurposed chalkboard charger plate. We used oversized clothespins for holding the sign upright.
As for the deliciously flavored International Delight Simply Pure Coffee Creamer, we found all 3 flavors in the refrigerated section at Walmart, next to the gallons of milk.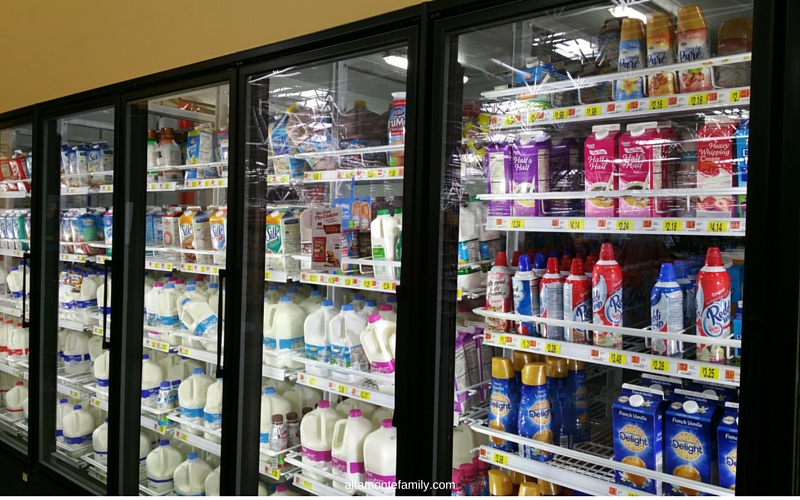 So, are you ready to plan your next Spring Party or Mother's Day Brunch? Or, did we just make you more hungry? How about checking out even more recipe inspiration using coffee creamer?
Have fun!
---
We're Social! If you liked today's post, feel free to share, bookmark, or pin it! Follow us on Pinterest, Facebook, and Instagram for more updates on our latest projects and adventures.