Earlier today, we shared some tips on how we put together our DIY Concession Stand by repurposing a standard, white 4-cube Kallax organizer from IKEA. Let's just say it needed a new life, a new purpose! What we didn't get to do was share a list of vintage movie night essentials with you so that you have all of them in one place. The wait is over!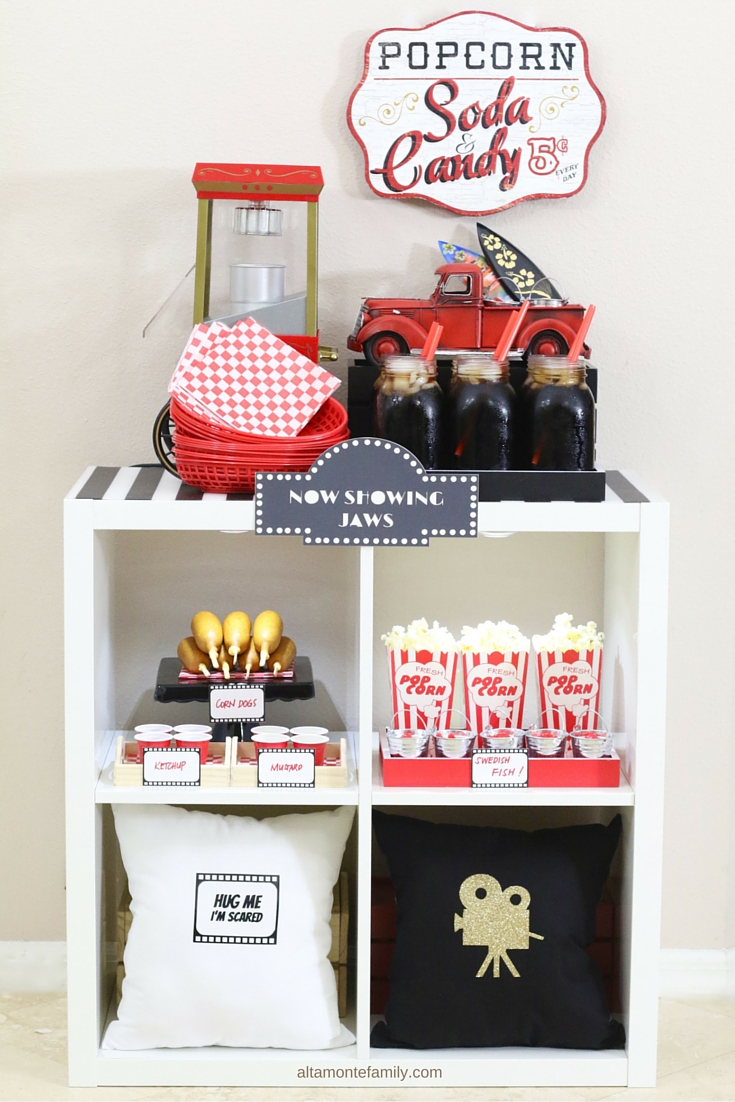 Vintage Movie Night Essentials
We don't consider the movie, Jaws, a classic–but our kids do! Ouch. Are you a fan of the movie, too? Anyway, we decided to create a paper "Now Showing Jaws" sign using our Cricut Machine to match the following supplies from Oriental Trading*:
*Special thanks to Oriental Trading for providing these sample products free of charge in exchange for my honest review. No other type of compensation was received. All ideas and opinions are my own.

We love how the diner baskets gave our DIY Concession Stand a classic feel. We already had some checkered wax sheets on hand and think they complemented the diner baskets as well as the DIY wooden trays from Oriental Trading very nicely. We also had a stash of mini red plastic cups which we filled with basic condiments like ketchup and mustard. This setup gave the most basic condiments a face lift! We also shared some free printable film strips which you could use as place cards (or even as a garland) at the bottom of this post.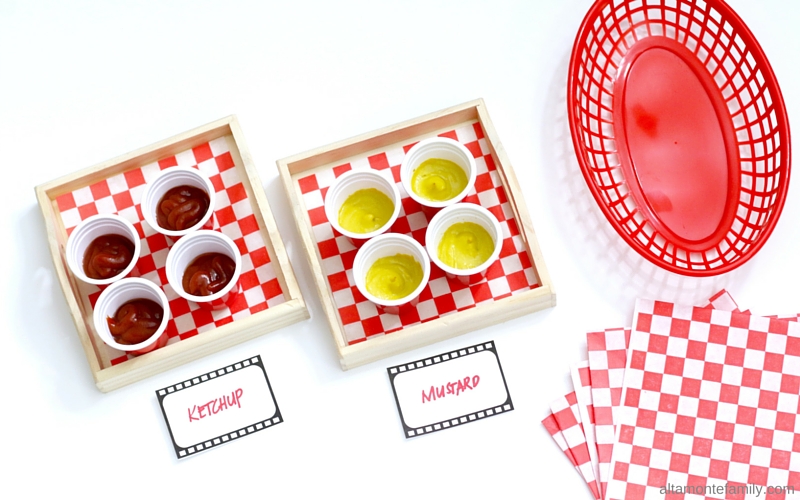 The DIY wooden trays measure 6 x 6 inches and are perfect for holding small galvanized metal buckets like these. We had some leftover buckets from a previous party and thought they'd fit our vintage movie night theme very nicely. We took a bunch of Swedish Fish candy, placed them in mini red plastic cups, and dropped them in the metal buckets. How's that for our catch of the day?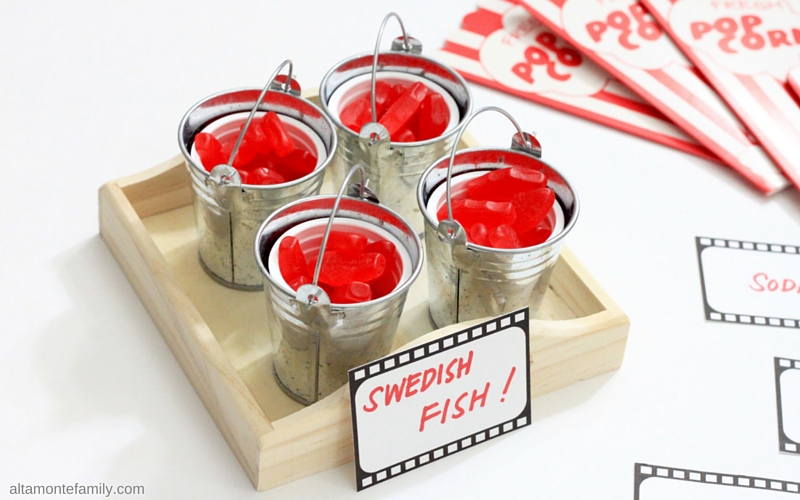 These 30 oz mason jars are a clear winner in our book! They are so versatile, we use them for all kinds of projects. We also set aside 6 of them just for our ice cold beverages, for a classic movie night feel. Love the rugged look of these mason jars, especially when we set them by the red diner baskets and vintage pickup truck. Don't they look refreshing?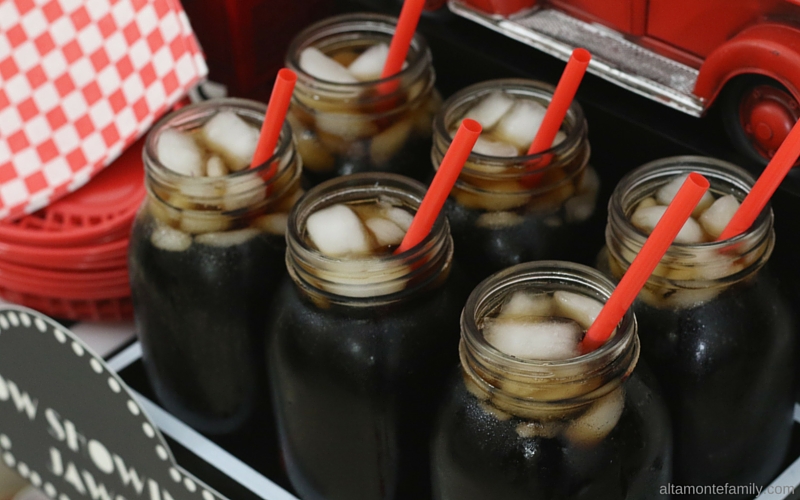 If you want to add an easy lighting solution to your DIY Concession Stand, consider picking up these inexpensive, peel-and-stick, battery-operated lights. We already had them on hand and paid roughly $5 for a set of 3. They illuminated these popcorn buckets and candy buckets, reminiscent of a true concession stand at the theaters (well, not really, but close enough–we're shooting for the feel 😉 )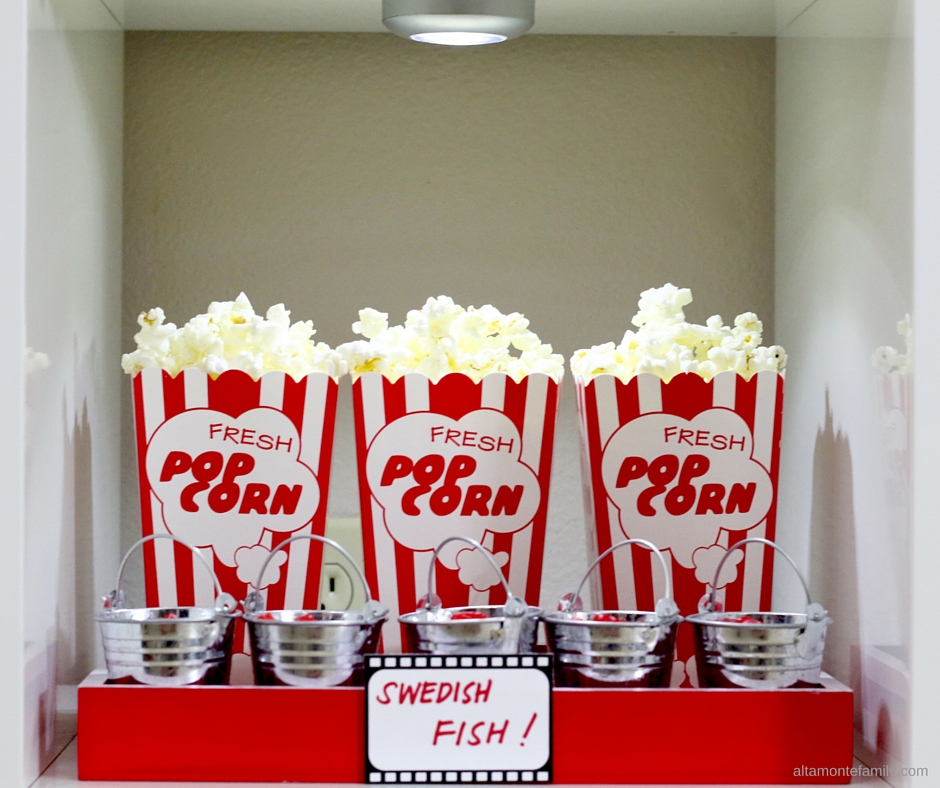 If you've been following our party posts, you'll notice that we like to keep things organized in a variety of trays, crates, and dessert stands.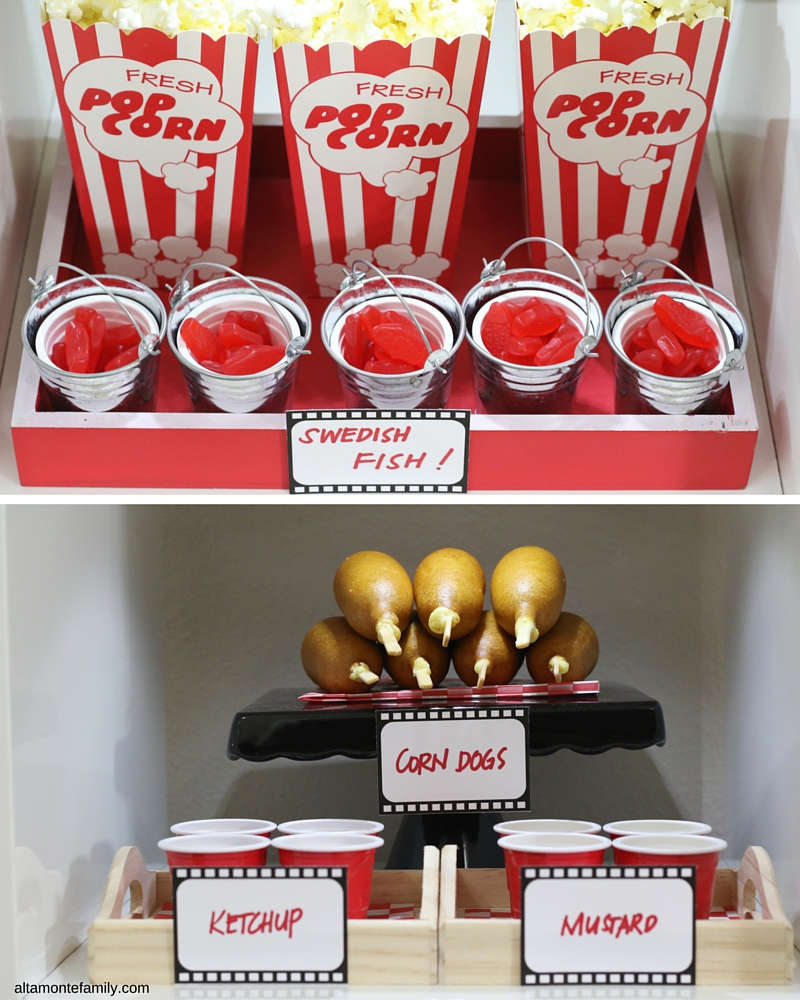 It does help to have some vintage wall art and home decor.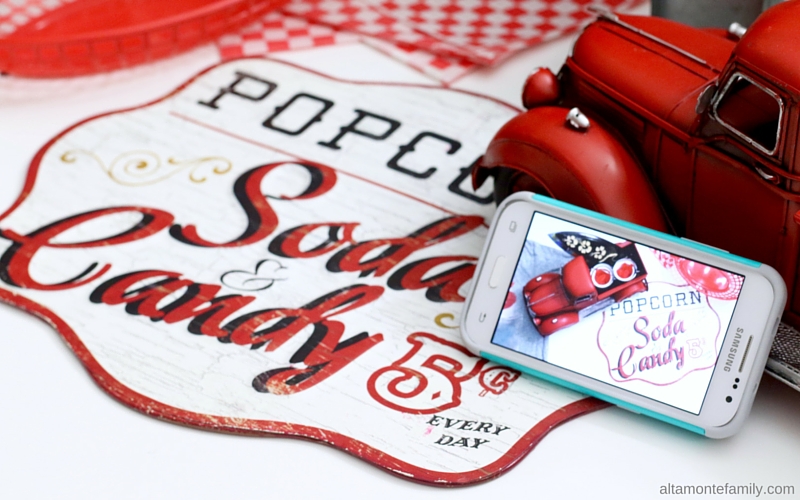 A vintage popcorn machine would be nice, too. Since we like to do family movie nights regularly, we decided to invest in one of these tabletop gadgets a few months back. It was fairly inexpensive at just under $30.
If you have a printer at home, we thought we'd share that we used white card stock to print out these film strips. We used a permanent red marker to scribble on 'em.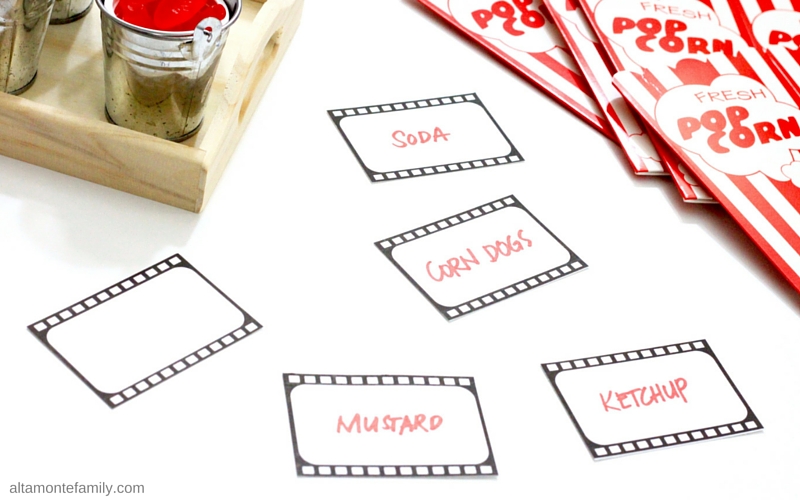 We already had these no-sew throw pillows which we made using Kona cotton. We customized them with iron-on vinyl in black and gold glitter (we shared the free cut file / template at the bottom of this post).
We made it a point to use as much of what we already had at home. You might already have these, too! We love to "shop the house" and find a new life, a new purpose for nearly lost and forgotten things (if time permits, of course). Do you enjoy doing the same thing?
Anyway, to recap, we're providing you with this handy dandy list of vintage movie night essentials:
Checkered wax sheets
Mini red plastic cups
Mini galvanized metal buckets
Red plastic straws
Beverage napkins
Black-and-white, striped vinyl place mats
Peel-and-stick, battery-operated lights
Popcorn buckets
Trays in different sizes
Crates (for storage, organization, and adding depth and height)
Dessert tray
Vintage wall art (cinema theme)
Classic die-cast pickup truck
Other home decor like wooden surf boards from Hawaii, etc.
Vintage popcorn machine
Other Extras:
Black and white card stock (for the printables and "Now Showing" sign)
Permanent red marker
Basic crafting supplies like scissors, tape, glue, etc.
Iron-on vinyl in gold and glitter (to customize the DIY throw pillows), iron, iron board, and Cricut Explore Air
Items from Oriental Trading*:
Don't forget about the food and condiments: popcorn, candy, soda, and hot dogs / corn dogs are always a favorite. Of course, substituting is totally fine based on your preferences and other restrictions.
Last but certainly not the least, choose a movie that everyone will enjoy. Obviously, we chose Jaws.
You certainly won't need all of this stuff to get started (we collected these over time). Feel free to pick and choose what works for you to make it your own. It's going to be a lot of fun!
Free Printables and Cricut Explore Cut Files
We know, we know–we already provided you with these files in a previous post. Thought it'd be helpful to share it again so you have it all in one place–especially if you're actively planning a vintage movie night or party theme.
For Personal Use Only: We created this free template / pattern for your personal, non-commercial use only. Please do not alter in any way. Kindly read our full Terms of Use.
Free Printable Film Strips
Free Cricut Explore Cut File – Classic Movie Camera
Free Cricut Explore Cut File – "Hug Me I'm Scared"
We always love hearing from you, especially when we get to read about how you used our project ideas, printables, cut files, and templates. If you know anyone who could use these photos for inspiration, feel free to share.
Thank you for inspiring us to keep sharing our creative pursuits and for supporting the vendors, like Oriental Trading*, who help make this happen! Have a wonderful weekend!
*Special thanks to Oriental Trading for providing some sample products free of charge in exchange for our honest review. No other type of compensation was received. All ideas and opinions are our own.
---
We're Social! If you liked today's post, feel free to share, bookmark, or pin it! Follow us on Pinterest, Facebook, and Instagram for more updates on our latest projects and adventures.