This shop has been compensated by Collective Bias, Inc. and its advertiser.
All opinions are mine alone. #SendingMyLove  #CollectiveBias
---
Pre-Valentine's Day Family Night Ideas
We're celebrating Valentine's Day quite differently this year. This time last year, we didn't have a two year-old (he was still learning how to walk back then), annnndddddd…. we didn't have a house full of furry four-legged family members. It's been quite a lifestyle adjustment (in a good way) and we're thankful that we're still able to celebrate our blessings in the most memorable ways.
Valentine's Day doesn't have to be complicated…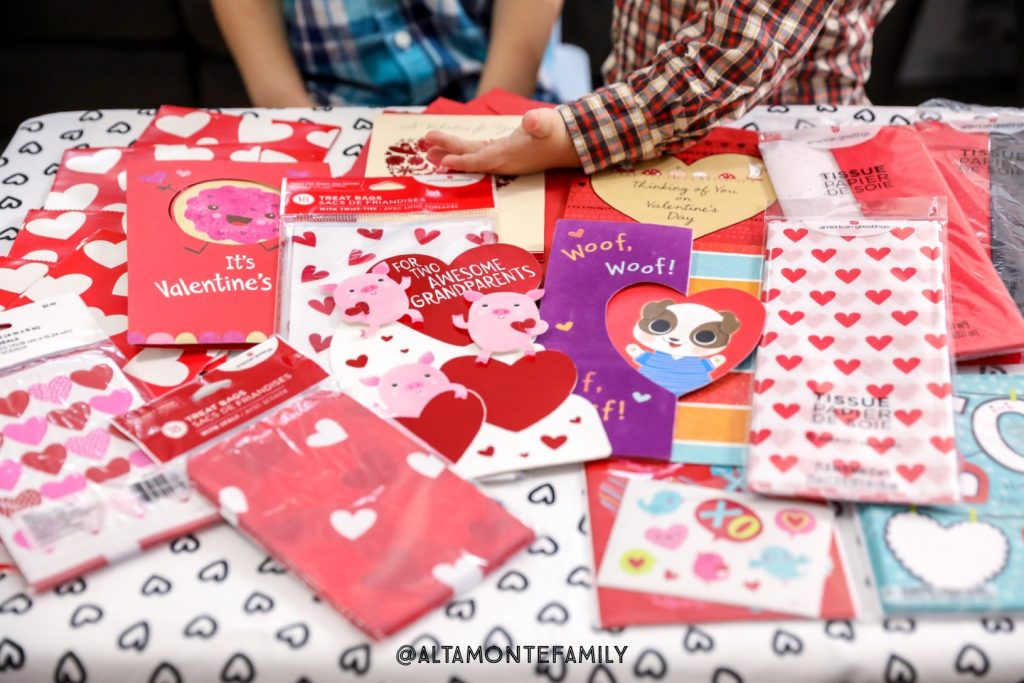 This year's Pre-Valentine's Day Family Night will certainly be one to remember for years and years. The beauty is in its simplicity!
A stack of American Greetings cards at Walmart, gifting products, and cookies, are among the key ingredients for an hour of fun, laughter, and love. We'll share a few ideas and insights as to how it all came together and how we infused some good family values in the process.
Put your best foot (or paw) forward
Just because we're comfortably celebrating Valentine's at home doesn't mean we can skip putting our best foot (or paw) forward! We encouraged our children to be their best and wear "their chosen best" for our Pre-Valentine's Day Family Night. Our four boys all agreed to wear plaid, for some reason. It turned out to be really cute!
Always "Picture Pawfect": When it comes to looking good, all humans in the house know that we've got some serious competition–our labradoodles are always stylin' no matter where they go. They're always "picture pawfect"! Our pups and their Instagram friends have got this whole Valentine's and gift giving thing down! We still have lots of Christmas cards and presents (from around the world) to prove it!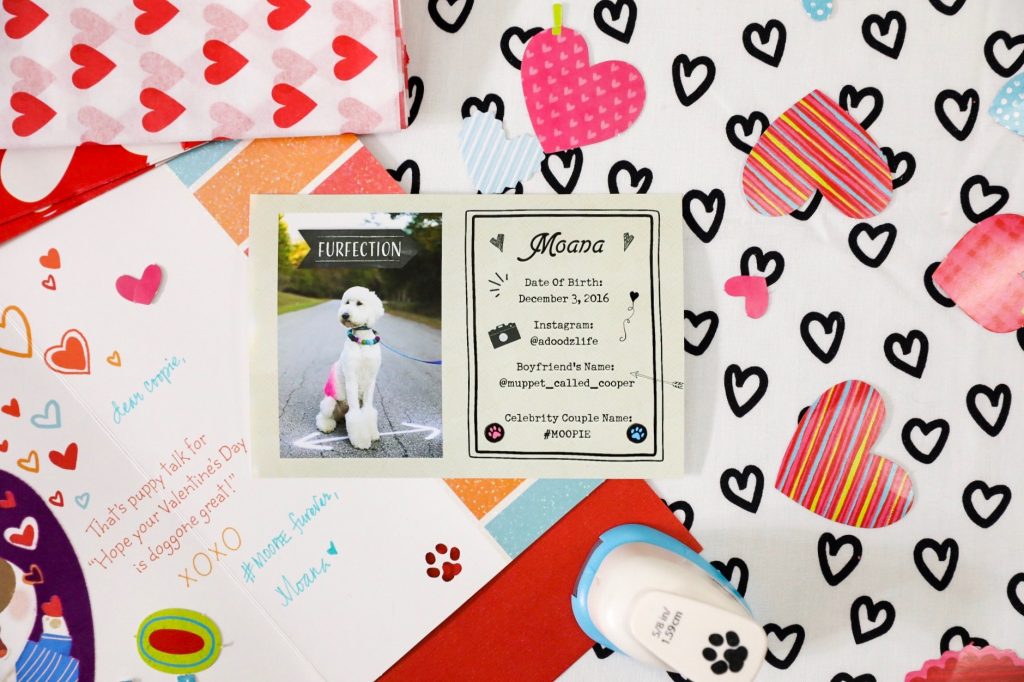 Recognize small acts of love
We express our love in many ways. This eldest-helping-the-littlest moment wasn't the easiest to capture on camera since it was happening pretty quickly. What a precious pic, though!
Obviously, the stickers were a sure hit–our two-year-old was so excited to be able to do more than just sign each card with the help of an adult.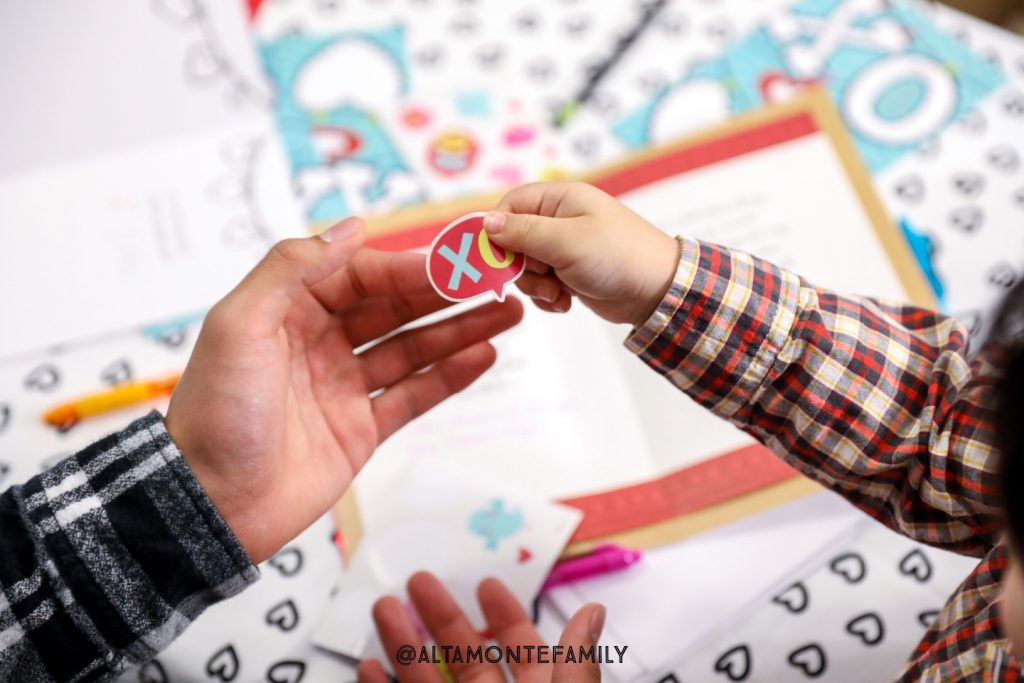 Seeing the older brothers get down to their youngest brother's level was just heartwarming (his little table has quite the low setting). One of them decided to share his colorful pens with the rest of the siblings. This may or may not be something that's seen everyday. I'm having a proud-and-blessed mom moment here..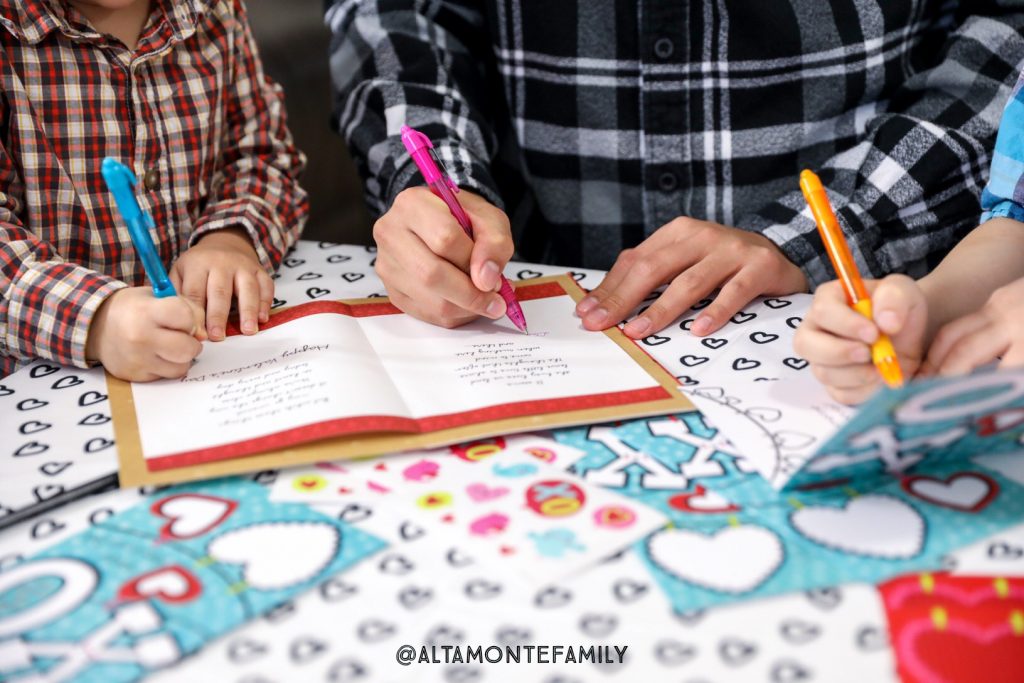 Enjoy the little things
As you can see, Valentine's Day is  more than just a romantic celebration in our house. It's about love. Pure and simple. Everyone gets to celebrate and know that they are loved (or "loved to PIZZAS", according to this cute card, below).
It's the simple things, the little things…that make life "WAFFLE-ly Special"!
It's no surprise that our boys chose this card. It's fun and it delivers the message! Cards are a super easy way to get your Valentine's Day message across, regardless of your age!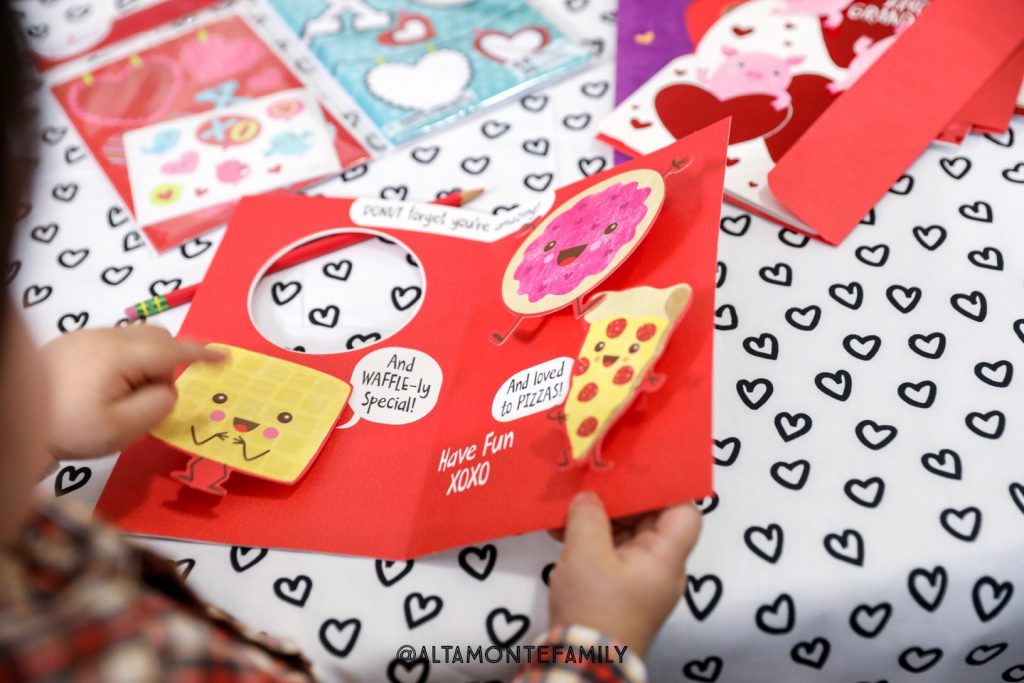 Fill your cards with acts of kindness
What's in the card can be just as exciting as what's on the card. The youngest ones enjoyed punching out these Valentine's shapes to add "confetti" on the inside of the card. The littlest boss was in charge of all the cute stickers. These kept them busy and engaged while the older boys finished writing their thoughtful messages on the rest of the cards.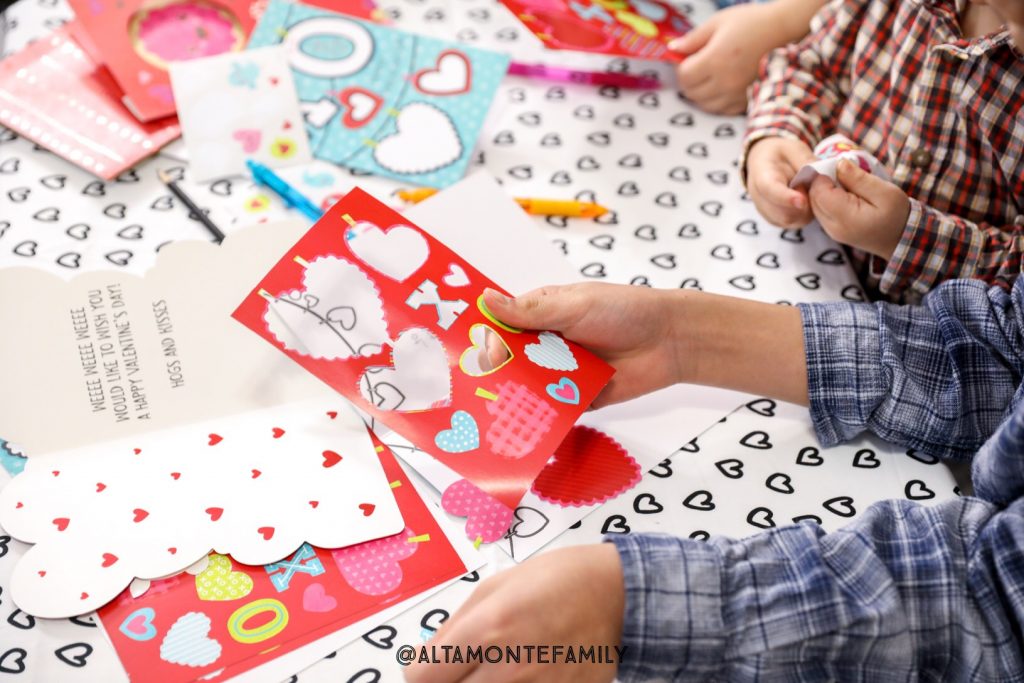 Photo prints and small handmade gifts (like our  felt bookmark) are also great card inserts. (Psstt— Grandma-adopted-by-littlest-boss will get the bookmark + card while Moana's labradoodle BF, Cooper, will get the photo + card).
There's a "pawfect card" for everybody, including Moana's humorous labradoodle BF (they had met on Instagram–no, they've never met in "pawson", yet).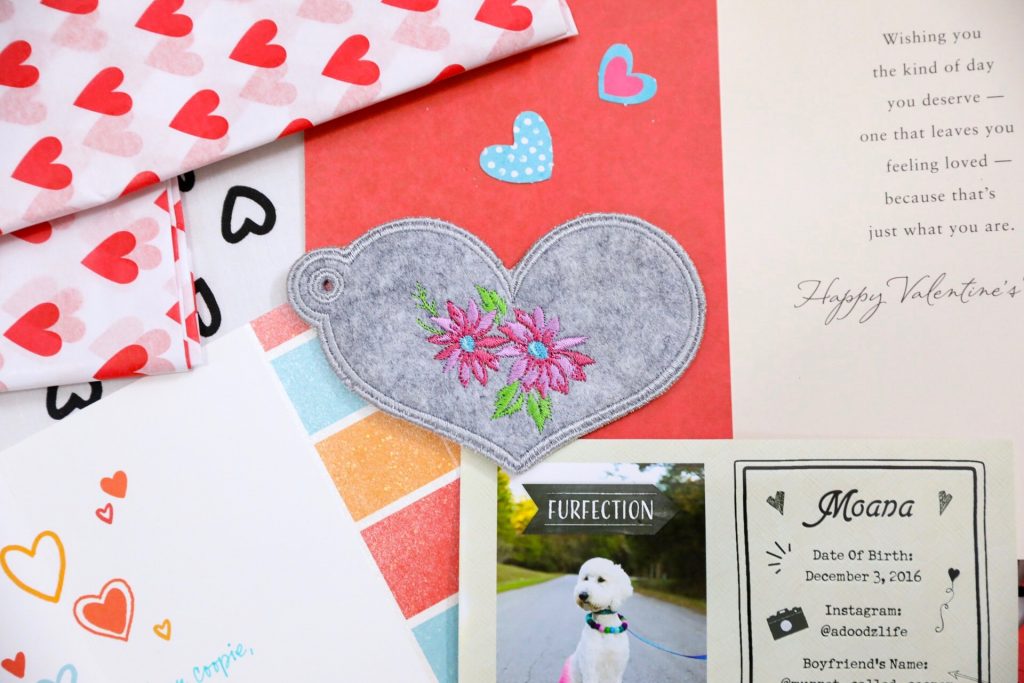 Make reading time fun
I'm sure you've heard of the quote,
The family that reads together stays together.
Our younger boys enjoyed a little reading time with the help of their older brother… they couldn't help but wonder why one of the cards for the grandparents had three little pigs…
…Turns out the little pigs wanted to send some "hogs and kisses"! How punny!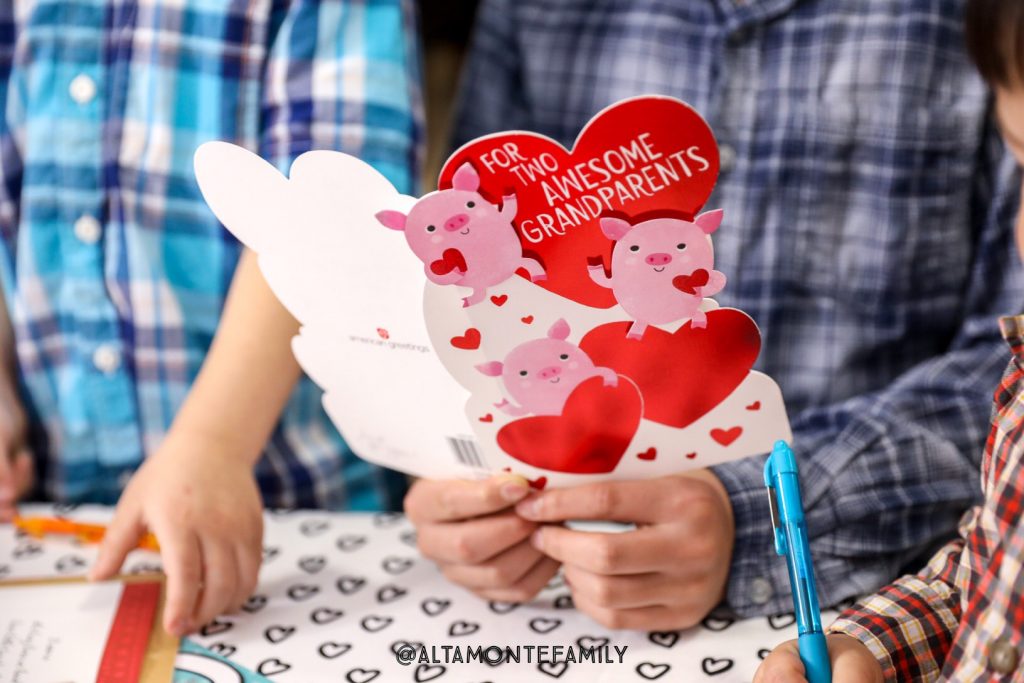 Wrap it up with love
We're almost done with our Pre-Valentine's Day Family Night! We've taught our children to put their heart into whatever they're doing–these themed giftwrapping products are the perfect reminder for that!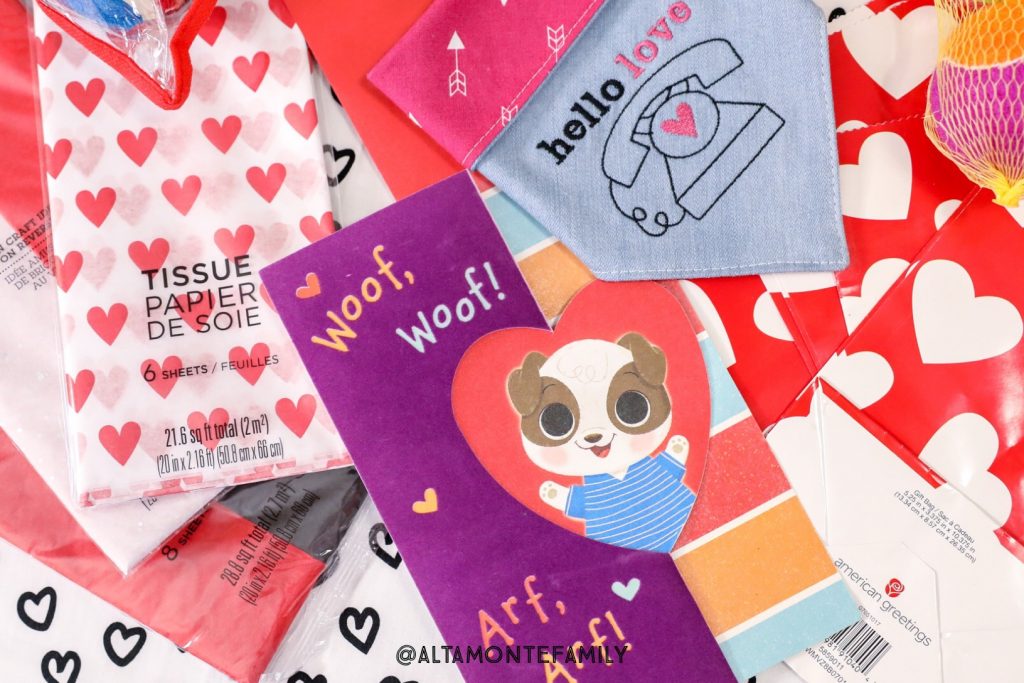 Littlest boss is clearly putting "a heart" onto what he's doing…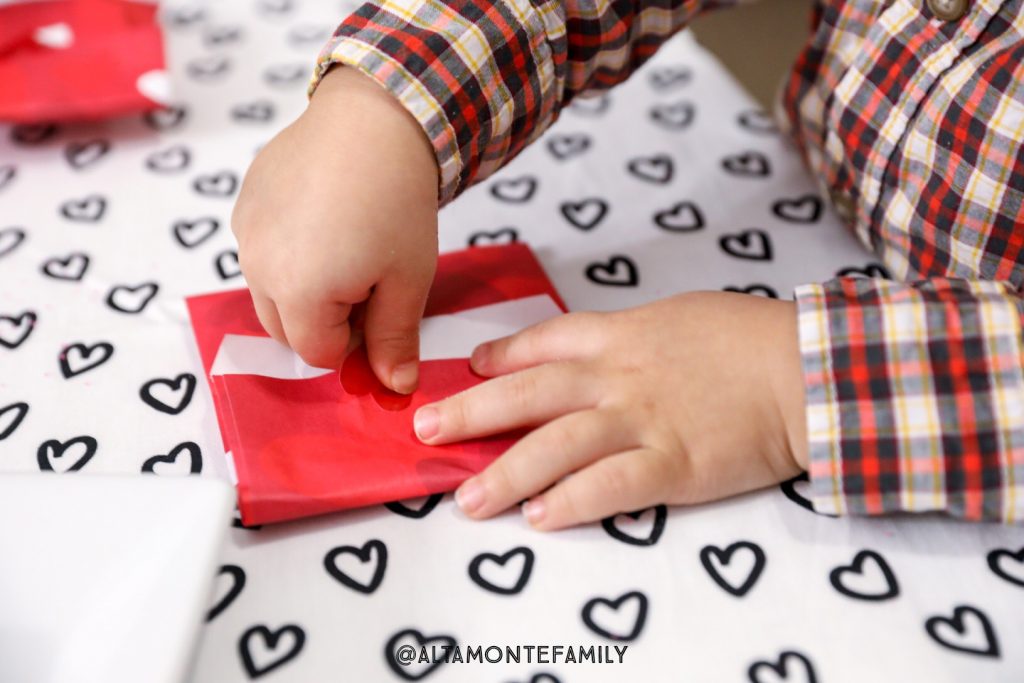 Keep it short and sweet
You've made it to the finale…
We're not really sure which one of us made the executive decision to put off putting together goodie bags for others.
The picture below is proof that it happened organically…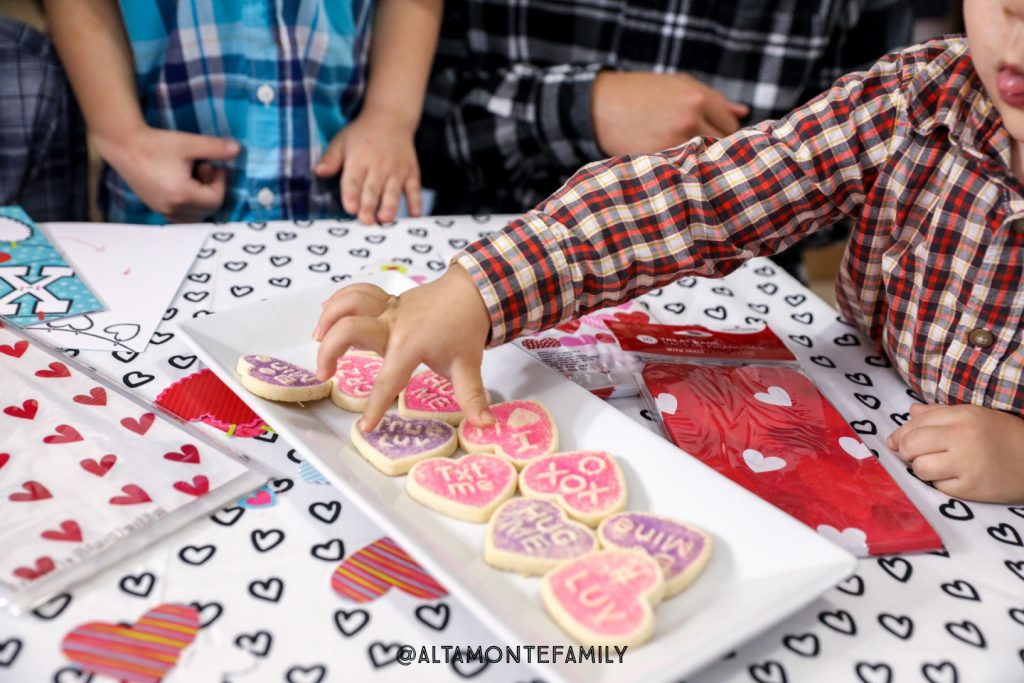 With a two-year old, we've found that it's best to keep things fun, short, and sweet… to keep things constantly interesting and engaging–though sometimes, that could mean switching gears… and that we did.
The idea of "Fill-Your-Own Goodie Bag" was instantly born.
Let's just say that it was a very well-received idea. It's a "sweet" little reward for a job well done!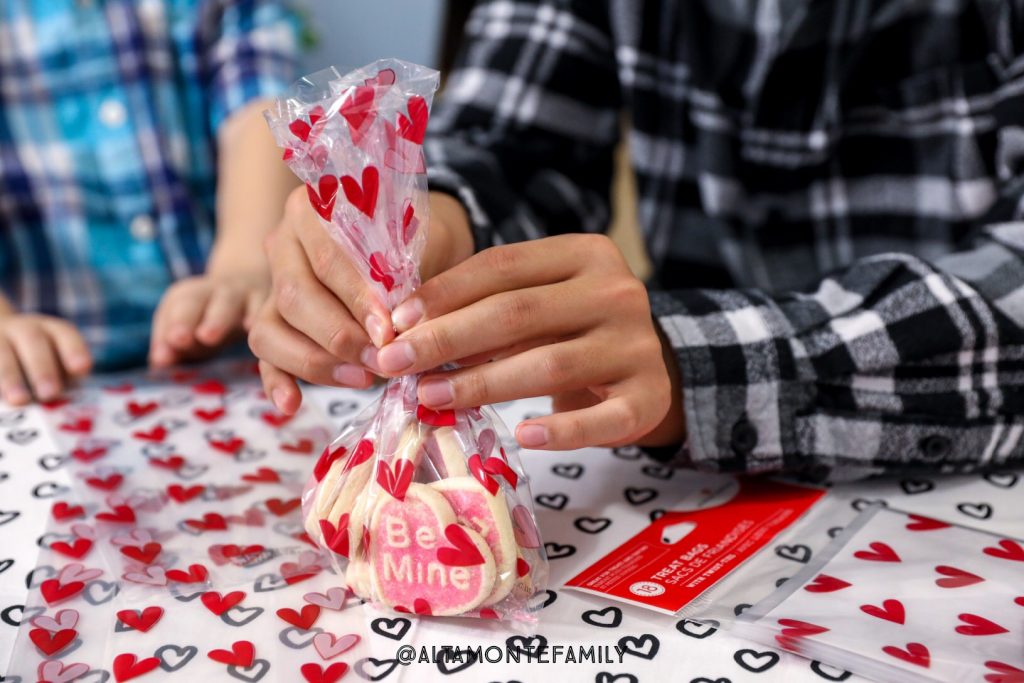 Pre-Valentine's Day Short List
Celebrate with your family with ease, on or before Valentine's Day (or after)! Better yet, celebrate more than once! Here are the American Greetings products which we used (we found them at Walmart):
American Greetings cards at Walmart
Treat Bags (Clear)
Paper Treat Bags with Stickers
Tissue Paper
Create Your Own Cards (with stickers and punch-outs)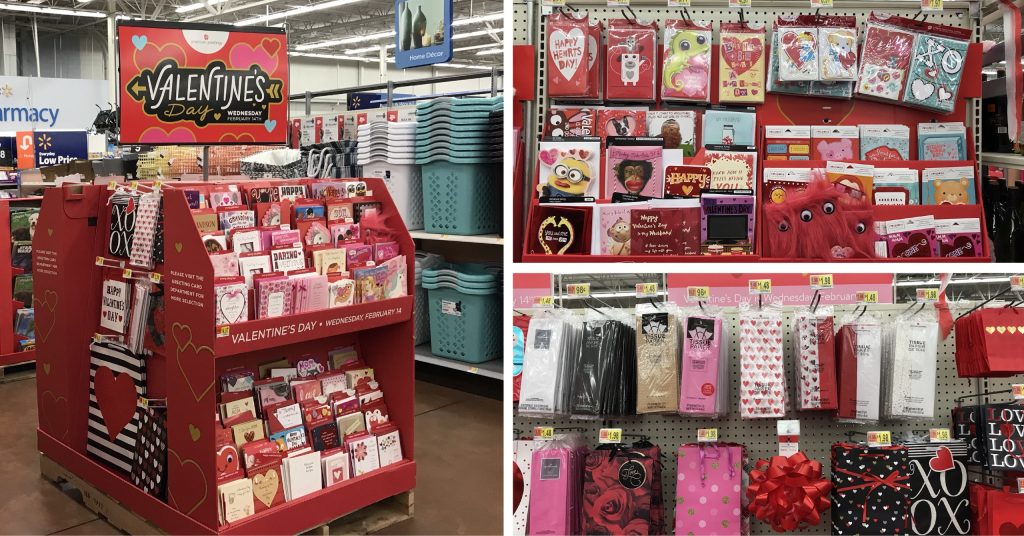 Grab this Ibotta Offer before you shop: Buy 1 card and earn $1.00
See how you can enter the#SendingMyLove #Sweepstakes, below (ends 02/13/2018).
– Official Rules  https://a.pgtb.me/sdT5Tr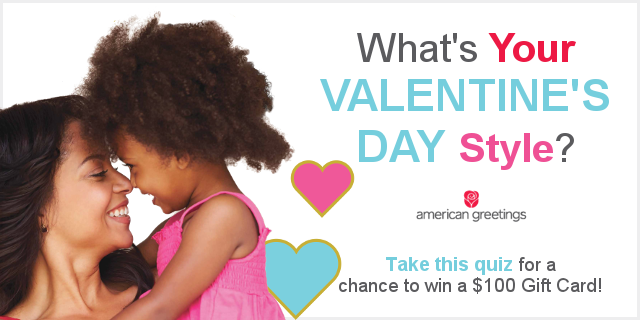 Ready to celebrate?
Click here to find more #SendingMyLove Inspiration!