This shop has been compensated by Collective Bias, Inc. and its advertiser.
All opinions are mine alone. #ScrubCloth #CollectiveBias
---
Happy Monday! How about starting the week–or the official first day of Summer–with a new recipe?! Perhaps you've already tried a version of Queso Fundido in one form or another. Well, yesterday, on Father's Day, we decided to make something deliciously messy in the kitchen! It was a huge hit (and worth all the effort)! If you're looking for a new, over-the-top but super easy recipe, check out our version of the Ultimate Queso Fundido! Can we get a yums up?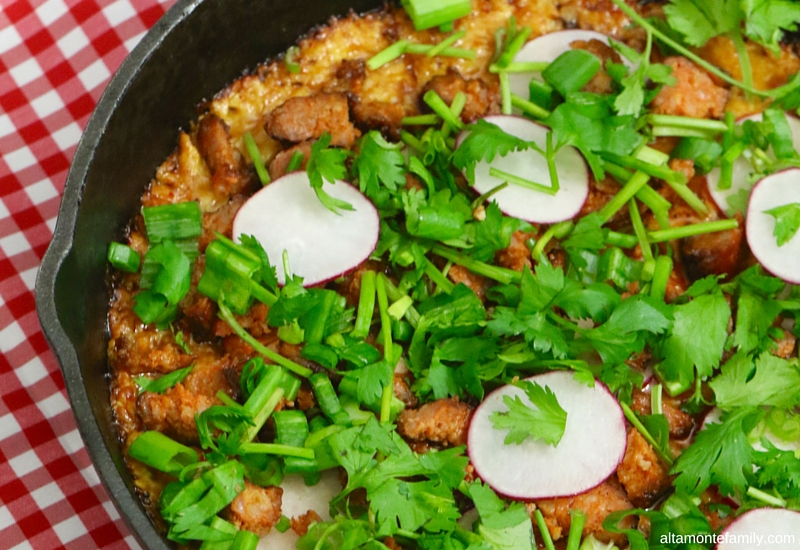 By the way, we used to be a little intimidated when it comes to using our cast iron skillet to make messy (but oh-so-yummy) dishes, most especially when we would have to bake it! We thought of finally braving it this time…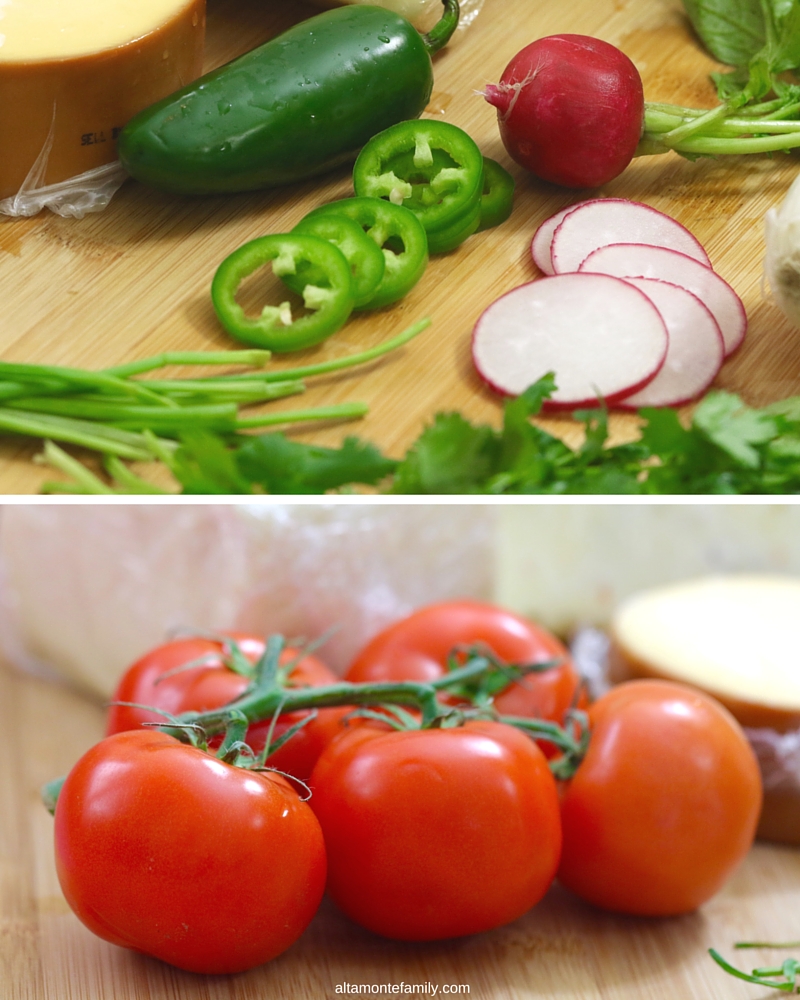 Inspired by our favorite fresh ingredients + a whole lot of cheese, Queso Fundido can be tough to clean (especially after all of that leftover cheese hardens). But, don't worry, we discovered a new product–a "supercharged dish cloth" that can scrub but does not scratch!
The New Scotch-Brite® Scrubbing Dish Cloth is perfect for tackling stuck on messes around the kitchen and cleaning all of that gunk off of our cast iron skillet!
My husband overheard me giggling humming in the kitchen because of how incredibly easy (and quick!) it was to get rid of the mess in our kitchen. Stick around for a few cleaning tips + a quick space-saving project idea for organizing some supplies under the kitchen sink.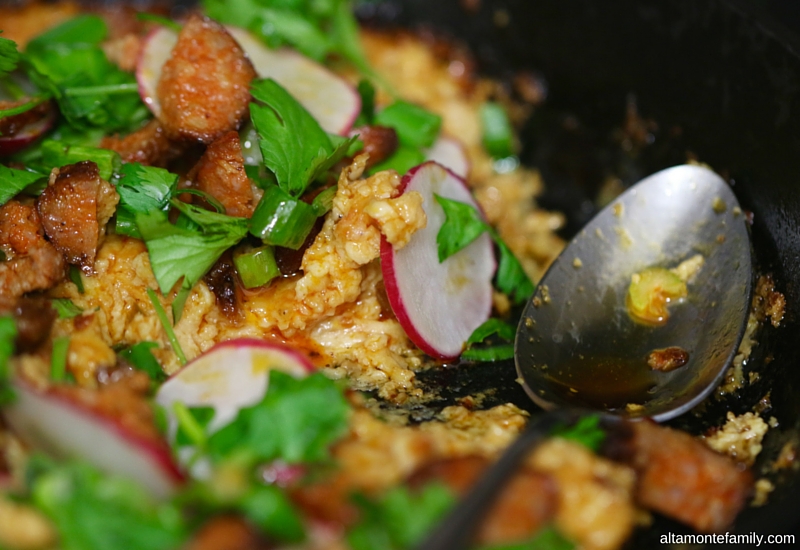 Recipe: Ultimate Queso Fundido
Servings: 6 – 8
Prep Time: 15 minutes
Cook Time: 15 minutes
Total Time: 30 minutes
Ingredients
1 pound Pepperjack cheese, shredded
1/2 pound white American cheese, shredded
1/2 pound yellow American cheese, shredded
For the toppings: fresh diced tomatoes, sliced jalapenos, sliced radishes, fresh cilantro leaves (minced), and sliced green onions
Optional: fresh chorizo (casing removed, cooked, and crumbled), smoked Gouda cheese and/or chipotle in adobo sauce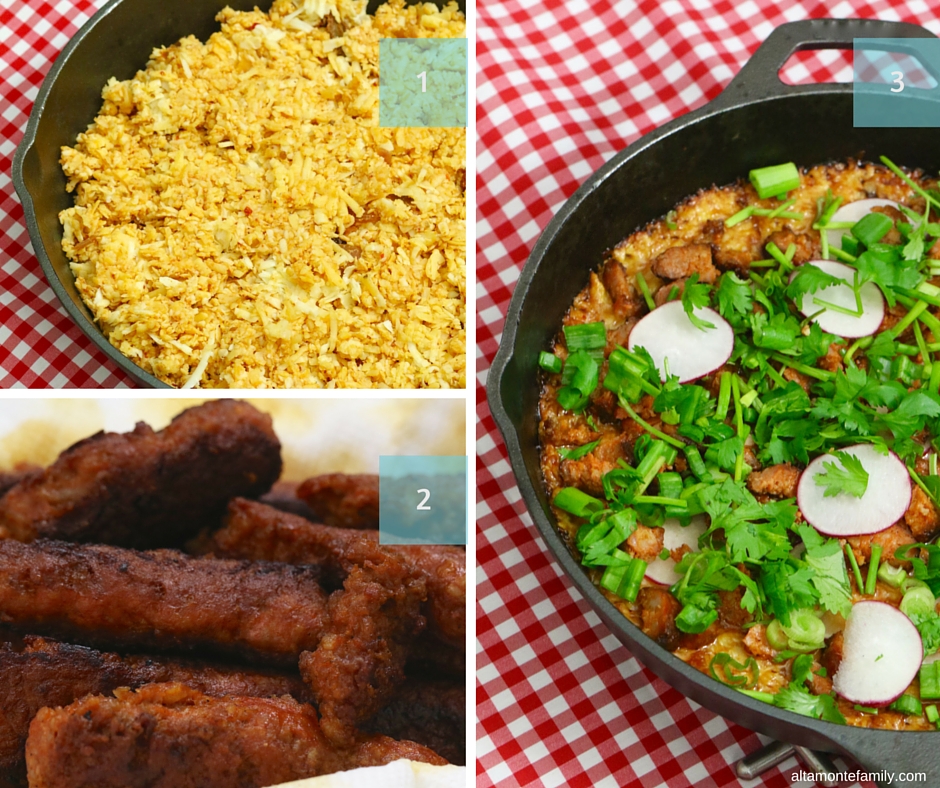 Directions
Pre-heat oven to 400 degrees, then shred cheese (fold in minced chipotle–if available–in a bowl)
Transfer to skillet and add meat of your choice (we used leftover chorizo)
Bake until cheese melts (approximately 15 minutes or when you see bubbles and/or slight browning) then add fresh toppings of your choice
Enjoy with your choice of tortilla chips!
Note: This recipe is best served hot! The cheese hardens pretty fast.
Cleaning your cast iron skillet
Now for the messy part… remember that new dish cloth we just told you about (the one with non-scratch scrubbing power that takes cleaning to a whole new level)? Here's what the New Scotch-Brite® Scrubbing Dish Cloth looks like on one side (this side has high quality fiber dish cloth while the other side has the scrubbing dots technology originating from their stay clean sponges).
We love how it combines the versatility–including the wiping and drying functions– of a high quality dish cloth with the power of Scotch-Brite® scrubbing dots, so we can clean more things around our kitchen much quicker and easier. More importantly, it will not scratch any surface, and it's fully washable, reusable and sturdy.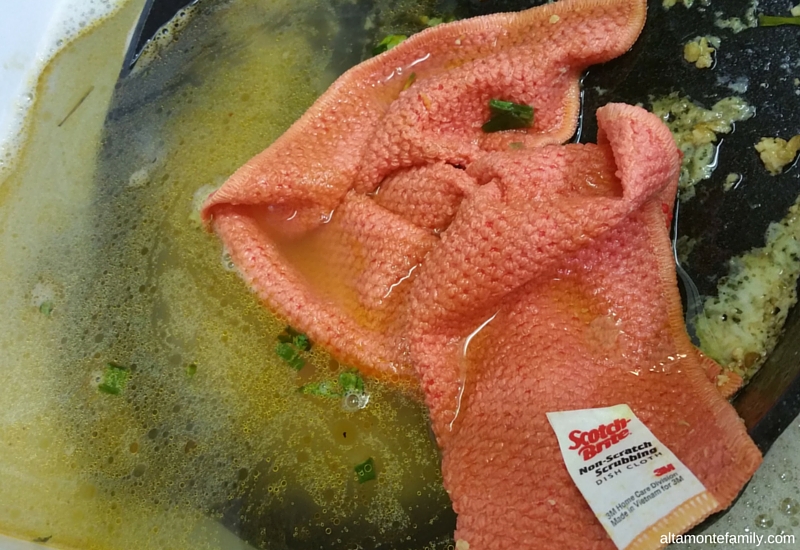 We like to use a dish pan especially for the toughest dishes (to keep all of the mess under control). After I poured in some hot water and an itty-bitty-bit of dish soap (per manufacturer instructions), I was amazed at how easy it was to scrub the mess off of the skillet (using the "scrubby side" of the dish cloth)!
I'm a bit embarrassed to admit that I forgot failed to wash the skillet right away–so at first, I was a bit worried that the stuck-on-for-hours mess wouldn't come off until after I had been soaking the skillet for a while (which isn't recommended). To our surprise (and relief), there was no need to pre-soak the skillet (or use a knife or bottle cap to scrape off the gunk). The Scotch-Brite® Scrubbing Dish Cloth did the job pretty well (and fast)!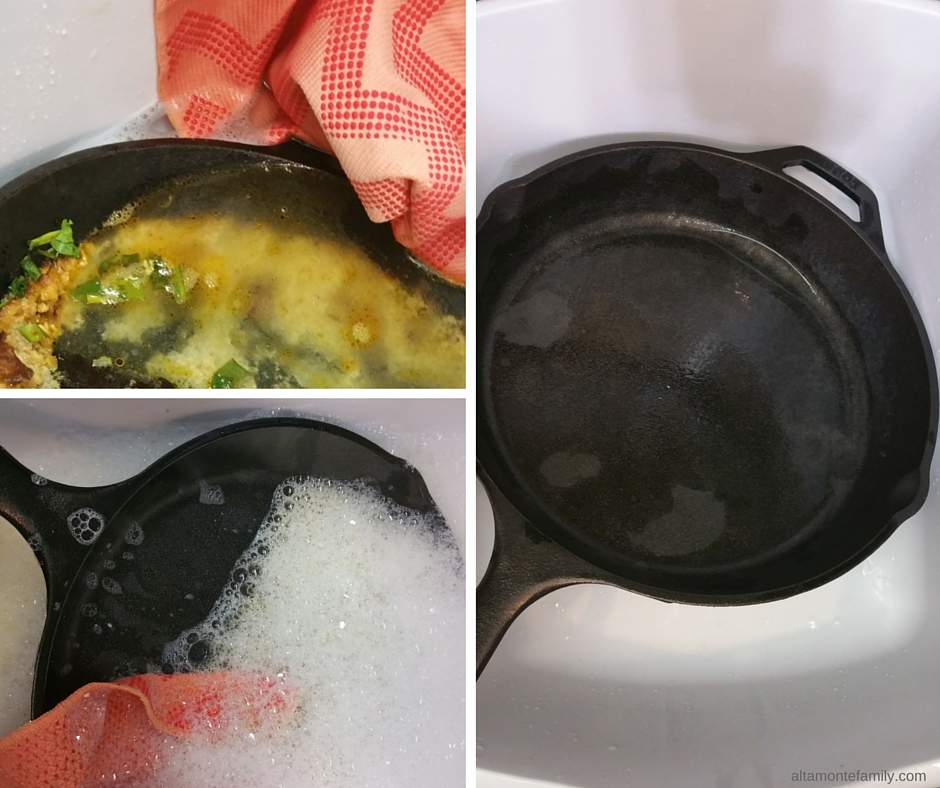 Now, all we need to do is use a dry Scotch-Brite® Scrubbing Dish Cloth (using the "non-scrubby" side) to dry the cast iron skillet and briefly place on stove top over low heat and we're done!
Under the kitchen sink project idea
Since the Scotch-Brite® Scrubbing Dish Cloth is a premium fiber cloth that can be washed and used again easily, we made a special "home" for it under the kitchen sink.
If you have a big family like we do, you're probably constantly looking for ways to save space around the house (and under the kitchen sink is no exception).
We used the "hanging organizer concept" for easy access to clean dish cloths (and the occasional gloves). If you've got some leftover fabric lying around (or if you've got access to inexpensive muslin), you can easily whip up this no-sew project in minutes!
Supplies Needed
Fabric (we used premium muslin)
Fabric tape
Belting material
2 D rings
2 Damage-free wall hooks
Fabric scissors
Directions
Before getting started, measure your under-the-kitchen-sink cabinet door to determine fabric size, allotting ample fabric for the pockets.
Fold your fabric in half and start "hemming" along two of the edges (the long side as well as one of the short sides) with fabric tape
Flip the fabric so that the right side is out then fold in the top hem and secure with fabric tape
To make the two pockets, add fabric tape to lower sides and lower middle section of the fabric then fold it up to secure
Add belting material on each side of your project, applying fabric tape and securing it underneath each of the pockets (just so it doesn't show)
Add a D-ring to each of the belt loops before finally securing the other end of the belt loops to the back of your project with fabric tape.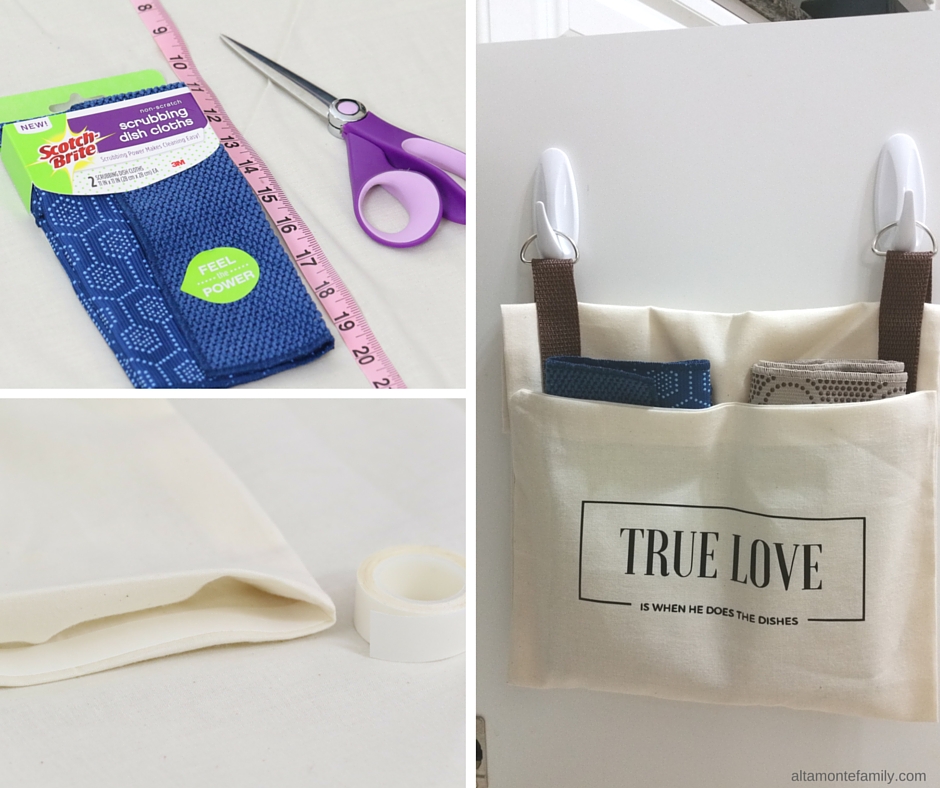 The finishing touches…
Now we just need to attach 2 damage-free wall hooks onto the back (inner side) of the cabinet door so that we can hang our new under-the-kitchen-sink organizer (we had a few wall hooks leftover from a previous project, but smaller ones will work, too)!
Tip: Have a little fun with the design to make kitchen cleaning more fun 😉 Iron-on vinyl always comes in handy to personalize or customize our fabric projects!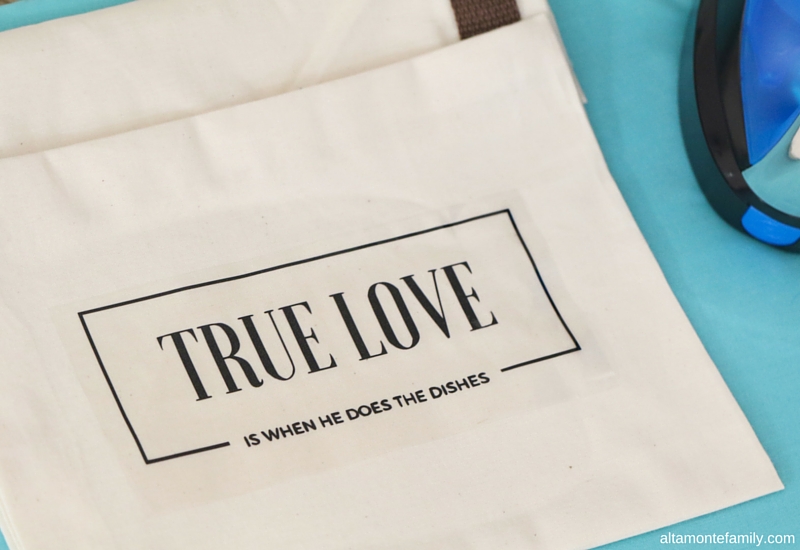 Since I thought of "gifting" this organizer to my husband, I chose Scotch-Brite® Scrubbing Dish Cloths in tan and navy (they're available in 2-packs in tan, coral, and navy for $4.98 at Walmart).
Savings Alert: There's currently a $1 off instant redeemable coupon available for the New Scotch-Brite® Scrubbing Dish Cloths at Walmart (FYI, the coupon is on the product and you wouldn't be able to remove it, but it is redeemable at the register upon checkout).
By the way, we found the New Scotch-Brite® Scrubbing Dish Cloths in the cleaning aisle and not where the other dish cloths are located (it's not in the textile area).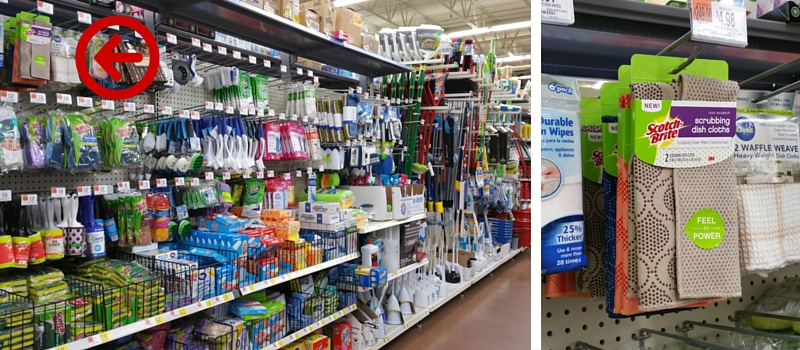 Looking for more recipes and cleaning tutorials?
Be inspired with these other great recipes and cleaning tutorials!
Have fun!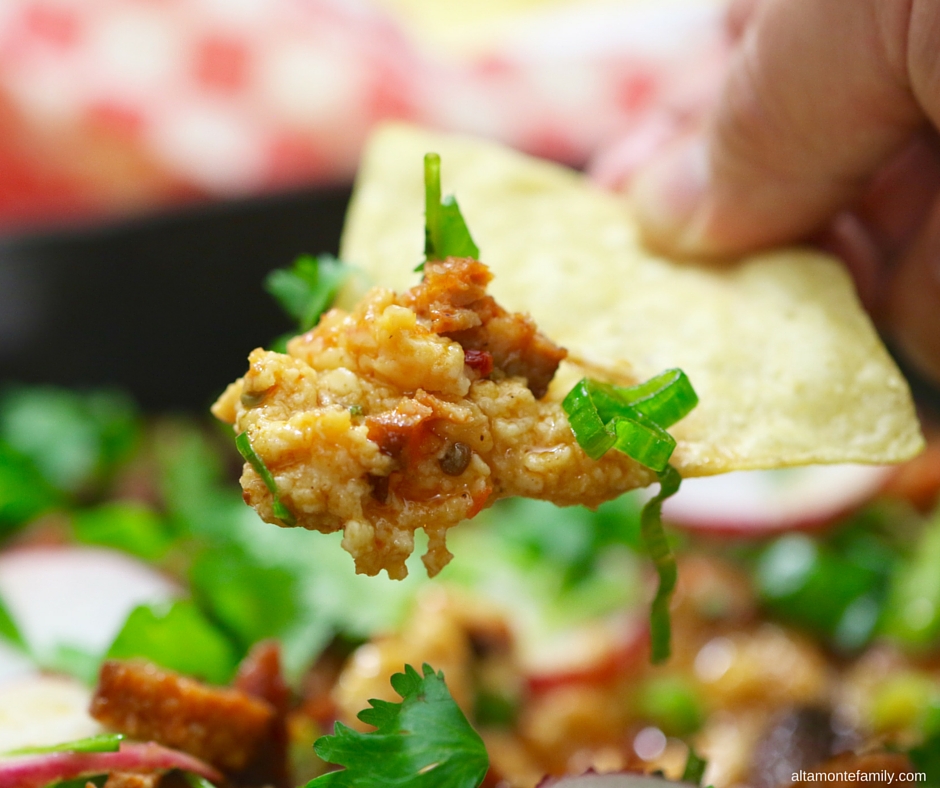 ---
We're Social! If you liked today's post, feel free to share, bookmark, or pin it! Follow us on Pinterest, Facebook, and Instagram for more updates on our latest projects and adventures.