This shop has been compensated by Collective Bias, Inc. and its advertiser.
All opinions are mine alone. #StouffersHoliday #CollectiveBias
---
Busy, busy, busy–Thanksgiving is almost here, already, and today's our official Fall Wreath Hanging Ceremony! Although things are always hectic in our home, it's always fun to celebrate just because (case in point: we "pre-celebrated" the end of Daylight Savings Time last week). Besides simply hanging up the wreath, we decided to host a mini-party (pre-Thanksgiving?) at home. If you're looking for some Time-Saving Turkeyless Thanksgiving party ideas, you're in the right place.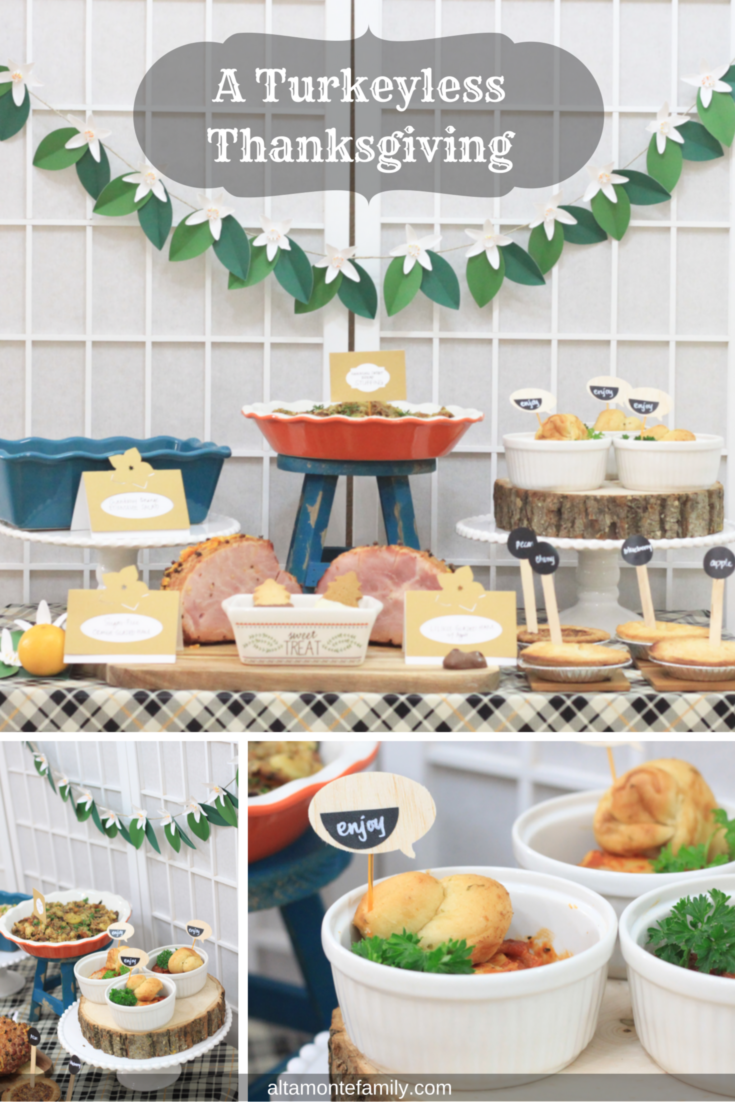 Keep on reading to find a fun, easy meal solution, a recipe for make-ahead Hawaiian sweet bread stuffing, as well as a tutorial on how to make an orange blossom paper garland! With some creativity and the right tools, we believe that simple celebrations can pack a nice punch (with or without serving punch). So how exactly do you throw a time-saving Thanksgiving party without a turkey (and without breaking your bank or your back with all of that poultry weight)?
Make it easy
Make it unique
Make it handmade
Turkeyless Thanksgiving Party Tip #1: Make It Easy
With the recent arrival of our newborn son, we'll be having our first Thanksgiving as a family of six! Life is already busy, so we really got to keep things simple during the holidays.
True Story: Did I ever tell you that I learned many moons ago that cooking the turkey takes time? Let's just say, I undercooked it. My family has since forgiven me. In case you're wondering, nobody ate turkey for dinner that night. Oh, and for the record, that was my first and last time serving turkey at our Thanksgiving table (thankfully, none of us are huge fans of turkey, anyway).
We may not be huge fans of turkey but we are definitely huge fans of Garfield (remember that TV show?)… which means, we are huge fans of lasagna!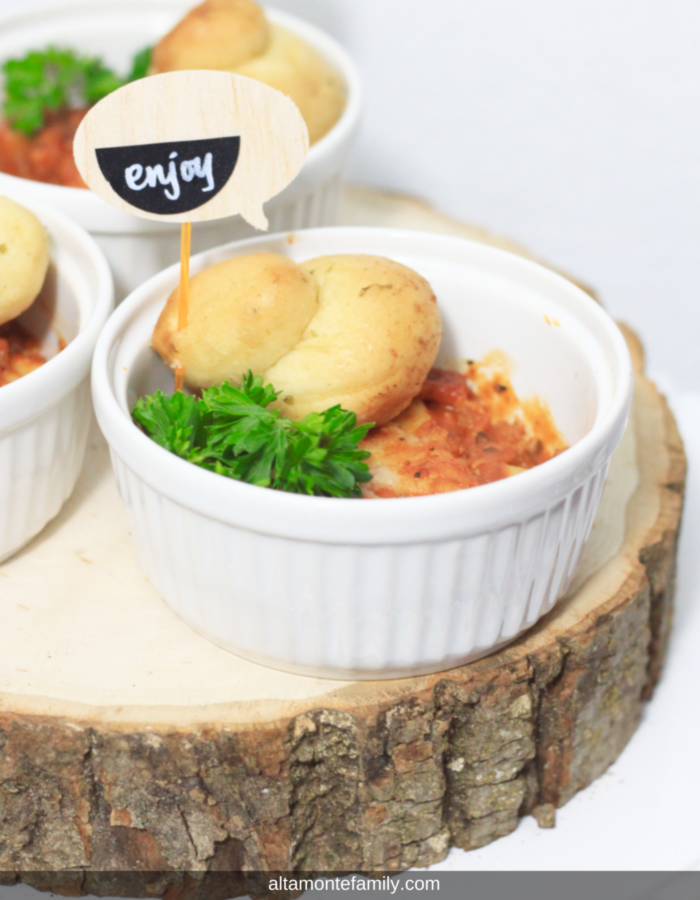 Quite frankly, I don't think I'd ever dare making lasagna from scratch (either because it's too complicated for my cooking ability/patience and/or I'd end up eating most of the ingredients before they even make it to the oven). Now that I'm a mom of many lasagna-loving kids, I rely on STOUFFER'S as an easy solution to feed my family especially during the busy holidays! Our boys are always hungry, so having a STOUFFER'S lasagna box to pop in the oven for such moments has always been a life-saver!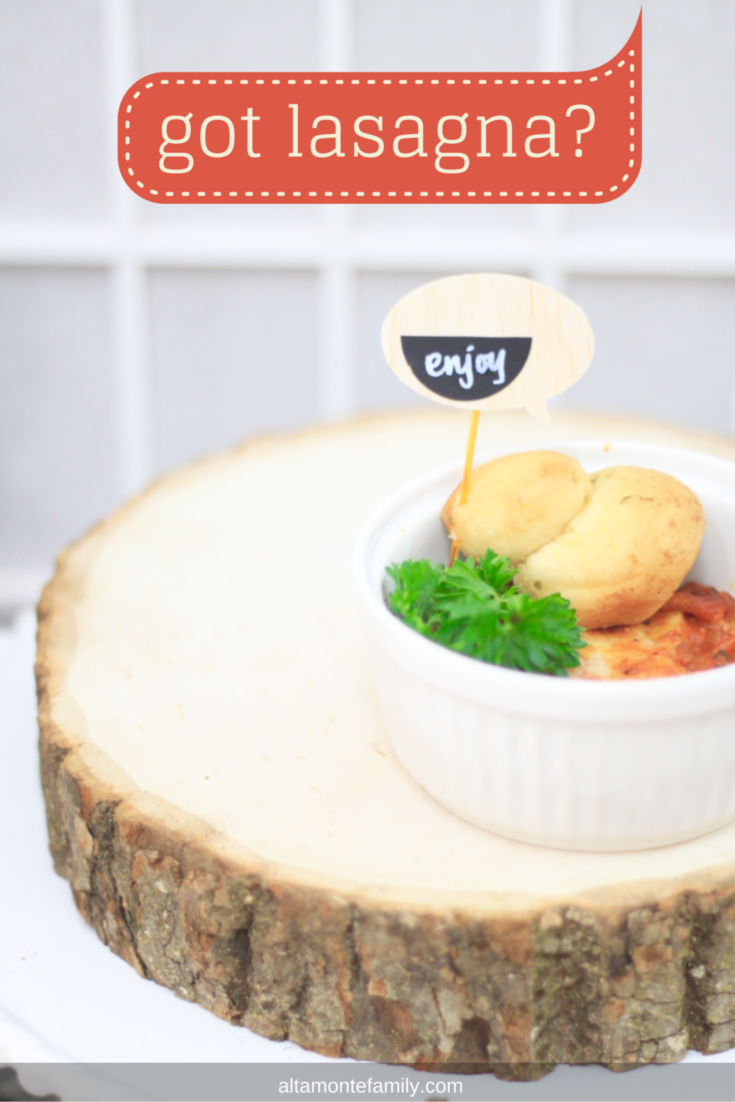 If you have kids like ours, serving lasagna can get quite messy, especially when little hands decide to help themselves.
A Mess-Free Way To Serve Lasagna
We've always enjoyed serving our lasagna in little white bowls to make it easier for our kids and guests to simply grab and go (and come back for seconds). Did you know that our boys often get hungry in the middle of watching a family movie? Popcorn just doesn't cut it for them. These lasagna bowls are the perfect in-between movie "snack" for them.
From time to time, we change up the look and feel of our lasagna bowls. This time, we threw in: 1) sprigs of parsley, 2) small garlic knots, and 3) balsa wood food picks with chalkboard labels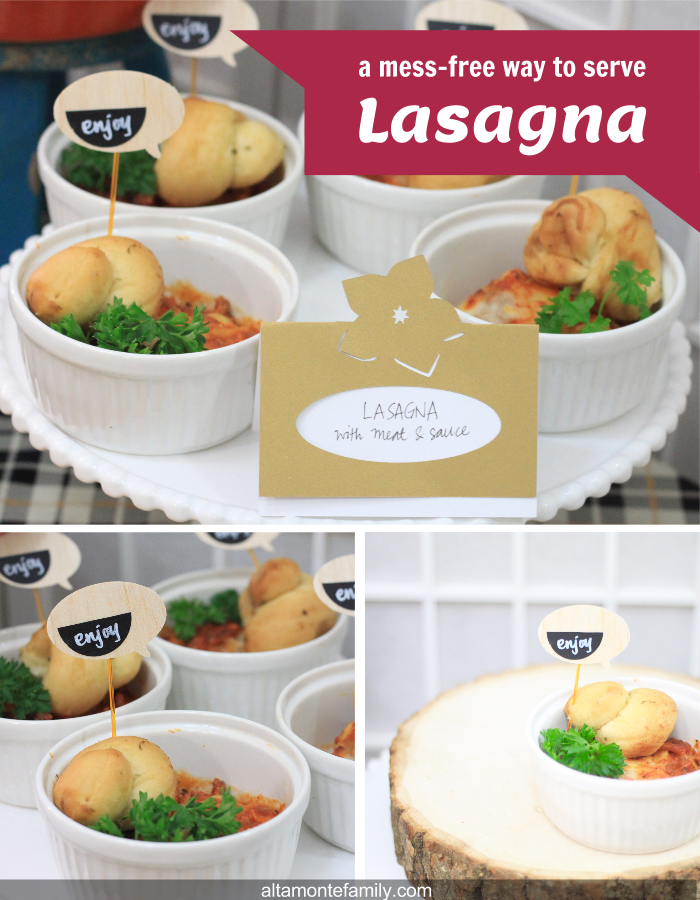 For today's party, we picked up a family size box of STOUFFER'S with Meat & Sauce (this particular choice is on rollback at Walmart from October 1st through December 31st). There's a bunch of ways to enjoy STOUFFER'S by pairing it with other recipes; you can find a wealth of ideas on the NESTLÉ® Flavorful Moments Pinterest Page!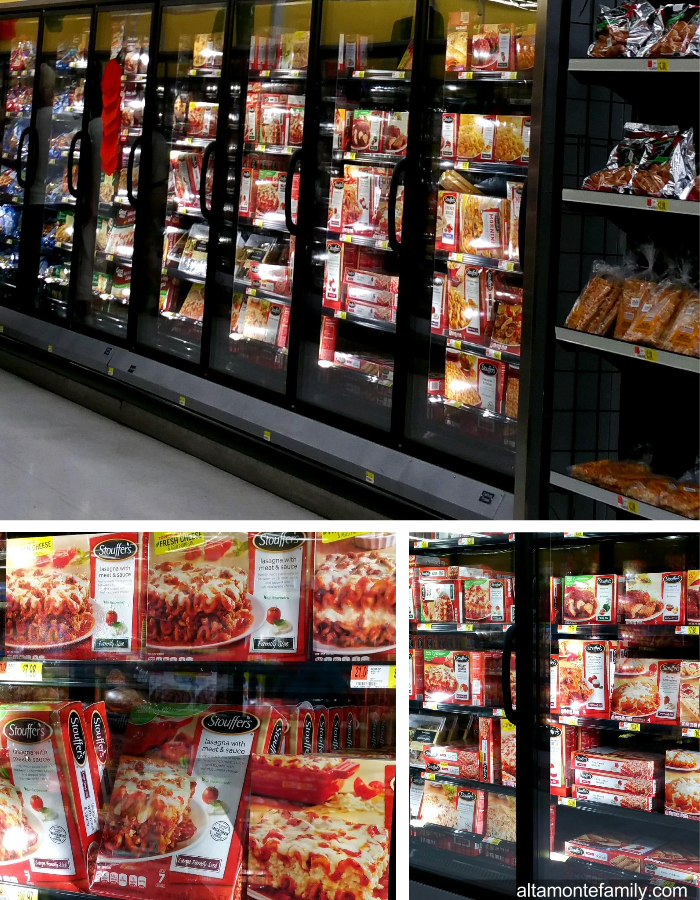 Turkeyless Thanksgiving Party Tip #2: Make It Unique
Having moved to Florida from Hawaii, we get all nostalgic especially as we approach the holidays. We like to bring in a touch of Aloha and combine it with hints of Florida citrus in many of our parties. While we certainly loved and enjoyed living in Hawaii for most of our lives, we are very thankful that God moved us to Florida! So, are you ready for some Hawaii-Florida-infused ideas?
2 Different Ham Glazes
Since we removed the turkey, we decided to do not one but two different kinds of ham glazes this year: lilikoi (passion fruit) glaze with agave nectar (to represent Hawaii) and sugar-free orange marmalade (to represent Florida).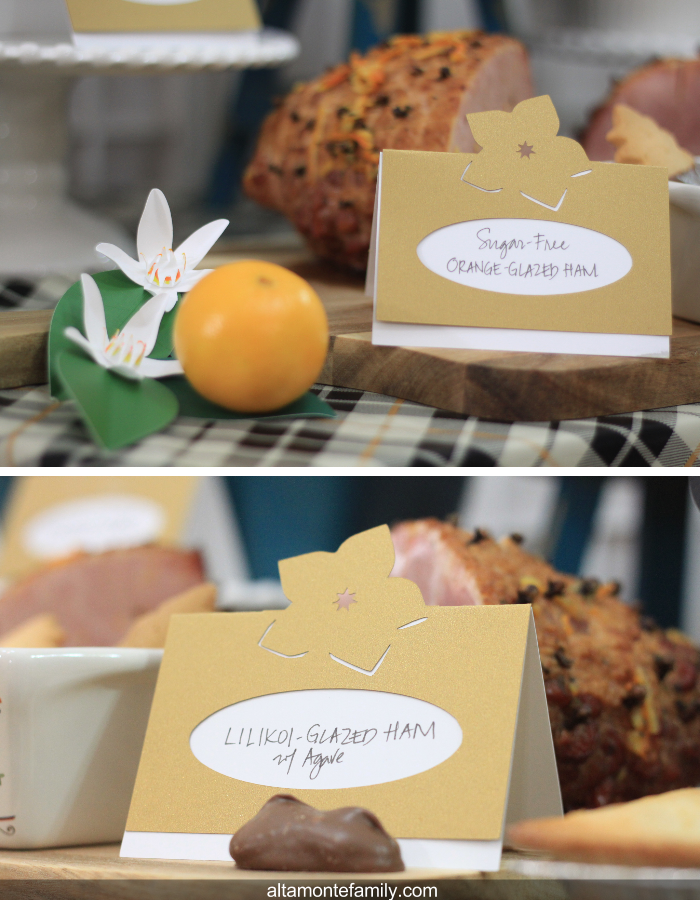 Can you spot the chocolate macadamia nut candy in the above photo? #GetInMyBelly!!!
The Sweet Treats
Our sweet treats included some candies from Hawaii as well as some store-bought mini pies. The pies are sitting on some Hawaii wooden coasters that we used at a recent Coffee Social.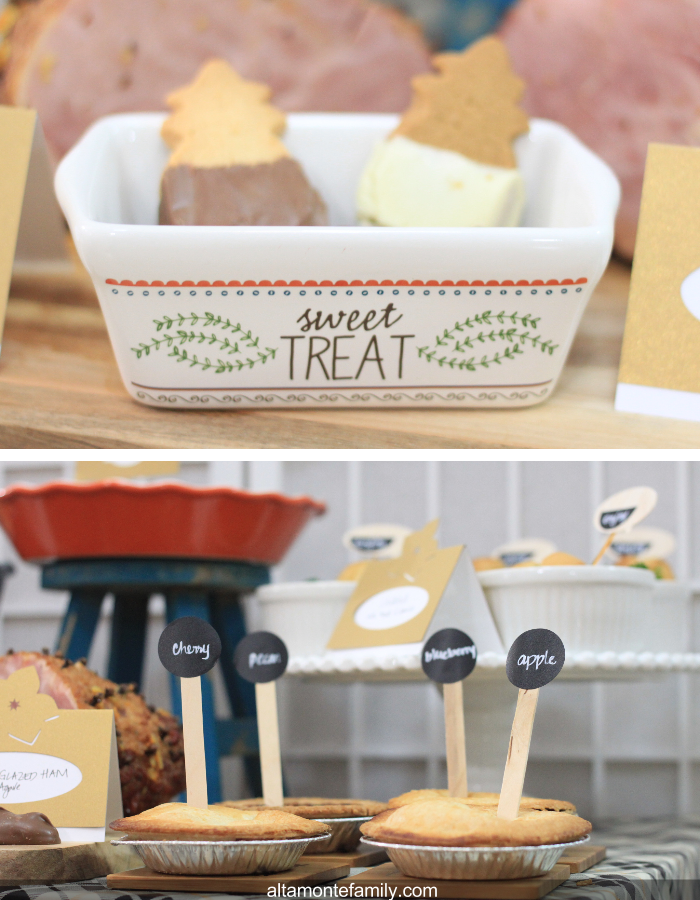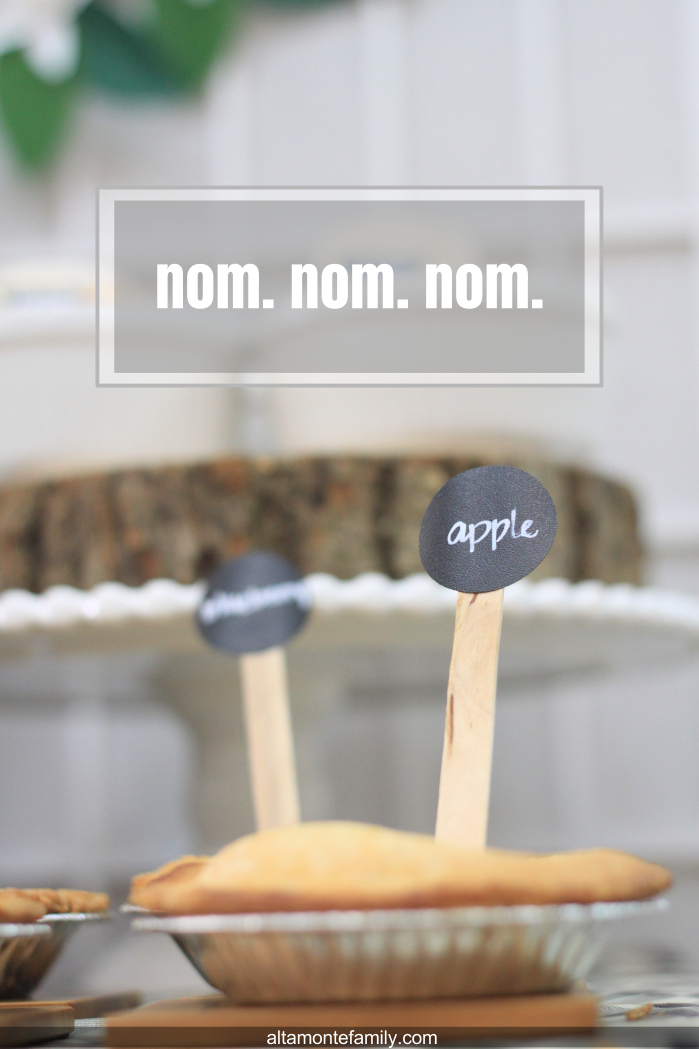 The Salad: Asian Fusion!
We did a make-ahead, refreshing, Asian Fusion Edamame Salad that combined the flavors of the season and two regions: edamame, sweet corn, dried cranberries, oranges, crushed walnuts, and feta cheese, drizzled with organic grapeseed oil.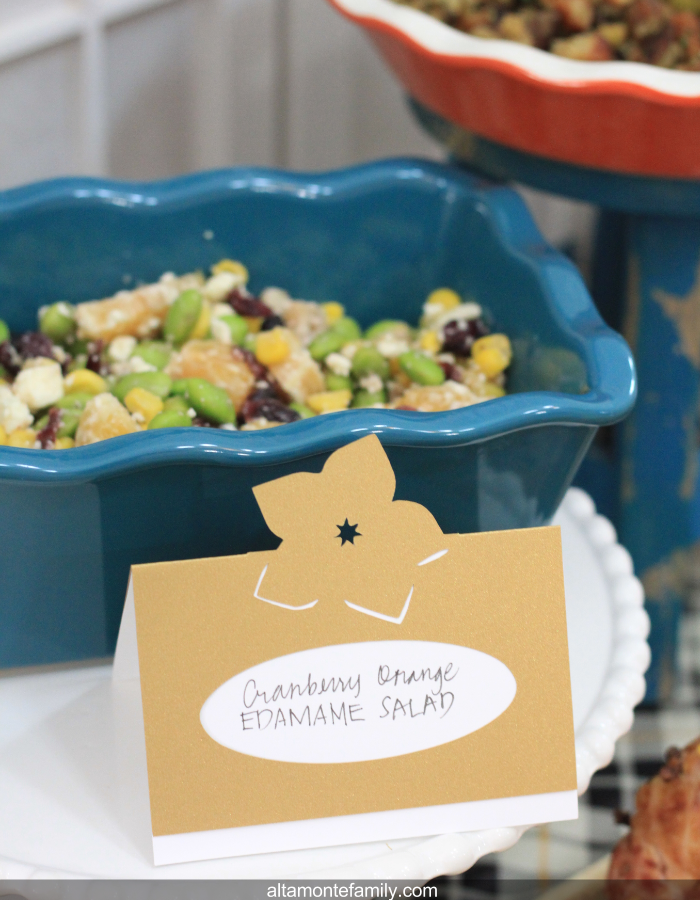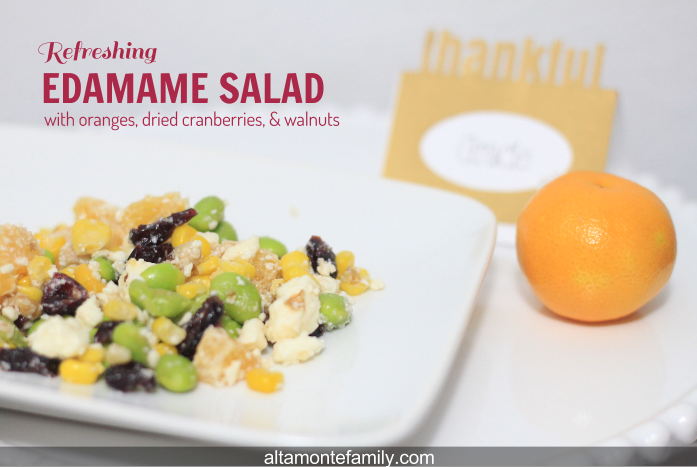 The Stuffing
We couldn't help it, we just had to make stuffing with Hawaiian sweet bread this year! You see, we still love stuffing despite our lack of love for turkey. Gobble gobble gobble… the stuffing.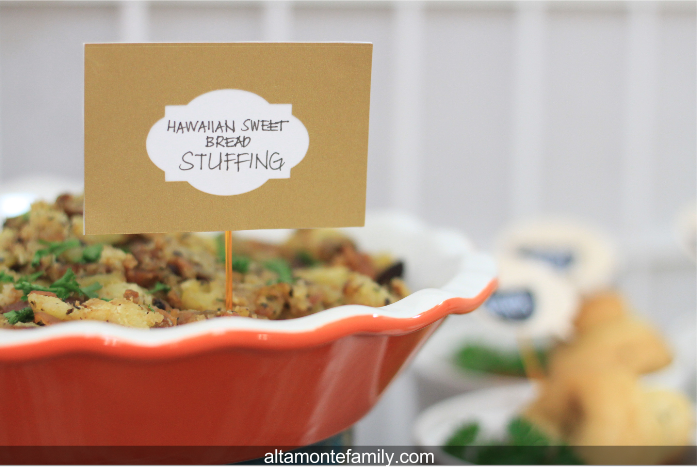 If you'd like to get the recipe for our Hawaii-inspired stuffing, please read on!
Recipe: Hawaiian Sweet Bread Stuffing
Here are some details about this super-easy recipe. You can quickly make this while waiting for the STOUFFER'S Lasagna with Meat & Sauce that we talked about at the beginning of this post.
Serves 4-6
Prep Time: 10 minutes
Cook Time: 20 minutes
Total Time: 30 minutes
Ingredients:
1 tbs cold-pressed, extra virgin, organic coconut oil
1 tbs granulated garlic
1 tbs salt
2 tbs sweet basil, tried
1 tbs oregano, dried
1 tbs chives, dried
8-10 small potatoes (we used fresh creamer potatoes), cut into medallions
2 whole pineapple sausages, chopped
1 stick butter, unsalted
4 pieces Hawaiian sweet bread, chopped
Fresh parsley, minced (for garnish)
Instructions:
Step 1.  In a medium sauce pan, melt coconut oil in medium heat.
Step 2.  Add the potatoes and season with granulated garlic, salt, sweet basil, oregano, and chives.
Step 3.  Brown the potatoes for 5-7 minutes then fold in the sausages.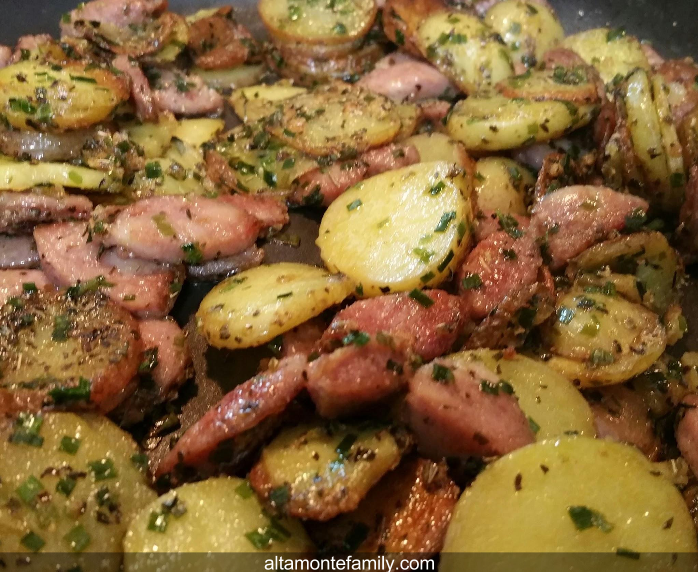 Step 4.  Cook for another 10 minutes in medium heat and gently stir.
Step 5.  Reduce the heat to medium low and fold in the chopped Hawaiian sweet bread.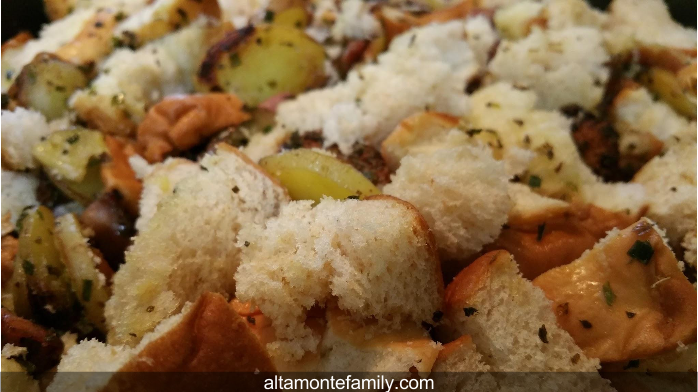 Step 6.  Melt a stick of butter (binding agent) over the mixture and gently stir.
This is what it will look like after the butter has melted. Mmmmm…. good!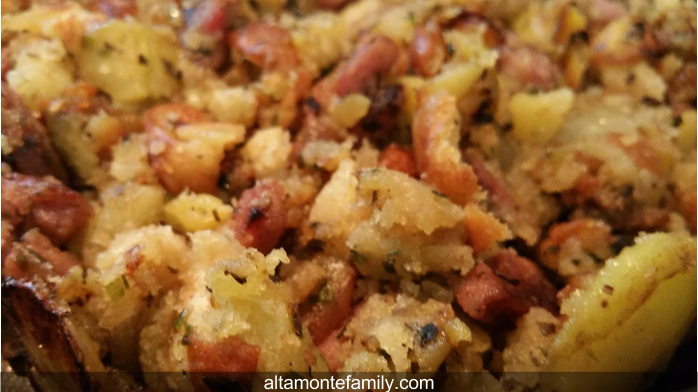 Step 7.  Garnish with minced, fresh parsley and serve.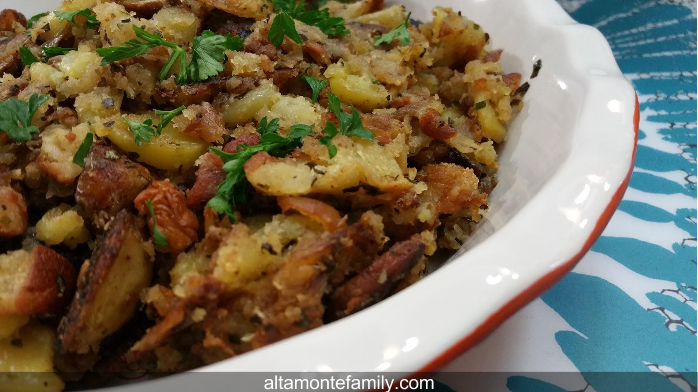 Turkeyless Thanksgiving Party Tip #3: Make It Handmade
There's just something about handmade gifts, crafts, and decor that makes our hearts sing! In our busy lives, we're not always afforded the opportunity to make handmade things, so it's like a nice treat when we're finally able to sit back and appreciate what we just made! You may have noticed our food tags and name place cards in some of the photos above. We shared a pop-up place card project in a previous post: the image is in PNG format so you can either print it out and use as a template or you can upload it in Cricut Design Space if you own a Cricut Explore.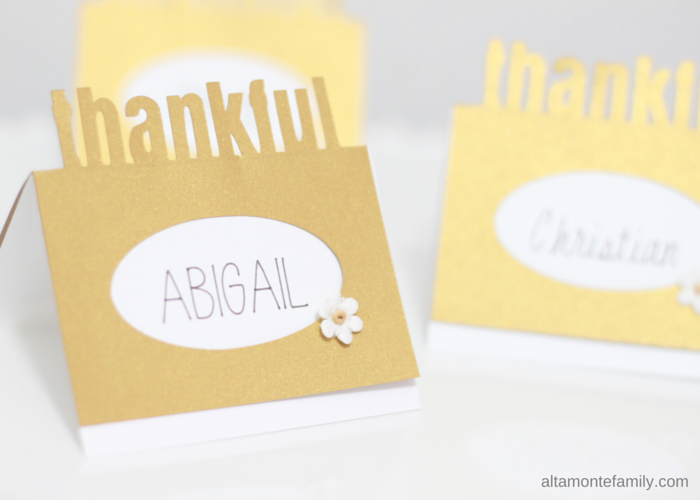 Now, let's talk about the orange blossom paper garland that you've seen in our photos…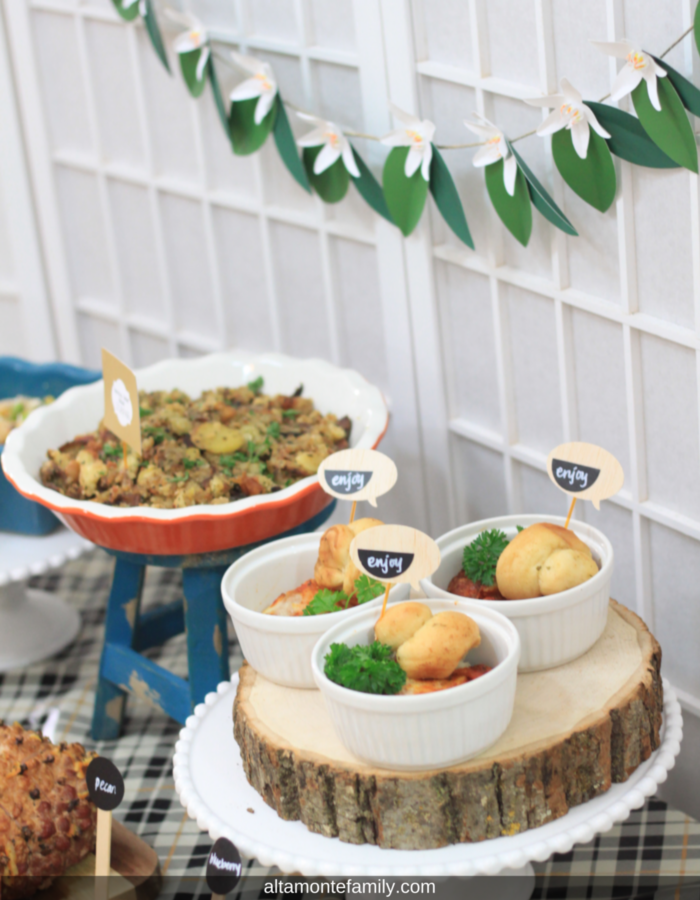 How To Make An Orange Blossom Paper Garland
This was our first time designing our own paper flowers (we used Google Draw since it's free and fast), and we're pleased with how our project turned out! We didn't use any specialty paper for this project!
Supplies Needed To Make Orange Blossom Paper Garland:
White card stock (we used 65 lb paper)
Green card stock (we used 2 different shades of green as a matter of preference)
Twine
Tape
Glue gun
Scissors (or you can use your Cricut Machine, to save time)
Yellow marker
Orange marker

Instructions:
Step 1.  Get our free image file (download link below) to use as a template (if cutting by hand) or as a cut file (using your Cricut Explore).
Note: We're only providing the image file for the orange blossom and not the leaves. The file contains 2 images: the larger image is for the petals and the smaller image is for the pollen area (to be glued to the middle of the orange blossom).
Step 2.  Cut out the two parts of the orange blossom.
Step 3.  Pinch the ends of each of the 5 petals to add shape and dimension.
Step 4.  Fold in the little parts of the pollen area then use glue (or a glue gun) to adhere the base to the middle of the flower.
Step 5.  Using your markers, lightly color in the pollen area.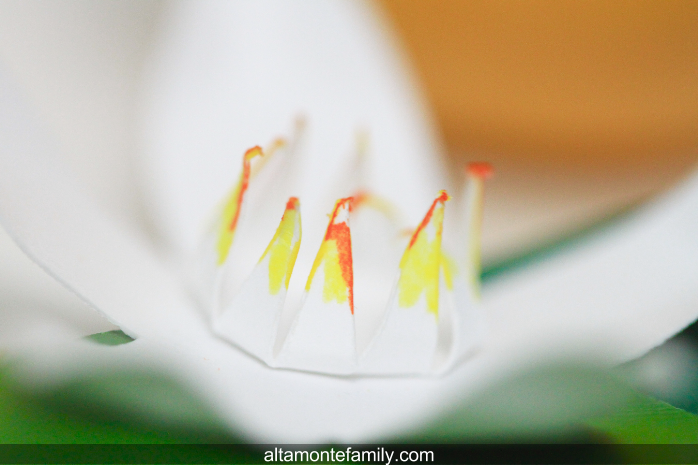 Step 6. Cut out some leaves with the green card stock and adhere behind the flower using a glue gun.
Step 7. Pinch the ends of the leaves to add shape and dimension.
Step 8. Tape approximately 12 sets of orange blossoms (more or less, as desired) onto twine to make a beautiful garland!
That's it!
Other Uses:  You can also use these paper orange blossoms as gift toppers and other types of party decor.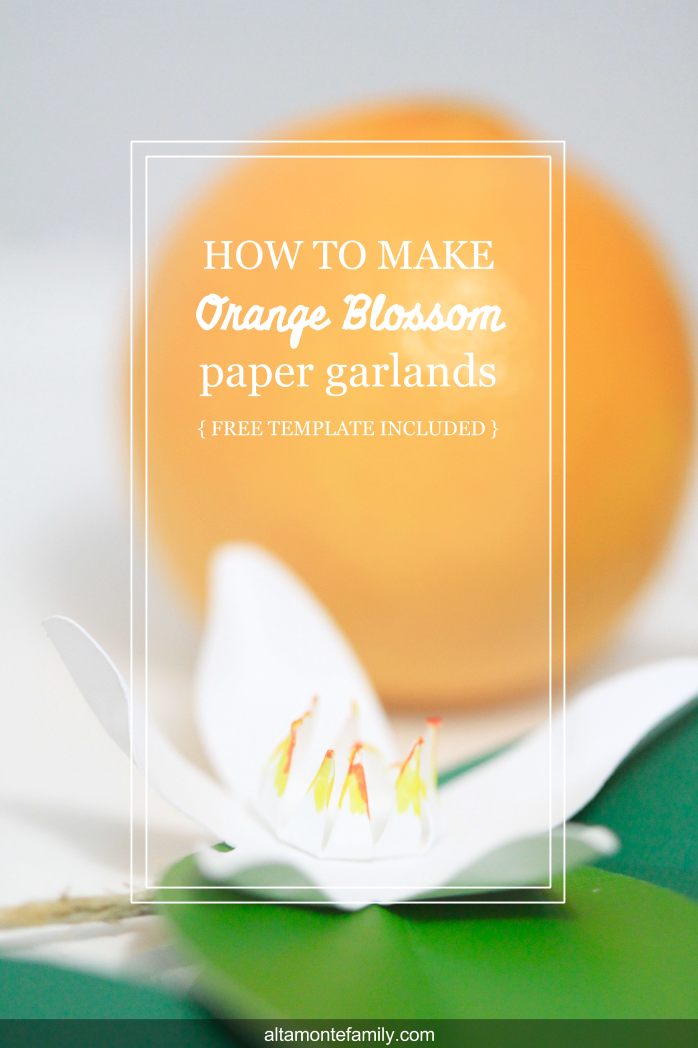 Ready to create? Feel free to get our free template, and kindly note the following:
For Personal Use Only: We created these free digital cut files for your personal, non-commercial use only. Please do not alter them in any way. Kindly read our full Terms of Use.
Why is the image black?  We typically design our digital cut files (the ones in PNG format) in "black" to make it easier for Cricut Design Space to detect the color contrast. This helps the "magic wand" to quickly clean up the image prior to finalizing your upload.
We hope you'll enjoy using our free template / digital cut file for your next project! Please feel free to click on the link below to get the cut file.
---
So, how will you be celebrating your roots this Thanksgiving? Don't forget to check out the Flavorful Moments Pinterest Page for some recipe inspiration, and please tell us:
What kind of time-saving, easy solutions will you be using so you can spend more time relishing old memories and making new ones?