This shop has been compensated by Collective Bias, Inc. and its advertiser,
Dr Pepper/Seven Up, Inc. All opinions are my own. #BrighTENtheSeason
It's hard to believe that Thanksgiving is already over and that we're really, really, really right smack in the middle of the holidays! We absolutely love this time of the year, including the time-off from work that comes along with it! Winding down with a throwback holiday movie with the family and a few close friends has been a long-time tradition of ours. Our kids may not admit it…they may even tell you that the "movies of our time"–which, to them, are called "classics"–are quite cheesy. Regardless of what they say (oh, well), these throwback holiday movie nights have created many a memorable and perfect holiday moment for all of us!
Can you guess which movie we'll be watching??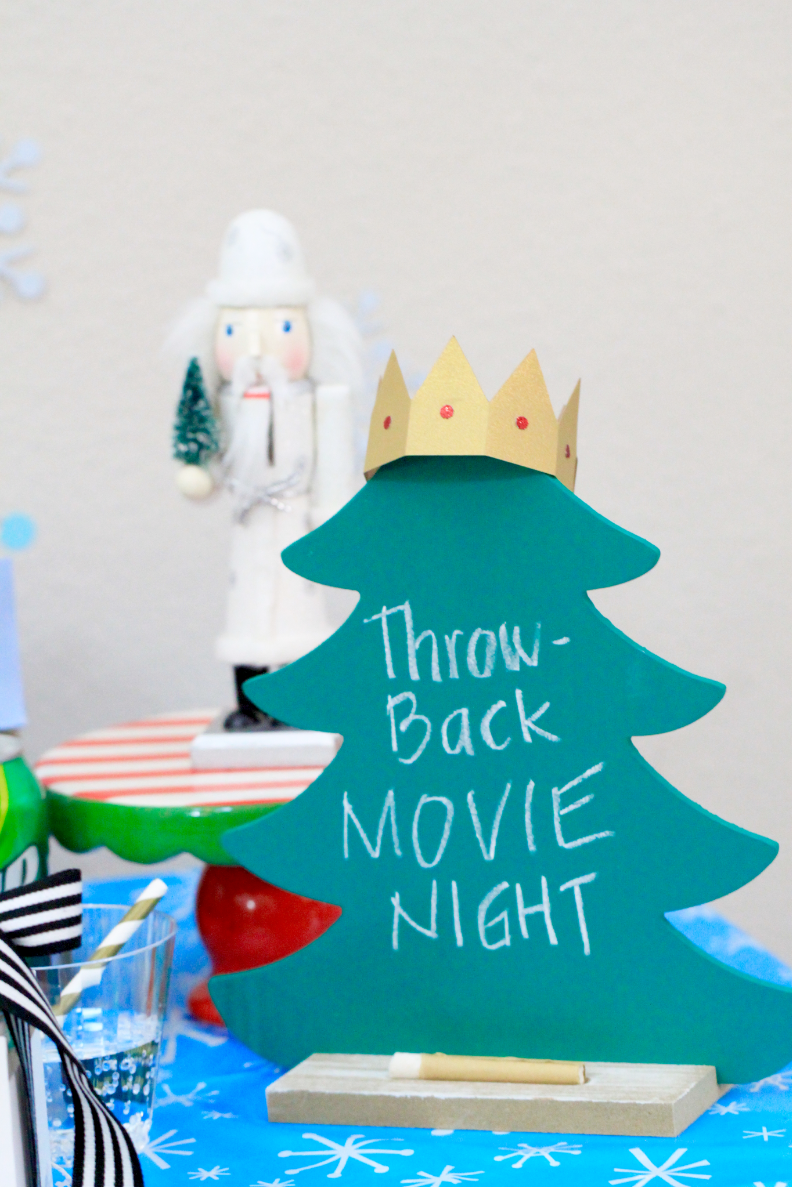 We're not really sure what the reason is behind our kids' ability to watch the throwback movies from start to finish. Maybe they're just awesome team players? Or, maybe they really do get sucked into the whole story. Perhaps, they're secretly starting to gain an appreciation for their so-called "classics". Then, again… there's the food. Yeah. Maybe, it's the food. We'll stick to that.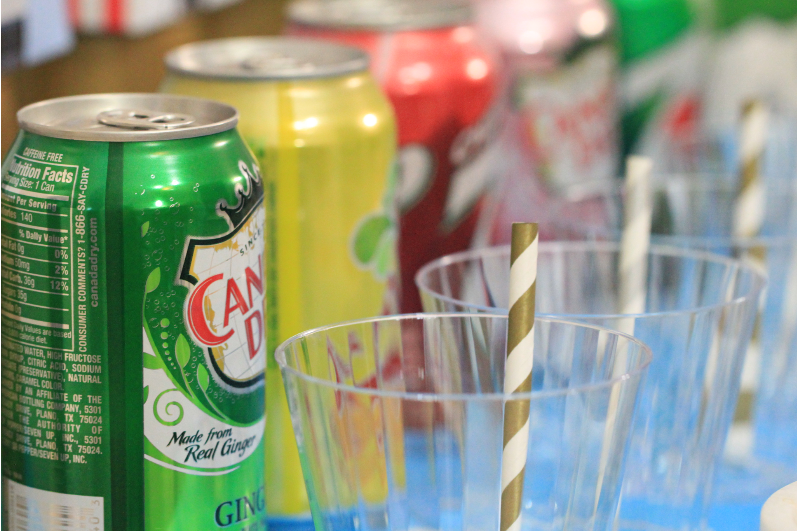 We love it when the refreshments compliment our movie theme! Don't these soda cans just look soooo festive?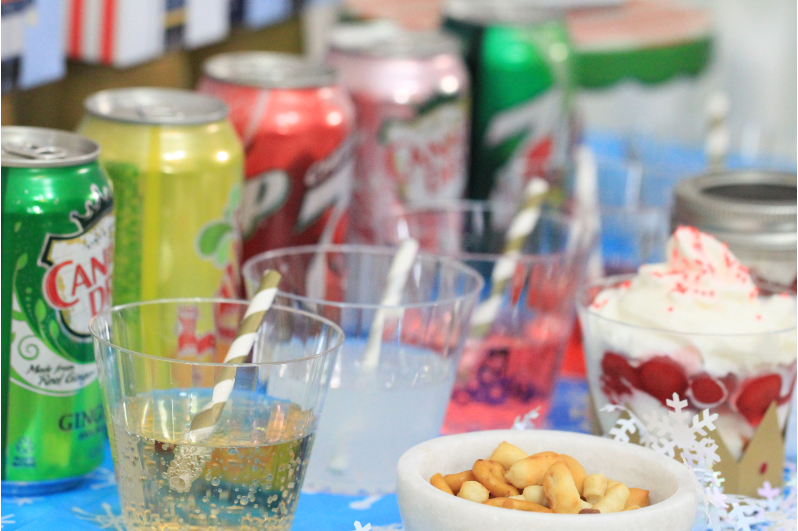 They're great for making awesome desserts, too, like this super-yummy Toy Soldier Cherry Chocolate Cheesecake Brownie!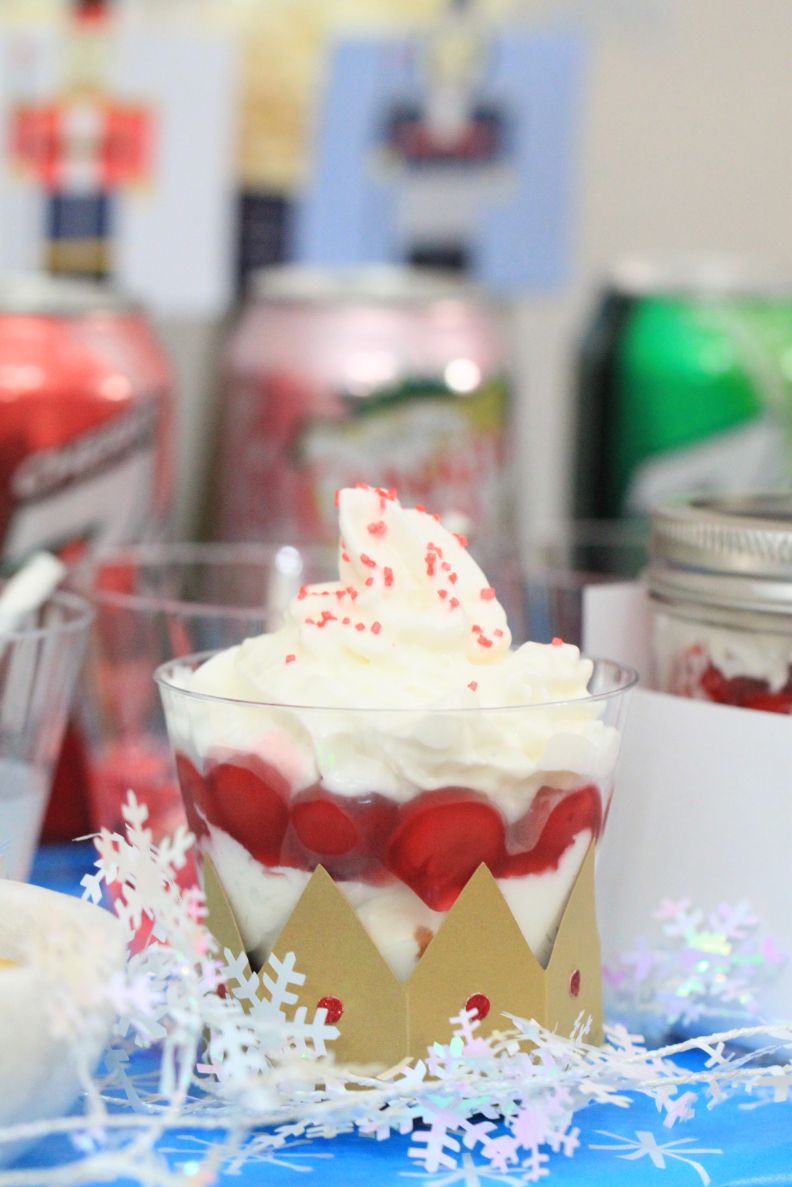 Since we have children with a wide age range, we decided to serve the dessert in plastic party cups. The layers are just so beautiful and they even match our movie theme! We couldn't help but use a themed wrapper that we made out of metallic gold paper and confetti from hole-punched red glitter cardstock.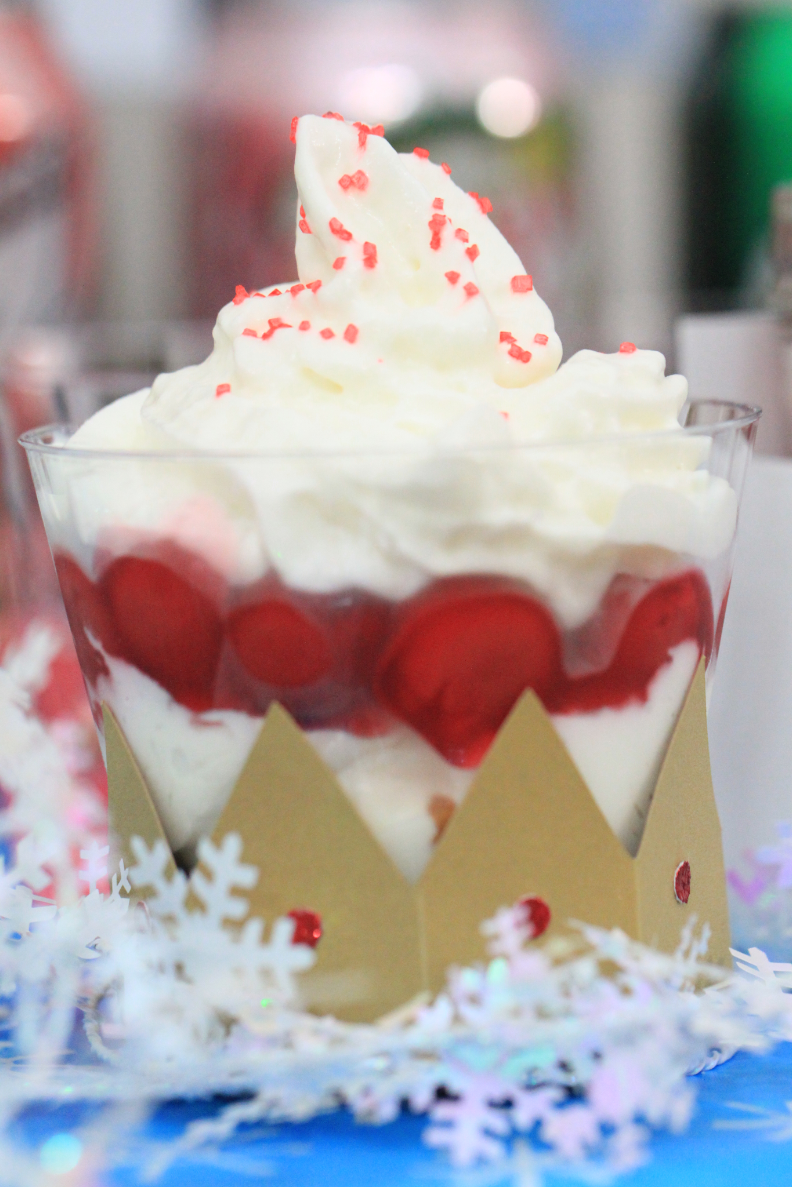 Some of the adults prefer to save the desserts for later… or have them as take-alongs! Great idea, right? So… we decided to serve some in jelly jars, too… with a matching themed box wrapper to boot! We're happy to share the free printable with you so you can also make your own Toy Soldier boxes and use them as party favors, teacher gifts, stocking stuffers, etc. Better yet, feel free to use our recipe and turn it into a sweet holiday gift!
We're really loving the flavors and texture of our featured dessert this year as well as our Toy Soldier theme!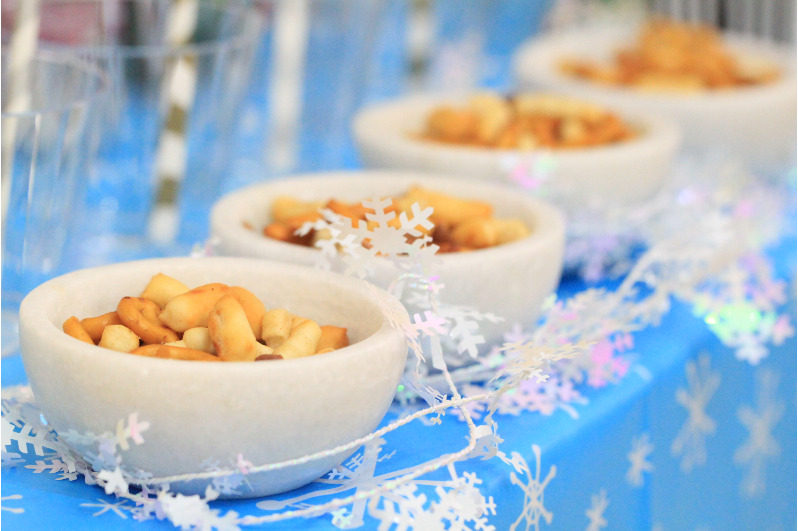 So, are you ready to know about our secret ingredient? Keep on reading!
Recipe: Cherry Chocolate Cheesecake Brownies
Please note that we purposely made these brownies chewy and fudgy as the texture goes so well with the cheesecake and other toppings. They're super easy to make–the secret is in making the layers. That's it! The other secret? Cherry 7UP®!
Okay, so it's no longer a secret.
We weren't aiming for the brownie-cola taste! Instead, we're shooting for the fudgy + chewy texture. The Cherry 7UP® did the job!
Servings: 10
Active Time: 10 – 15 minutes
Inactive Time: 4 hours
Total Time: 4 hours 15 minutes
Ingredients:
For the brownies:
Cooking spray (to lightly grease the 9 x 9 nonstick baking pan)
⅓ cup vegetable oil
⅓ cup Cherry 7UP®
1 egg
1 package – brownie mix (we picked ours up from Target–it comes with a separate packet filled with chocolate syrup goodness)
For the cheesecake:
3 8oz packages – cream cheese (room temperature)
9 oz whipping cream (room temperature)
⅓ cup organic sugar
For the toppings:
1 21 oz can unsweetened cherry pie filling
whipped cream
Red candy sprinkles (optional)
Instructions:
Lightly grease a 9 x 9 nonstick baking pan. In a large mixing bowl, combine the rest of the brownie ingredients, mixing well. Pour the batter in the pan and bake at 325 degrees for 35-37 minutes. Set aside to cool, then cut into cubes.
Using a high-powered blender or mixer, beat the softened cream cheese, whipped cream, and sugar until smooth and soft. Refrigerate for 4 hours or overnight, for best results.
Using a cup or jelly jar of your choice, layer the brownie, cheesecake, and toppings.
First, the brownie and then the cheesecake. It helps to use an ice cream scooper!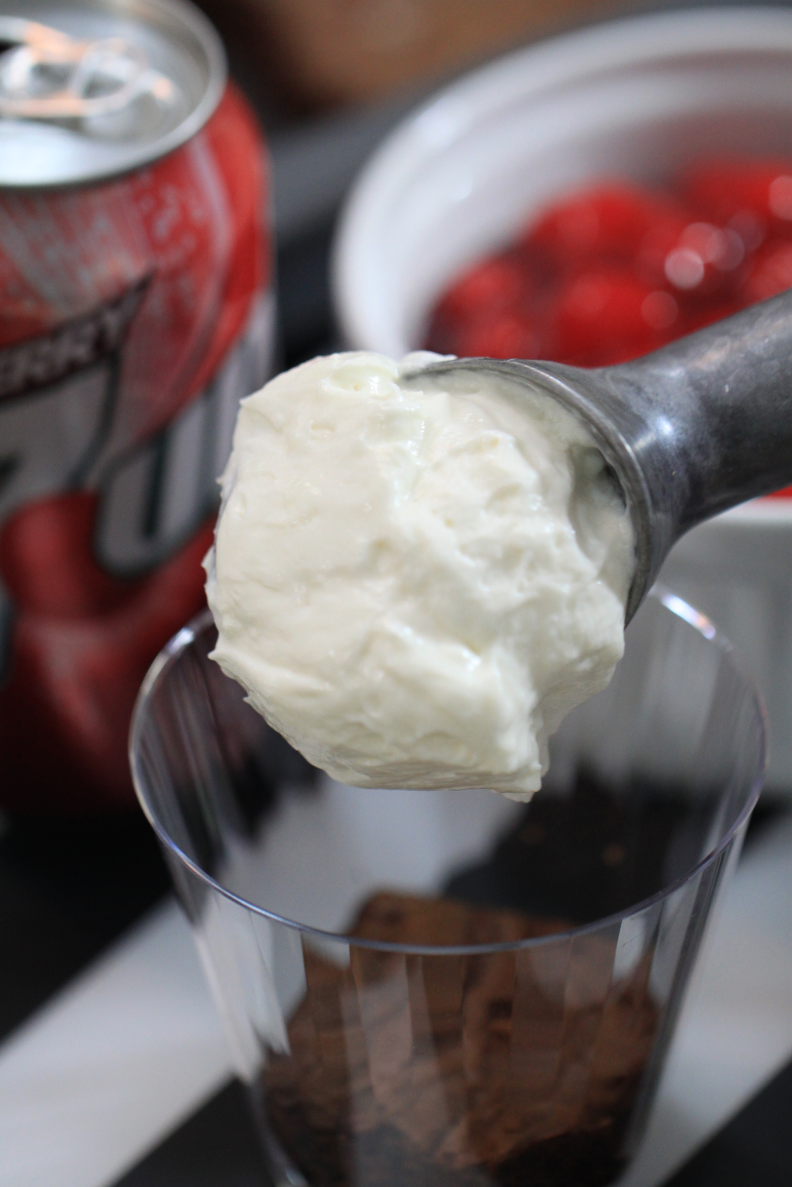 Next, add the cherry pie filling.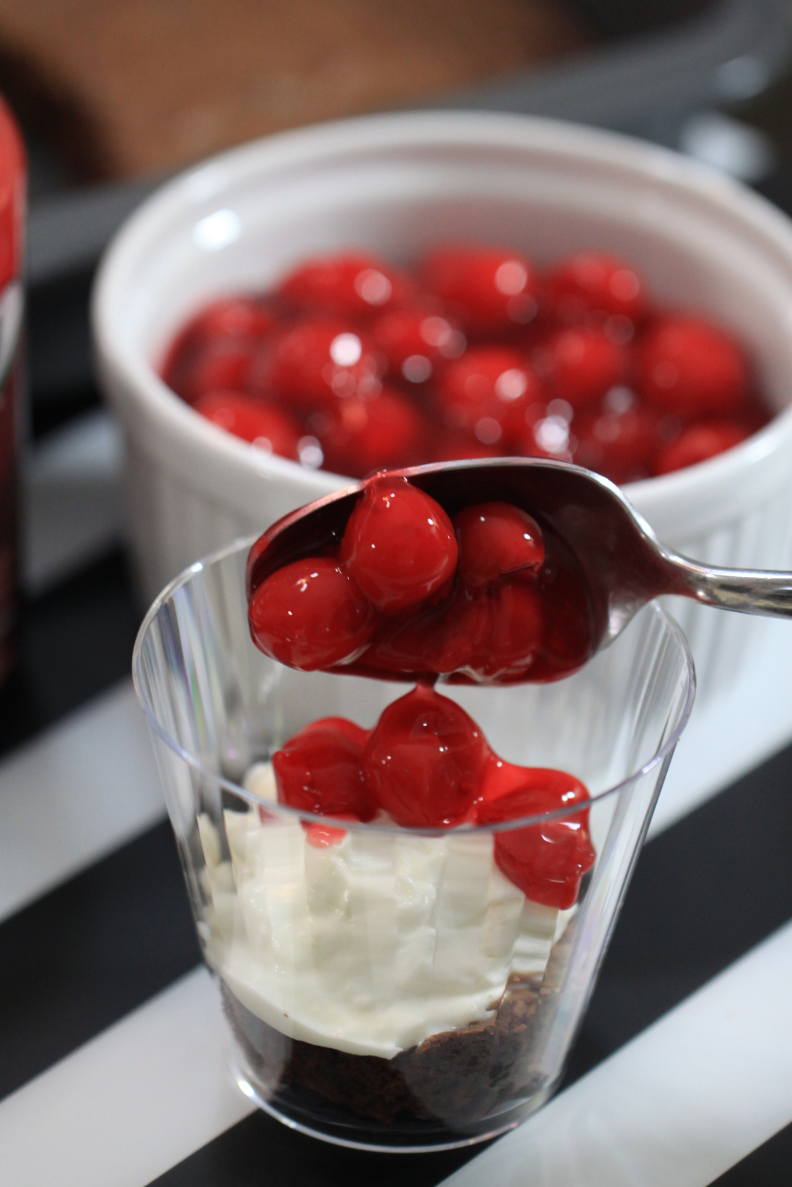 To make the cherry pie filling taste even better, add a little bit of Cherry 7UP®!!! That's yet another secret we're giving away today!!!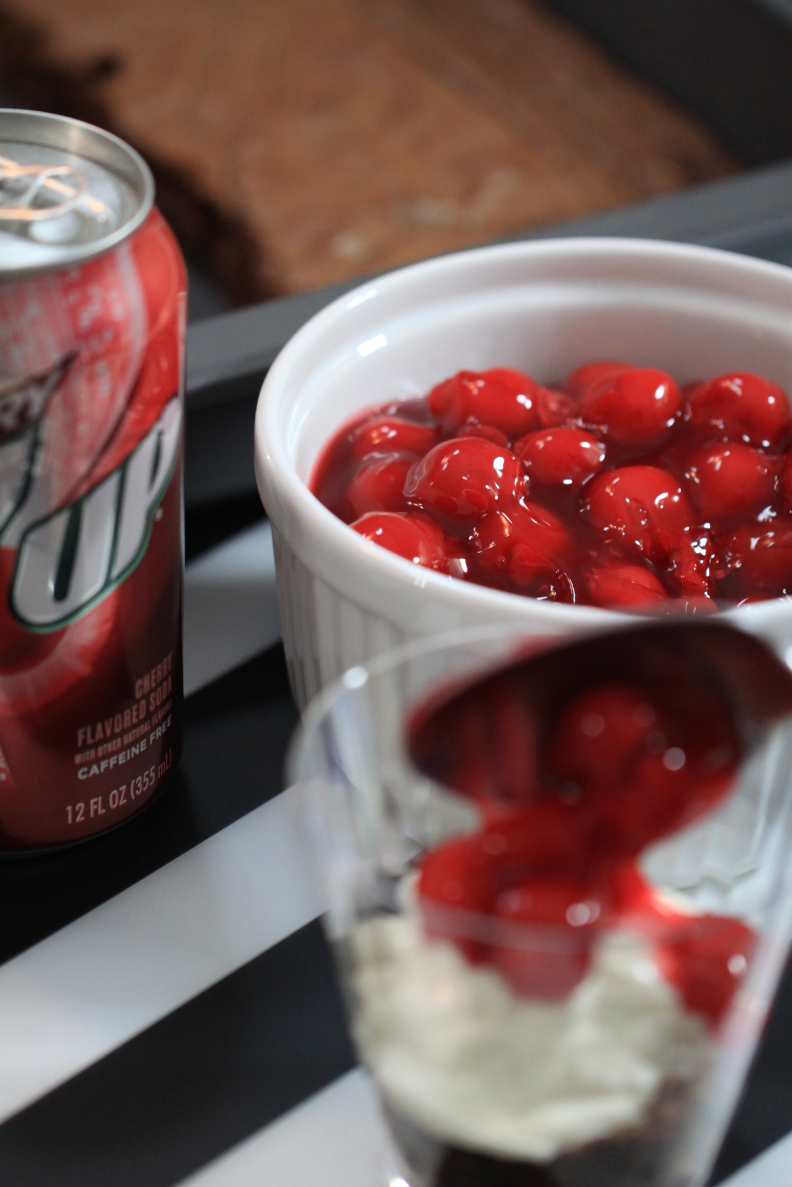 Then, add the whipped cream.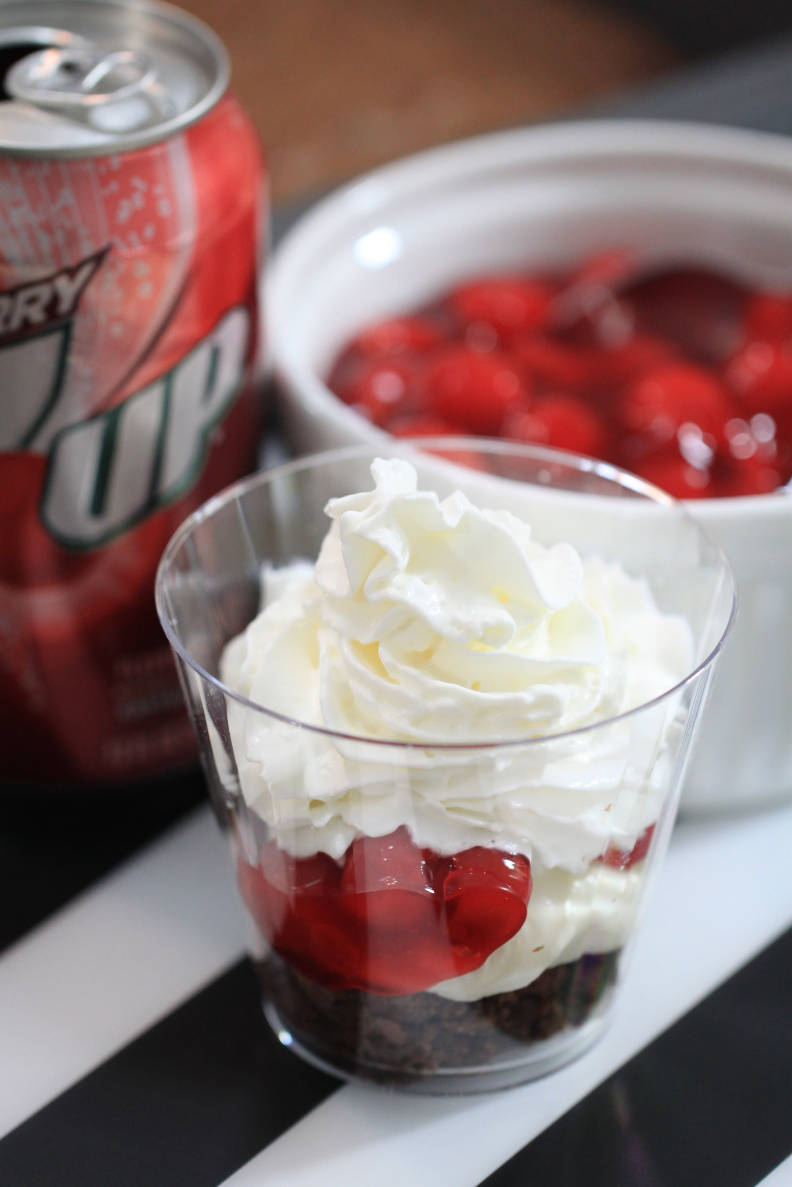 Now, add some red candy sprinkles, if you wish.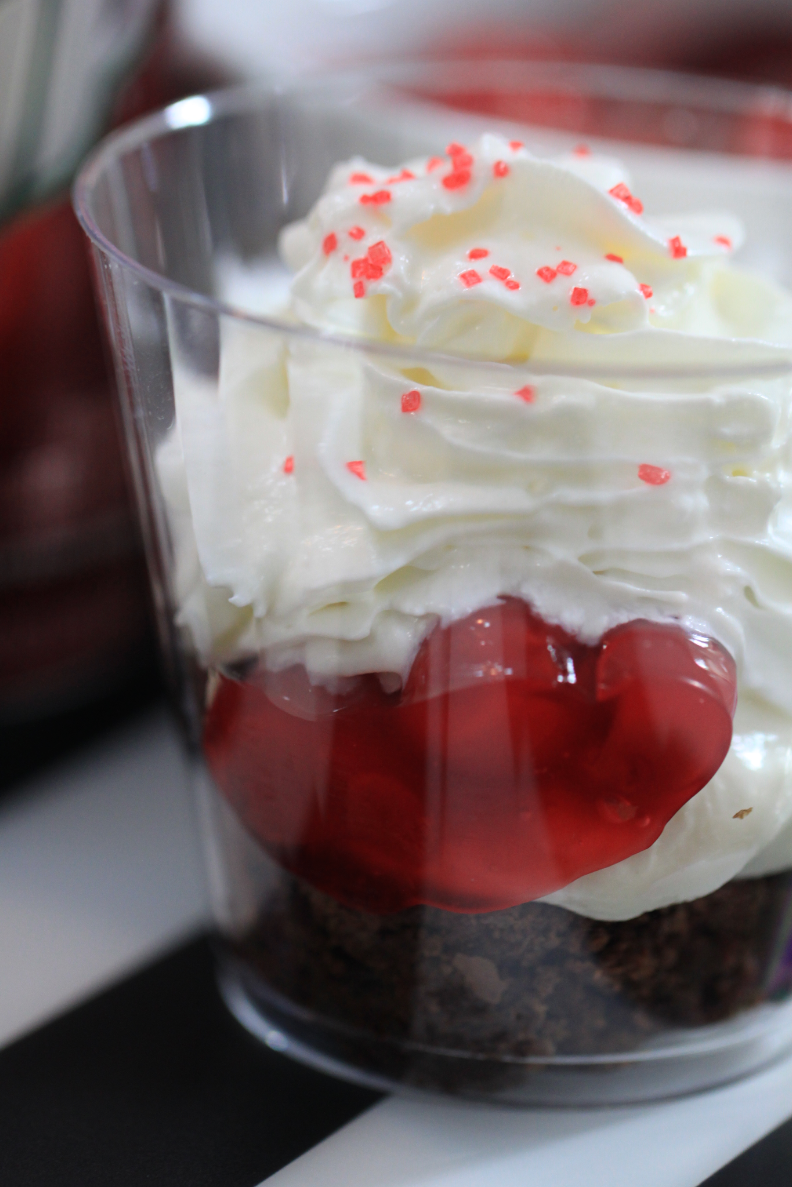 Maybe even add a small candy cane, just for fun!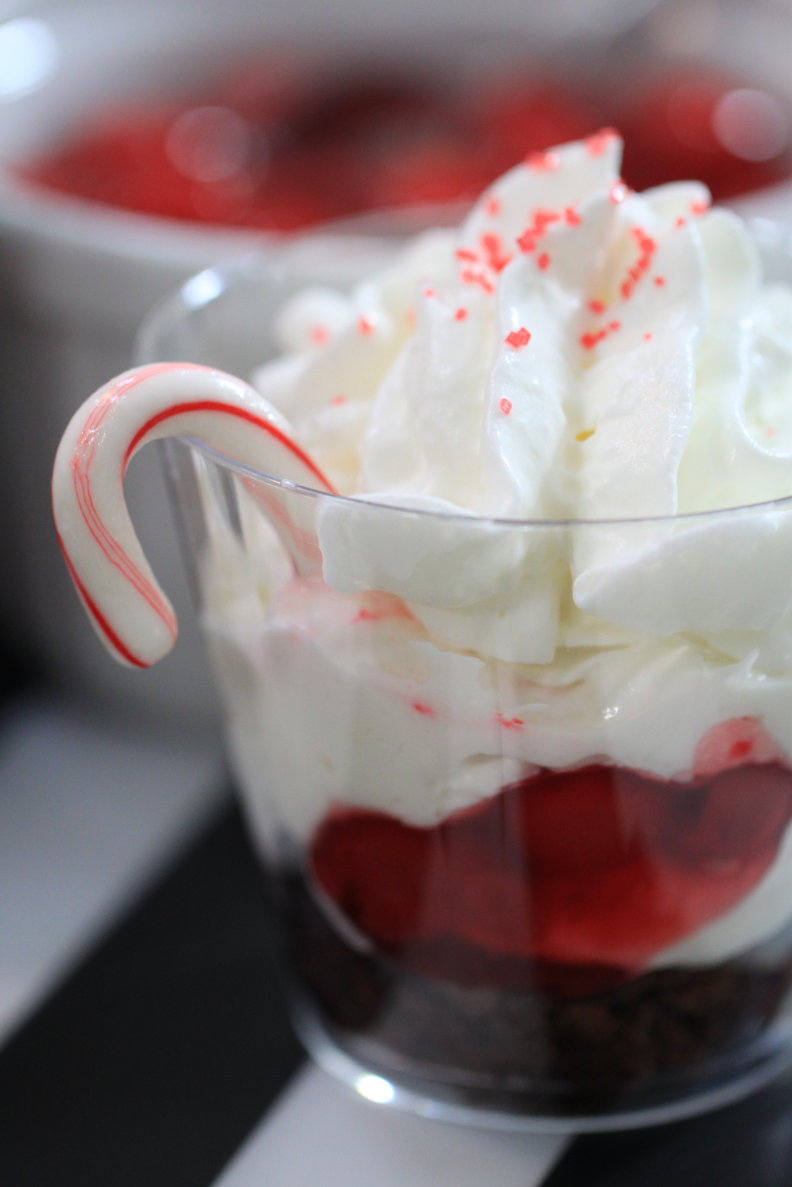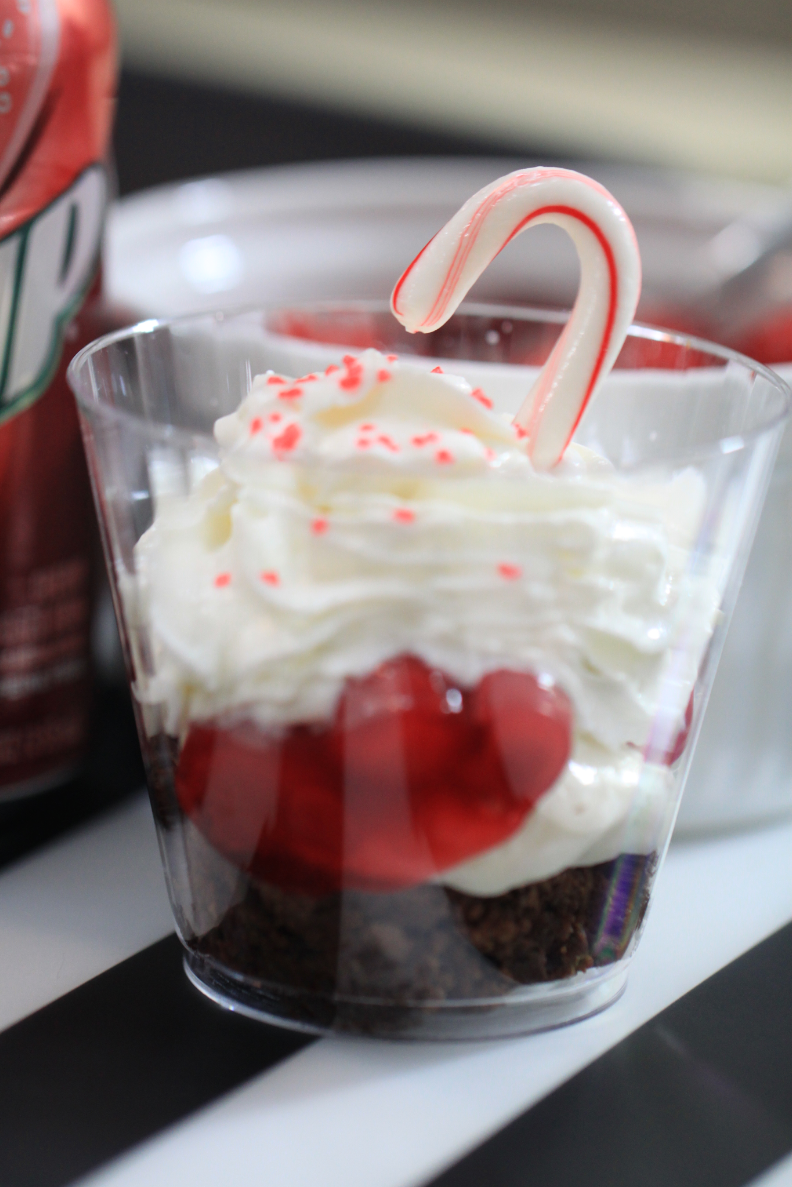 That's it!
In case you're wondering, we purchased all of our movie night snacks and dessert ingredients from Target. If you've been following our posts, you'll notice that we love to shop at Target, especially since it's like our one-stop-shop for baby essentials, groceries, as well as lots of other stuff we need for our home. We're also doing quite well in the Target Cartwheel and mobile coupons arena!! Lots of savings there!
Want even more savings? Check out these offers on some Ibotta soda varieties (remember those festive soda cans)?
Save $.75 when you buy two 2-liter bottles (varieties include: 7UP®, A&W®, Canada Dry® Ginger Ale, RC® Cola, Sundrop®, Sunkist® Orange, Squirt®, Country Time®, Diet Rite®, Vernors®, Cactus Cooler® and Hawaiian Punch®)
Save $2.00 when you buy four 12-pack cans (varieties include: 7UP®, A&W®, Canada Dry® Ginger Ale, RC® Cola, Sundrop®, Sunkist® Orange, Squirt®, Country Time®, Diet Rite®, Vernors®, Cactus Cooler®, Hawaiian Punch® and Tahitian Treat)
If you want to get the same look, our movie bar had the following sodas: 7UP®, Cherry 7UP®, Canada Dry®, Canada Dry Cranberry®, and Squirt®
Want more recipe inspiration with your favorite drinks? Find more ideas from these perfect holiday moments.
Anyway, we plan to continue the tradition of hosting Throwback Holiday Movie Nights each year as it allow us to bond and connect with our kids in unique ways. There's a huge chance they'll be doing this with our grandchildren in the near future! Now, wouldn't that be something?
So, what is your idea of a perfect holiday moment? What are some of your favorite family traditions or activities? Share the holiday spirit and let us know in the comments 🙂
Free Printable Toy Soldier Box
Get our free printable toy soldier by clicking on the Download button, below. Enjoy!