This shop has been compensated by Collective Bias, Inc. and its advertiser,
Walmart Family Mobile. All opinions are mine alone.
#SummerIsForSavings #CollectiveBias #WFM1
---
Make your family travels more fun and memorable with these Summer Road Trip Ideas that won't break the bank!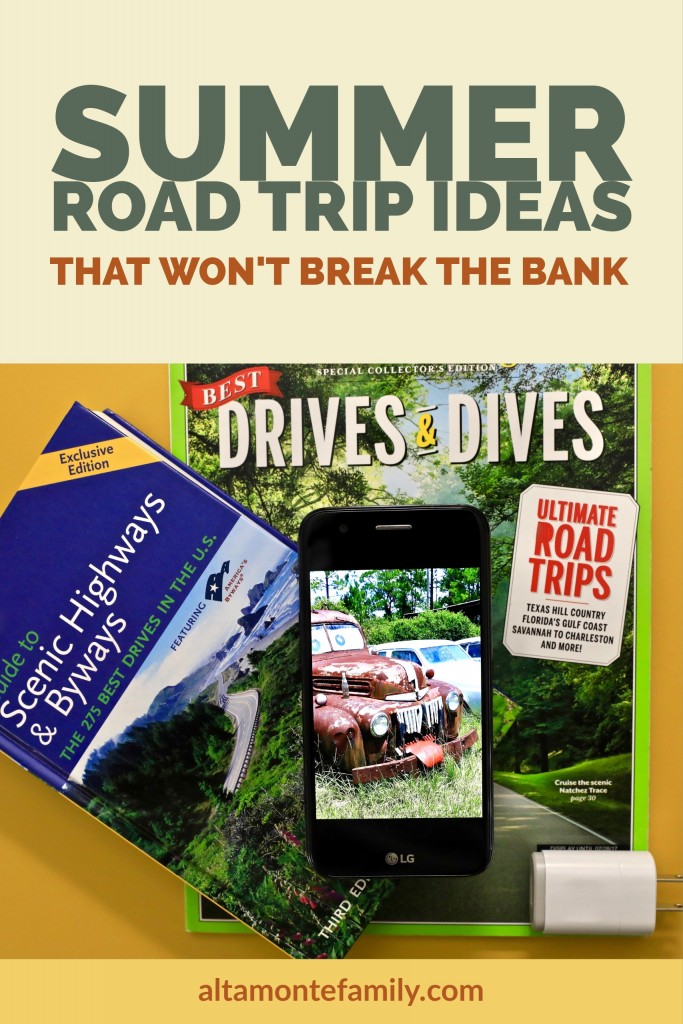 Summer Road Trip Ideas That Won't Break The Bank
Let's face it–Summer is one of the most expensive times to travel. I don't know about you, but I like to find ways to save money where I can, especially when it comes to travel (not to mention, traveling as a family of six). Now, budget-savvy travel doesn't necessarily mean boring, mmmmkay?  For us, it simply means stretching our travel fund so we can stretch our travels farther.  Allow us to share some ideas on how we keep our family travels wallet-friendly.
---
Get more data for your phone – you're going to need it.
If you're the type who likes to look for the best deals, reviews, and travel tips as you go, then you're probably going to need more data. If you rely on your phone to help you discover the most exciting eats and destinations, or if you like to use apps to compare prices on gas, hotels, and more, then you're probably going to need more data. Whether you use social media to share your adventures and/or browse the live feed of those who are currently exploring your chosen destination, you're probably going to need more data. If you can't afford to put your inbox and notifications on hold while you're out 'n about, it's pretty obvious that you're going to need more data. You guys get the point 😉 Obviously, our family uses a lot of data on the go (otherwise, I wouldn't have been able to easily come up with 'em reasons as to why you're probably going to need more data).
Upgrade your service plan before you go.
We're following our own advice here, because it's never a good feeling to run out of data, especially while traveling! We immediately upgraded to the $49.88 PLUS Plan by Walmart Family Mobile (powered by T-Mobile's nationwide 4G LTE† network) as soon as we heard that this monthly plan now includes Unlimited Talk, Text, and Data (up to 13GB of 4G LTE† then 2G*) for only $49.88 per month. Yes, you read that correctly–up to 13 GB of 4G LTE†. Sweet!  On top of that, we receive a free VUDU◊ movie rental credit, per line, each time we renew our service  (value of a $7.00 VUDU◊ credit–Movie rental code allows for selection from available movies for rent.  May not be readily redeemable on all new releases. Code will be delivered within up to 24 hours of the effective account renewal date).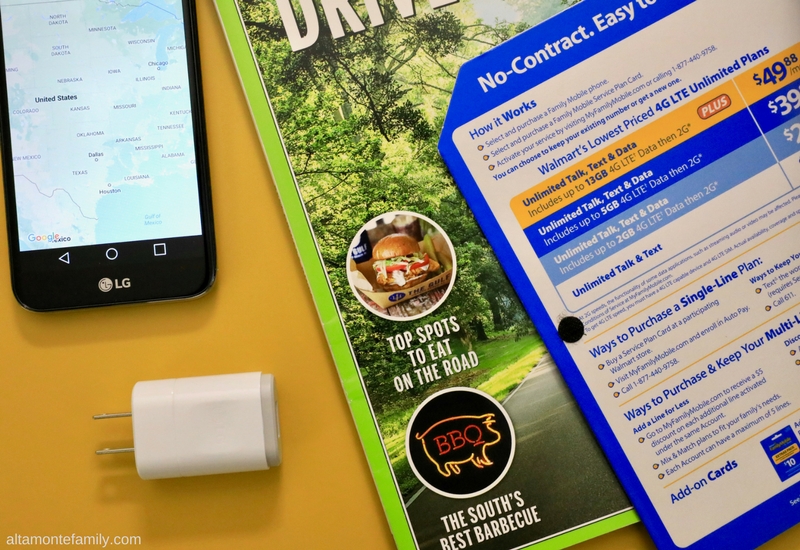 Time for a new phone?
Our teenager's phone has been needing a replacement, and what better time to replace it than before we get ready to hit the road! If you're looking for a phone replacement for yourself or for any of your children, the LG L59 – Grace is a great choice at value! We picked it up at Walmart for only $94.00** and it already came with a SIM card inside! Talk about great value–and there's zero contract obligation (yay for no contract!), zero activation fees, and zero late fees!
Create a bucket list of movie locations to visit.
This never gets old for us. We love love love family movie nights, and the free VUDU◊ movie rental from our $49.88 PLUS Plan by Walmart Family Mobile has been very helpful! We don't mind watching our favorite movies over and over again (do you have the same tendencies?) on our smart TV, especially the "classic" (that's what our son calls it) with a big, scary shark in it! Do you know which movie we're talking about?! To build up the anticipation, we like to do what we call a "pre-trip review".
Below is a photo of Gay Head Light on Martha's Vineyard at dusk. You may have been able to recognize this towering structure from a very popular classic shark movie from the 70's.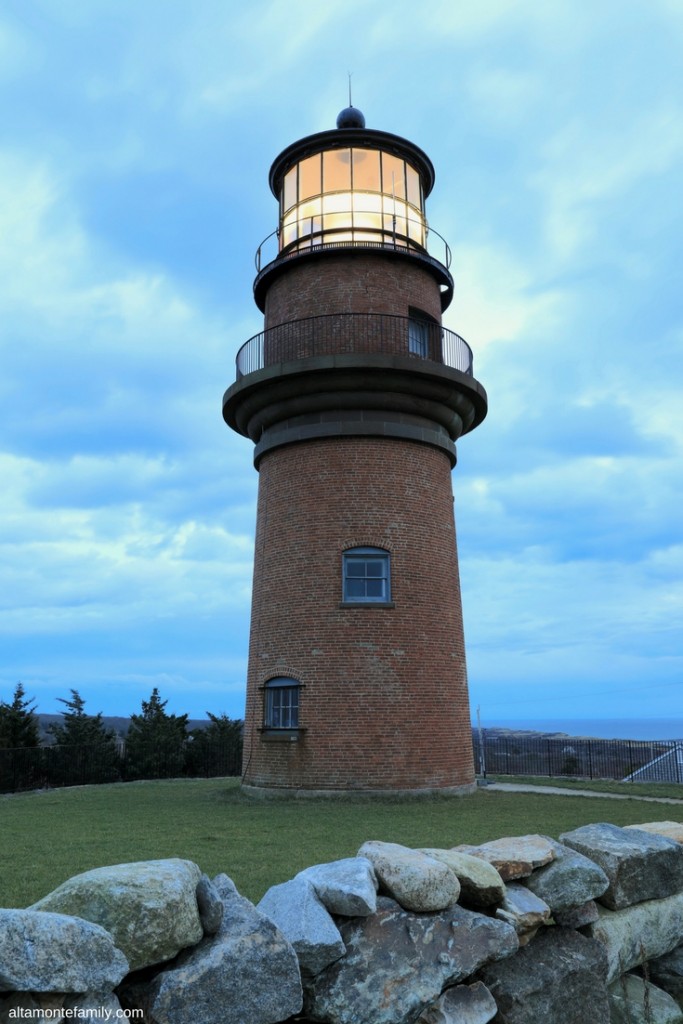 If your Summer travels call for a little bit of splurging, like this one (ferry tickets to board a vehicle + passengers to visit Martha's Vineyard can get $$$), it's always rewarding to know that you've earned it by saving money somewhere else (like on the $49.88 PLUS Plan and new phone).
Add some flavor to your trip.
We have a favorite foodie show on TV that we like to follow, and with little kids and big kids (and now big dogs) in tow, fancy restaurants are out of the picture. Dives, diners, and maybe drive-ins are more like it (pet-friendly, wallet-friendly, and everything). Thankfully, there's a website (and mobile app) for that, and we can browse the featured food establishments by location.  Bam!
Special-issue magazines as well as food / travel blogs are also great sources of food finds to add to your Summer travel "flavor list".
Enrich the present with a blast from the past.
With the technology that we have these days, it doesn't take much to look up some historic monuments and landmarks that are waiting to be discovered along your travel route. If you're the more spontaneous type, pay attention to the signs along the freeway (e.g. national battlefields, national monuments, forts, etc.) or take the path less traveled. Look for online and offline resources on "scenic highways and byways", you'll most likely find some amazing gems along the way. If anything, you'll get to enjoy the scenery.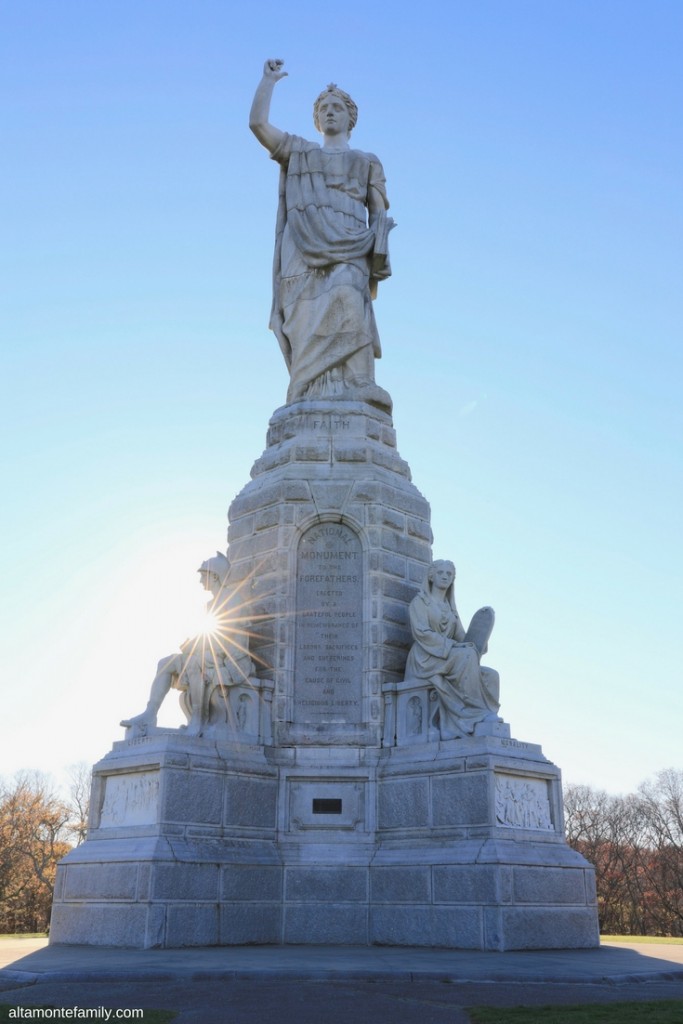 Go antiquing at yard sales.
Do you see the three vintage typewriters (below)? Yeah. We bought all three of them. Our teenage son has an eagle eye for antiques and he had spotted these while we were leisurely driving along a historic town. There was this gorgeous home built in the 1800's with a huge "yard sale" sign. We pulled over, bought a few (okay, maybe a little bit more than a few) things, and unbeknownst to us (at the time), we had gotten bitten by the vintage bug.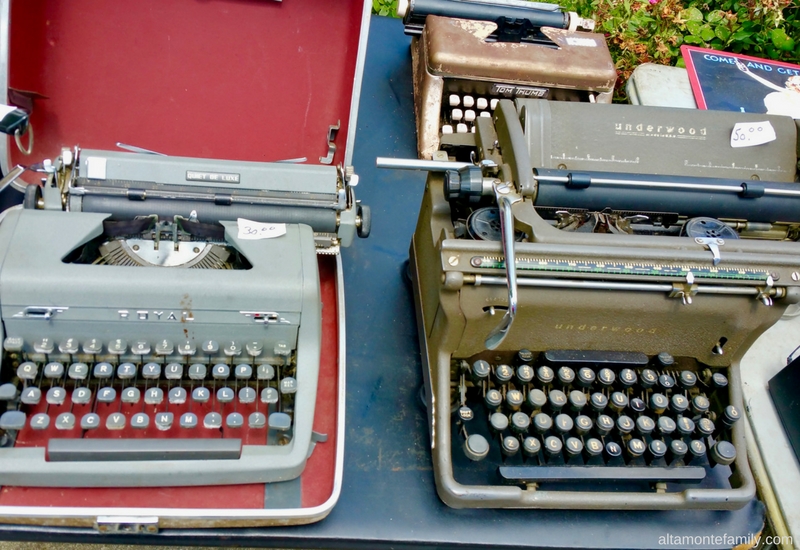 Slow down a little.
We've all heard this before: It's not about the destination; it's about the journey.
Sometimes, road trip "interruptions" can turn into blessings.
As we learned to enjoy the journey, together we've discovered so many places and shared a bounty of memorable experiences as a family. The destination has become only secondary. Unless we're specifically visiting friends and/or family, our destination has always been a moving target.
Whether our travel objective is simply to find a bird up north (to check off of our birding list) because we can't find it down south, touch all four corners of the 48 contiguous states and Hawaii, go off-roading up a mountain just to see the temperature gradually drop, drive 10 hours just to pick up a $35.00 mid-century fondue set, or frantically evacuate from a hurricane (or escape from a huge snow storm), we can say this for certain…
Nothing's better than time well spent with those you love.
This Summer, we'll be focusing our adventures along the southeastern part of the US (closer to home, now that we have dogs). But, who knows? It's always a moving target for us… 😉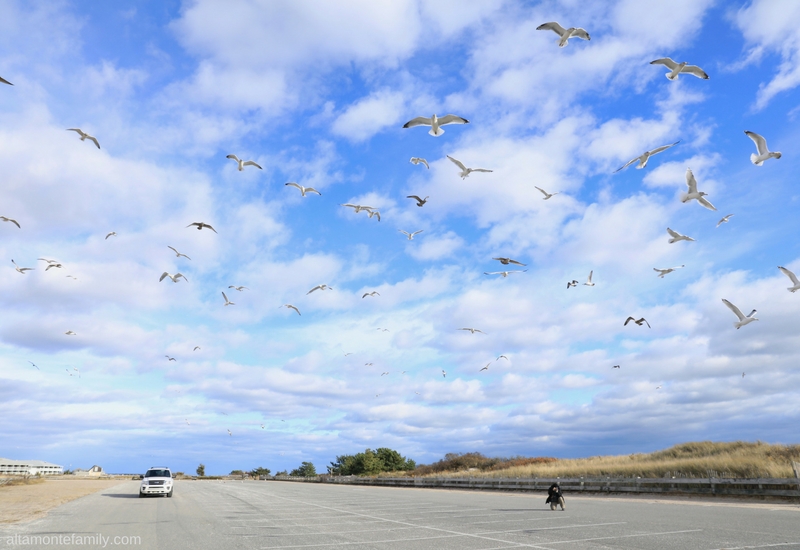 Where will your adventures take you this Summer?
Raise your hand if you're super excited about the Summer!
We hope we've inspired you with some of our Summer Road Trip Ideas!
Do you have any family road trip ideas to share? Let us know in the comments (or leave us a comment on Instagram)!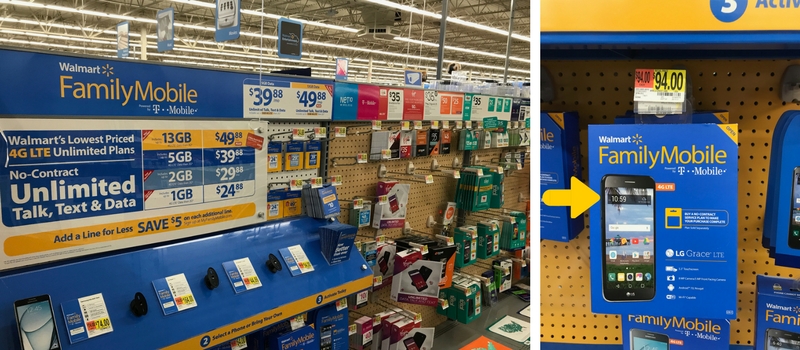 Don't forget to stop by Walmart to check out the $49.88 PLUS Plan by Walmart Family Mobile! It's clearly Walmart's best pricing in no-contract wireless plans (remember, there are no activation fees, no late fees, and zero contract obligation)! It's very easy to get started: Pick a phone. Pick a plan. Activate & Go. Or… you can also switch and keep your phone!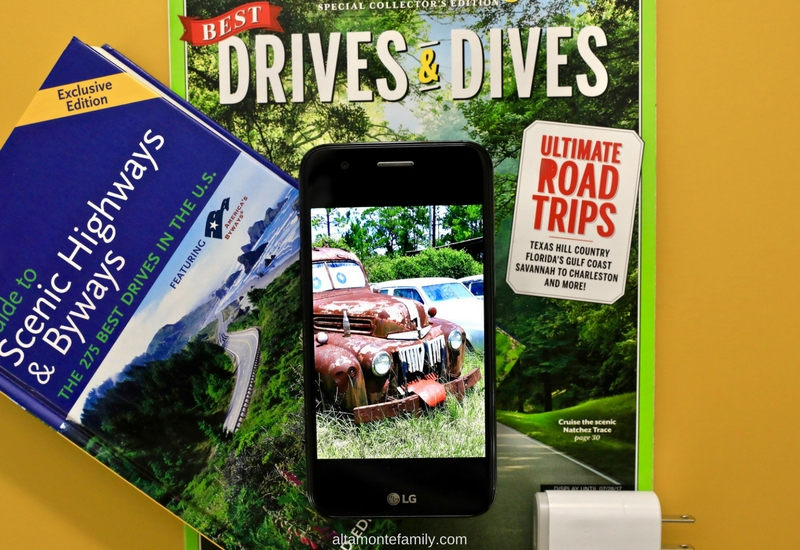 Enhance your road trip travels–from games, trivia / quizzes, tunes, and more–using the larger bucket of data from the the $49.88 PLUS Plan by Walmart Family Mobile (with nationwide coverage on T-Mobile's 4G LTE† network).
Click here for more inspiration on how you can elevate your Summer with more data, more savings, and more adventures!
---
* Please always refer to the latest terms and conditions at myfamilymobile.com.
**  Disclaimer: All prices for phones and plans included in this post are accurate as of the date of posting; however, these prices are subject to change. Please refer to this page or your local Walmart for current pricing
†  To get 4G LTE speed, you must have a 4G LTE capable device and 4G LTE SIM Card. Actual availability, coverage, and speed may vary. LTE is a trademark of ETSI.
◊  Disclaimer: Limited time offer. Available for lines active with the PLUS $49.88 plan only. VUDU enabled device and account required for digital viewing. Customers must be 18 years or older to open a VUDU account.  Movie rental only available in the USA. Free movie rental provided in the form of a movie rental code to the value of a $7.00 VUDU credit.  Movie rental code allows for selection from available movies for rent.  May not be readily redeemable on all new releases. Code will be delivered within up to 24 hours of the effective account renewal date. Must be used within 30 days of receiving code. Offer is non-transferable. Limit 1 per customer. Additional terms and conditions  on VUDU's website: http://www.vudu.com/termsofservice.html