This shop has been compensated by Collective Bias, Inc. and its advertiser.
All opinions are mine alone. #SweeterTogether #CollectiveBias
---
There's no denying that the Summer is officially here: the high temps, glistening pool, BBQs, the kids out of school… hmmm, what else? Family getting together over ice cream by the pool!! What a great way to celebrate togetherness during the Summer! Add to that some deliciously grilled fruits and vegetables, meat, and seafood, and we've got ourselves an Over The Top Summer Cookout!
Before we jump into the party scoop, we wanted to share a quick tip when serving ice cream outdoors during the Summer. The blazing heat here in Florida isn't very forgiving when it comes to frozen treats, so we always want to make sure that our guests get to happily consume their ice cream before the sun does! Of course, a little melted ice cream goodness can't hurt. It's all part of the fun!
Anyway, here's our solution: an ice cream menu card!!!
Psssttt– We shared the FREE Printables at the bottom of this post!
---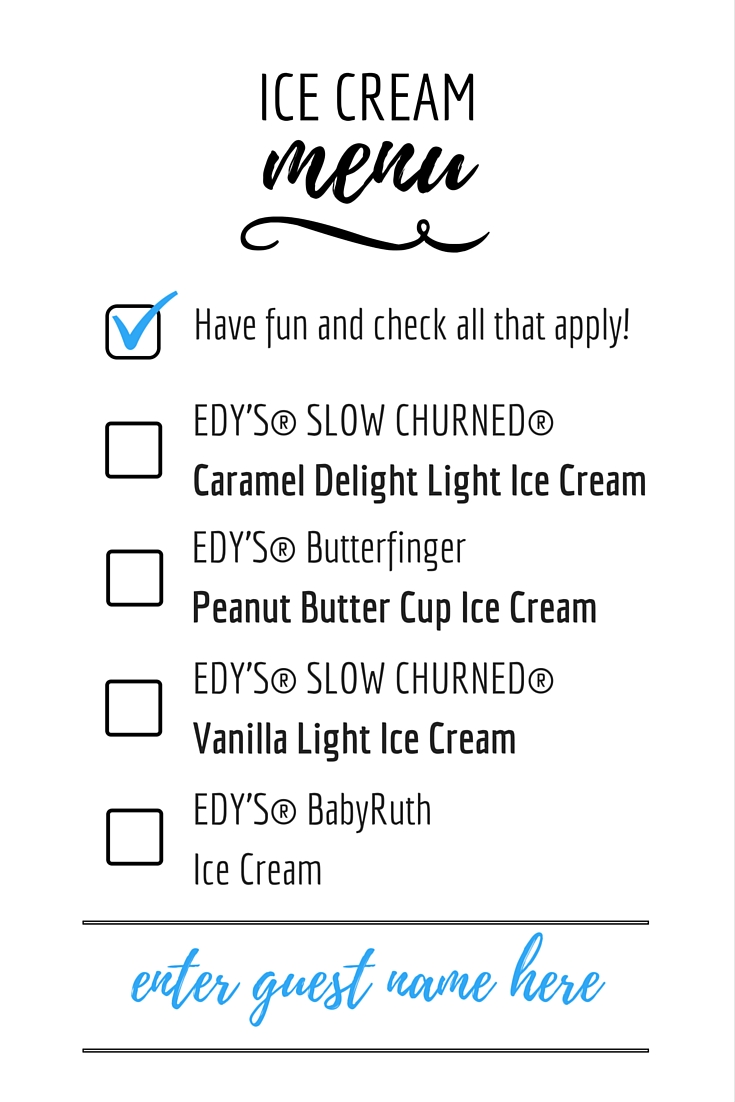 ---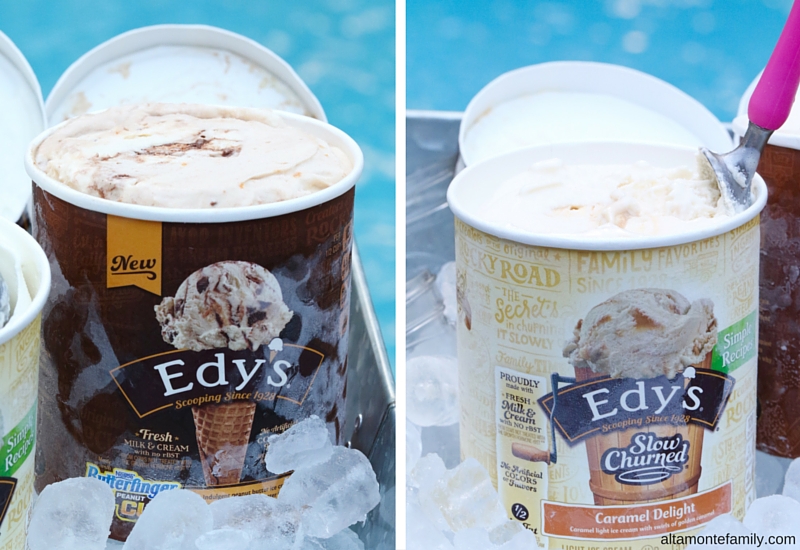 About our ice cream selection: As you can see, our over-the-top selection of ice cream flavors is inspired by some of our favorite candies growing up, and the EDY'S® SLOW CHURNED® Simple Recipes are just as delightful (made with real, simple ingredients)! We made sure that all of our ice cream selections are proudly made with fresh milk & cream with no rBST (milk production hormone) and no artificial colors or flavors.
We like to print out the ice cream menu cards before the party and include them in an all-in-one place card holder (we'll tell you more about that in a bit). This way, our guests can easily select the ice cream flavor(s) of their choice ahead of time, and we can simply collect the cards just before wheeling in our beverage-cart-turned-ice-cream-station!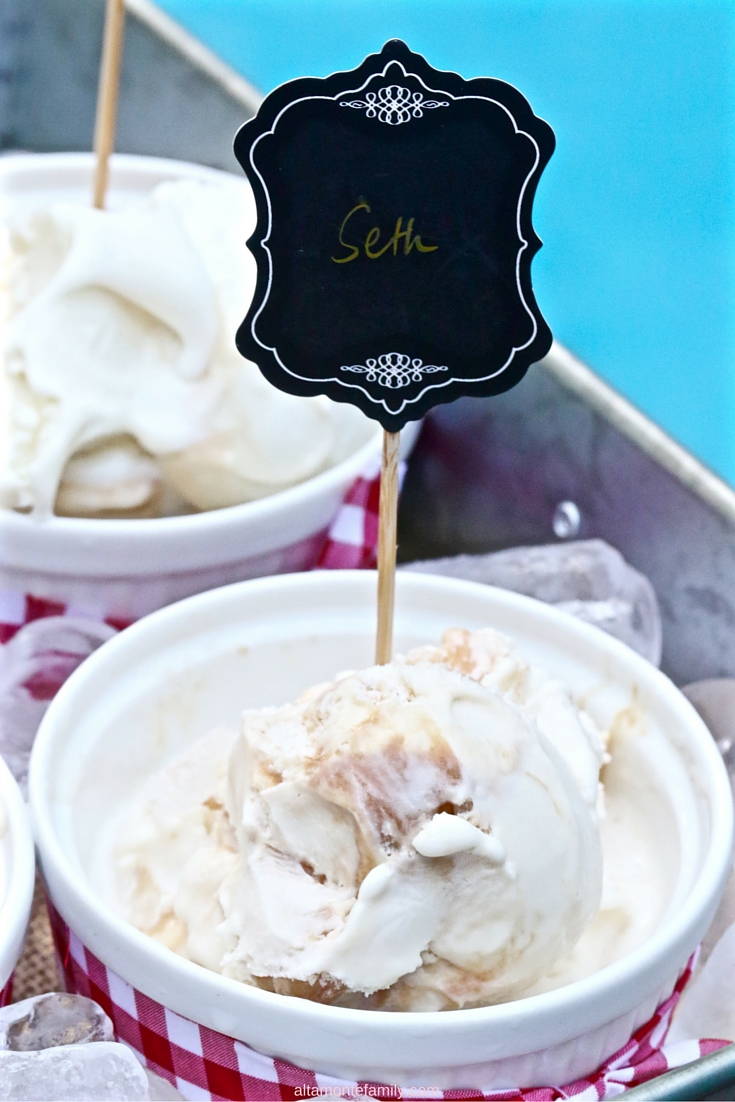 We found some tall food picks and thought they'd be perfect for ID'ing the owners of these mouthwatering ice cream bowls!
Tip: If you're unable to find these tall food picks, paper straws (with straw flags or labels) work just as fine. Feel free to trim the paper straws down to size, if needed.
Besides sugar cones and waffle cones, we also used pre-chilled ramekins and tied strips of fabric around each one. Decorative ribbons work well, too.
Oh, and about that all-in-one place card holder that we just mentioned…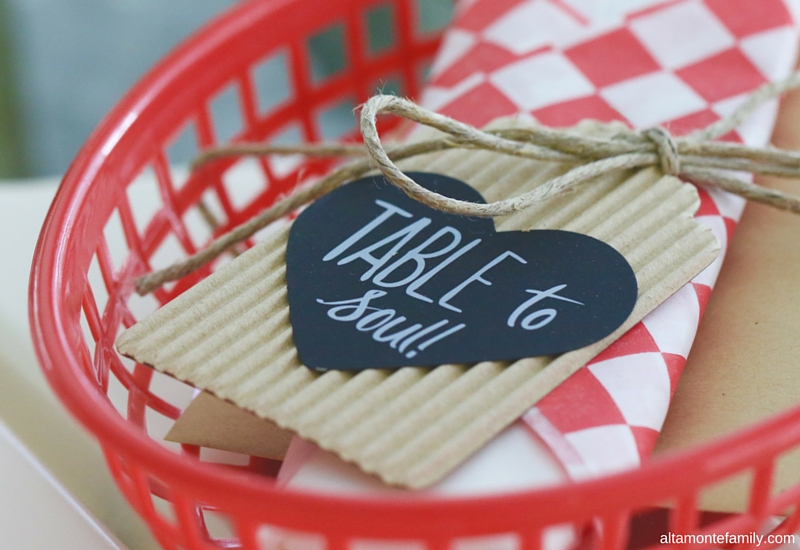 To keep things simple, we put together red diner baskets which contain luncheon napkins, checkered wax sheets, disposable utensils, chalkboard gift tags (which can easily be repurposed into name cards), and–of course–our printable ice cream menu card! We used natural jute twine to hold everything together. Simple and fun!
The Food
Now, let's talk about the food!!! There's always a lot to talk about when it comes to food, especially when it comes to grilling. Some things just taste so much better when grilled, don't you think? If you like lists, here's a list of what we served during the party:
Mix 'n Match Seafood Foil Packets (tutorial below)
Grilled Surf & Turf Party Nachos (recipe below)
Grilled Vegetables
Toppings: Salsa 3 Ways (recipe included for Grilled Pineapple and Sweet Corn Salsa)
Homemade Tomato-Lime Dressing
Mix 'n Match Seafood Foil Packets
Since we wanted our summer party to be over the top, we made sure that we not only had burgers, hot dogs, and steak on the grill… we gave seafood a little bit of extra love this year! For those who love seafood but don't like the mess it leaves on the grill (or on their plate), we prepared Mix 'n Match Seafood Foil Packets!
How to build your own seafood foil packets:
Choose your seafood (we had Florida shrimp, Florida red grouper, and King Salmon)
Choose your vegetables, fresh herbs, and spices
Add 2 tbs butter, close and seal foil packet, and grill for 25-30 minutes (medium heat)
Once cooked, choose your topping (we served salsa 3 ways + homemade tomato-lime dressing)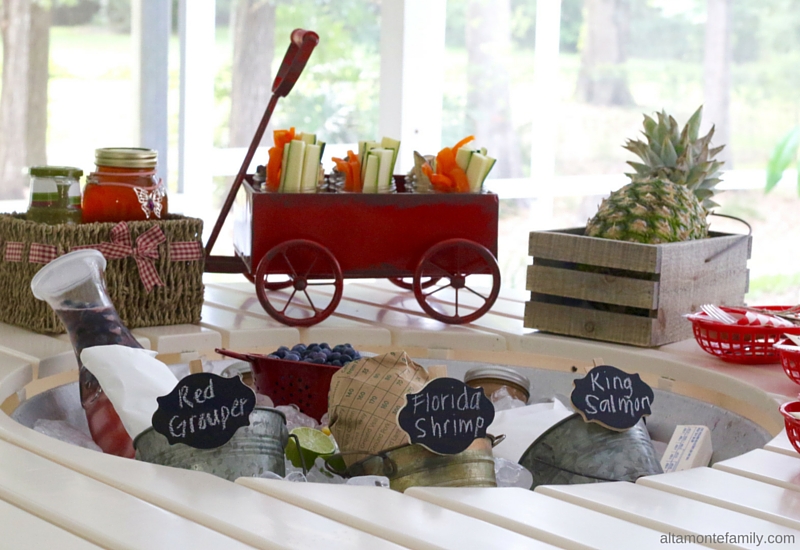 First, we laid out some fresh seafood (not previously frozen) on ice. The galvanized metal buckets (and clip-on chalkboard labels) came in really handy! We don't suggest removing the seafood from the butcher paper and storing them in the buckets, though.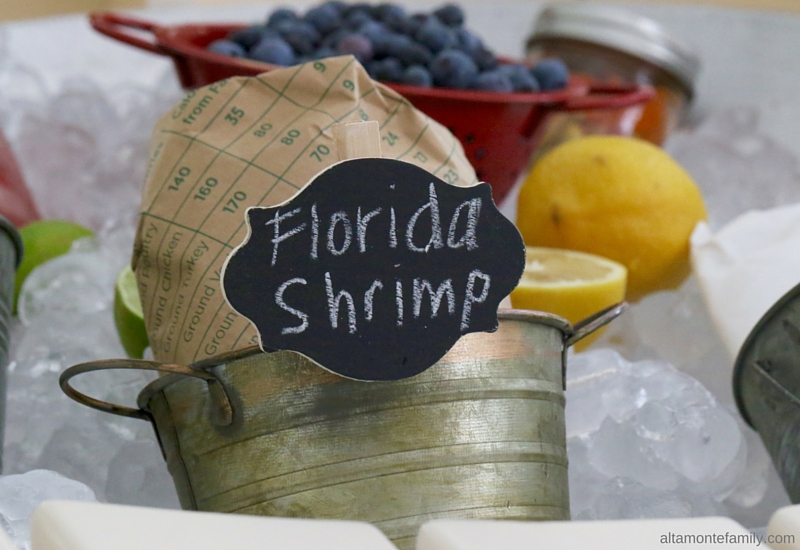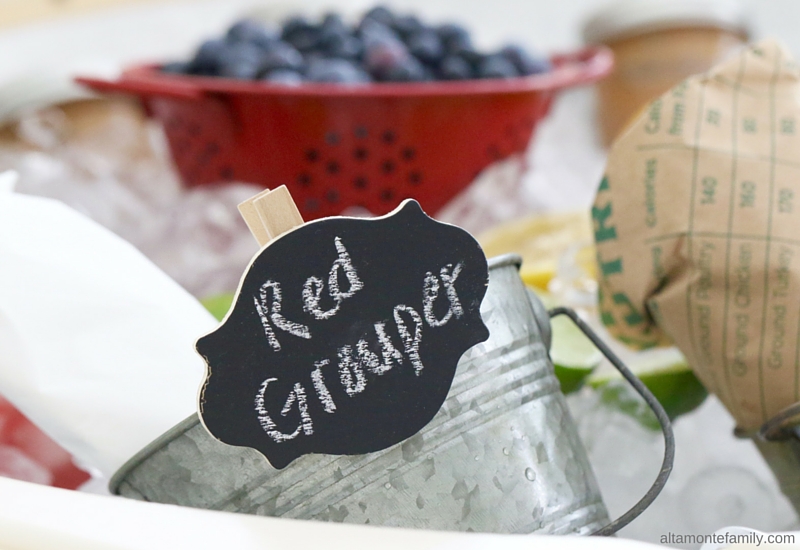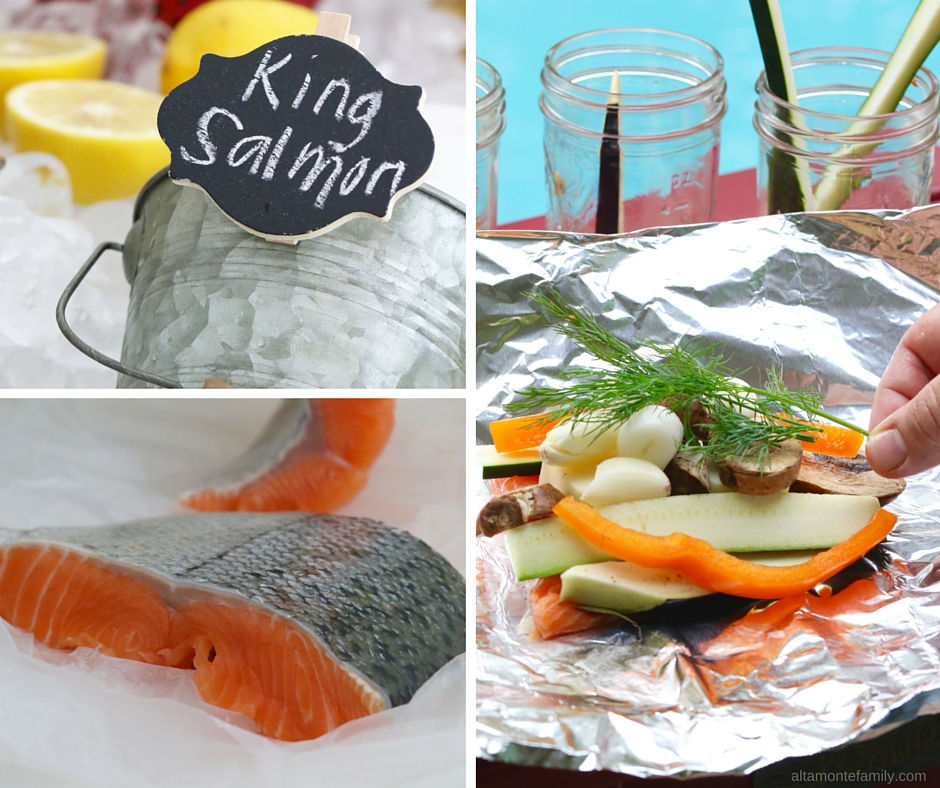 We also had a tabletop wagon which held mason jars filled with fresh vegetables and herbs.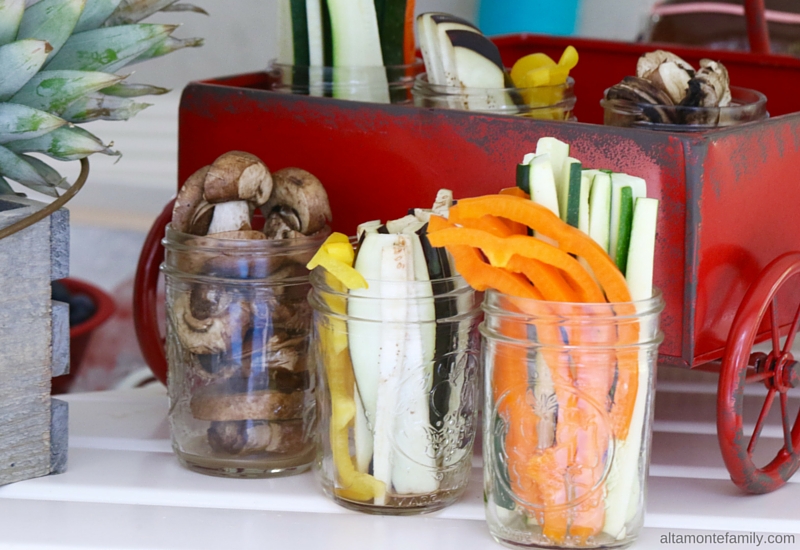 Just look at those beautiful fresh veggies, herbs, and spices… oh, and that Florida red grouper!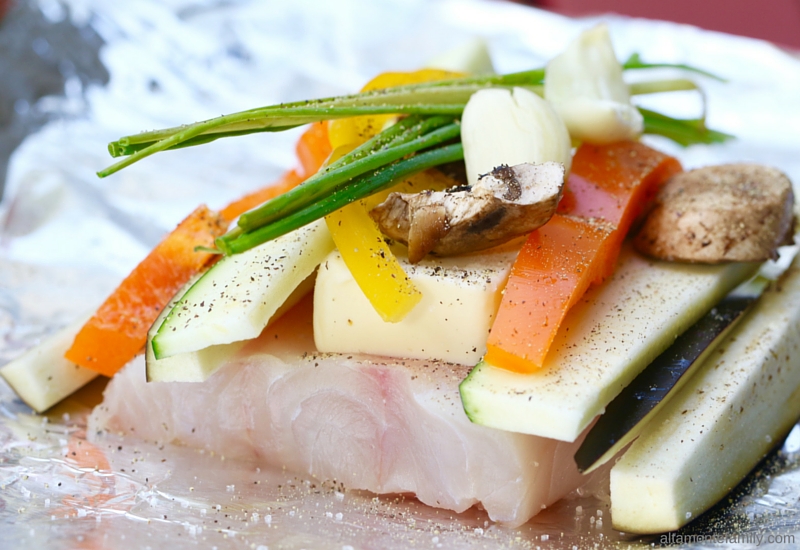 Vegetarians (or veggie lovers) can leave out the seafood and just build their own veggie foil packet!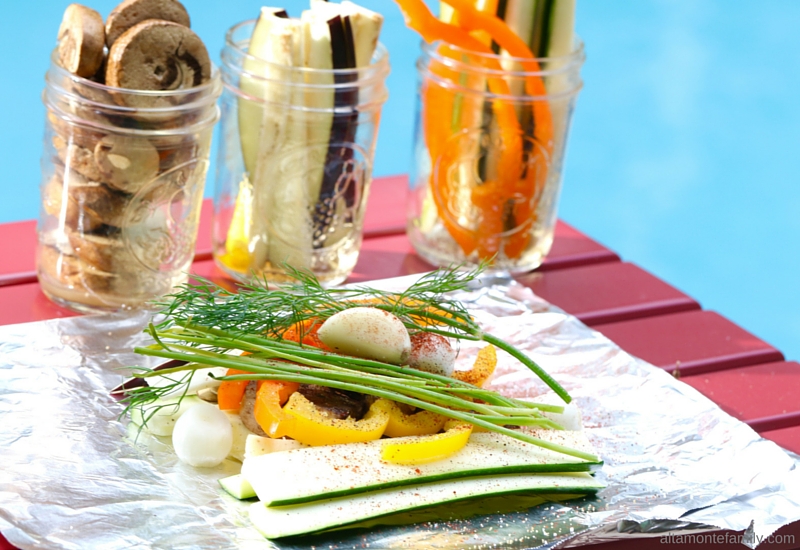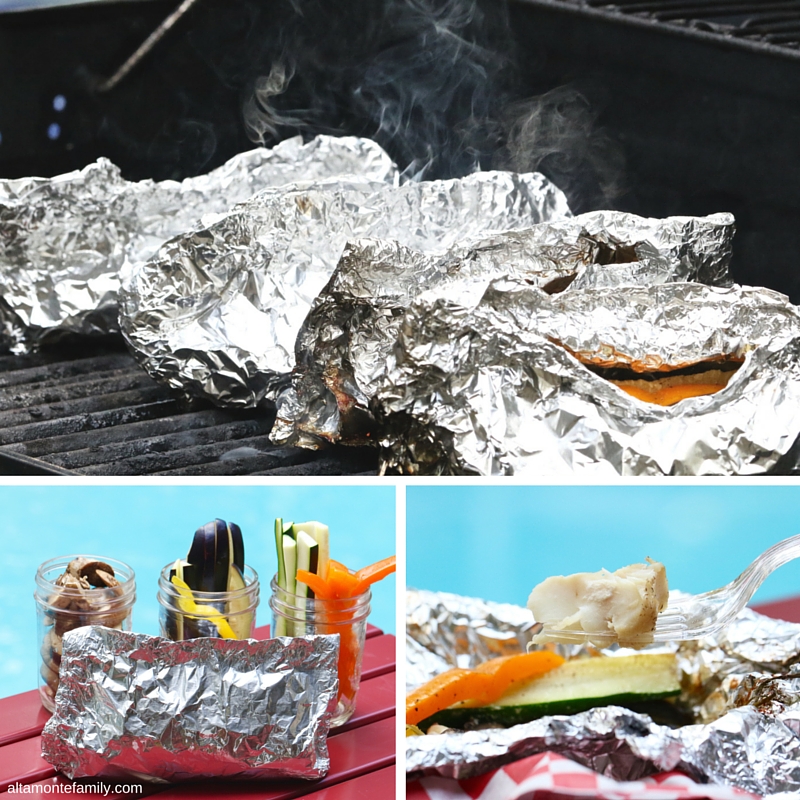 Once the food was fully cooked, our guests got to choose from salsa 3 ways (salsa verde, grilled sweet corn and pineapple salsa, and grilled sweet corn mango salsa) + our homemade tomato-lime dressing.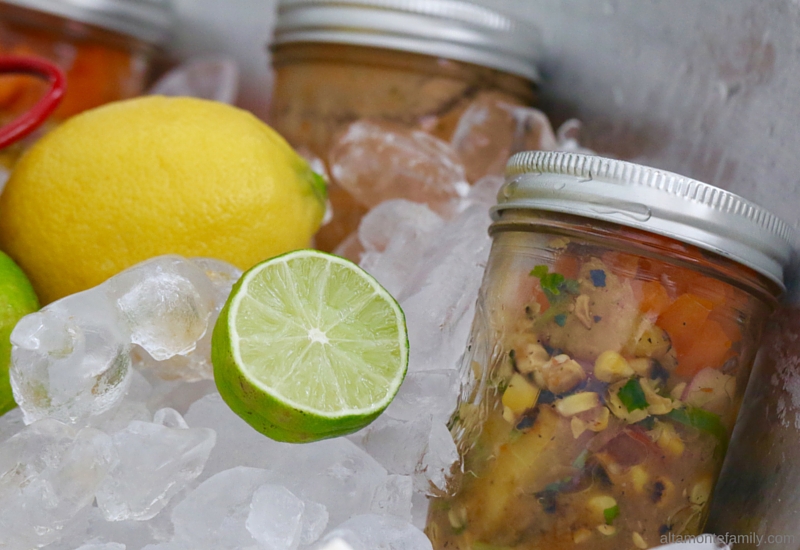 Recipe: Grilled Pineapple and Sweet Corn Salsa
Speaking of salsa, we grilled some Florida sweet corn and quartered fresh pineapple before laying them on the grill. Combined, they add a unique touch of sweetness to homemade salsa.
Servings:       6
Prep Time:   10 minutes*
Chill Time:   4 hours (optional)
*This does not include the time it takes to grill the fresh pineapple and sweet corn.
Ingredients
4 Roma tomatoes, diced into medium-sized chunks
1/4 grilled pineapple, diced into medium-sized chunks
4 ears grilled Florida Sweet Corn
1 large red onion, diced
1/2 cup fresh cilantro, minced
Juice from 2 limes
Pinch of salt and pepper
Optional: 1 jalapeno, sliced
Directions
Shave off kernels from grilled sweet corn and transfer to large mixing bowl
Combine all other ingredients then cover and chill in the refrigerator for 4 hours (for best results)
Serve with tortilla chips, nachos, grilled sea food, chicken, vegetables, etc.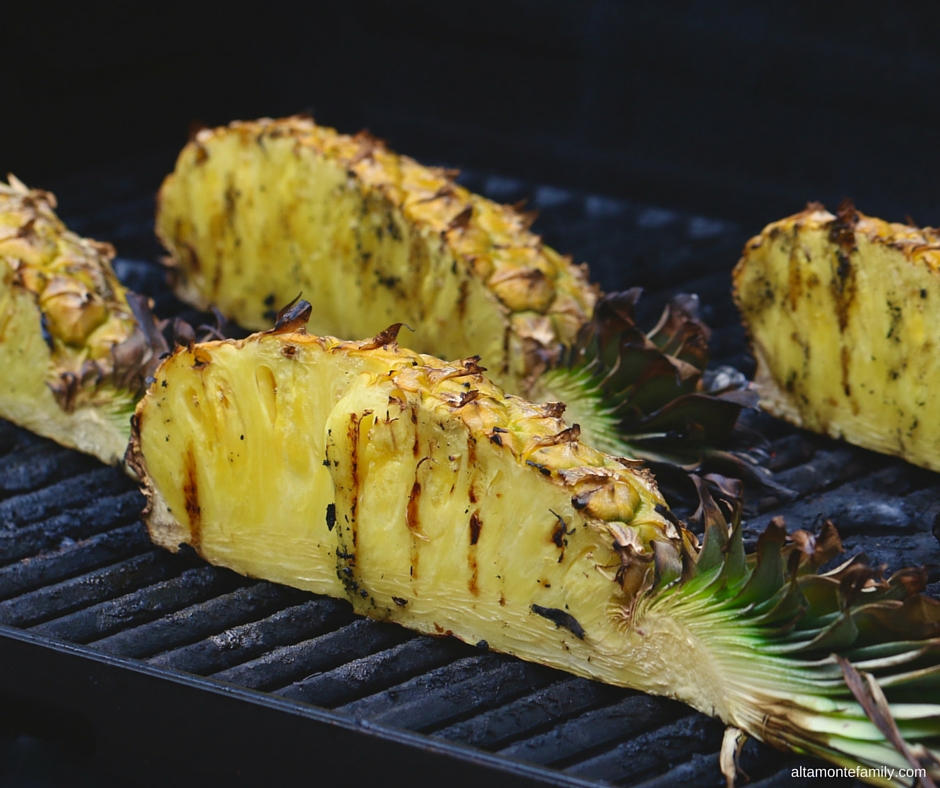 How to grill a pineapple the easy way
If you haven't grilled pineapple before, here's a fun and easy way to do it:
Cut fresh pineapple into quarters (no need to remove the top)
Place on grill (high heat) for 10-12 minutes on each side, lid closed
Cut into wedges, remove skin, and serve
Pssstttt– Grilled pineapple wedges also make great toppers for burgers, hot dogs, and Grilled 'Shroomburgers with kimchi slaw!
How to grill sweet corn, husk-on
Everyone will have their own unique and delicious version of grilling sweet corn… we like it simple so all we do is pre-soak the sweet corn (husk-on) in water, then we place it on the grill (on high heat, lid closed) for about 5-7 minutes on each side (husk pulled back).  We grill it along with several other vegetables. It's a veggie party in there!
Recipe: Grilled Surf & Turf Party Nachos
All of this summer cookout goodness has been leading to this Ultimate Surf & Turf Party Nachos! This basket is loaded with the good stuff!
So, here's what's piled onto this basket of deliciousness:
Tortilla chip assortment
Grilled pineapple and sweet corn salsa
Queso Fundido with Chorizo
Grilled Florida Shrimp (left a few with shell-on just for a decorative topping)
Grilled pepper streak strips
Now, that was a mouthful, wasn't it?
The Family-Friendly Beverages
Besides bottled water and soda, we also offered fresh watermelon and blueberry juice! Why not? It's watermelon and blueberry season in Florida 🙂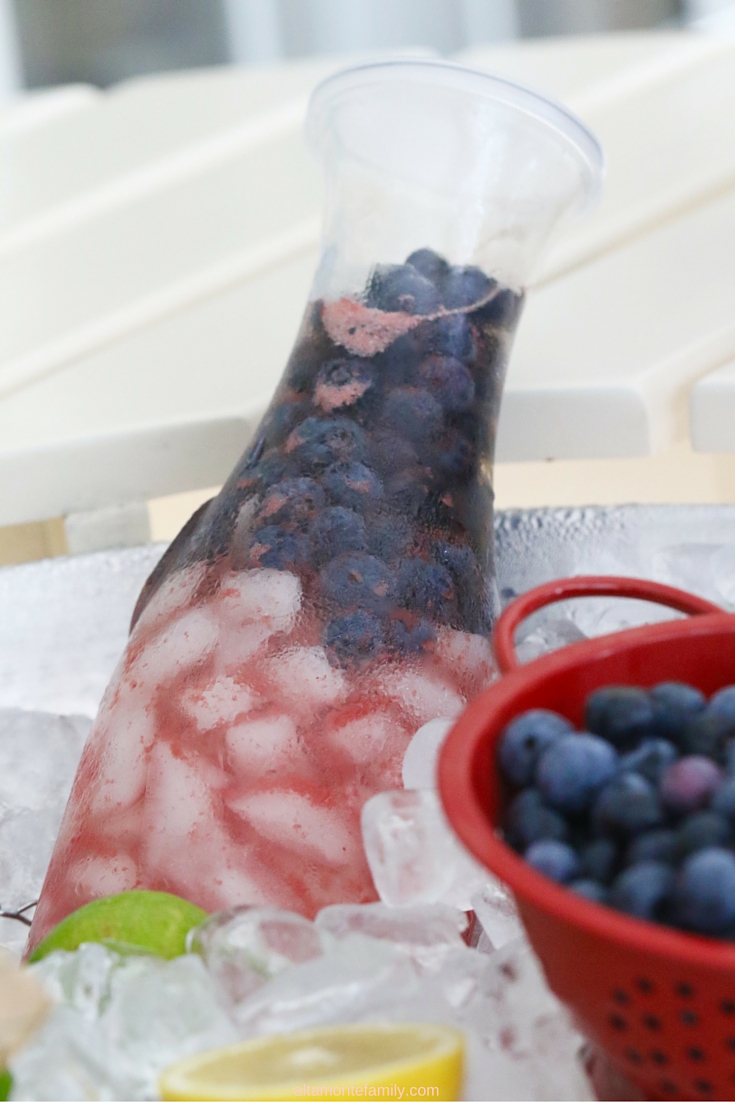 The Dessert
So, what completes an over the top Summer cookout? An over the top ice cream selection! You already know which flavors we chose–but just to let you know, this one's our absolute fave!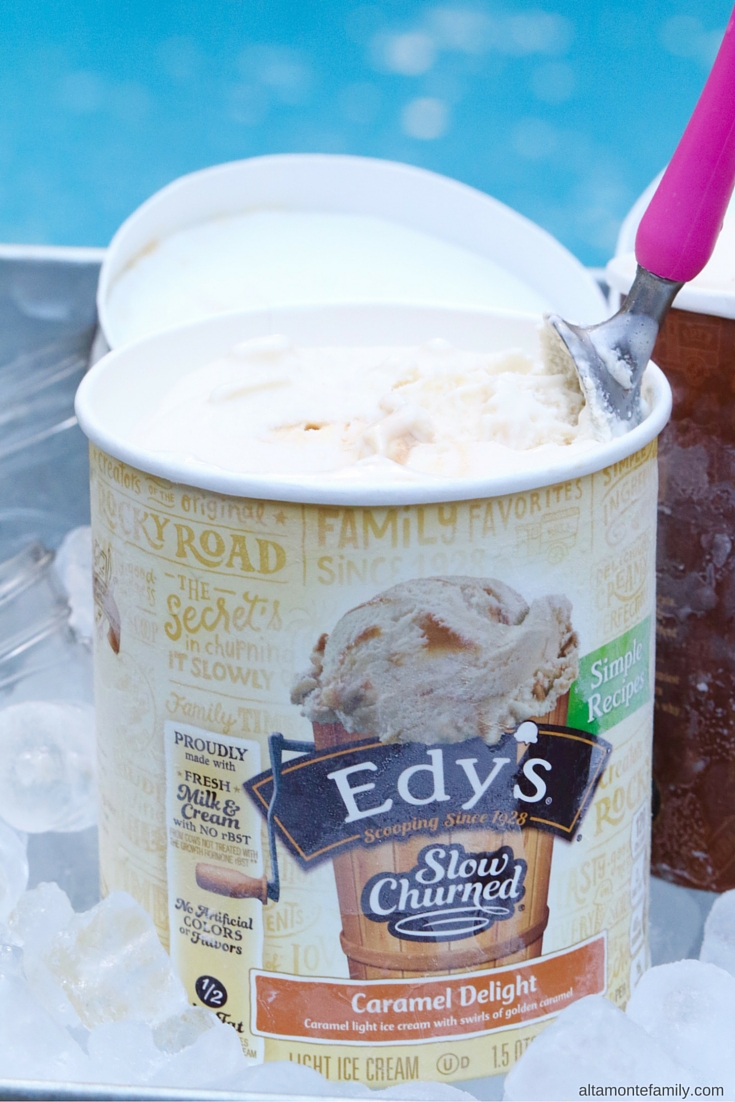 EDY'S® SLOW CHURNED® Simple Recipes are "simply made, simply delicious" and have no GMO ingredients!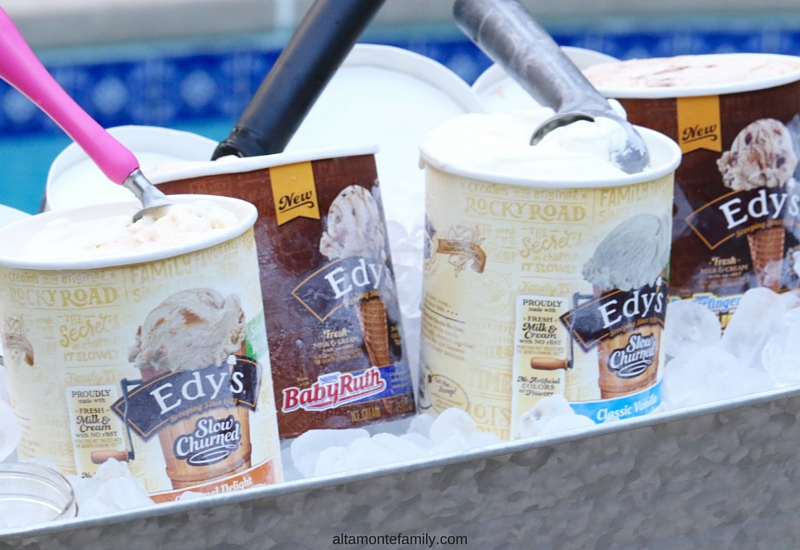 Celebrate togetherness with EDY'S®
If you love ice cream as much as we do, you'll probably agree that there's just something about ice cream that defines summer parties and get-togethers. For us, it goes beyond farm to table. It's more like, table to soul!
Click here to see when there will be a demo at your local Walmart store.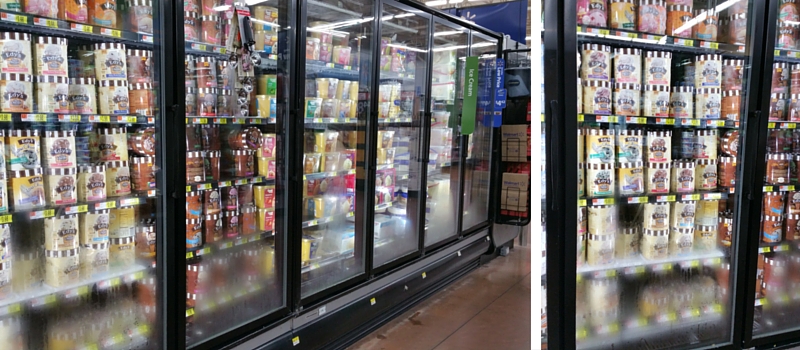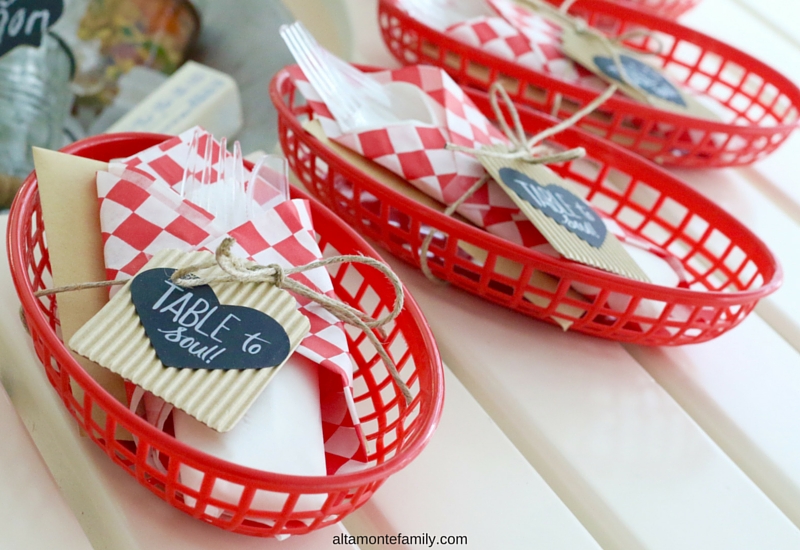 Free Party Printables
Don't forget to grab these free printables!
For Personal Use Only: We created these free printables for your personal, non-commercial use only. Please do not alter in any way. Kindly read our full Terms of Use.
Free Printable Ice Cream Menu Card
Free Printable Ice Cream Menu Card – Blank
Ready to party?
Whether you're throwing your summer party indoors or outdoors, by the pool, or in the backyard (or porch), we hope we've inspired you with delicious party ideas, recipes, and mouthwatering ice cream!
What are some of your favorite ice cream flavors for summer parties?
---
We're Social! If you liked today's post, feel free to share, bookmark, or pin it! Follow us on Pinterest, Facebook, and Instagram for more updates on our latest projects and adventures.