This shop has been compensated by Collective Bias, Inc. and its advertiser.
All opinions are mine alone. #PowerfulFusionClean #CollectiveBias
---
Happy Sunday! Tomorrow's the first official day of Summer! Woohoo!! Summers are usually really busy for our family, and it's probably the same for other parents now that school is out! We need all the energy we can get! Remember how we've been incorporating superfoods back into our meal planning? Well, we're here to share an energy-packed recipe with a green twist: Spirulina Overnight Oats with fresh fruit, chia seeds, and agave nectar.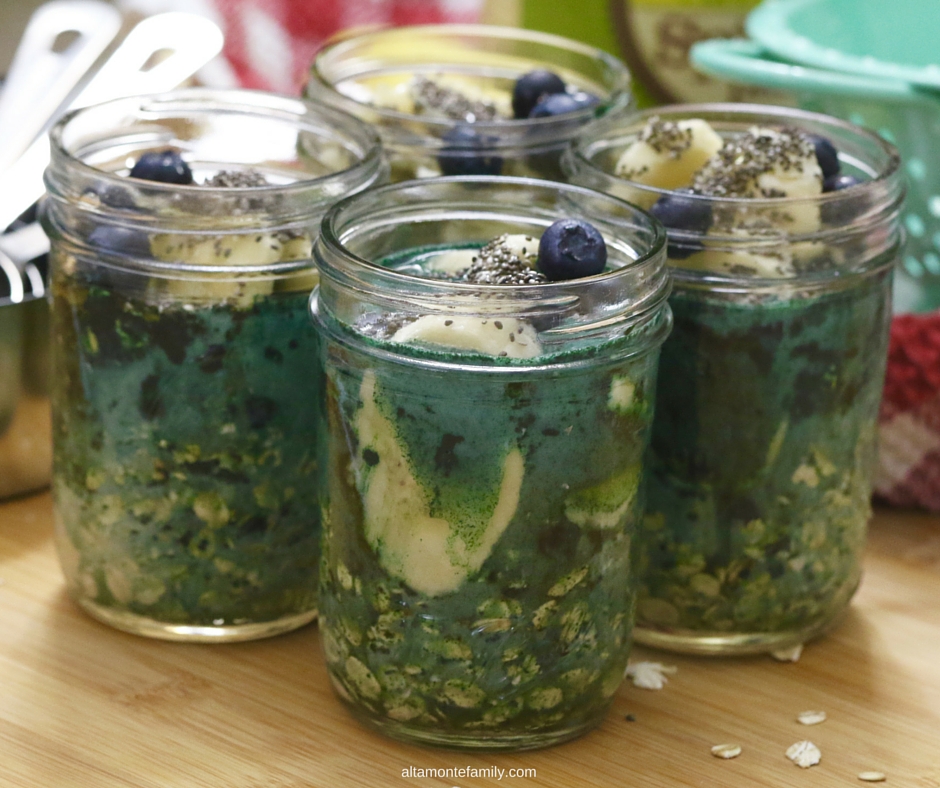 Now, don't be intimidated by the green looks of this recipe… for those who might be wondering, we only used half a teaspoon of spirulina powder (sourced from our favorite island in Hawai'i) to keep things on the milder side. What can be intimidating about this recipe is what happens after all that's been said and done: it can be tough to clean sometimes!
HEADS UP!  Spirulina is like a pigment ink and may leave a bit of a stain on other dishware.
No worries, though–we'll show you a quick and easy cleaning technique after the recipe.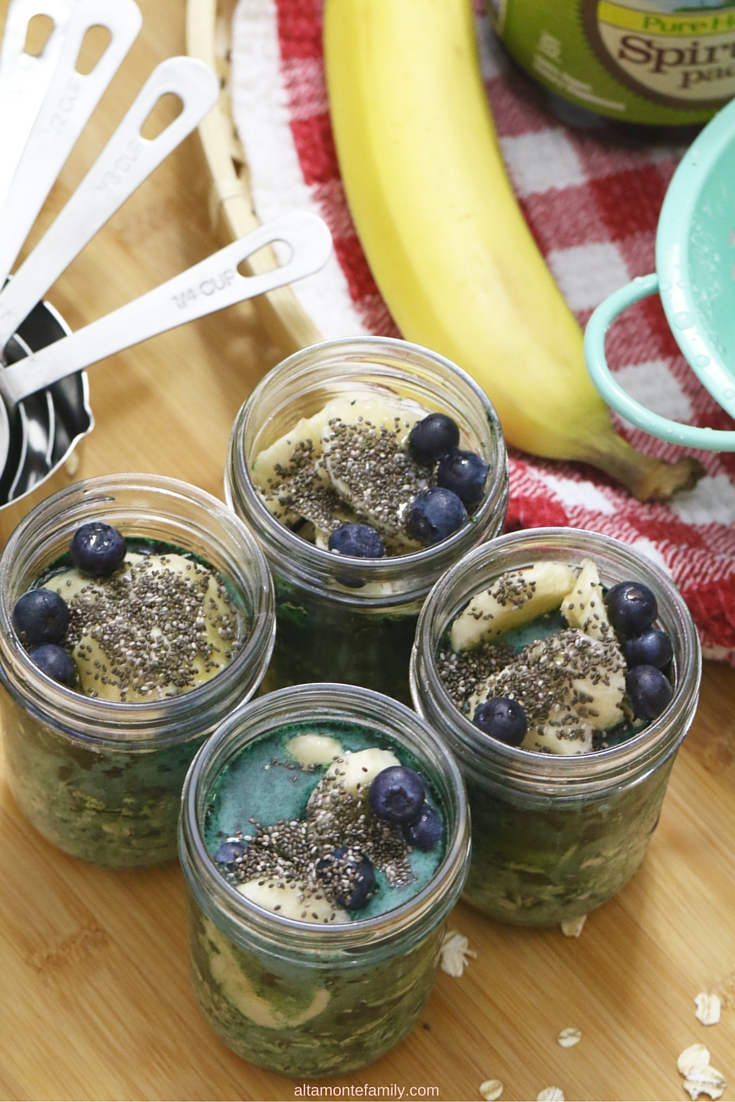 Recipe: Spirulina Overnight Oats
Servings: 1
Prep Time: 5 minutes
Inactive (Chill) Time: 4 hours (or overnight)
Total Time: 4 hours and 5 minutes
Ingredients:
1/4 cup rolled oats
1/4 cup unsweetened vanilla almond milk
1/2 tsp spirulina powder
1/4 cup fresh blueberries
1/4 medium banana, sliced
1 tsp chia seeds
1 tsp agave nectar (more or less, depending on your preference)
Directions:
Fill container of your choice (we use a mason jar) with rolled oats and almond milk
Add spirulina powder
Top with fresh fruit and chia seeds, drizzle with agave nectar, then cover and chill for 4 hours (or overnight)
That's it!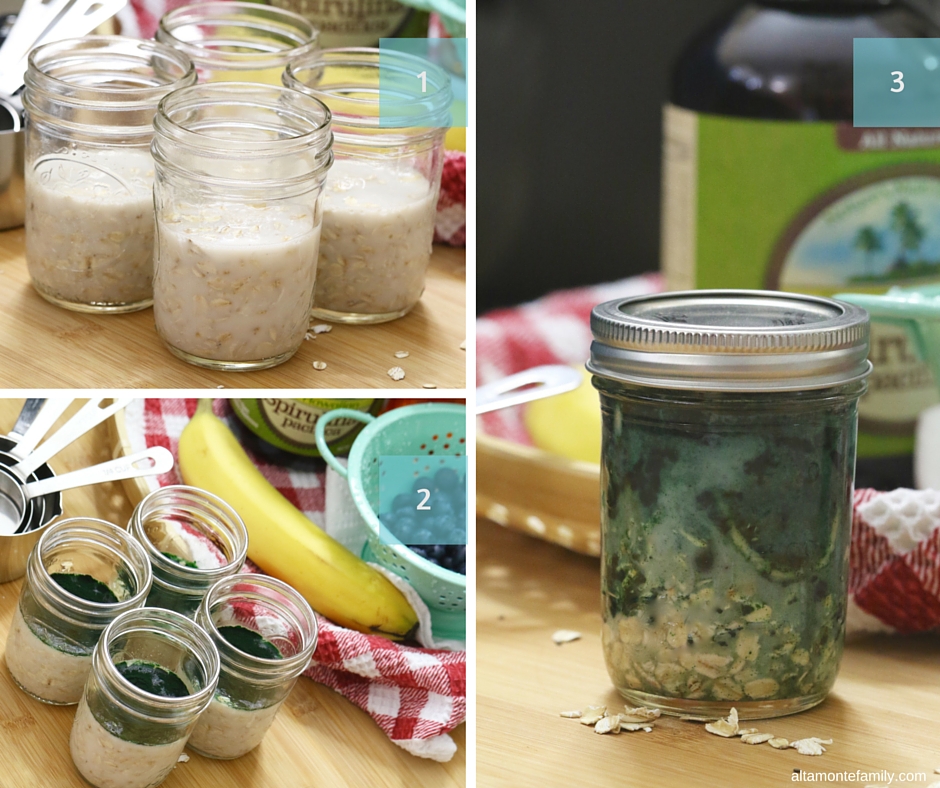 It really helps how we can make this recipe the night before (we like to make 4 per batch)! It not only reinforces the importance of making breakfast a priority, it also helps us to save time in the morning!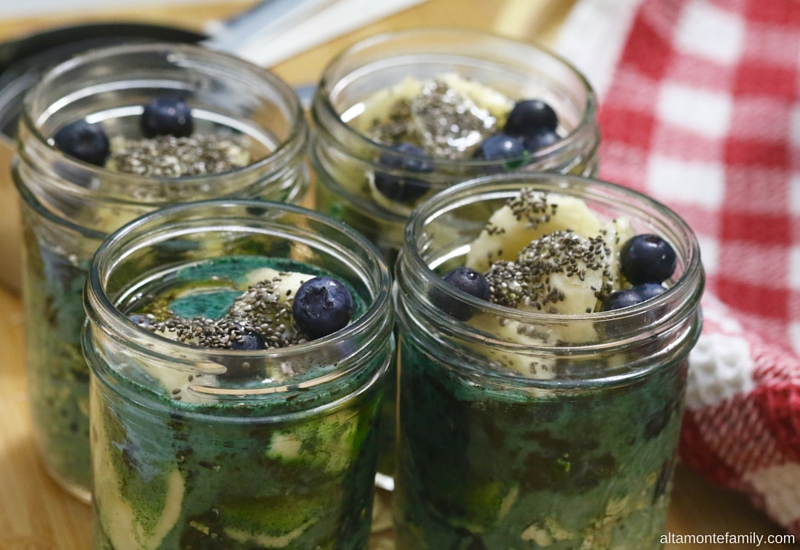 Speaking of saving time in the morning, we've got quick tip to make cleaning a breeze! Spirulina + overnight oats = a messy combination!
Tip: To get a head start on breaking down the stuck-on "green oats", briefly soak the dirty mason jars in a dish pan with some hot water and dish liquid with powerful cleaning power (we use the NEW Palmolive® Fusion Clean™ dish liquid for a Modern Twist on Cleaning™–its unique, ultra concentrated formula loosens and dissolves 24-hour stuck on food and removes even unseen food residue).
It's really important to choose a dish liquid that's not only made with trusted ingredients, but is also specially formulated for tough cleaning challenges.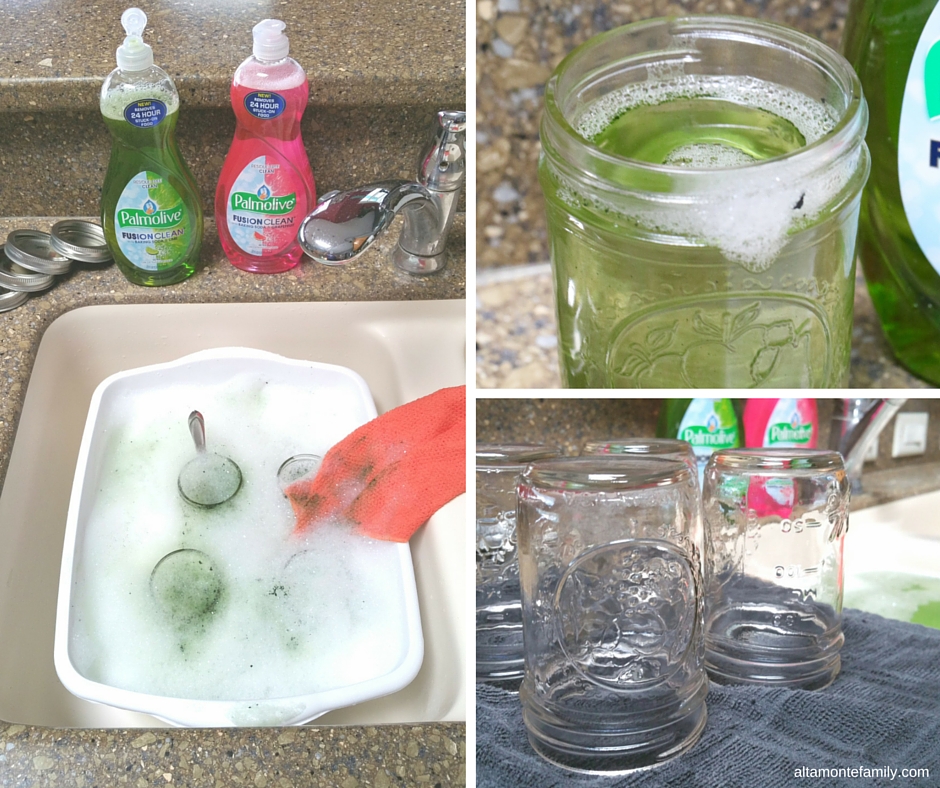 We really love the fresh scent of the NEW Palmolive® Fusion Clean™ Baking Soda & Lime!
To keep things fresh and interesting when it comes to washing the dishes, we like to keep other colors and scents on the side, like the NEW Palmolive® Fusion Clean™ Baking Soda & Grapefruit! Do you also like rotating the colors and scents of your dish liquid?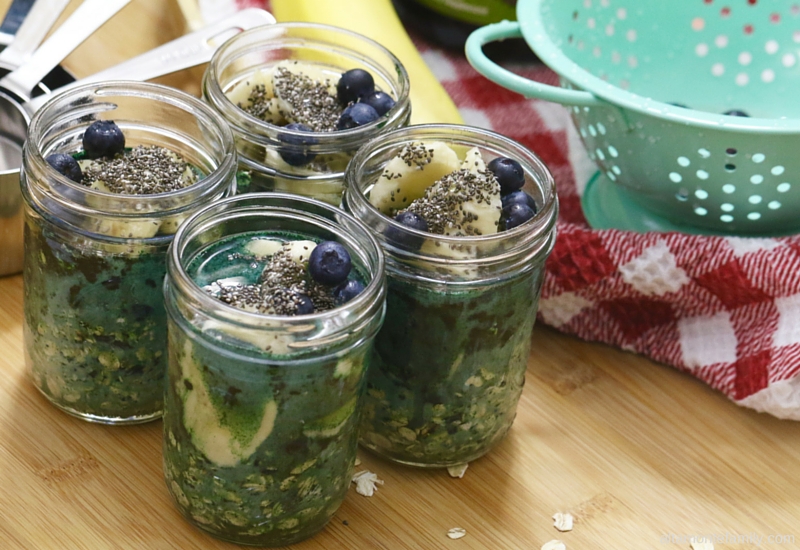 Ready to power up your mornings?
Make breakfast a priority by making these Spirulina Overnight Oats! We hope we gave you a good head start with an easy recipe and quick cleaning tip! Plus, we've got a coupon for ya!
---
Offer Details:
6/12 – 6/25: $0.50 off 22oz+ (includes NEW Palmolive® Fusion Clean™)
7/24 – 8/6: $0.25 off any Palmolive® (there will be more offers to come, which will be this coupon offer)
---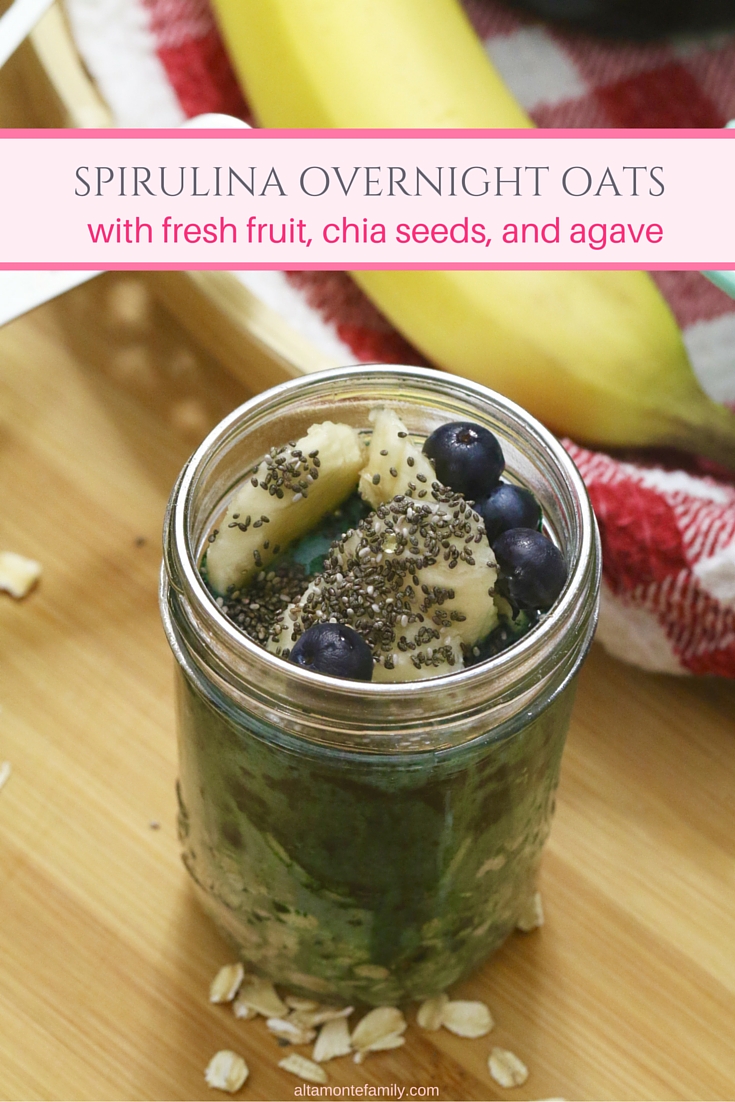 There's really no need to be intimidated by messy recipes when we can harness the cleaning power of fusion with the NEW Palmolive® Fusion Clean™ (it combines Baking Soda and the fresh scents of lime or graperfruit to give us a Modern Twist on Cleaning™ so we can cook up a storm)!
By the way, this is a new product and Palmolive® brand's most powerful formula (cleans 2.5x more dishes vs. Palmolive® Non-Concentrated dish liquid). It's available in Baking Soda & Lime and Baking Soda & Grapefruit.
What messy but deliciously better-for-you recipe will you create? 🙂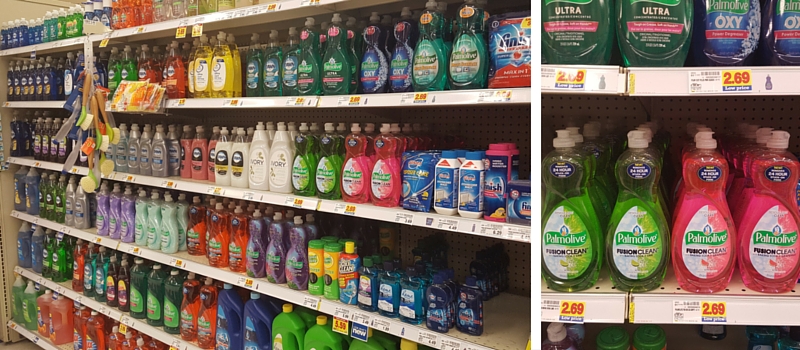 We found the NEW Palmolive® Fusion Clean™ dish liquid while shopping at Kroger. Don't forget to grab the coupon before you shop!
---
We're Social! If you liked today's post, feel free to share, bookmark, or pin it! Follow us on Pinterest, Facebook, and Instagram for more updates on our latest projects and adventures.