The long Memorial Day weekend must've worn many of us out that we're probably dreaming about sleeping in this Toosday! So, yes, you guessed it! This week's #DoodleDozen theme is all about, "How Do You Sleep?"
#DoodleDozen Week 9
We doodz and doodettes are known to be masters of our own unique sleeping positions–don't ya think?! As a matter of fact, we saw so many sleepyhead fur friends on Instagram this past week, it was pawfully difficult to choose only a dozen of you to feature! Sometimes, it can get quite tempting to do a double #DoodleDozen feature so we can pick 24 of you!! But, were young doodz still, and our grown-up teeth are just coming in (we think), so we wouldn't want to take on more than we can actually chew.
So, let's get this slumber pawty started, shall we?
The Ruff Life Of Sleeping Doodz & Doodettes
Whether you actually followed your self-made bedtime / naptime routine or unintentionally (or intentionally?) fell asleep right in the middle of doing something, we won't judge. We know that life is ruff for us doodles and we need our sleep! Let's take a look at how these doodz and doodettes are snoozin' away!
---
Love to sleep with pillows? Yay or nay? This doodette obviously went for comfort.
---
Not sure if this dood is going for comfort or convenience with his pillow choice (hey, but he found the pawfect snooze spot near his food stash)….
---
Now, how would you like to be stuck (or snug) in the middle? Life is so ruff. It's complicated.
---
This is how you sleep like the rich and famous (well, we think Snoopy is famous and… he must be rich by now… because every dood and doodette needs a big break… just like Snoopy)!
---
Hang in there, dood!! Who else likes to hang this way in their sleep?
---
Looks like someone fell asleep mid-chew… don't even think about stealing this doodette's toy while she's sleeping!!
---
Are you sleeping, are you sleeping, Brother Myles, Brother Myles??? Watch the video to find out whether this dood is really sleeping… or…
---
Check out this camping dood!! He looks pretty comfy!! Adventure is out there!! Who else loves to go camping?
---
Anyone else here who likes to look a lot taller in their sleep?
---
This little dood (he's not really little now, this was a TBT pic) looks like he's in deep thought. What could he be pawssibly dreaming about?!
---
No blanket needed for this dood to get all comfy! Think he missed breakfast (or traded it in for some extra sleep)???
---
Looks like someone's always ready for a belly rub!
---
How will you be sleeping tonight?   Show us your snooze pics (or vids) by using the #DoodleDozen hashtag this week!! Our doodle community would love to see–and celebrate–our favorite sleeping positions!!!
---
Check out the previous week's round-up of doodz and doodettes!
Is your dood or doodette on Instagram?
Woof! Then, we'd love to be fur friends!
Follow @adoodzlife to follow our sibling life (Mochi, Mocha, and Moana) and to see our #DoodleDozen regrams.
Use our hashtag #adoodzlife to meet new fur friends in the doodle community!
Use the #DoodleDozen hashtag to… see who's been featured / join the conversation / submit an entry for upcoming #DoodleDozen features.
Doodles love to make new friends!
Play along and make new fur friends! Find a new buddy and /or follow one or more of our featured doodz and doodettes from this week (or from previous weeks)! Our hashtags #adoodzlife and #DoodleDozen make it easy to find new fur friends and keep up with the "old" ones.
Come back soon and paw-ty with us again next Toosday for yet another barktastically exciting #DoodleDozen round-up!
---
Share the ruv
Help us make #DoodleDozen even MORE BARKTASTIC by inviting more furrriends, Facebook pals, litter mates, and hoomans to join the paw-ty! We'd love for you to either bookmark or share this post! Woof!
If your talented dood / doodette was featured on #DoodleDozen this week…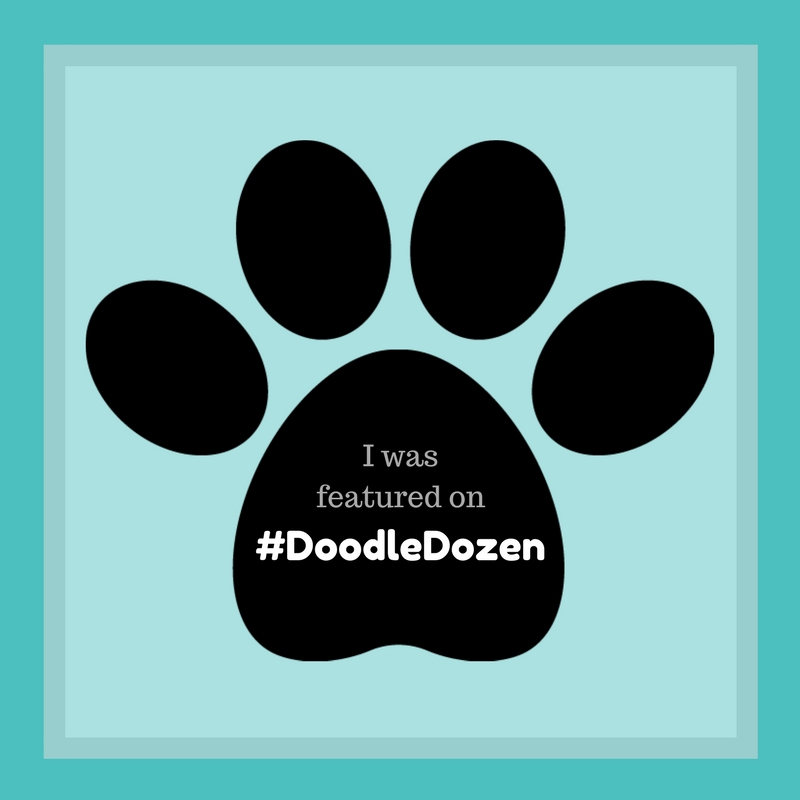 Feel free to share this link and/or use the image above to tell your friends and family that you've been featured! Simply click on the button below and modify it if you wish (brighter, darker, black-and-white… whichever) and post to Instagram, Facebook… or however way you'd like to regram it!
As always, thanks for sharing the ruv!