Summer is just around the corner and lots of families are getting ready to go on a road trip! While our family doesn't have any current plans on traveling this summer (I'll be on my 3rd trimester of pregnancy), we thought we'd help out by sharing some of our "best practices" and "lessons learned" along the way (literally and figuratively).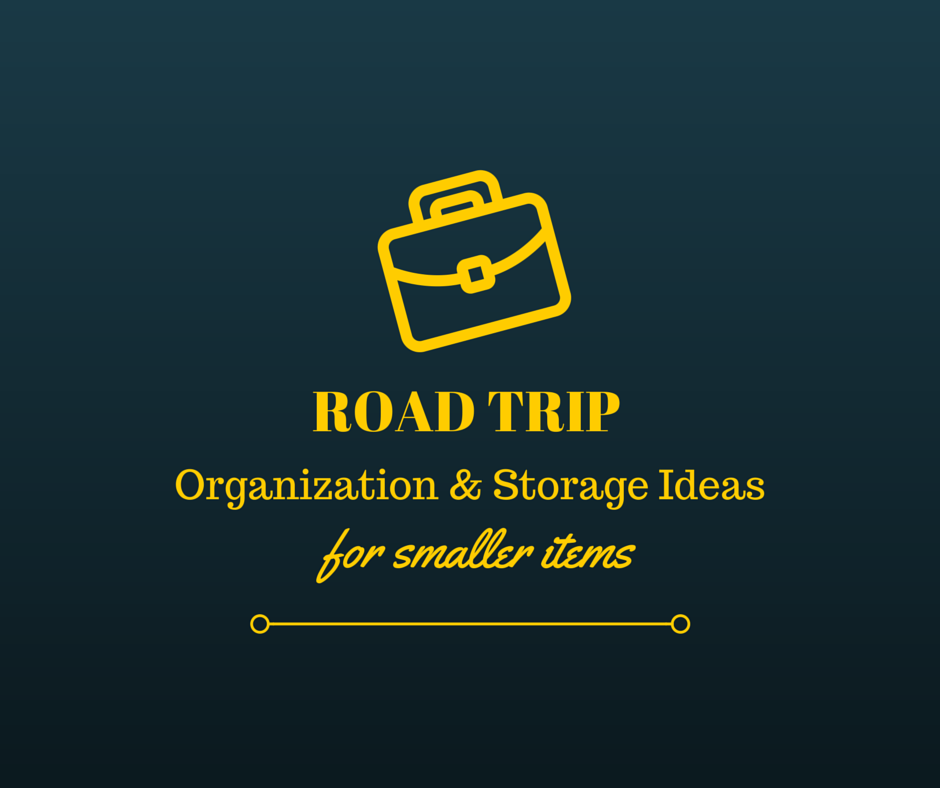 We briefly talked about road trip organization and storage ideas for storing less frequently used (but highly essential for survival) items in large 27-gallon totes (see Tip #1).
Now, we're going to talk about organization and storage tips for smaller, more frequently used items–some of which you may need while on the road, and some which you would typically carry with you each time you check-in at a hotel to get some sleep and a decent shower!
For example, it's always a good thing to have your medical kit readily and easily accessible while you're on the road. You really wouldn't want to have to unearth it from the depths of your trunk especially after being on the road for–let's say–3 weeks! Talk about STRESS!
In addition, it always helps to have backup chargers and cables readily accessible in case the original ones stop working as you struggle to keep your GPS / smartphone and other electronics happily working. Everyone just stays happier this way.
Over the years, we found a very simple solution to our travel organization woes that works every single time! While I wouldn't necessarily recommend this system for air travel, it's definitely something worth looking into for road travel!!!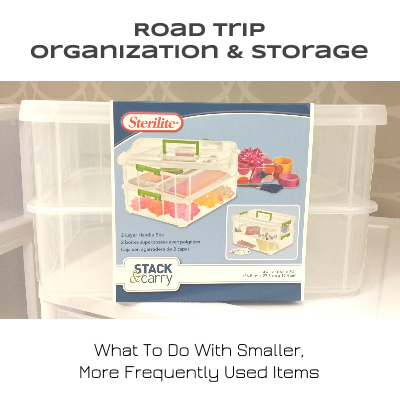 We were shopping at Target the other day and saw these Sterilite Stack and Carry tubs. We're pretty sure we got them for less years ago but we feel that they're still fairly priced at $8.99 per set (please, always check your local Target store or online for current prices). They're pretty sturdy as they've survived the wear and tear of our constant travels.
To give you an idea, we take at least 2 sets of these Sterilite Stack and Carry tubs with us whenever we travel:
Set #1:
Top Bin (a.k.a. The Rx Tub):  Vitamins, OTC, Rx medications, First Aid Kit, etc.
Bottom Bin (a.k.a. The Electronics Tub): Chargers, cables, etc.
Set #2:
Top Bin (a.k.a. The Dental Tub): Toothpaste, toothbrushes,  floss, mouthwash, etc.
Bottom Bin (a.k.a. The Soap Tub): Shampoo, conditioner, soap, body wash, hair gel, laundry detergent pods, etc. (we prefer to bring our own toiletries to the hotel, especially on lengthy trips)
This system has worked really well for us that we use it for our mini staycations as well! It has helped us tremendously before, during, and after the trip!
How has this road trip organization and storage system helped us?
Before the trip
The Electronics Tub is the easiest to "pack"! Over the years, we have learned that it's best to keep a dedicated supply of chargers and cables just for traveling so we don't have to forage for them just before our trip (since we tend to procrastinate)
As with the Electronics Tub, we have a list made for each Tub so that even our children could help us pack each one (it helps to keep a list adhered to each tub)
During the trip
While the Dental and Soap tubs (Set #2) would typically go inside a small, carry-on suitcase, we usually leave Set #1 out so we could easily access the items (as needed) while on the road. It's fairly easy to slip Set #1 into the suitcase whenever we need to check-in at a hotel. Likewise, it's just as simple to take it back out when we're ready to get back on the road!
After the trip
Since The Electronics Tub is the easiest to pack, it just follows that it's the easiest to unpack
The Rx Tub is the second easiest: when unpacking this tub, the First Aid Kit and unopened OTC medications remain inside (we just check from time to time if any of the items are about to expire)
So, what do you think about these Sterilite Stack and Carry tubs so far?
If you use a different or similar system, feel free to share them with us in the Comments section! We're always happy to learn from others!
As you know, we still have lots to talk about–we've barely scratched the surface regarding all of the road trip essentials that make for a more enjoyable (and less stressful) time on the road.
Keep checking back for more road trip organization and storage tips! In the meantime, feel free to drop us a comment with any road trip related questions as it might just inspire our next post!
Happy travels!
Disclosure: As of the time of writing this post, AltamonteFamily.com is by no means affiliated with any of the companies or organizations mentioned in this article. AltamonteFamily.com has not been compensated in any way nor has AltamonteFamily.com been influenced to write about these products. This post is a result of the personal observations and independent research of members of AltamonteFamily.com. All opinions solely belong to AltamonteFamily.com.