This shop has been compensated by Collective Bias, Inc. and its advertiser.
All opinions are mine alone. #LiveColor #CollectiveBias
---
We have been playing it safe with color for far too long, especially after having moved several times over the last few years. While lounging in the family room one wintry-but-not-so-wintry afternoon in December, my husband and I agreed that it was time to start decorating our home differently–to stop "living in neutral", to start "living life in color" based on our life's new chapter. So, when we heard about the new book, Change Your Home, Change Your Life™ with Color  by Moll Anderson, we immediately knew that we've found our starting point and inspiration for revitalizing our home and life with color!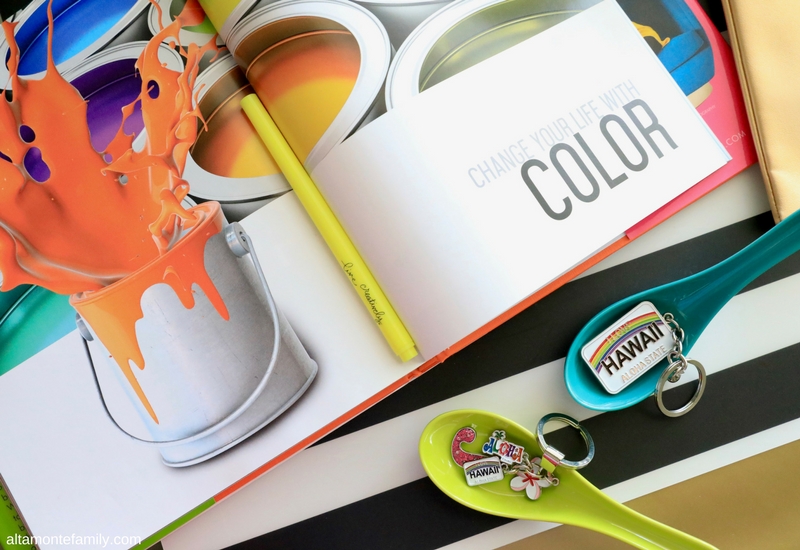 Moll Anderson's book was a great reminder that…
Color speaks louder than words.
What's Your Color Story?
In Change Your Home, Change Your Life™ with Color, life stylist and inspirational interior designer Moll Anderson shared her personal story and explained how our feelings about color are deeply rooted and emotionally based on our personal lives… that the powerful effect of color is most evident where we live.
I became interested in color when I discovered that it was not only a reflection of my mood, but my state of being. I looked around and saw I was living in black and white, and I realized I was hiding. In this book I share the transformational elements of my own journey with color to help you transform your personal color story.

– Moll Anderson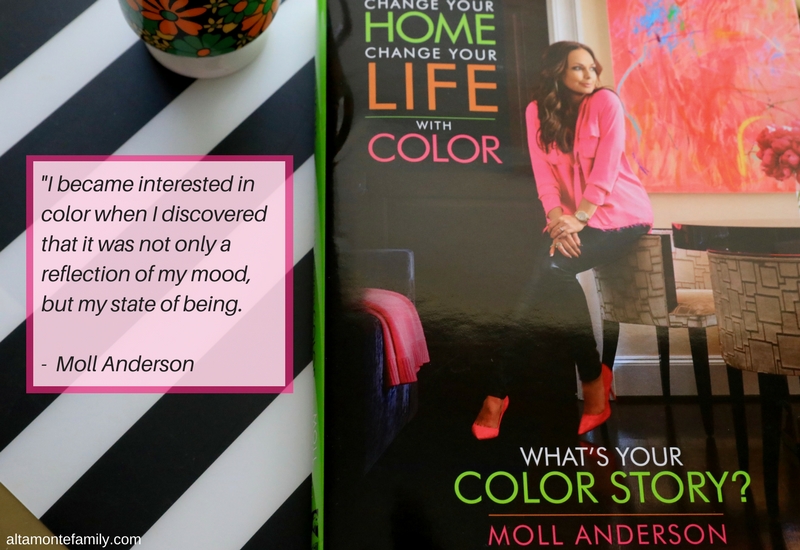 With her practical, commonsense approach to design, Moll inspires both reflection and change well beyond the home advice for your home and life.
We can't wait to add "pops of color" to change the mood of our space (starting with our entryway), our wardrobe, our life!
Adding Pops Of Color
As you can see in our choice of decor (our "before" picture is shown below), we made our entryway very neutral, functional, and "safe". It's a mashup of things we picked up during our travels + an assortment of Hawaiian leis in mason jars to give to our guests to spread some Aloha cheer here in Florida (we moved here from Hawai'i).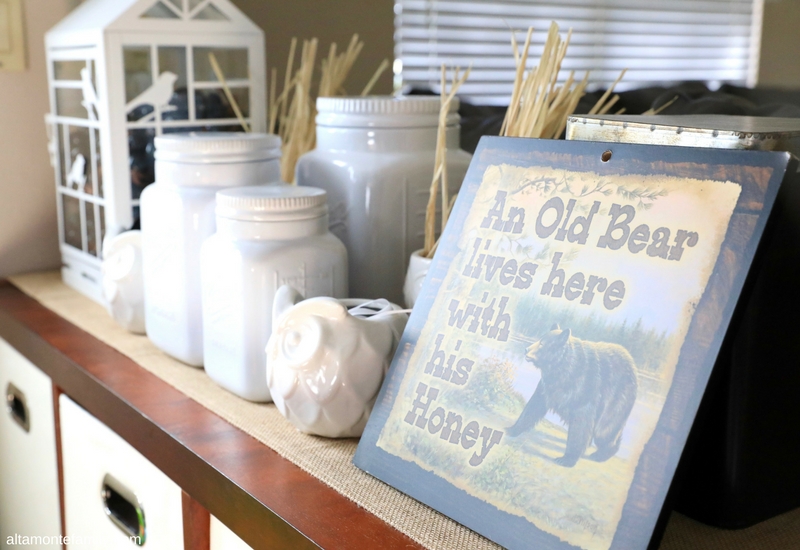 While the current setup works (well, kinda?), we're really looking to apply what we learned from the book.
We desperately need to add pops of color to revitalize our space!
We need to live every day more colorfully!
We need to "change our home, change our life with color"!
We're definitely up for the challenge! How about you?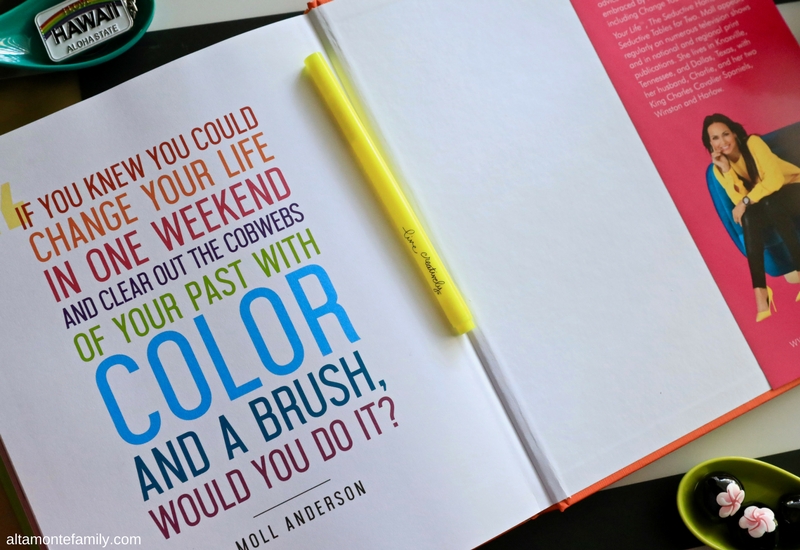 Coming Soon: We will be posting about the amazing transformation of our entryway based on what we learned from Change Your Home, Change Your Life™ with Color.  Stay tuned!
Finding Our "Color Cure"
Moll Anderson gives us something to think about in her book:
What if you could get a "Prescription of Color" for exactly what you need to bring joy, healing, and energy into your home and life?
She inspires us to "color [our] world toward the positive".
The thought-provoking questions in the journal-style book guide us into understanding our own personal connections to color and how we feel towards them–why we like and dislike certain colors. This is especially helpful for us as we just went through a life-changing event at the beginning of the year.
A new color.
A new chapter.
Finding a new color for our entryway
Each color is beautiful in its own right, and Moll shows us just that in her book! She features thirteen different colors in individual chapters, complete with simple color solutions, "Pop of Color" additions, and her personal color lessons and stories from her designs and life. The vibrant photographs in the book got our wheels turning as we visualized how a certain color (or look) would work for our space, our life, our home… our  color story.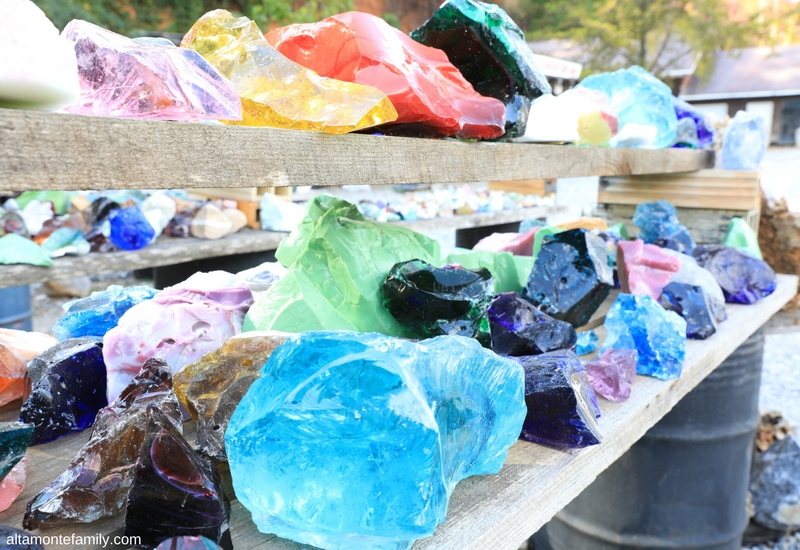 Let's talk about lighting for a sec…
We found ourselves nodding our heads as Moll talked about lighting in the home and how it affects color. That gorgeous color you chose at the store may not look the same when you start decorating and painting away at home.
So, what's a DIY-er to do?!
Observe.
We started observing the lighting in our home ever so closely–and noted the lack of natural lighting.
Ummm… we sorely need to un-gloom our home!
As nature lovers, we're always drawn to natural light! We love the uplifting, refreshing, and rejuvenating hues cast by the rays of the sun!
Now, that's a colorful, a-ha moment!
Yellow is energizing!
Yellow wakes up our senses!
We say, #INVIGORATING YELLOW is totally worth exploring! It is worth embracing!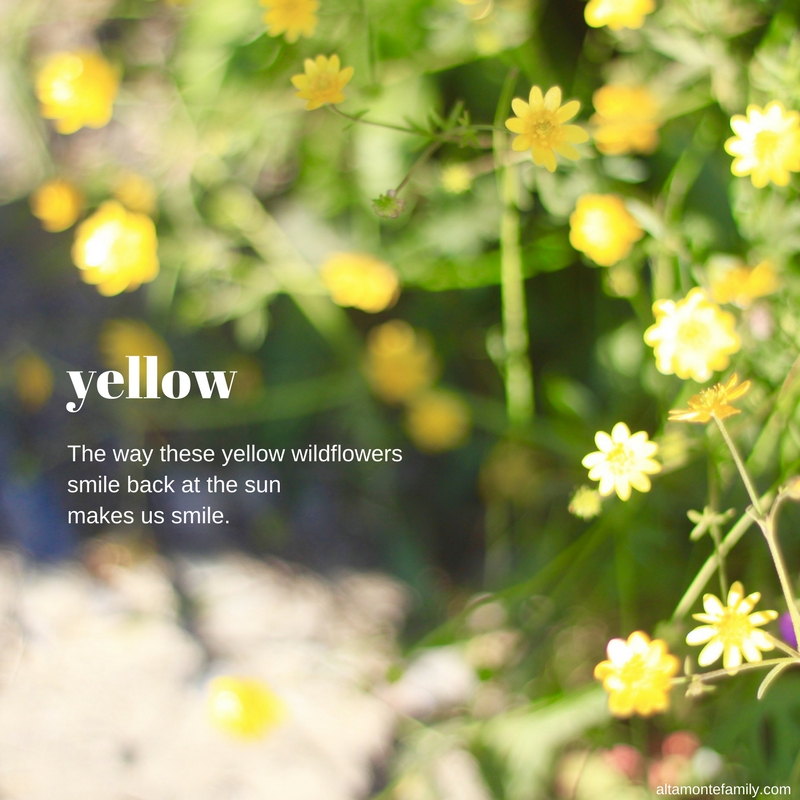 Yellow is the result of our Couple "Color Merge" Exercise (as the book puts it). Yellow is a new and exciting "color story" for us to explore as a married couple! So, keep your eyes peeled for our Entryway Transformation update!
Are you ready to discover your own colorful, a-ha moment?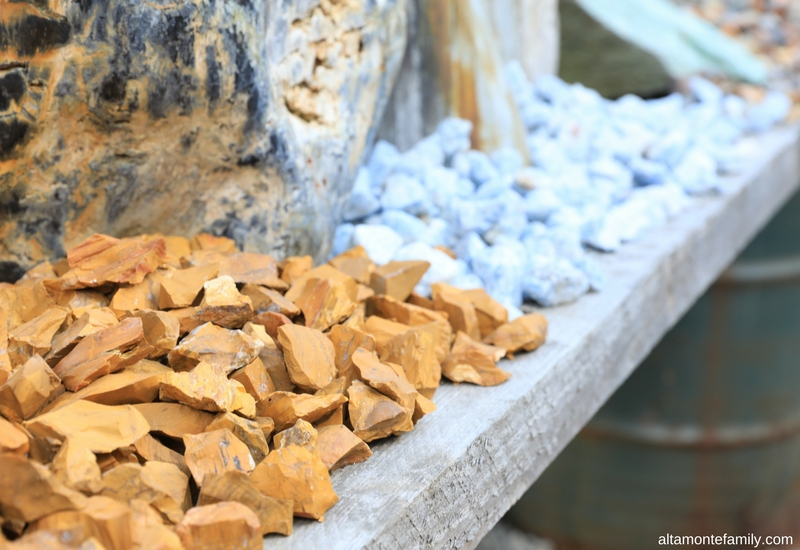 About Moll Anderson
Thought we'd share some highlights about Moll's background from her long list of accomplishments and accolades…
What resonated with us the most? Her philanthropic heart. In 2010 The Moll Anderson Endowed Scholarship was established at the University of Tennessee, allowing single parents to pursue their educational careers while caring for their children. Recently, she also received the Spirit of Compassion Award at the UNICEF Snowflake Ball. She dedicated an entire chapter to "The Color of Giving" in her book, which is about taking the "all about me" out of you!
Imagine the most beautiful rainbow made up of all the colors that fill your heart with joy. This is the color of giving. It's taking the "all about me" out of you.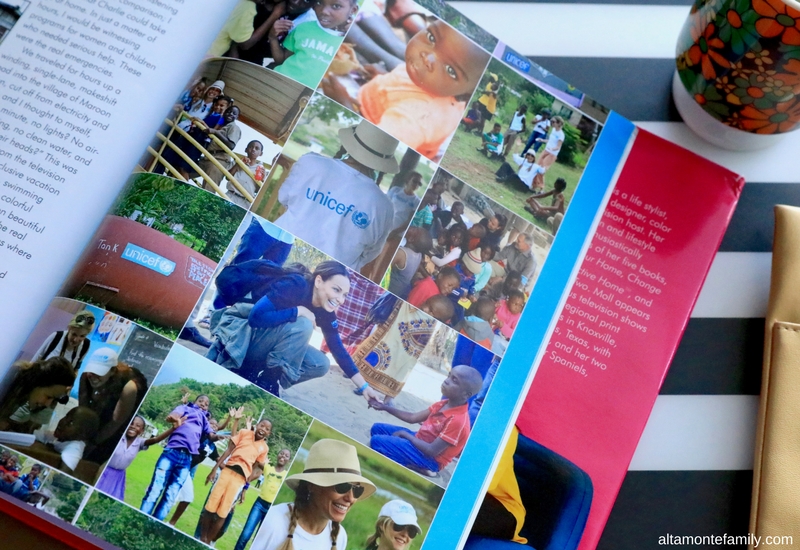 Moll is a woman of many trades! She is an accomplished author, television and radio host, inspirational interior designer, life stylist, and advocate for women and children globally. You may have already seen her on Access Hollywood Live, Good Day LA, The Talk, Good Morning America, The Today Show, and Dr. Phil, or read about her on InStyle and Cosmopolitan, USA Today, Huffington Post's Women in Business, as well as in regional publications.
Ready to find your own color story?
Each of us possess our own unique personal color story; you, too, can explore and open up the path to embracing the colors that will renew, revamp, and revitalize your home and life! Your color matters when you understand it. With the right color, we can positively impact not just our surroundings but our mood, behavior and emotions.
#WhatsYourColorStory?
Grab a copy of Change Your Home, Change Your Life™ with Color by Moll Anderson! It will be available in Target stores when it officially publishes on March 14, 2017.
Click here to learn more and to download an exclusive sneak peek at Moll's new book!
Let's live every day colorfully!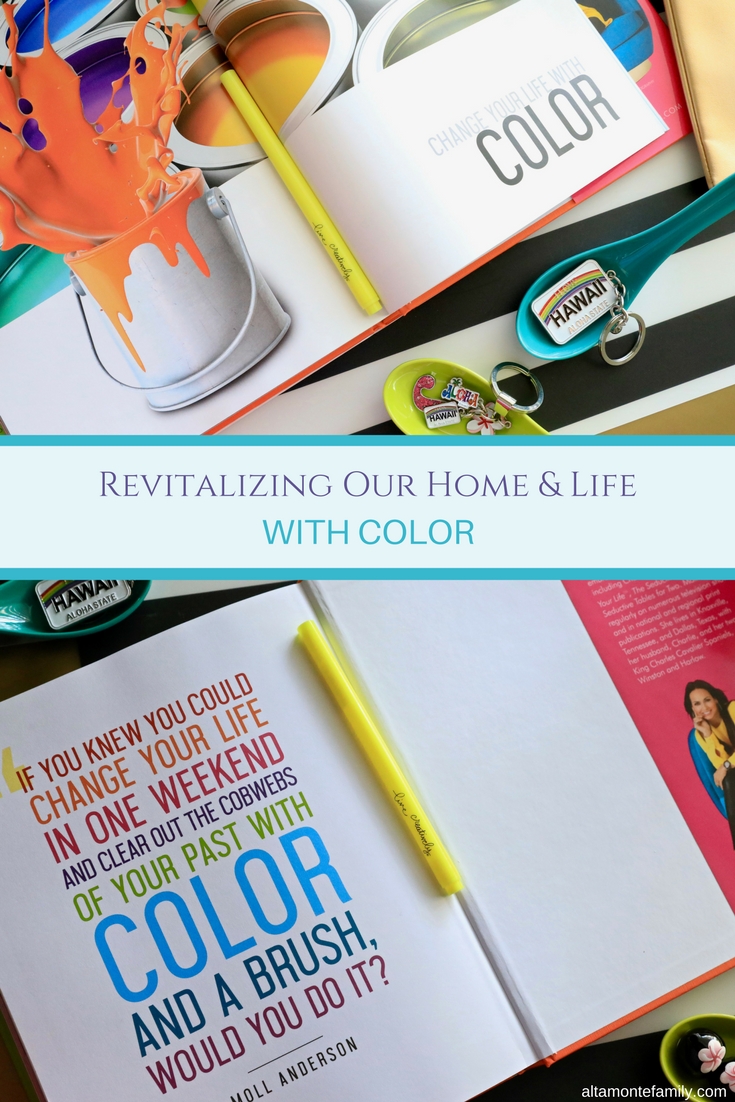 ---
We're Social! If you liked today's post, feel free to share, bookmark, or pin it! Follow us on Pinterest, Facebook, and Instagram for more updates on our latest projects and adventures.