This shop has been compensated by Collective Bias, Inc. and its advertiser.
All opinions are mine alone. #StartWithJifPowder #CollectiveBias
---
We're well into the final week of the first month of the year–can you believe it?! How have you been doing on your New Year's resolutions? Let me just be transparent here and say that it hasn't been easy for me… but, by God's grace, it hasn't been impossible, either! Yesterday, I finally received my first medal of the year (from my smart phone) for reaching one of my fitness goals! Yipppeeee! Perhaps you'll agree that having a simple breakfast that's readily available is one of the keys to reaching one's fitness goals. Speaking of breakfast, let me fill you in on a simple breakfast / snack recipe using Jif Peanut Powder and raspberries (one of my favorite fruits)! Raspberry Chia Peanut Butter Bars: it's like PB&J but all grown up!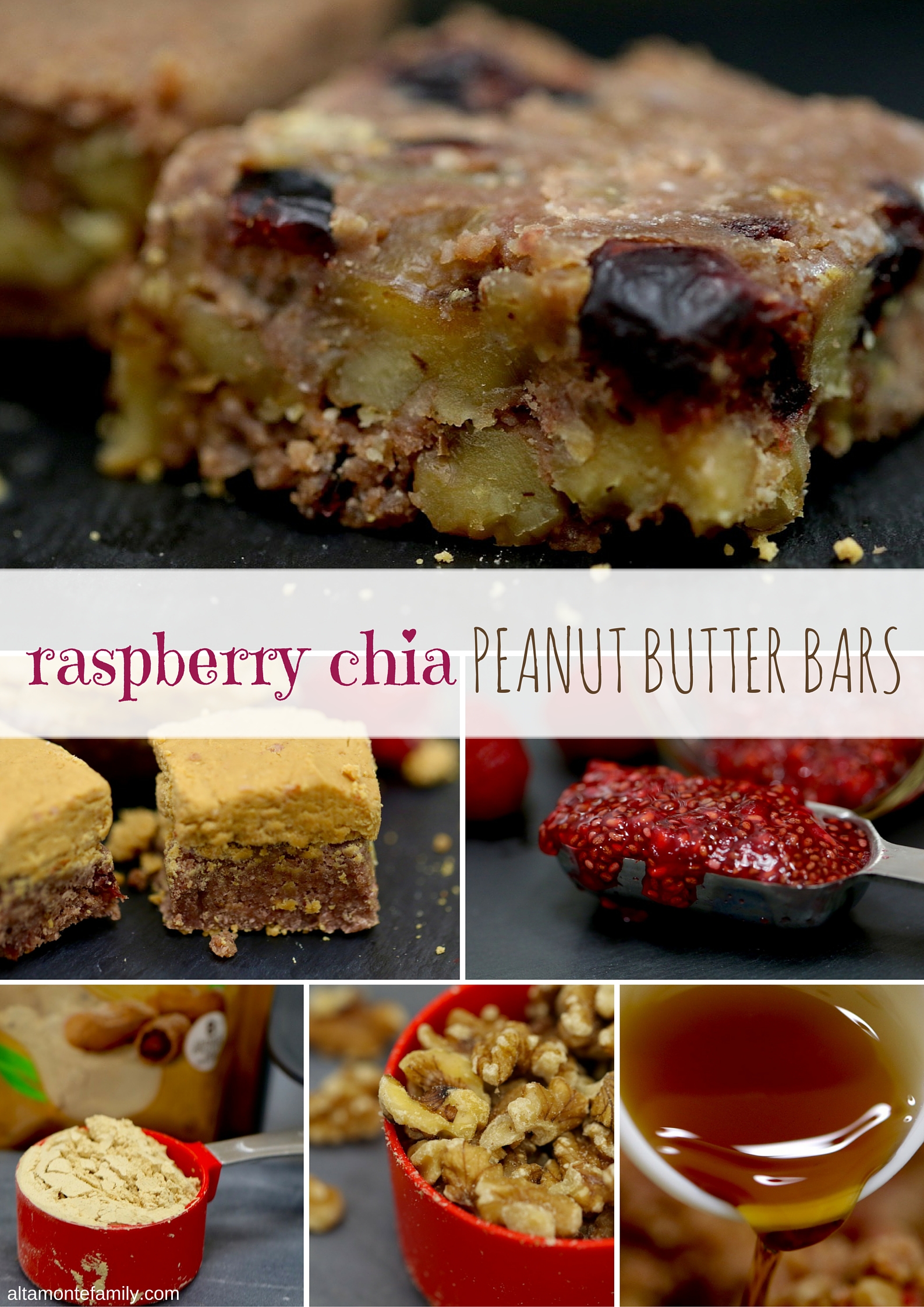 If you like peanut butter and are looking for new ways to incorporate it into your breakfast regimen, you're in the right place!
About Jif Peanut Powder: If you haven't heard of Jif Peanut Powder, just think of peanut butter in powder form (it has the same amount of protein as traditional peanut butter but with 85% less fat). Unlike other peanut powders out there, Jif Peanut Powder has no added sugar or salt (this is better for us since we have pre-diabetics in the family). It's simply made from one ingredient–fresh roasted peanuts. This bag of powdered peanut yumminess can even be more nutritious, and it's a convenient way to add a delicious peanut taste to smoothies, shakes, yogurt parfaits, energy bars, and all kinds of breakfast and baking recipes… with less calories and sugar! For those who prefer something a little sweeter and happen to also love chocolate, there's Jif Chocolate Peanut Powder (it contains semisweet chocolate and just a dash of sugar). Both flavors can be incorporated into your diet or cleanse, depending on your program.
Alrighty… let's chat about what's inside the Raspberry Chia Peanut Butter Bars. We're going to begin with this trio:  Jif Peanut Powder + walnuts + organic agave (sounds like an awesome formula for crunchy peanut butter, if ya ask me)!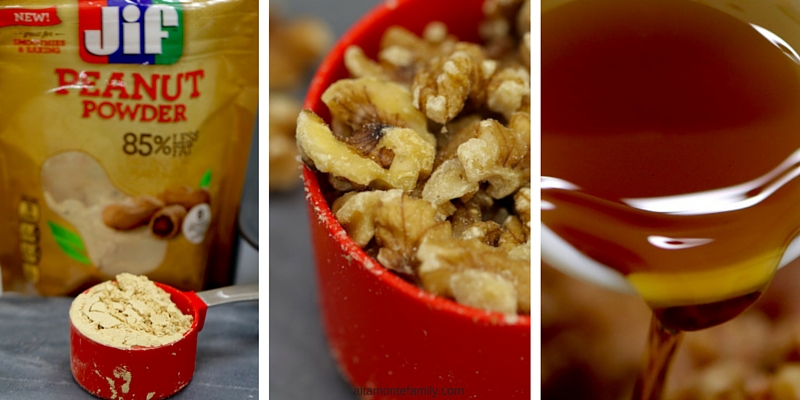 Mmmm….
Then, there's our favorite fruit: raspberries! We took some fresh raspberries to make homemade raspberry chia jam (with flax meal). This can be made ahead of time or you can simply use any store-bought jam of your choice.
Homemade Raspberry Chia Jam: Did you know that it took us just under 5 minutes to prepare our homemade raspberry chia jam (with flax meal)? We simply combined 1 cup of fresh raspberries (crushed), 1/4 cup chia seeds, 1 tbs warm water, and 1/2 cup of raw agave nectar. We let it sit in the refrigerator for about an hour before adding in 1 tbs of flax meal.  That's it! No cooking required!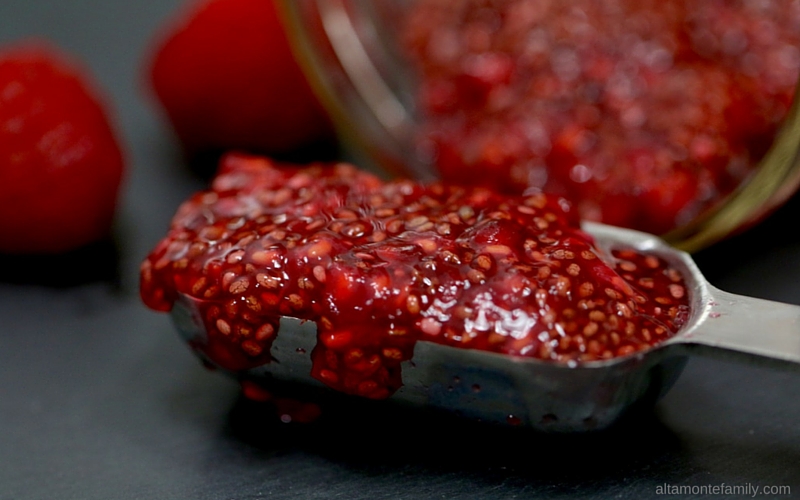 All other actors on the "red carpet" include: dried cranberries, organic coconut flour, and organic cold-pressed extra virgin coconut oil.
So…. are you ready to get the rest of the scoop? Jump right in…
Recipe: Raspberry Chia Peanut Butter Bars
This twist on PB&J reminds me so much of my childhood (thanks, Mom)! It always helps to make these ahead of time so you can be prepared to power up at any time of the day (most especially, breakfast).
Servings: 8 small squares
Active Time: 10 – 15 minutes
Inactive Time: 1 hr 20 minutes minutes minutes
Total Time: 1 hr 30 minutes
Ingredients:
2/3 cup Jif Peanut Powder
1/2 cup organic coconut flour
1 cup walnuts, slightly crushed
2/3 cup dried cranberries
1/2 cup homemade (or store-bought) raspberry chia jam
1 tbs raw agave nectar
1/2 cup organic cold-pressed extra virgin coconut oil (melted, if necessary)
For the topping (optional):
2 cups Jif Peanut Powder (or Jif Chocolate Peanut Powder)
1/4 cup organic cold-pressed extra virgin coconut oil (melted, if necessary)
Instructions:
Pre-heat oven to 300° Fahrenheit.
Combine all base ingredients in a large mixing bowl.
Transfer mixture into a nonstick baking pan*, pressing very firmly to make an even, tight layer.
Bake for 20 minutes. Let cool.
Refrigerate for at least 1 hour.
Combine toppings (peanut butter mixture) in a resealable food storage bag.
Snip bottom corner of the food storage bag.
Remove baking pan from refrigerator and pipe peanut butter mixture (topping) onto the base mixture.
Cut into small squares and serve (keep refrigerated before serving).
*We used an oven-safe, 2-cup rectangular glass container (size: 6 3/4″ x 4 5/8″ x 1 3/4″).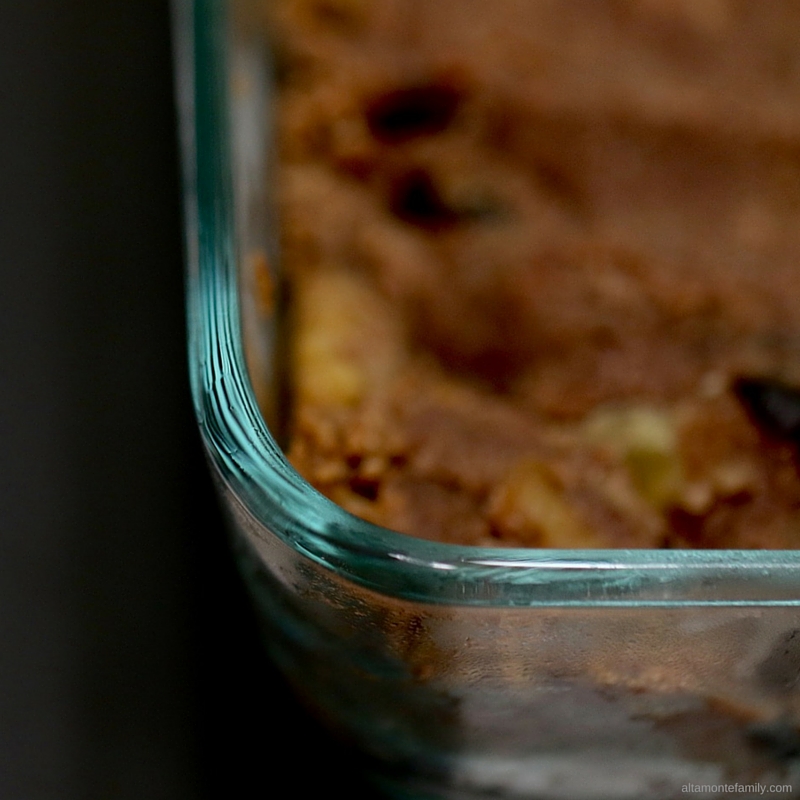 These raspberry chia peanut butter bars are good with or without the topping. It's really up to you!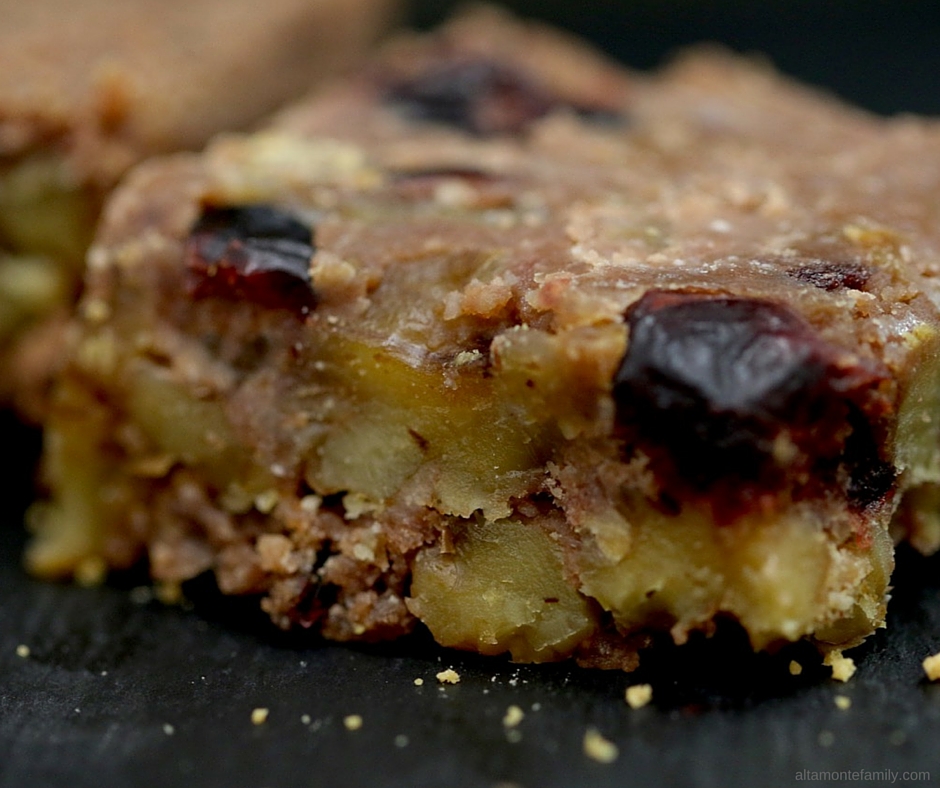 While a few small squares are perfect for breakfast, cubes are just fine as well, especially when topped with peanut butter or chocolate peanut butter! It's fun to munch on these crumbly snack bites while recharging and reading a good book! #multitasking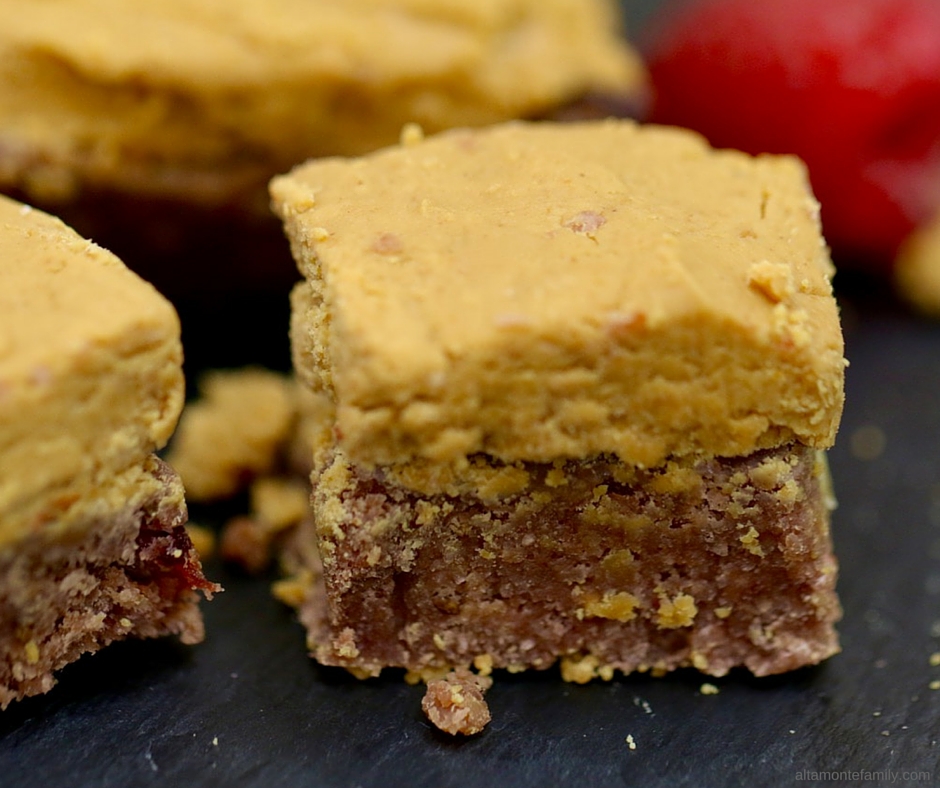 If you'd like to know where we found the Jif Peanut Powder packages, we found them at Walmart with all the other peanut butter varieties.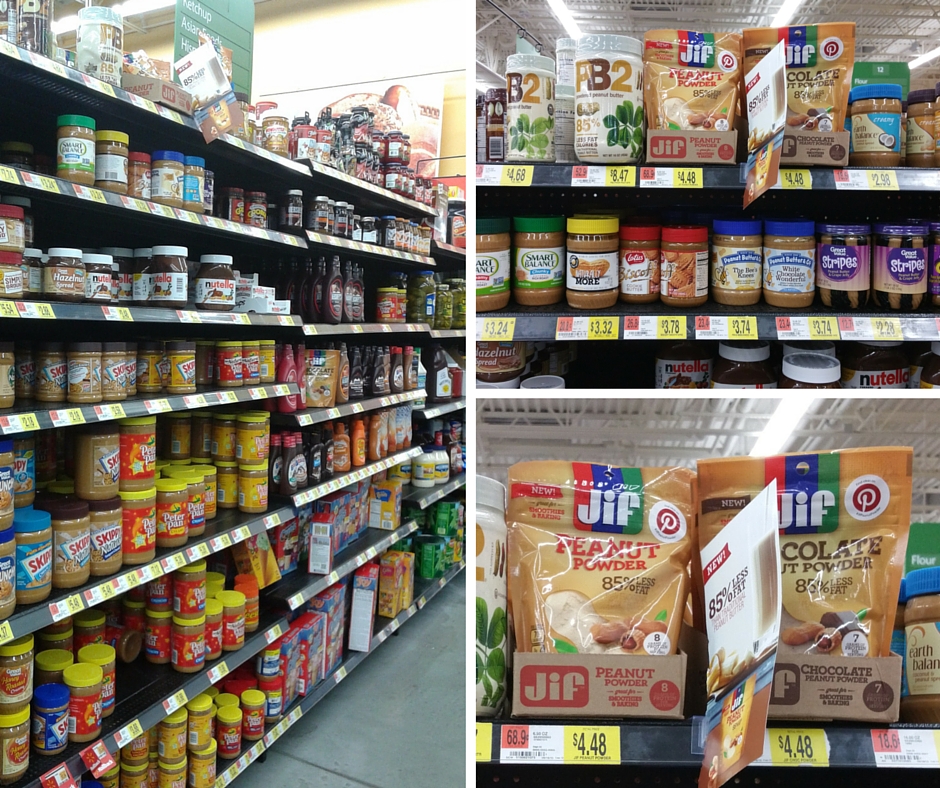 If you made it this far into our post, you must love peanut butter just as much as we do! Don't forget to check out other recipes using Jif Peanut Powder shared by likeminded foodies and check out your local Walmart to stock up!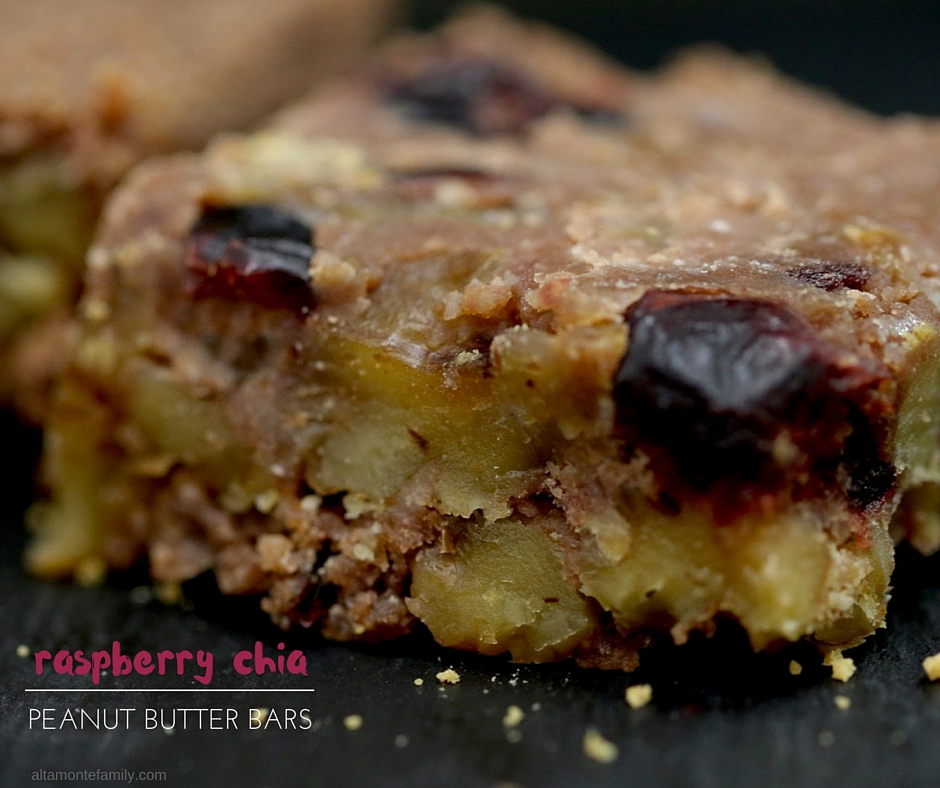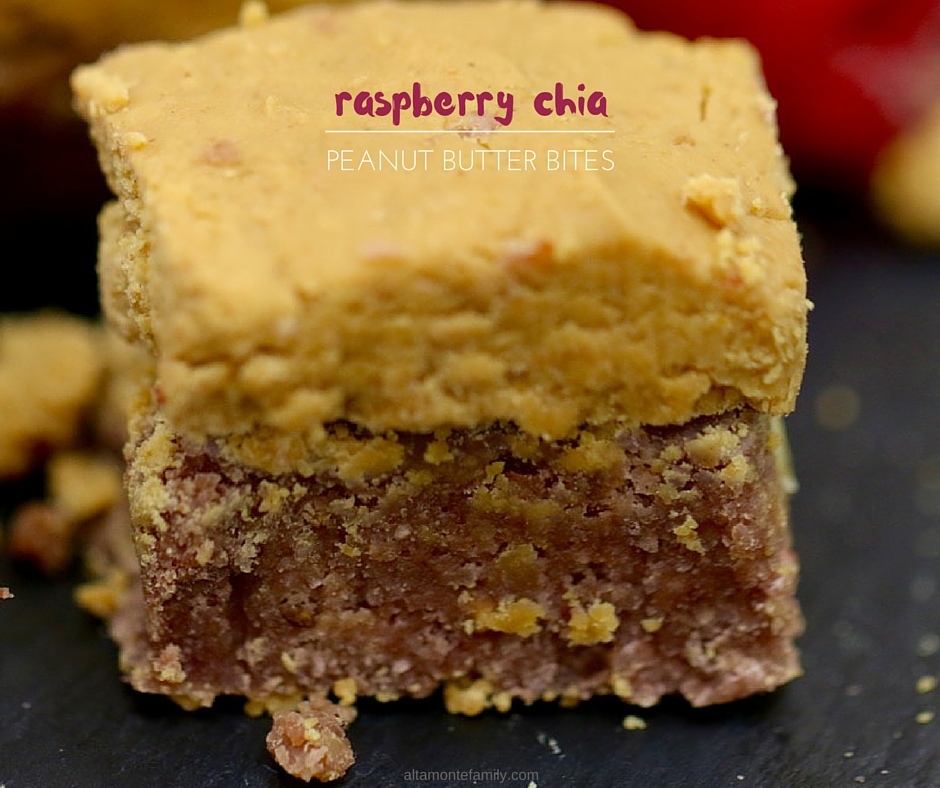 ---
We're Social! If you liked today's post, feel free to share, bookmark, or pin it! Follow us on Pinterest, Facebook, and Instagram for more updates on our latest projects and adventures.