Want to know about our first impression of the Rainmaker platform shortly after switching from Synthesis Hosting (and not long after our WordPress blog got hacked)? We have only been using the platform for 24 hours and we're already excited to document and share our first Rainmaker review with you! No, we're not affiliates (update as of September 19, 2015: we became Rainmaker Platform affiliates as we are now 2 months into it with no complaints) as of the time of this post; however, we thought it would be fun, interesting, and educational to continue the discussion concerning the aftermath of our WordPress blog getting hacked + Google manual spam action recovery process. We have a funny feeling that there are others in the same predicament–hey, would that person happen to be you? We certainly hope not. It's a nightmare. Thankfully, we're slowly getting out of it.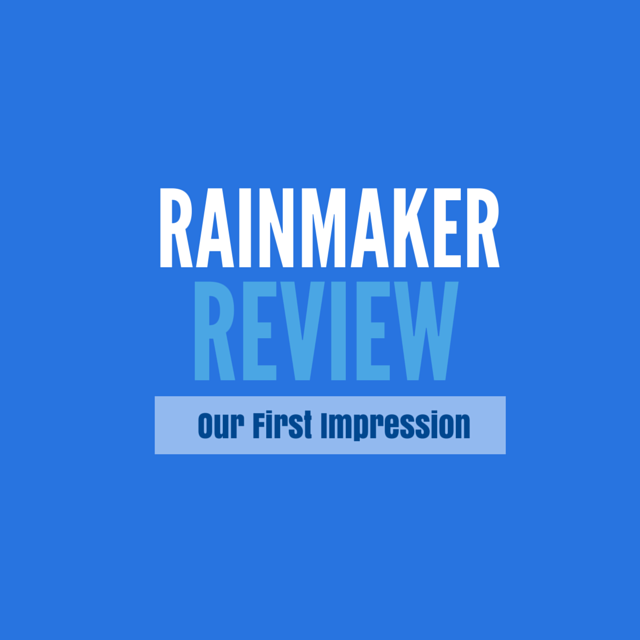 Switching To The Rainmaker Platform
We decided to make the switch / upgrade to Rainmaker after seeing the benefits of being on the Synthesis Hosting platform. To give you a little bit of a background, Rainmaker runs on the Synthesis Hosting platform (as of the time of this post), and both Rainmaker and Synthesis Hosting use Genesis premium themes by Studio Press. Rainmaker Digital LLC owns all of them (Rainmaker platform, Synthesis Hosting, and Studio Press).
Prior to switching to Synthesis Hosting and Rainmaker, we had already purchased the full suite of Studio Press' Genesis premium themes not only to have the freedom to switch themes whenever we wanted, but more importantly, to have the license to use the premium themes on any of our future websites without having to pay another fee.  If you're not planning on having additional websites that may or may not be hosted on Rainmaker or Synthesis Hosting, perhaps it might  be better to skip purchasing the full Genesis Framework package (all of their themes) and just go straight to using Synthesis Hosting or Rainmaker since both of them already come with Genesis themes. Feel free to check out the Genesis framework to learn more.
(Disclosure: Clicking on the banner below will take you to our affiliate link.)
Anyway, we appreciated the simplicity of the Genesis framework even while we were still with another web host, so we didn't find things to be too unfamiliar when it was time for us to switch to the Rainmaker Digital "ecosystem". After suffering from a hacked WordPress blog, we were on the market for managed WordPress hosting (we no longer wanted to manage it ourselves). We decided to give Synthesis Hosting a try before upgrading to Rainmaker. After Google lifted our manual spam action earlier this week shortly after we signed up with Synthesis Hosting, we knew it was time to upgrade. We're not recommending that everybody should be on the Rainmaker platform, as there are a lot of things to consider when choosing the right web hosting platform. In our case, we needed the following (note, this is not a comprehensive list):
A web host that knows WordPress well (managed WordPress hosting)
Solid WordPress security
Powerful performance and speed
Daily backups (at a minimum)
Reduced plug-in cost and maintenance
Easy-to-use digital media library and secure membership site
A framework that provides room for growth
Since our WordPress blog got hacked, we have not been able to focus on creating content and reconnecting with our readers. We figured Rainmaker would be a quick (and long-term) solution to our web design, security, and maintenance problems.
Rainmaker Review: Our First Impression
Our Rainmaker review is based on our WordPress blog already being on the Synthesis platform and already using an existing Genesis premium theme before the switch. As a reminder, the Rainmaker platform, Synthesis Hosting, and Studio Press Genesis themes are all owned by Rainmaker Digital LLC. We recognize that the experience may not be the same for everybody. We believe that our blog was "primed" for the transition since our blog is still very new and we're already accustomed to being a part of the Rainmaker Digital "ecosystem".
Migrating Our WordPress Blog To The Rainmaker Platform – Very Easy
Upon registration, we followed the prompts to access our preview site. At the same time, we received a few emails with instructions on how to get started. Their Quick-Start Guide has everything you need to know to get started. We're guilty of not reading everything since the on-screen prompts were already pretty easy to follow.
Getting Started With The Rainmaker Preview Site – Very Easy
With Rainmaker's preview site, we were able to configure our blog to our satisfaction, prior to making it go "live". We simply chose to use the same Genesis premium theme that we were already using, and then we followed the Quick-Start Guide's instructions on how to export / import our WordPress files. We didn't need to have another company help us with our migration since our blog is still very new.
IMPORTANT: While Rainmaker says that this preview site is "invisible" to Google, it is good to know that your preview site may ping other blogs when you make changes to your blog posts before going live (it pinged our site). In addition, we noticed that making changes to your blog posts before going live will change and add a "-2" at the end of your original slug. So, the lesson is: don't make any edits to your blog posts while on the preview site.
Launching Your Site – Very Easy
Launching our site when we were ready to go-live was fairly simple. We found the instructions by going on the "Help" field and typing in "Launching Your Site". We followed the instructions, clicked on "Start Live Site Launch", entered our domain name, and specified our email host. The last step involved contacting our domain registrar to point our name servers to the Rainmaker platform site (this was simple to do since we were able to do this online).
It took approximately 2 hours for our domain name to "propagate" across the web (our domain registrar said it could take up to 48 hours). During that time, we noticed our blog going back and forth between the old and new host. The instructions stated that this is part of the transition process, so don't be alarmed.
IMPORTANT: Make sure you rename (or change to draft, depending on your situation) pre-existing posts and pages made by Rainmaker before going live (be careful not to delete their sample pages in case you decide to create a membership site later on). Otherwise, they will be published once you launch your site. In our case, some of our page's slugs were automatically changed during the transition. For example, the generic page slugs like "Blog", "About", and "Contact", ended up having a "-2" added at the very end, since Rainmaker created these sample pages for the preview site and we forgot to delete them. We resolved this by deleting the sample pages on our live site and re-naming the slugs for the original pages.
Negative Findings Following The Migration
As with any migration, we lost some information during the process. Thankfully, we didn't lose very much (mostly because we didn't have many blog posts to begin with); still, it will take some time to re-integrate the missing pieces.
Plug-In Information Loss
Because Rainmaker currently doesn't allow you to bring your plug-in's with you (it is a fully managed, hosted, and integrated platform), we lost all of the information that we had previously inputted in our SEO plug-in. We lost our SEO titles and meta descriptions for every post.
Broken Internal Links
We did discover some broken internal links but they were very few. Still, it's worth your while to double-check for any broken links.
Missing Images
We also discovered a few missing images in blog posts. Thankfully, they were very few.
Positive Findings So Far
We uncovered a few nice surprises, and we're not even done "unwrapping" our neat new present since it's only been 1 day since we signed up with Rainmaker.
We had anticipated a few missing features due to some outdated information on the web (most of the information was published closer to the product's launch date). While the Rainmaker platform is still relatively new, it appears like many (good) changes have already been made to improve the product.
Manual Back-ups Available
We once read somewhere that manual back-ups were not possible with Rainmaker and that its users would only be able to rely on its 7-day backup system. We emailed Tech Support (before we even signed up) and they said we could do a manual back-up via FTP, the import / export function, or a request to Tech Support to email us the file. Not too bad.
Theme Style Customization Available
After reading Rainmaker's current Theme Guide (as of the time of this post), we didn't think that we would be able to customize the style of our existing Genesis premium theme. Our theme wasn't included in the list of those with "Styles Available". After signing up, we were surprised to find out that we actually could "stylize" our existing theme! What's better? We no longer need the Theme Editor in our WP Admin dashboard to insert some code and we no longer need to make changes via FTP. It's as simple as modifying the appearance and style of our theme straight from our WP Admin dashboard–without any code!!! We could even add our own favicon straight from the dashboard (also without having to input any code). What a nice surprise!
Conclusion
We can't wait to start creating new content and reconnecting with our readers using this powerful new platform! We remain hopeful that we would soon be able to report improved Google rankings as our traffic took a nose dive after the WordPress hack. We're looking forward to creating a follow-up Rainmaker review at least by the end of 90 days (we signed up for the quarterly plan).
If you're interested in checking out Rainmaker Platform's FREE TRIAL, click on the image / banner below.
(Disclosure: Clicking on the banner above will take you to our affiliate link.)
In the meantime, we'll keep hoping, we'll keep waiting, and we'll keep on blogging!
But if we hope for that we see not, then do we with patience wait for it.

Romans 8:25 KJV
Disclosure: Unless otherwise noted, AltamonteFamily.com is by no means affiliated with any of the companies or organizations mentioned in this article. AltamonteFamily.com has not been compensated in any way nor has AltamonteFamily.com been influenced to write about these products. This post is a result of the personal observations and independent research of members of AltamonteFamily.com. All opinions solely belong to AltamonteFamily.com.