This shop has been compensated by Collective Bias, Inc. and its advertiser.
All opinions are mine alone. #CerealAnytime #CollectiveBias
---
With the heat index being over a hundred here in Central Florida, our freezer is constantly running out of frozen treats. Have you been running into the same problem? Thankfully, there's never a shortage of ingredients in our pantry to make our own concoctions. With just a few ingredients and something delicious and colorful like the new Marshmallow Fruity Pebbles, we've got ourselves a batch of Rainbow Yogurt Banana Pops to enjoy and cool off any time of the day!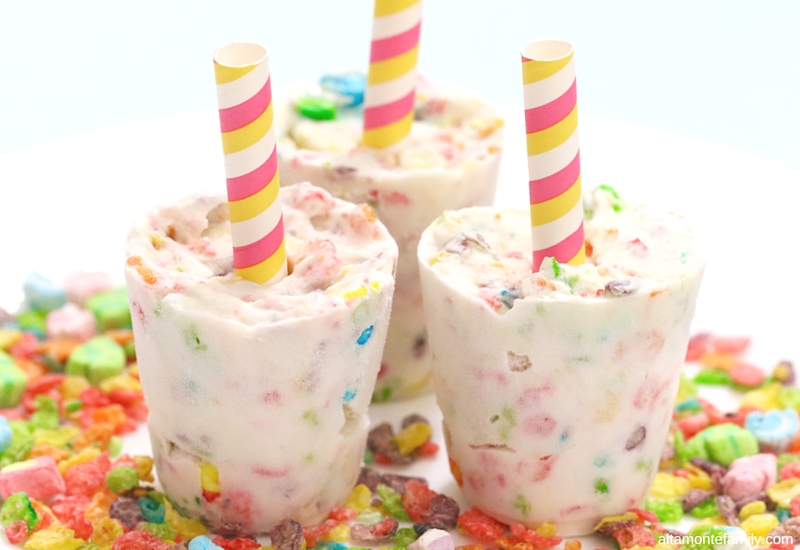 Marshmallow Fruity Pebbles are like Fruity Pebbles–only better! We love the fruity marshmallow flavor it adds to plain Greek yogurt–and so do our kids! We can't wait to make Rainbow Fruit and Yogurt Parfaits or even Rainbow Sprinkled Brownie Bites with them–can you tell how the added marshmallow goodness and shapes are getting us all excited to make new recipes beyond just breakfast? I mean, this would be awesome for parties—don't ya think? 
We think Marshmallow Fruity Pebbles will go really well with rainbow-themed parties, including this Owl Party Prize Table.
Okay, okay–about the Rainbow Yogurt Banana Pops that you originally came here for… grab a spatula or two (or more–especially if you've got little helpers), and let's get started!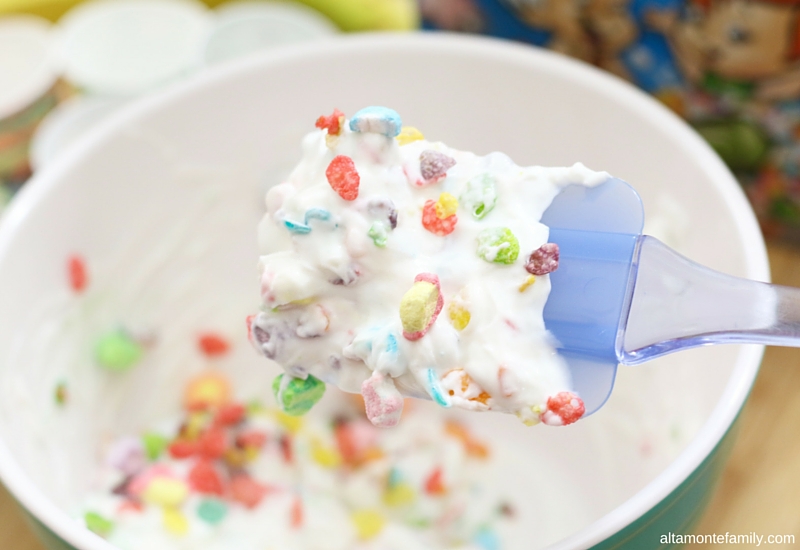 Recipe: Rainbow Yogurt Banana Pops
Servings:       6
Prep Time:   10 minutes
Chill Time:   4 hours (or overnight)
Ingredients
1 cup Marshmallow Fruity Pebbles
1 cup plain Greek Yogurt
2 tbs agave nectar
1 – 2 medium bananas
Directions
In a medium mixing bowl, combine Marshmallow Fruity Pebbles, yogurt, and agave
Scoop approx. 1 tbs of the mixture into 3 oz paper cups (or popsicle mold)
Add banana slice (approx 2 – 2 1/2 inches, long enough to reach the top of the paper cup)
Carefully scoop mixture to fill in the gaps in each paper cup
Place popsicle / ice cream stick (or use a thick paper straw cut in half, like we did) down the center of the banana
Freeze for 4 hours or overnight
Remove paper cup mold, then serve
Easy peasy, right?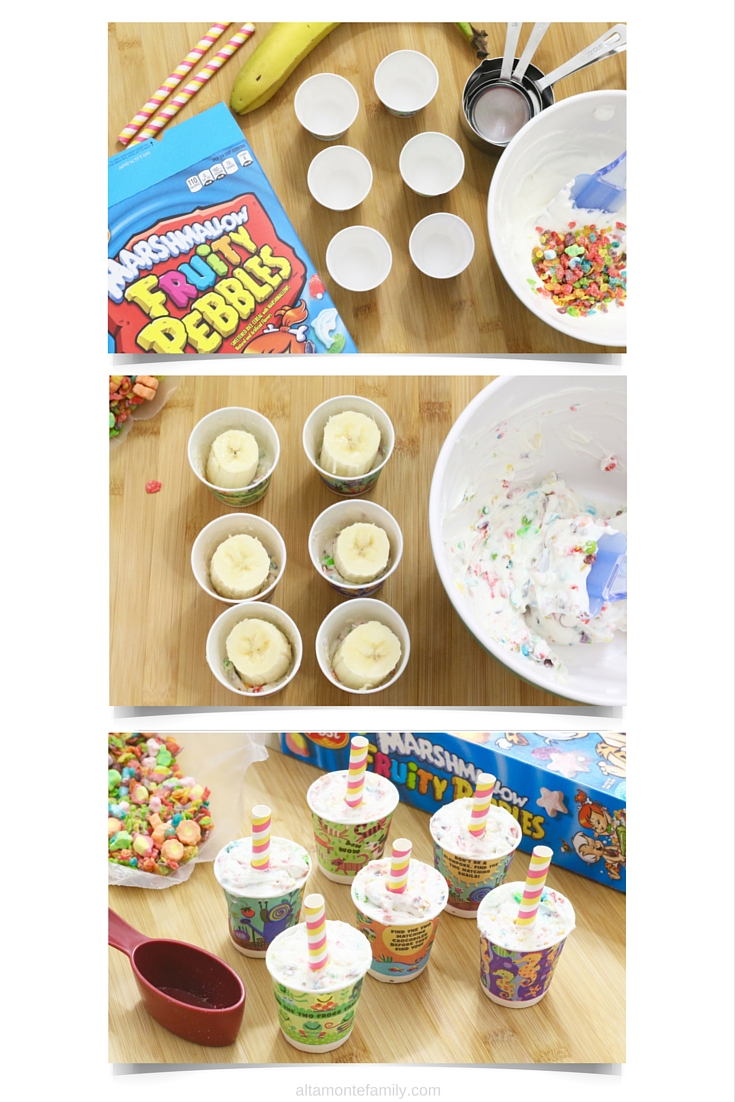 Tip: Wait a few minutes to remove the paper cup molds after taking the Rainbow Yogurt Banana Pops out of the freezer.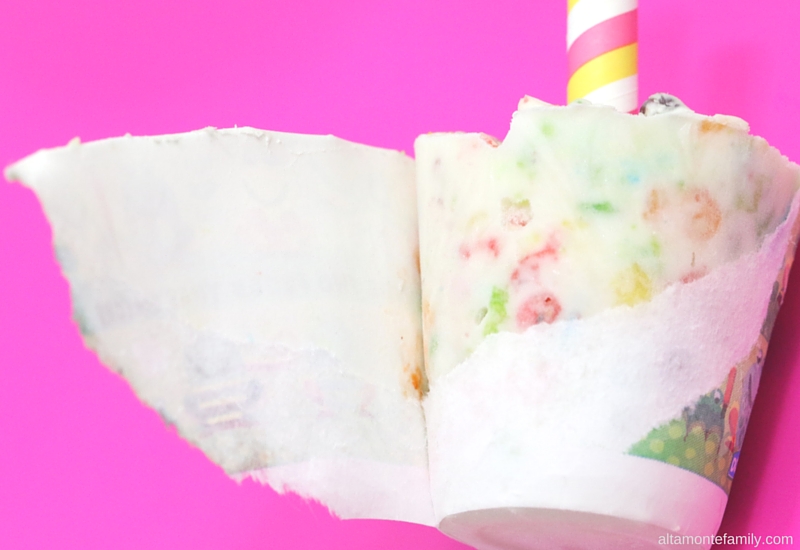 Serve them on a shallow bed of Marshmallow Fruity Pebbles for an extra burst of color!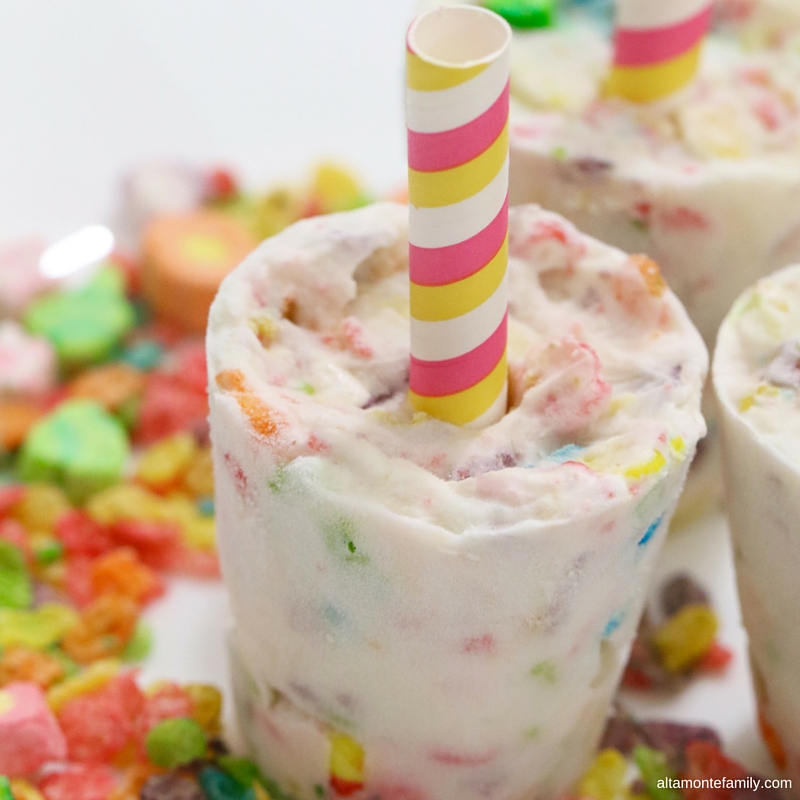 So. Much. Fun. And energizing awesomeness… for kids who want to power up their day!
…because each little piece of Marshmallow Fruity Pebbles cereal packs a punch of color and flavor.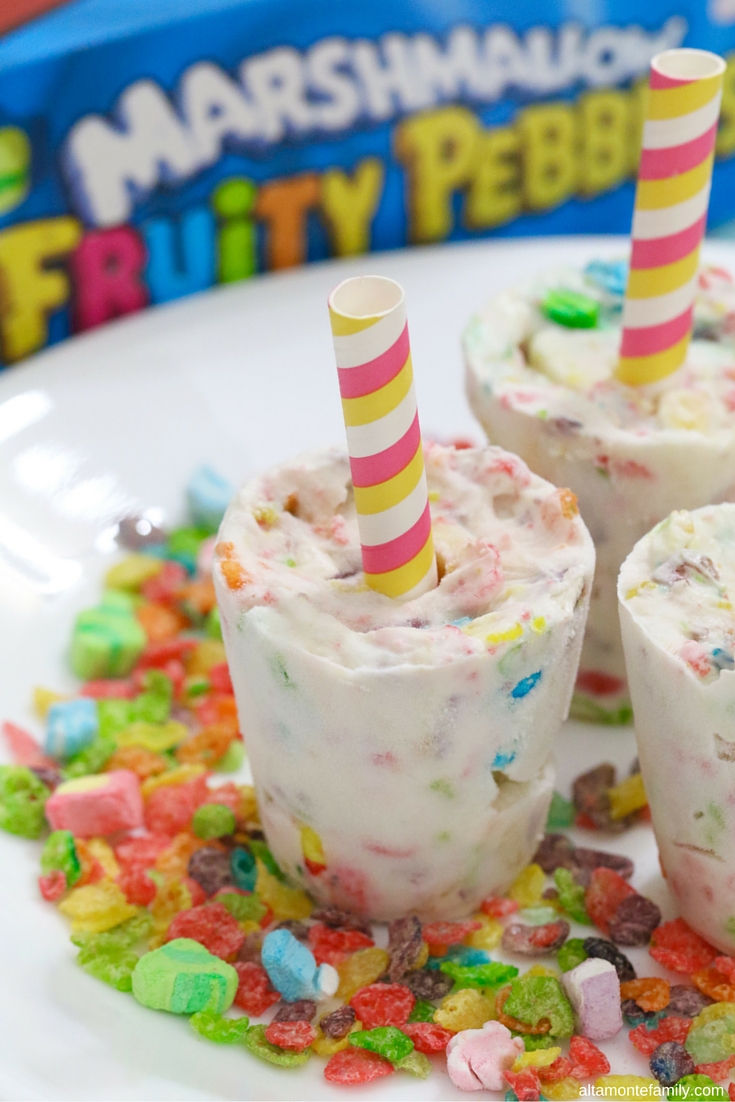 Not only do the Marshmallow Fruity Pebbles add color, crunch, and fruity marshmallow goodness to these banana pops, they're also an excellent source of Thiamin, Riboflavin, Niacin, Vitamin B6, Folic Acid, Vitamin B12 and a good source of Vitamin A! Marshmallow Fruity Pebbles are naturally low fat, with 0g Trans Fat Per Serving… and no High Fructose Corn Syrup!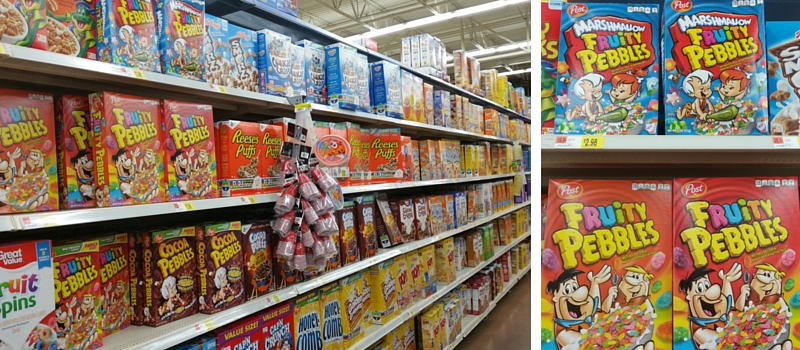 I don't know about you but I get a bit nostalgic whenever I'm looking at the Fruity Pebbles cereal shelves at Walmart (that's because they've been a household family favorite since 1970).
Grab a box of Marshmallow Fruity Pebbles and see what kind of colorful recipes you and your kids will be inspired to make!
Enjoy!
---
We're Social! If you liked today's post, feel free to share, bookmark, or pin it! Follow us on Pinterest, Facebook, and Instagram for more updates on our latest projects and adventures.