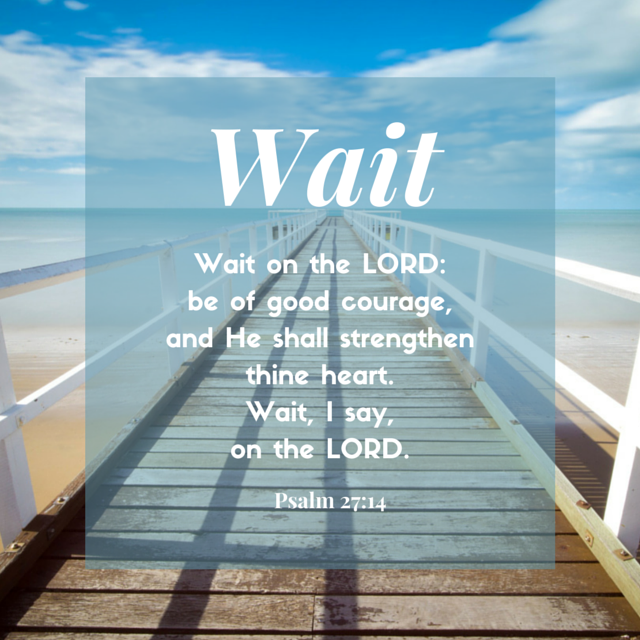 "Patience, patience, patience" was the message that I heard many times from my elders.
I remember often wondering why they told me that when the object of my desire was right in front of me and only cost a few dollars and was on sale! for that matter. Later, I would find myself repeating those same words to my children, smiling inside behind my angered voice, remembering my experiences.
It is amazing how God has left us a perfect path to follow–waiting on the Lord and being of good courage allows us to rely on Him for the strength necessary to overcome our flesh that pulls so strongly for immediate results. A brother in Christ once told me,
"Fast doesn't always mean fast, sometimes you have to go slow to go fast."
Patience, patience, patience…..
This weekend was a rough one and the epic battle with the flesh was in full swing and to not bore you with the details–we were reminded of the verse below. When a world around us is quick to reference a God that is loving and unconditional, it is clear that we also have a responsibility as His children to behave in a way that is good and acceptable to Him. In a world of "divers temptations" (James 1:2 KJV) and ambiguity, I find it important to keep in mind the New Testament Scripture below, realizing the continued challenge and reward of living a Christian life.
Enter ye in at the strait gate: for wide is the gate, and broad is the way, that leadeth to destruction, and many there be which go in thereat: Because strait is the gate, and narrow is the way, which leadeth unto life, and few there be that find it.

Matthew 7:13-14 KJV
Last Week's Daily Devotionals
In case you missed it, here are last week's devotionals gleaned from Daily In The Word by Dr. Paul Chappell for the week of June 22-28, 2015:
Disclosure: As of the time of writing this post, AltamonteFamily.com is by no means affiliated with any of the companies or organizations mentioned in this article. AltamonteFamily.com has not been compensated in any way nor has AltamonteFamily.com been influenced to write about these products. This post is a result of the personal observations and independent research of members of AltamonteFamily.com. All opinions solely belong to AltamonteFamily.com.