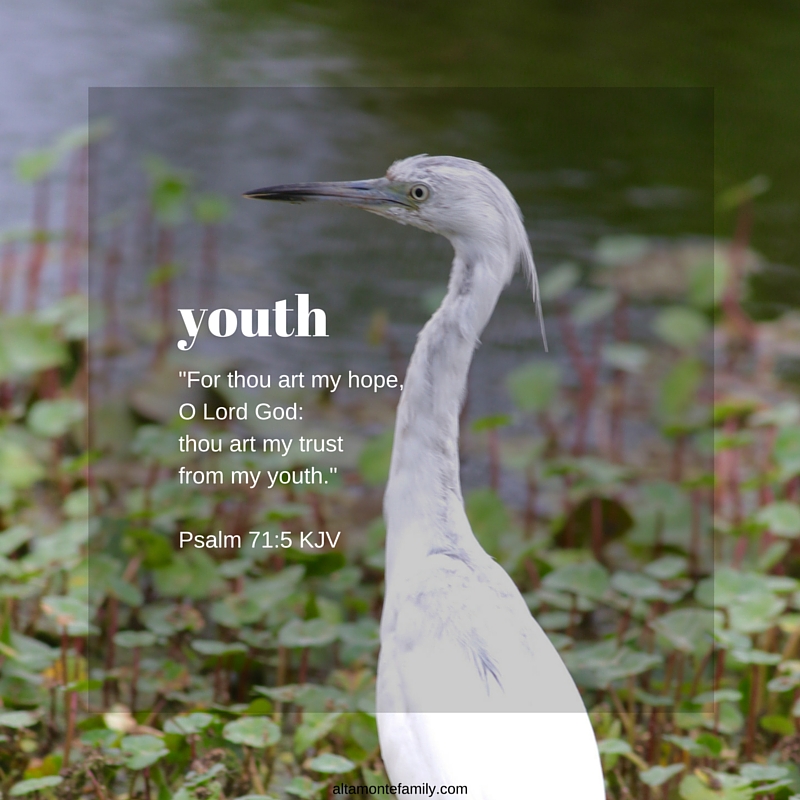 I'm always amazed when I see a juvenile little blue heron, mainly because its plumage changes from white to dark blue as it ages. We see them from time to time whenever we'd visit the Lake Apopka North Shore Wildlife Drive. We've seen birds of this size feeding on frogs, insects, and fish; some of them would even walk right in front of the mouth of an alligator! We'd like to think that the alligator may have been full during those times because it didn't exercise its position in the food chain while we were watching.
Speaking of predators in the animal kingdom, they don't discriminate based on age. Likewise in the spiritual realm, the Enemy doesn't spare our children. They are very vulnerable to the Enemy's ploys and attacks. As their parents, God has given us the responsibility to protect them with prayer and His Word.
Hear, O Israel: The Lord our God is one Lord: And thou shalt love the Lord thy God with all thine heart, and with all thy soul, and with all thy might. And these words, which I command thee this day, shall be in thine heart: And thou shalt teach them diligently unto thy children, and shalt talk of them when thou sittest in thine house, and when thou walkest by the way, and when thou liest down, and when thou risest up. And thou shalt bind them for a sign upon thine hand, and they shall be as frontlets between thine eyes. And thou shalt write them upon the posts of thy house, and on thy gates. 

Deuteronomy 6:4-9 KJV
Let us be diligent in praying for our children and teaching them about God–to trust Him for everything, to give thanks in everything, and to be anxious for nothing. Let us pray for them fervently, so that they will know how to resist the Enemy, to resist temptation…  so that they will know to call upon God for help and deliverance, whether they're 2 or 102.
For thou art my hope, O Lord God: thou art my trust from my youth.

Psalm 71:5 KJV
---
Take action: Let us pray for our children and teach them how they can arm themselves with the full armor of God (Ephesians 6:10-18). If you've been looking for deliverance from the grips of sin, this page shows you how you can find true and eternal Deliverance in our Savior today.