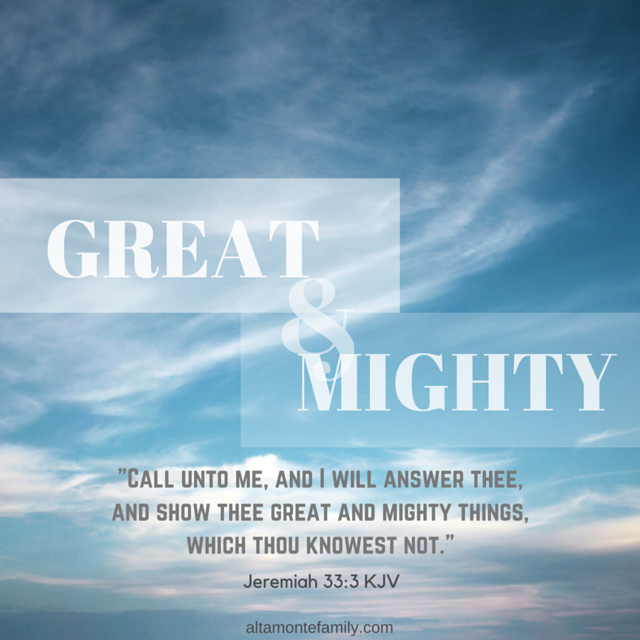 My apologies for my long hiatus to those who have been following me. It has been many weeks since I last wrote about my faith walk with our marvelous God. He hindered my ability to write so that I could be used to fulfill His perfect plan at His perfect time. Praise Him for allowing me to blog at this time.
To catch you up on some recent blessings, my wife and I recently received our fourth son. We received our bundle of joy in the month of July. Praise the Lord for this blessing!! Blessings are abundant from the Lord even when the enemy presents challenges seeking to destroy the beauty God has generously bestowed. Let's just say that the enemy was very driven to try to undermine God's recent blessings.
Commit thy works unto the Lord, and thy thoughts shall be established.Proverbs 16:3 KJV
I rejoice in the Lord and praise Him for the ability to endure and overcome the lion that is lurking to destroy. Hallelujah!! Hallelujah!! Hallelujah!! Praise be to God both in the storm and in peace.
I was reading the book of Matthew today, the first gospel (Mark is actually thought of as the first written book of the four gospels) and had
several epiphanies
, which I will be writing about in the next few posts. For now, I will be discussing the awesome
power of adoption
. In the book of Matthew Chapter 1,  Scripture shows the lineage of Jesus and the purposeful works of God represented by 42 generations between Abraham and the birth of Jesus Christ our Lord. Interestingly, God groups the 42 generations into 3 even sets of 14. What an incredible example of God's
purposeful organization
and plan (more on this in my
next post
)!
Back to the topic at hand: the power and significance of adoption. After reading the lineage of Jesus from his great great great grandfather Eliud to his father Joseph, it became apparent to me that God wanted us to understand the significance of these important men and their individual names. Why would God want us to know this when most of the men are not mentioned in any other places in the Bible except in the recount of the lineage of Jesus? More importantly, their descendant Joseph had no blood relationship with our Lord as His mother remained a virgin until after His birth (scripture reads that Joseph did not know Mary until after Jesus was born). Joseph was the stepfather of Jesus. What an incredible responsibility it must have been to adopt Him as his son!
Jesus goes before us and prepares a way (gives us an example) so that we may follow. He has given us a great Example of how we should be as Christians. We are all born into sin as we are delivered (through the normal birthing process) into a fallen world. Jesus shows us that we, like Him, need to be adopted into His family. Once we are saved, we become a part of God's family– adopted as former orphans of sin into His eternal family in heaven.
For by grace are ye saved through faith; and that not of yourselves: it is the gift of God: Not of works, lest any man should boast.

Ephesians 2:8-9 KJV
We should not be ashamed to be adopted orphans as we remember that He humbled Himself by making Himself into a baby to enter into the world. Jesus placed Himself into the care of a sinner and into the vulnerable position of needing to be adopted by a father–a perfect example of what we need to do as Christians!
If my people, which are called by my name, shall humble themselves, and pray, and seek my face, and turn from their wicked ways; then will I hear from heaven, and will forgive their sin, and will heal their land.

2 Chronicles 7:14 KJV
Once we are saved, God The Father adopts us into His family. Praise the Lord that Joseph chose to listen to the angel that came to him!
Please enjoy the daily devotions provided by Daily in the Word…
Last Week's Daily Devotionals
In case you missed it, here are last week's devotionals gleaned from Daily In The Word by Dr. Paul Chappell for the week of September 7 – September 13, 2015:
Disclosure: As of the time of writing this post, AltamonteFamily.com is by no means affiliated with any of the companies or organizations mentioned in this article. AltamonteFamily.com has not been compensated in any way nor has AltamonteFamily.com been influenced to write about these products. This post is a result of the personal observations and independent research of members of AltamonteFamily.com. All opinions solely belong to AltamonteFamily.com.