This shop has been compensated by Collective Bias, Inc. and its advertiser.
All opinions are mine alone. #ColorYourSummer #CollectiveBias
---
The weekend is almost here! Do you have anything planned? Somehow, the pool seems to glisten a whole lot more during the Summer. Although it's not technically the Summer yet, we're already celebrating the unofficial start of the season with some poolside fun. In our home, we know that Summer is in the air the moment my husband fires up that grill (and we get an occasional splash of pool water–our baby is already making some big splashes)!  With the kids out of school, it looks like our pool deck will be claiming the top spot for the busiest part of the house. Get ready for some of our poolside BBQ tips for a laid-back Summer + a super easy peasy recipe for Pineapple Peach Iced Tea!
Summer is in the air!
10 Poolside BBQ Tips For A Laid-Back Summer
We waited all year long for the Summer, so it's time to just kick back and get some of that sun, fun, and BBQ! Who's coming with us?
Tip #1:  Cool off with some refreshing Pineapple Peach Iced Tea while waiting for the grill to deliver.
We kept the recipe super easy, super simple, and super fast (we shared it at the bottom of this post).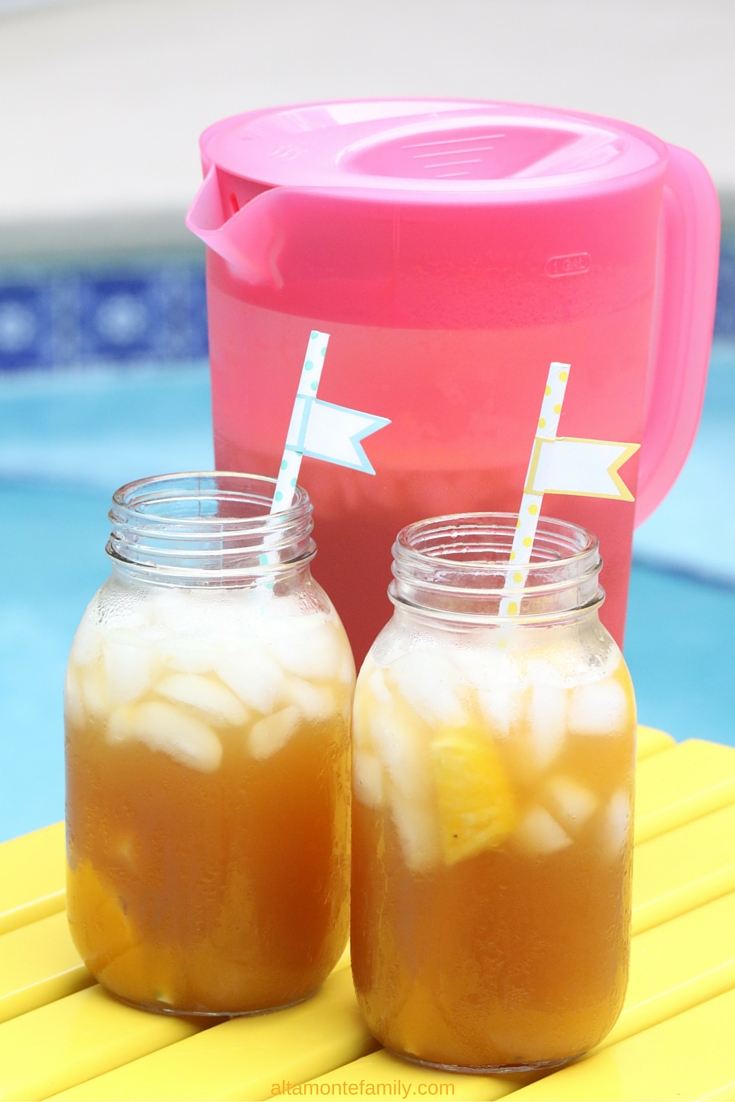 Tip #2: Avoid the taste of watered-down iced tea by making small, fresh batches in a 1-gallon pitcher.
For our pool parties, we found the 1-gallon Rubbermaid Classic Pitcher to be the perfect size for storing and serving iced tea–thanks to its large, comfortable handle for easy lifting and pouring. It's also dishwasher safe (away from heating element), which is helpful for an easy-breezy clean-up. We don't mind making refills as needed since it only takes as little as 5 minutes to make our Pineapple Peach Iced Tea in this pitcher (vs making it in a big and bulky beverage dispenser).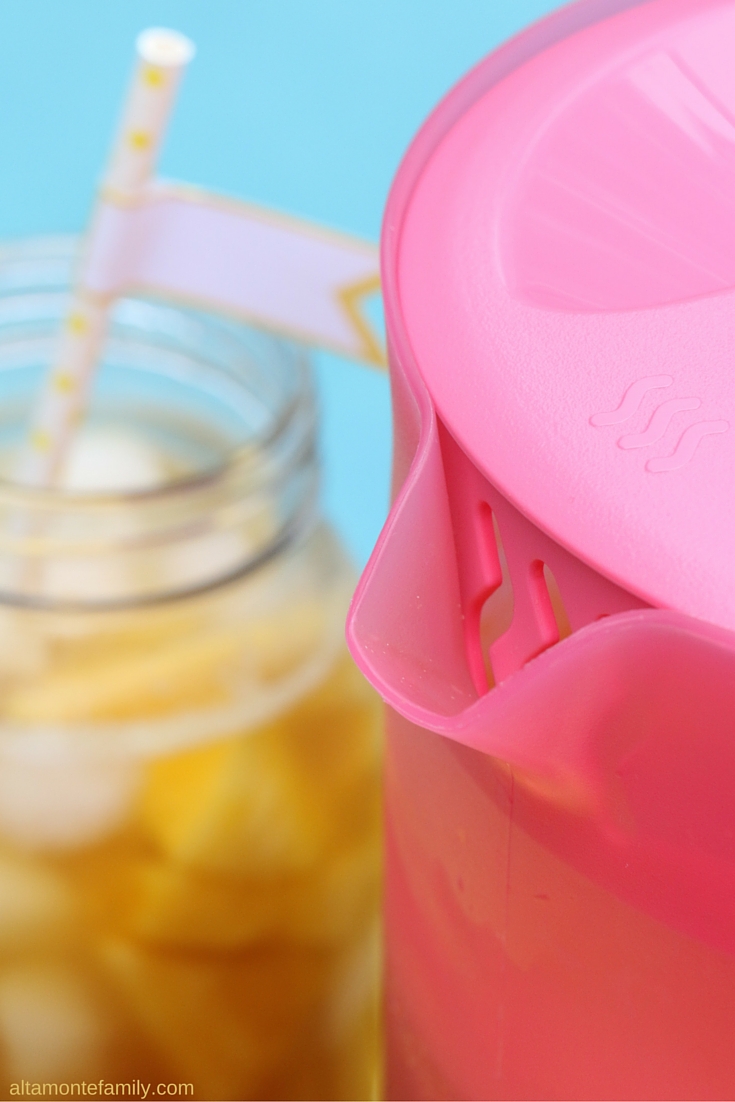 Our guests will appreciate the three-position lid to choose between pouring freely (to get a little bit more ice), using the ice guard, or turning it closed. We're soooo not huge fans of constantly having to re-ice beverage dispensers only to get a taste of water-down iced tea–no thanks. Have you ever tried watered down iced tea before? <insert emoticon here ___>
Tip #3:  Don't forget to help the king or queen of the grill to stay hydrated!
I like to make a small, convenient area next to the grill for my husband to re-hydrate as well grab a few snacks while he's busy grilling.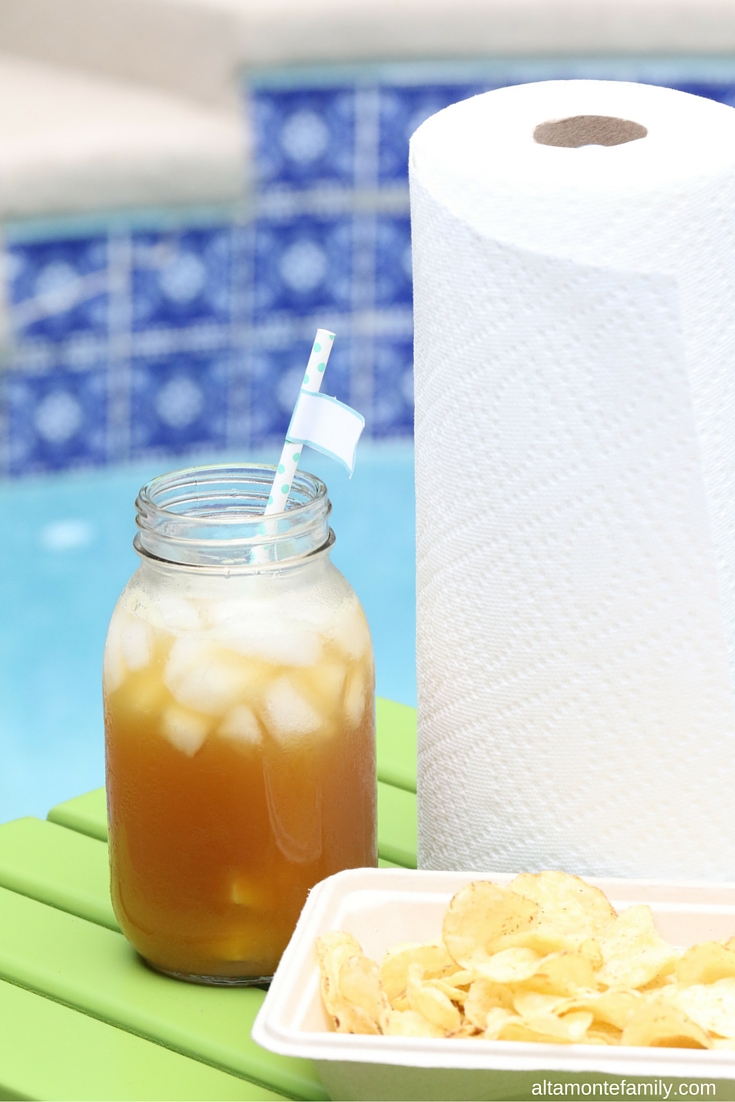 Do you have any favorite "grillside" snacks?
Tip #4:  During the hot summer months, some fruits, herbs, and veggies taste better when grilled.
Grilled pineapple is a delicious topper for burgers and hot dogs especially on a hot day! Grilled mangoes are great, too… and we just love grilled eggplant on the side, as an alternative to french fries!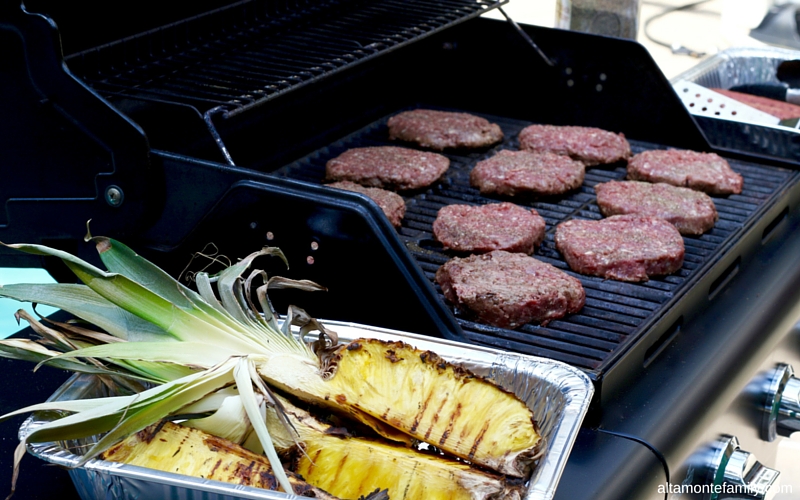 Tip #5:  Make 'Shroomburgers for the veggie lovers!
Vegetarian or not, your guests will enjoy topping these no-fuss 'Shroomburgers with sweet and savory goodness! Simply lay some portobello mushrooms on the grill with a dash of salt and pepper–and viola! We have a veggie burger!! A 'Shroomburger sounds so much better, though. Just sayin'.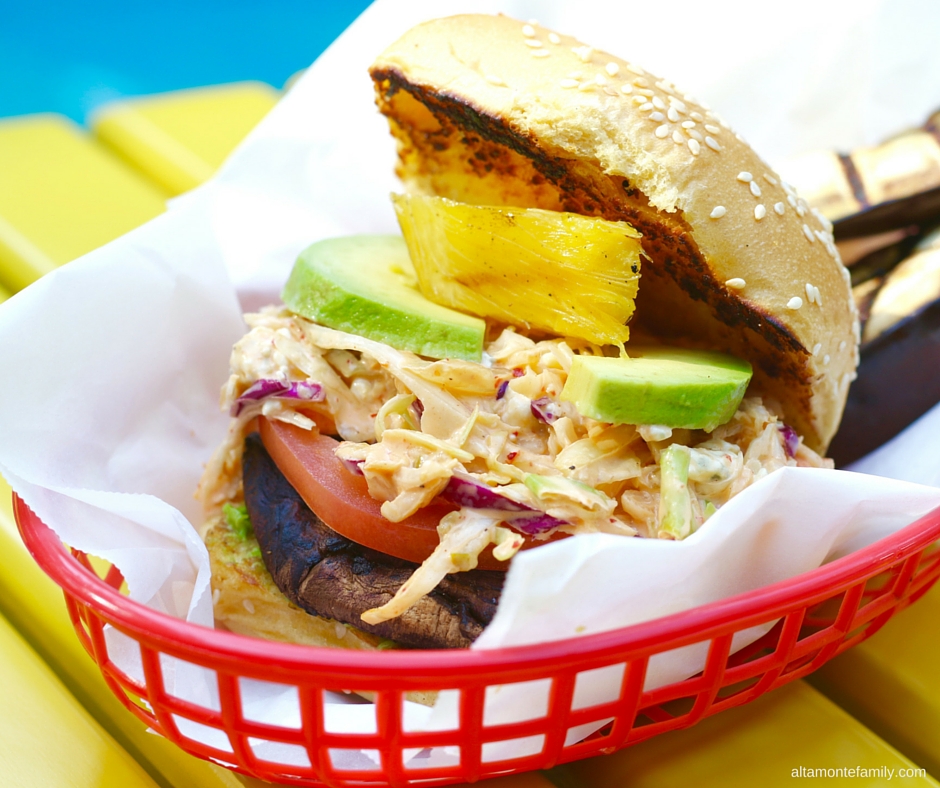 Tip #6:  Kick up that coleslaw and make some spicy kimchi slaw with blue cheese, instead!
This kimchi slaw is quite versatile–we love using it as a topper (or shall we say, condiment swap?) for 'Shroomburgers, hamburgers, and hotdogs. Or, simply enjoy it plain (although there's really nothin' plain about it)!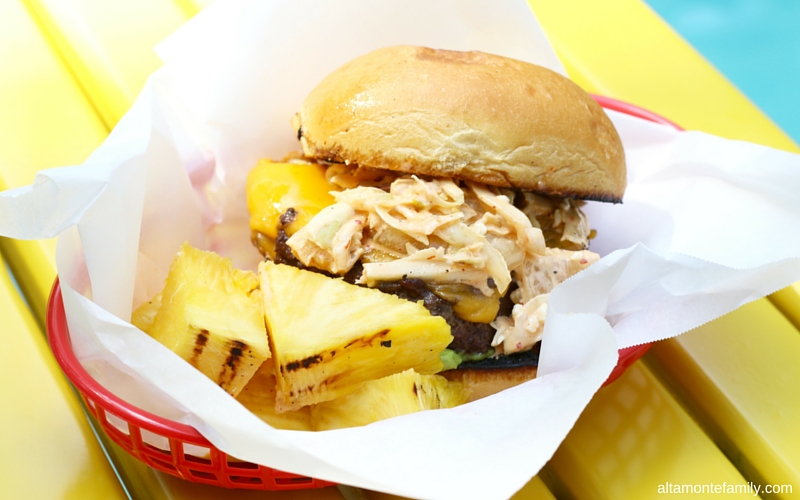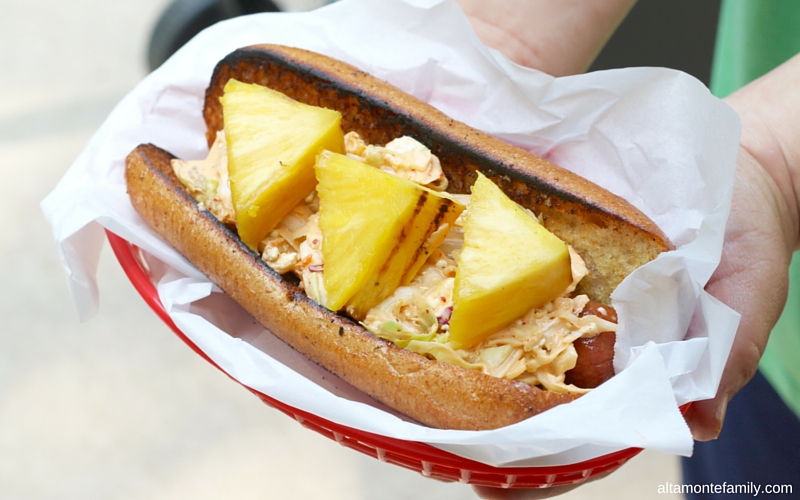 Tip #7:  For that ooey-gooey goodness, melt the cheese while the burgers are still on the grill.
Close the lid for roughly a minute (depending on the cheese and your grill), or use a metal mixing bowl to cover each one (to make a dome) for about 30 seconds.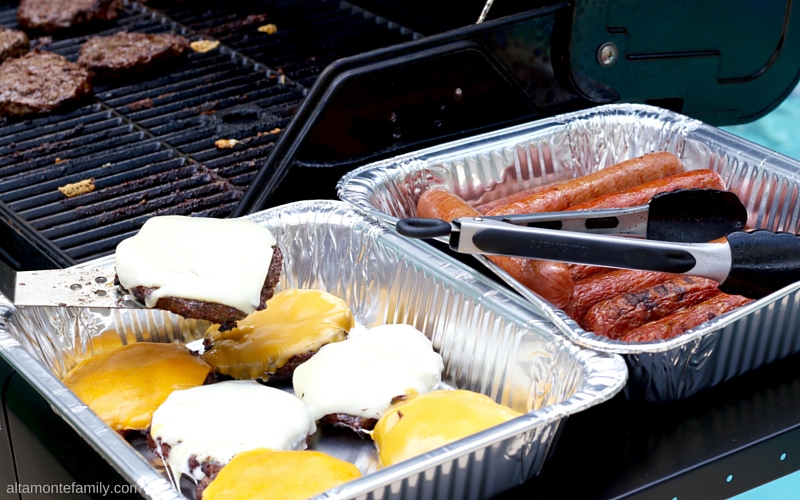 Finally, let's get to some simple but important housekeeping tips…
Tip #8:  Don't forget to place trash and recycle bins in strategic places.
Tip #9:  Be prepared with toys, crafts, bubbles, games, or some family-friendly movies to keep the younger ones entertained once they get out of the pool.
Tip #10: To encourage continuous sun protection, place some sunscreen next to the courtesy towel station as well as a sign that reads,
Don't forget to reapply sunscreen every 2 hours.
We're gettin' really hungry over here–but before we dig in, let's talk about that easy peasy 5-minute Pineapple Peach Iced Tea!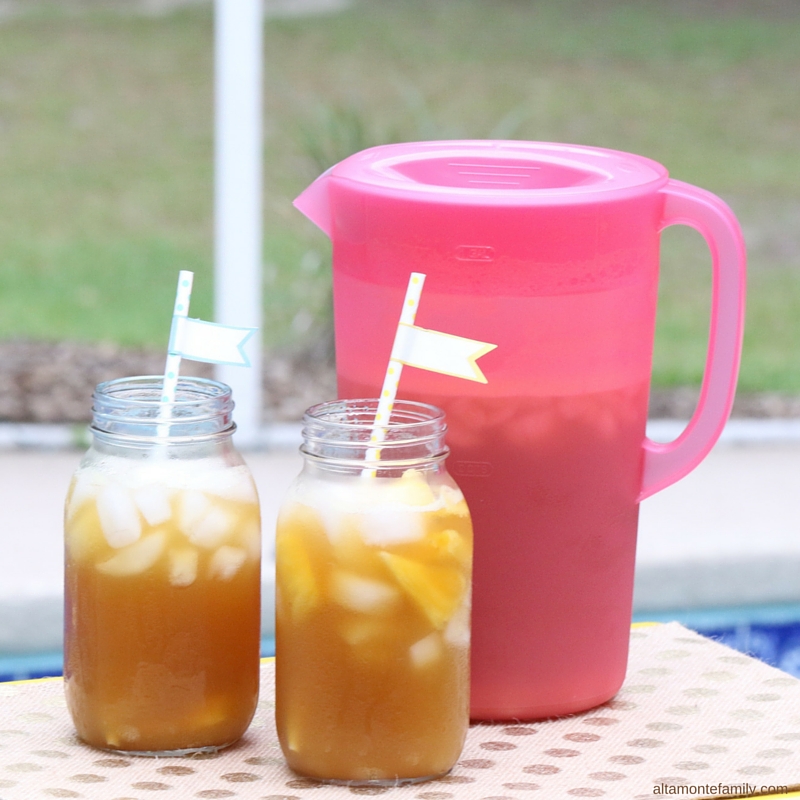 Recipe: 5-Minute Pineapple Peach Iced Tea
We did two things to save time: 1) we made the pineapple mixture the night before (and made a little extra so we can make refills in a pinch) and 2) we used a single-serve coffee / tea brewer so we wouldn't have to steep the tea ourselves. Alternatively, you can steep tea bags and then add the other ingredients from there.
Serves: 12-16
Prep Time:  5 minutes
Total Time: 5 minutes
Ingredients:
4 single-serve peach iced tea pods (each makes 10 oz)
1/2 fresh pineapple, peeled and sliced
5 cups hot water*
2 cups cold water
3 quarts ice cubes
For garnish: pineapple wedges (and mint sprigs, if desired)
Directions:
Fill 1-gallon pitcher with ice cubes (we used a 1-gallon Rubbermaid Classic Pitcher)
Using the single-serve coffee / tea brewer, make 4 10 oz servings of peach iced tea and pour the contents into the pitcher
Blend pineapple slices and cold water in a blender (to save time, we made this the night before and stored it in the refrigerator)
Combine pineapple mixture with the peach iced tea in the pitcher, stirring gently
Add in more ice cubes, if needed, then cover and serve
**We used the hot water in our single-serve coffee / tea brewing machine (it can hold up to 80 oz).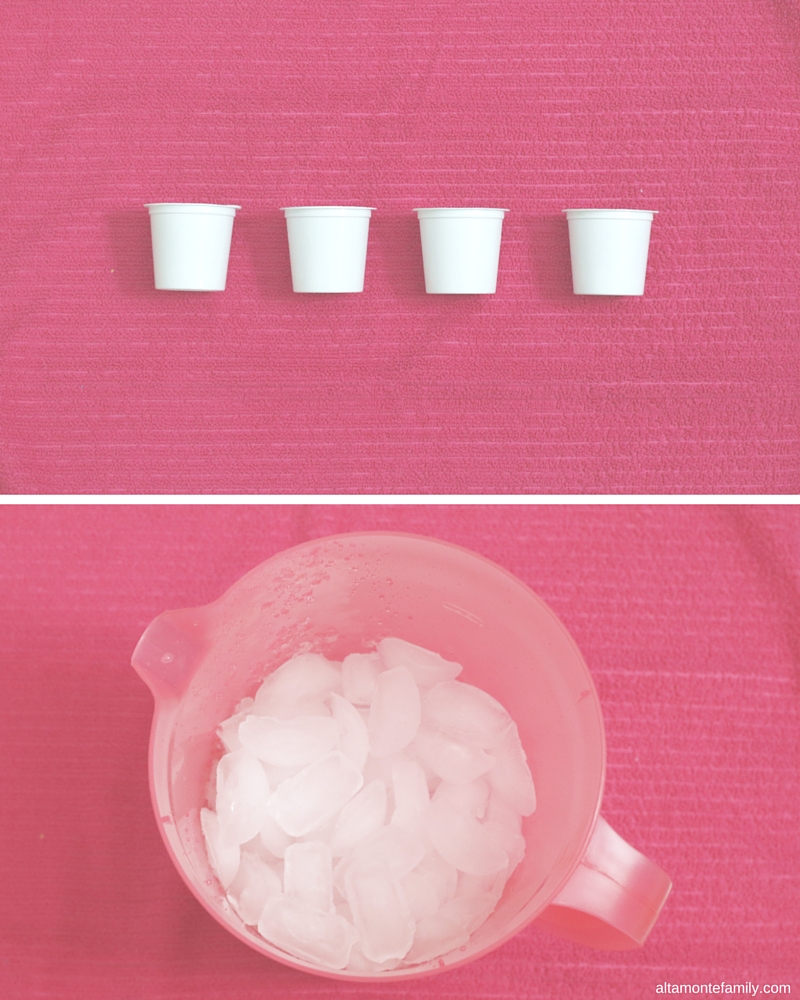 Easy enough, right?
Here's another idea: To stay hydrated on the go, use our recipe to fill up a few freezer safe Rubbermaid Refill Reuse™ 20oz Bottles and stick them in the freezer just a few hours before you head out.
Psssttt– These bottles can fit in standard cup holders + they come in fun colors to match our Rubbermaid Classic Pitcher (limited edition summer colors of Calypso Coral and Lagoon Blue–as seen in the photo below). They're dishwasher safe, too! We found both products at Kroger (these great Rubbermaid products are also available at any Kroger banner store location).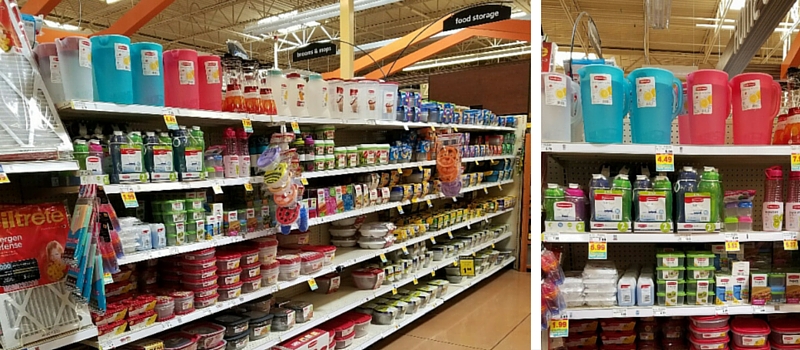 Looking for more summer entertaining inspiration?
Click here to be inspired with more recipes and ideas from other bloggers. Don't forget to grab this coupon to save now on Rubbermaid Summer Products!
---
We're Social! If you liked today's post, feel free to share, bookmark, or pin it! Follow us on Pinterest, Facebook, and Instagram for more updates on our latest projects and adventures.