The week (or so) of cool weather in Central Florida seems to have just left us and it's starting to feel a lot like Hawai'i (at least, temp-wise)–we're just missing the trade winds! Not complaining, though–once the Summer hits, it's going to get a whole lot warmer… hopefully, not like Death Valley in the Summer!  Scratch that — get your mind off Death Valley and think about paradise for a sec, starting with a luau! We already shared our inspiration behind this luau in a previous post; now, we're giving you the scoop on the Hawaiian luau party decor and supplies!

Luau Party Decor
.We chose a pineapple plantation theme for our at-home luau party–it's reminiscent of our drives along the not-so-touristy side of the island of O'ahu. The colors are somewhat muted, unlike the colors that you will find in Waikiki (sorry, no parrots here). We love driving along the North Shore, through the coffee farms, around the old, historic Waialua Sugar Mill area, with random stops between shrimp trucks. If you ask the kids (and husband), mom loves to shop in the small boutiques along Haleiwa.
Okay, so now that you've got a glimpse into the rationale behind this party theme, let's take a look a look at the party supplies…
Luau Party Supplies
As a brand ambassador for Oriental Trading*, we were able to throw a Hawaiian Luau Party at home in no time using their party supplies! Of course, having lived on O'ahu most of our lives, we managed to save a few pieces of local items to include in our partyscape (or luauscape). Wish we actually brought back some authentic Hawaiian Koa wood… hopefully, next time!
---
Here is the list of party supplies that we received from Oriental Trading*:
Pineapple dishes
Primary pattered washi tape set
Mason jars
Small trifle containers
Mini square appetizer bowls
Mini silver appetizer plastic spoons
Bamboo cocktail forks
Permanent chalk markers
Mini adhesive dots
Here is the list of the items that we already had on hand:
Recollections pineapple paper print (see how we used it to make the DIY party bunting)
Cardstock from the Krafty paper pack (also used to make the DIY party bunting)
Natural cording for the bunting (also available at Oriental Trading, here)
Tropical luau table skirt (also available at Oriental Trading, here)
Green burlap (for the wall backdrop, see how we hang up our party backgrounds)
1 1/4″ circle craft puncher (for the pineapple food picks)
Natural raffia (using the excess from the hula table skirt)
Wooden cake stand
Large dessert stand with cork base
Wooden dip bowls (for the fresh pineapple)
Wooden cheese tray (added a nice touch as a base for the trifle bowls)
Slate cheese tray (to hold the smoked pulled pork sliders)
Bamboo pineapple cutting board
Bamboo surfboard cutting board
Disposable plastic dessert plates
Disposable yellow luncheon napkins (also available at Oriental Trading, here)
Yellow paper straws (Oriental Trading has pineapple-themed ones, here)
Ceramic utensil holder
---
Since we love to entertain a lot, we keep a majority of our go-to entertaining dishes in a kitchen cart. Did you know that this luauscape is resting on a kitchen cart turned party cart? The drawers and cabinets are perfect for storage (plus, we love that we can easily move it from place to place)!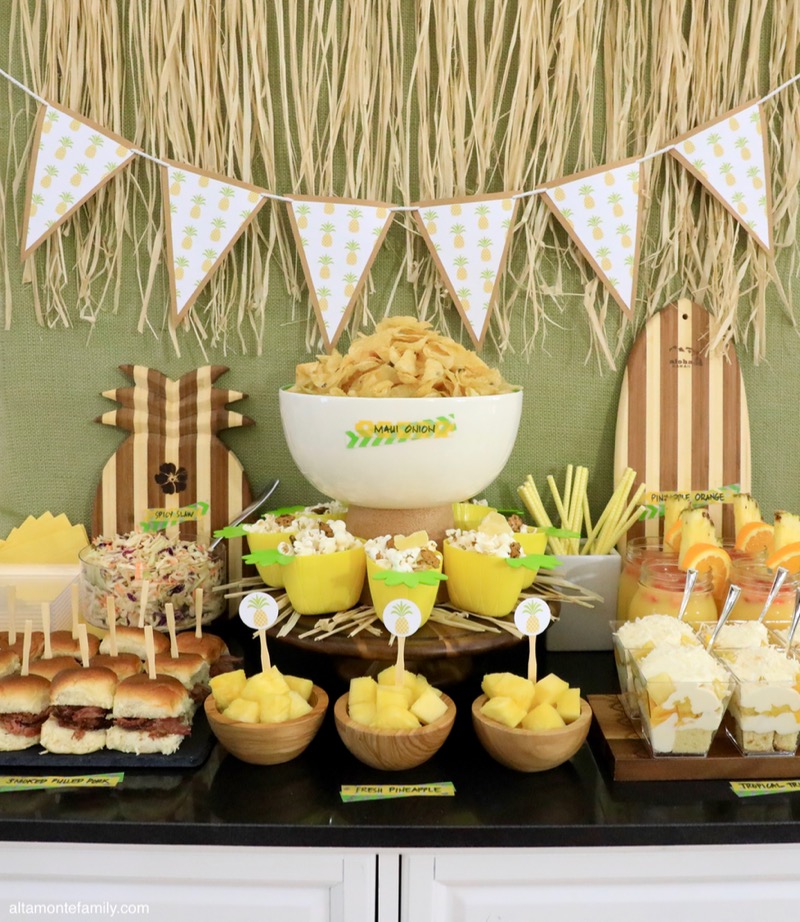 To carry the pineapple theme throughout the luauscape, we punched out some pineapple circles (using the same paper to make the DIY party bunting) and attached them to bamboo cocktail forks using mini adhesive dots.
Craft punchers, like this 1 1/4″ circle craft puncher, are an essential part of our party styling arsenal (we have them in a few different sizes and shapes–circles are our fave).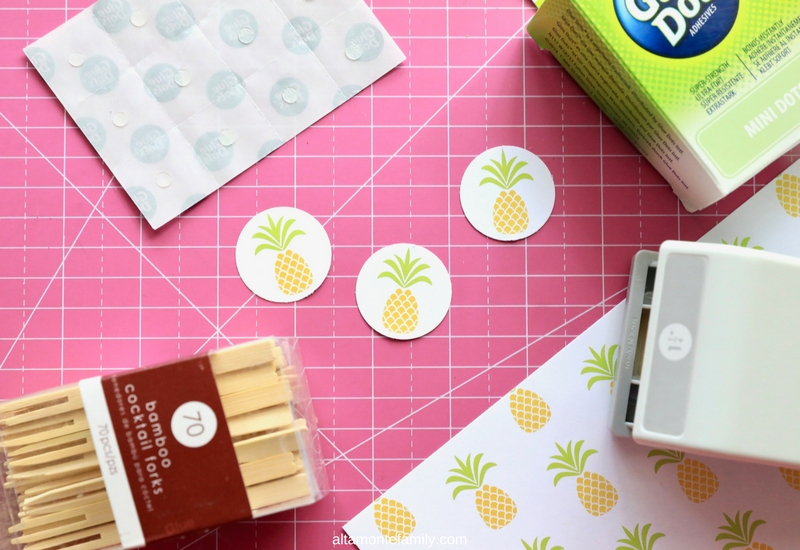 These adorable pineapple dishes added a nice touch and were perfect for holding our island-style popcorn (with added Japanese rice crackers + dried pineapple).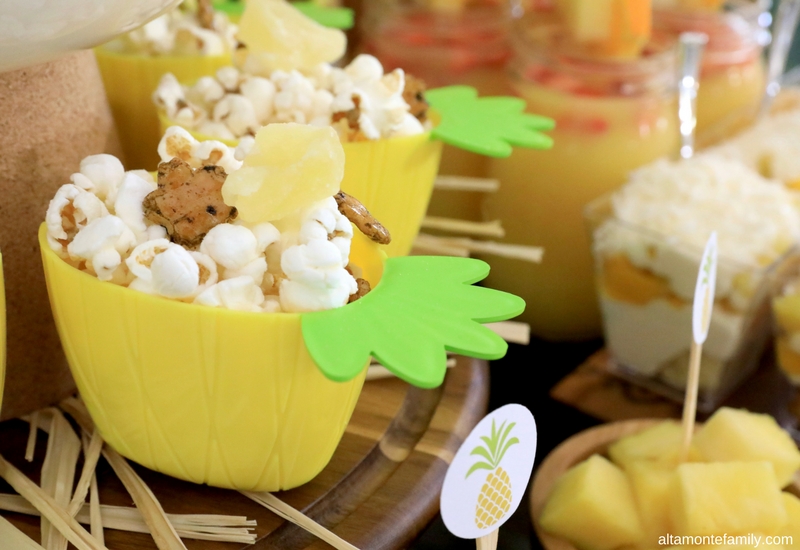 Mason jars are definitely included on our list of party essentials — it's difficult to go wrong with them! They're so versatile and can easily be dressed up, even with tropical fruit wedges!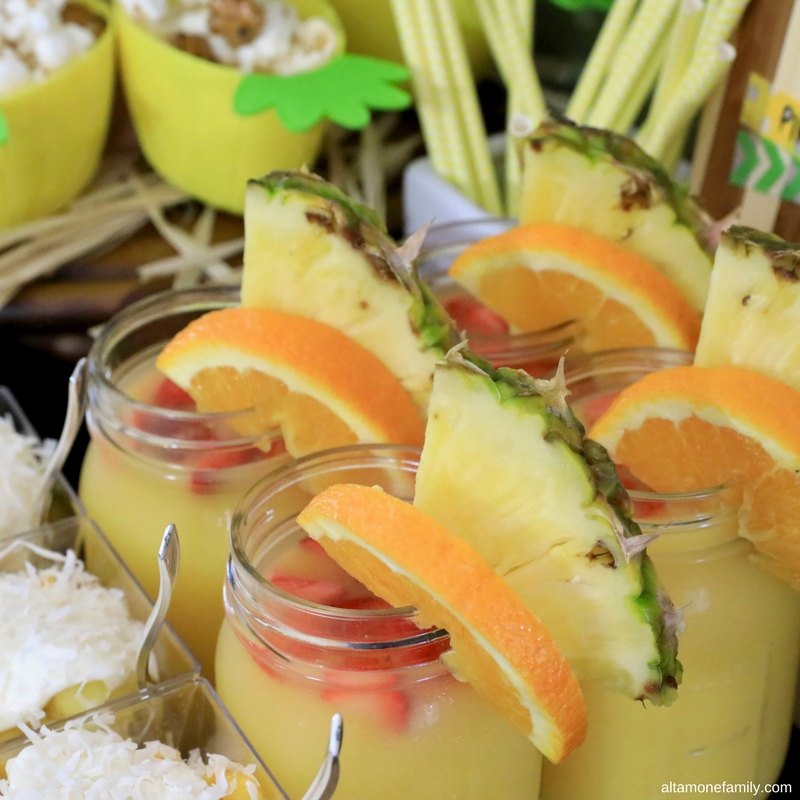 Paper straws always add a nice touch…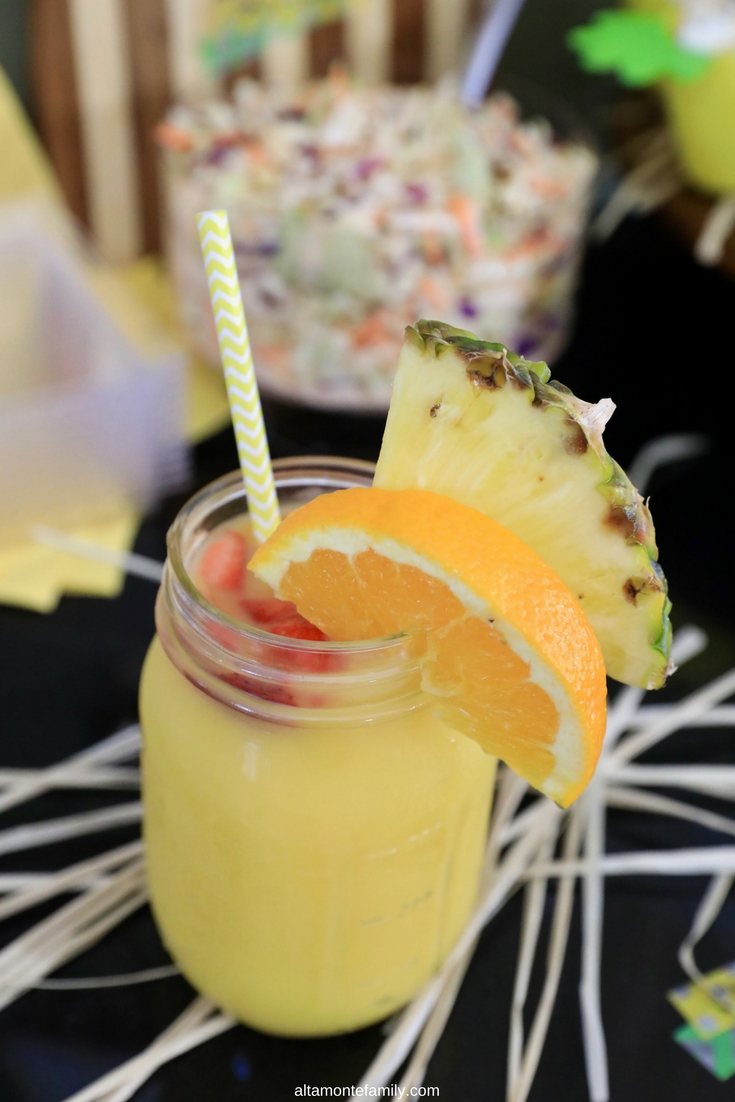 These mini square plastic appetizer bowls and mini silver plastic appetizer spoons have quickly become one our party essential faves! They're pretty sturdy and look good for any party, including wedding receptions!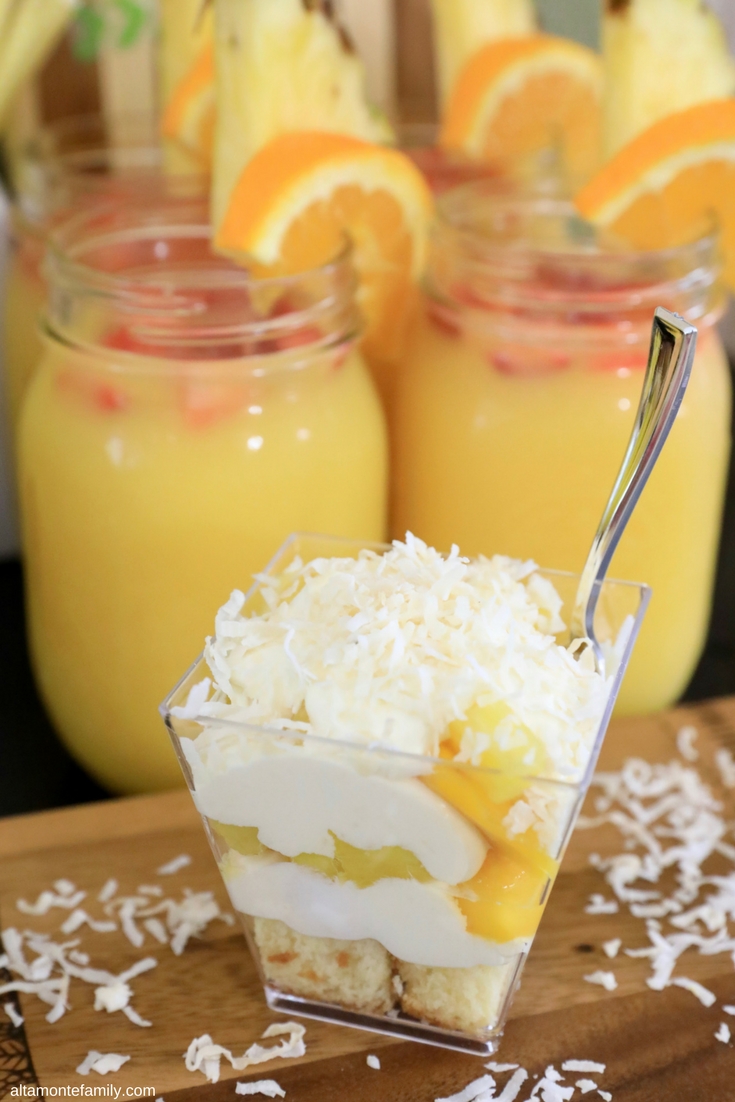 We used the yellow and green washi tape from the primary patterned washi tape set in place of menu cards… and any kind of permanent marker will do (we used the black marker from the permanent chalk marker set).
We love the smaller size of the trifle containers from Oriental Trading! They were perfect for our Spicy Slaw!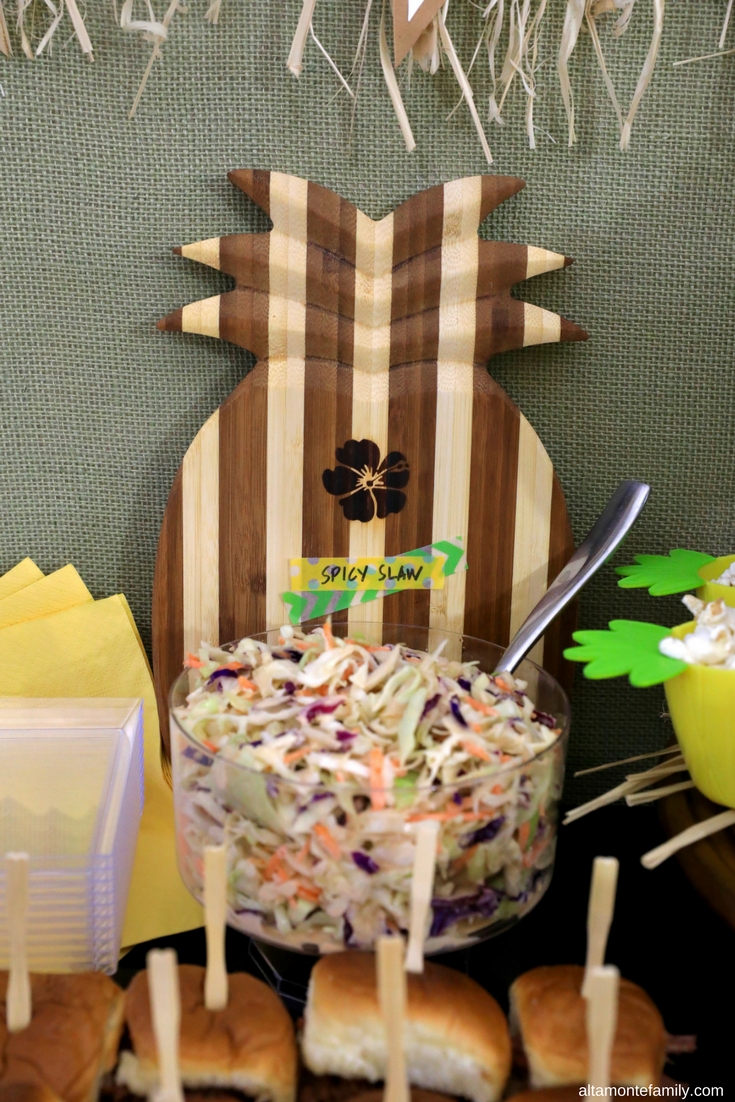 The bamboo cocktail forks held our Smoked Pulled Pork Sliders together nicely!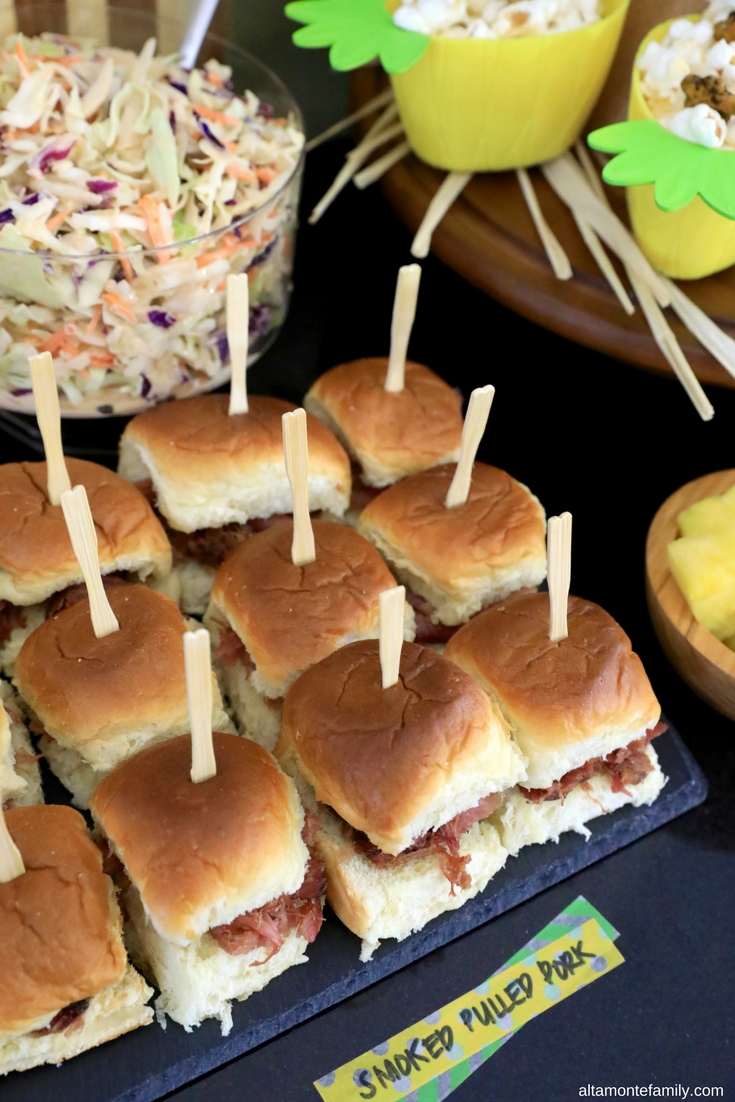 Speaking of Smoked Pulled Pork Sliders, we haven't forgotten about the "Almost Homemade" recipe that we wanted to share with you!
Recipe:  Almost Homemade Smoked Pulled Pork Sliders
These Smoked Pulled Pork Sliders are just what you needed for your Hawaiian Luau Party, especially when you're pressed for time!
Ingredients
Fully cooked frozen smoked pulled pork (store-bought, prepared according to package instructions)
Hawaiian sweet bread (lightly toasted)
Coleslaw (we made our own Spicy Slaw, but store-bought is just fine, to save time)
Optional: fresh pineapple chunks
Directions
Lightly toast bread in oven (we baked it at 350 degrees for approx. 10 minutes–this will depend on your oven)
Cook smoked pulled pork according to package instructions and pull apart before placing on bread
Secure with food picks, if desired
Top with coleslaw and pineapple chunks, if desired
That's it!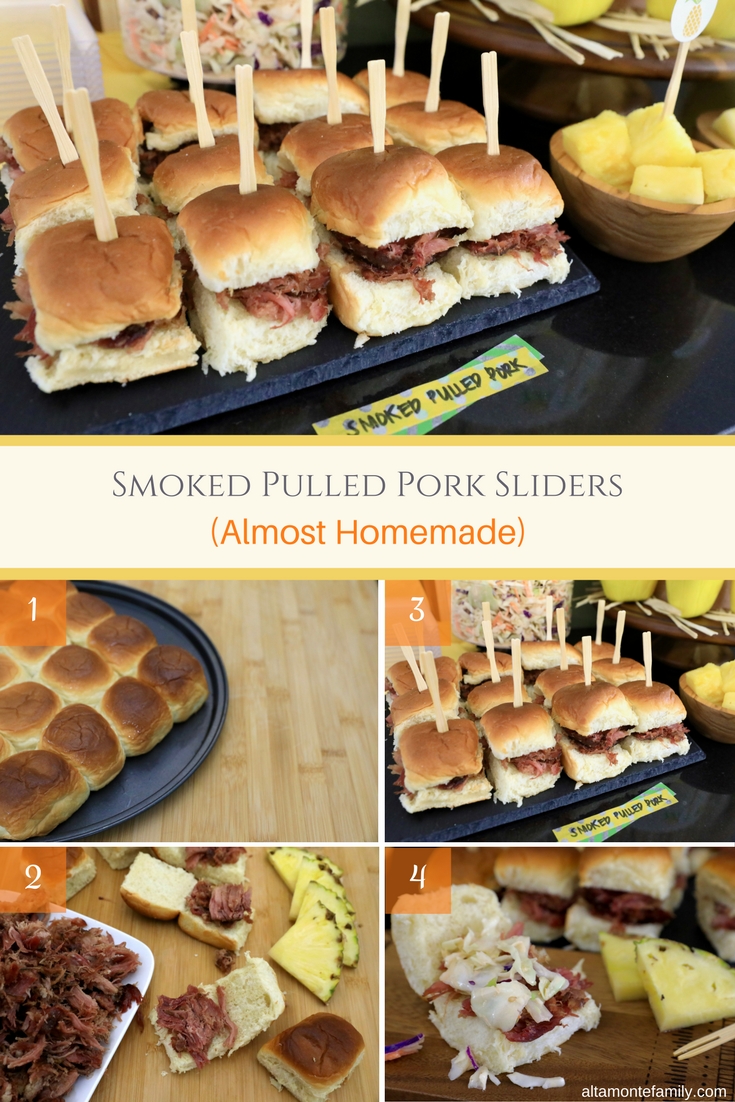 Super easy, right?
We also have a homemade smoked pulled pork recipe, if you'd like to check it out (we made it for our Nacho Bar)!
Ready to plan your luau?
We hope we've given you some inspiration and ideas with our at-home Hawaiian Luau Party!
Check out Oriental Trading for more luau party ideas!
Aloha and mahalo for stopping by!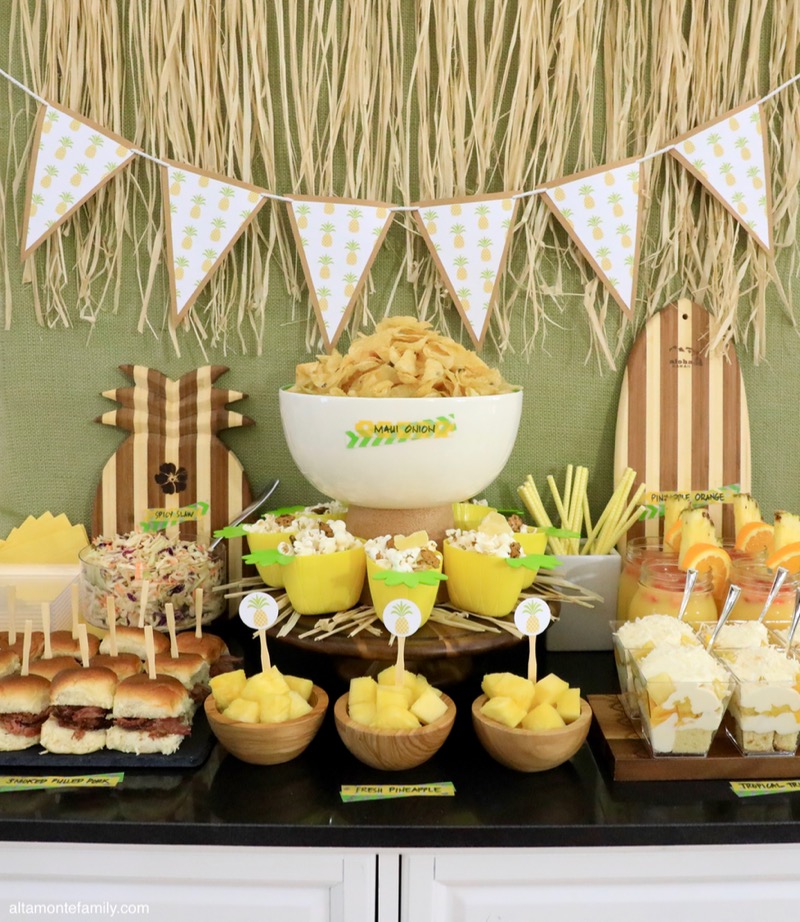 *Special thanks to Oriental Trading for providing us sample products free of charge in exchange for our honest review. No other type of compensation was received. All opinions are my own.
---
We're Social! If you liked today's post, feel free to share, bookmark, or pin it! Follow us on Pinterest, Facebook, and Instagram for more updates on our latest projects and adventures.