If you've been following us on Instagram, you probably noticed that we've been taking quite a few trips to Georgia lately (as if there isn't enough to do in Florida, already)! Well, it's pecan season in The Peach State, so it just makes sense for us to make Pecan Praline Pumpkin Cheesecake! We'll take any excuse to make cheesecake as well as any Fall dessert!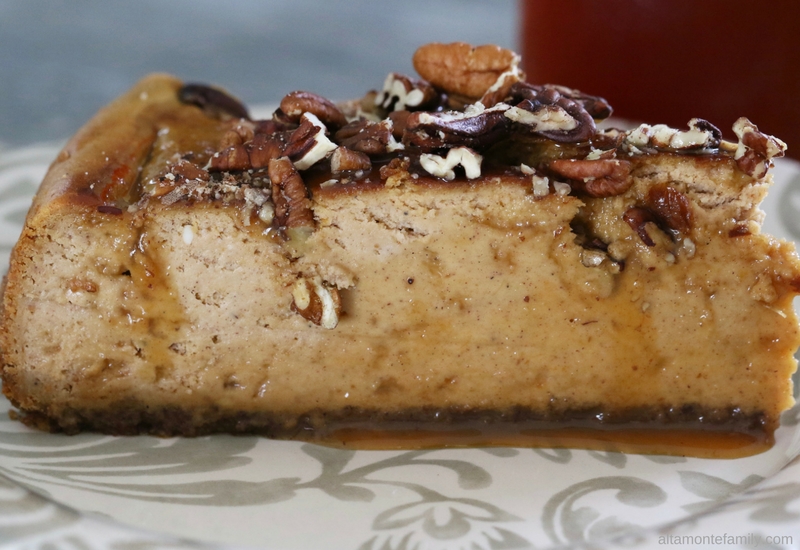 By the way, you can make this Pecan Praline Pumpkin Cheesecake sugar-free. Simply swap in a granulated sugar substitute of your choice for sugar (same amount) and sugar-free caramel syrup for the topping! Either version is delicious! Would you like to have a slice?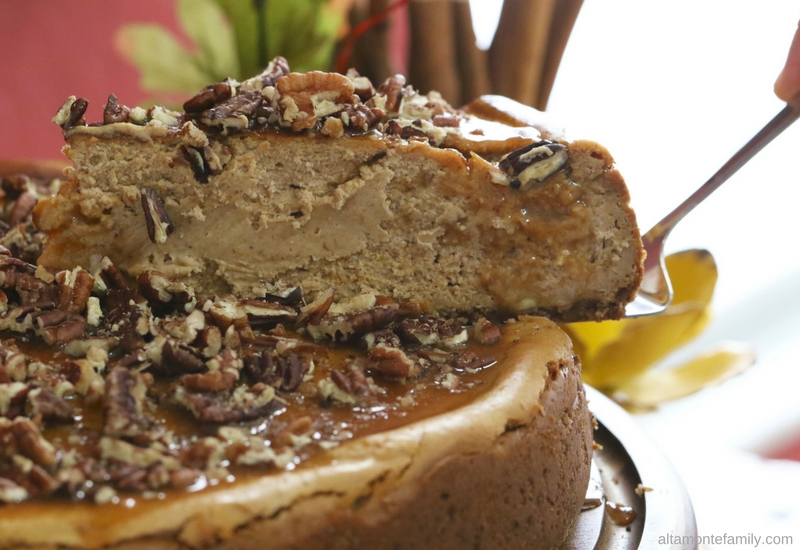 You don't have to look very closely to see–this Pecan Praline Pumpkin Cheesecake is just oozing with goodness! You'll want to enjoy a slice (or two?) even after the Fall / pumpkin / pecan season is over!
Uhhmmm… You might want to stock up on pumpkin puree now!
Is it just us or does cheesecake taste so much better after it's been chilling in the fridge for a while?
Mmmmmm… good!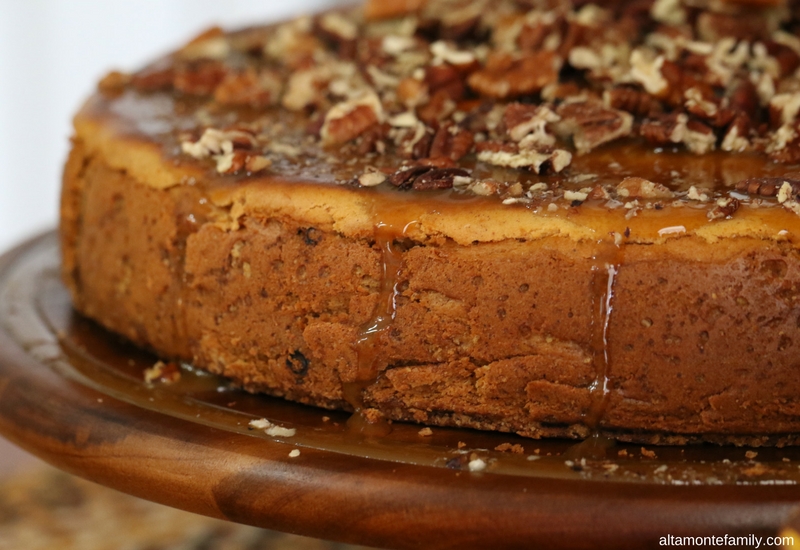 Recipe: Pecan Praline Pumpkin Cheesecake
This Pecan Praline Pumpkin Cheesecake is so delicious, we were at a loss when it was time to decide on its name. Thankfully, our friend, Patty from The PKP Way, helped us out! "Pecan Praline Pumpkin Cheesecake" sounds as amazing as it tastes!
Servings:      10 – 12
Prep Time:   30 minutes
Bake Time:   65 – 75 minutes
Chill Time:   2-4 hours (for best results)
Total Time:  1 hour 45 minutes (plus chill time)
Ingredients
5 8-oz cream cheese
1 1/4 oz sugar (or granulated sugar substitute)
4 eggs
1 tsp nutmeg / allspice / pumpkin pie spice
1/4 cup flour
1 1/2 cup pure pumpkin puree (15 oz)
2 cups graham cracker crumbs (can also use cinnamon graham crackers)
Toppings:  toasted pecans and caramel glaze (sugar-free works, too)
Directions
Step 1.  Drain pumpkin puree to remove excess water then set aside
Step 2.  In an electric / stand mixer, blend cream cheese, sugar, spices, and flour
Step 3.  Add eggs, one at a time, until blended
Step 4.  Fold in pumpkin puree
Step 5.  Grease a 10″ Springform pan and coat with generous amount of graham cracker crumbs then fill with cheese mixture
Step 6.  Bake at 325° Fahrenheit for 2 hours (for best results, turn off oven, then leave cake in for an additional hour)
Step 7.  Remove from oven, let cool, then chill in refrigerator overnight
Step 8.  Top with toasted pecans and caramel topping before serving
That's it!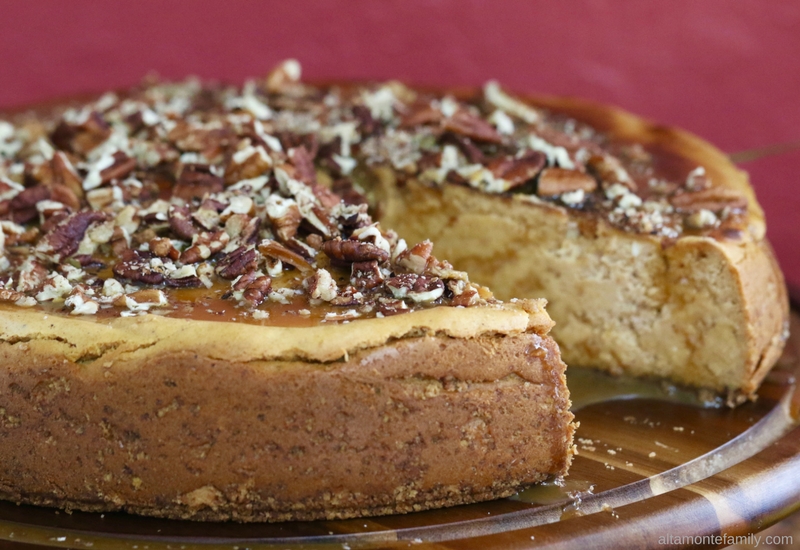 Ready to make this delicious dessert? Feel free to bookmark, pin, or share it!
If you still can't decide which cheesecake to make, check out our Layered Hazelnut Mocha Cheesecake.
Enjoy!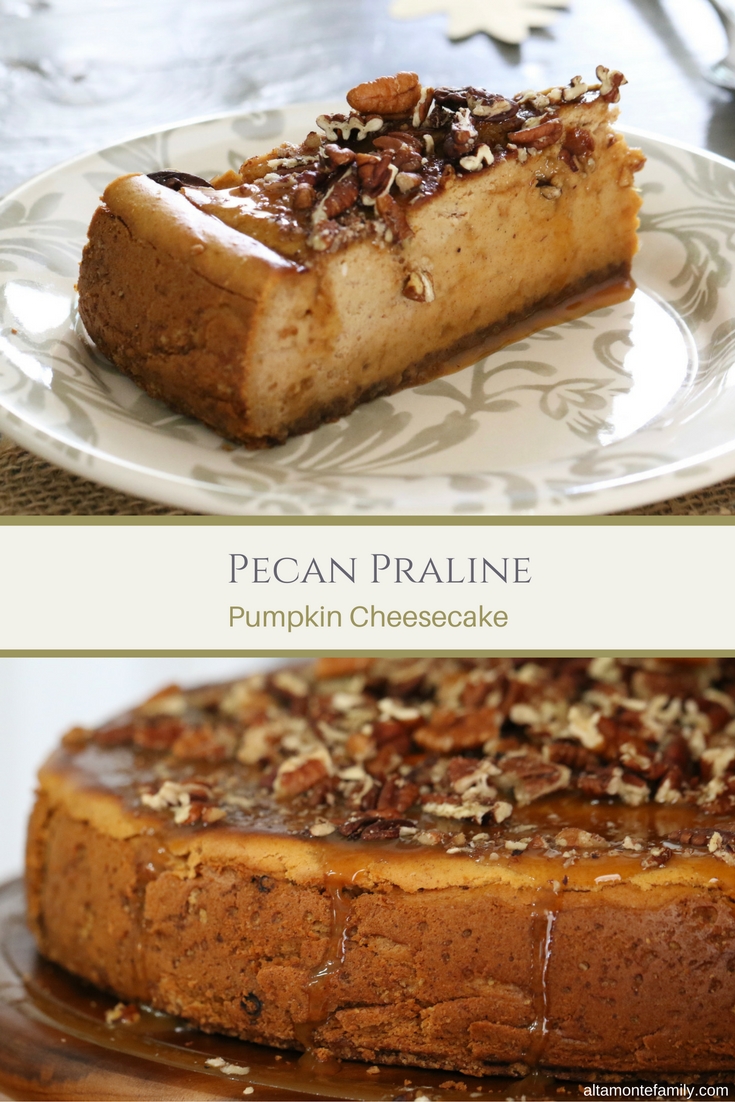 ---
We're Social! If you liked today's post, feel free to share, bookmark, or pin it! Follow us on Pinterest, Facebook, and Instagram for more updates on our latest projects and adventures.