Can you name a few blogs that talk about spring / summer recipes in the Fall? As we mentioned in our previous post when we talked about pre-storing your holiday decorations: no, we haven't moved to another country. We're still in the US. We just happened to try out a pea salad recipe (we adapted ours from The Pioneer Woman's recipe) because we were craving it. Perhaps it's because the Florida Fall may feel like the Spring for some of you up north. We refuse to test out our fireplace just yet. It's just not that cold. Really.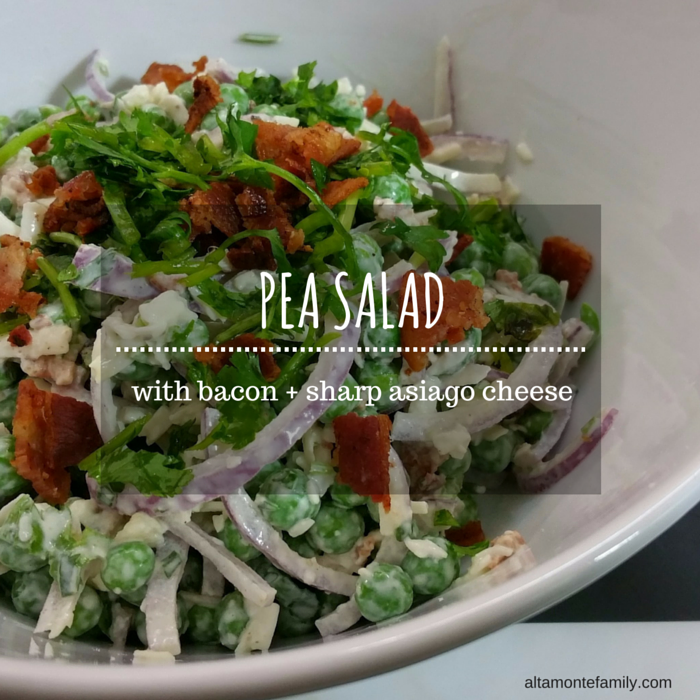 Before I keep on talking, let me just tell you that I am not the "official chef" in the family. Not even close. At best, I'm the supplemental chef. That's even lower than, say, a seasonal chef. You see, my husband was able to make 3 different meals by the time I was halfway done with this pea salad. To think that Ree Drummond said it was an "easy" recipe and that it only took "15 minutes"… she's right, though… but I'm not part of that cooking population.
Now that we've got that out of the way, let me show you my first stab at making (and customizing) a pea salad recipe. Let's hope that I get to perfect this recipe (or at least come close) by the Spring or Summer of… 2017? Yes, I added an extra year, just in case.
Ready. Get Set. Go!
First, prepare your pea salad fixin's. I think that's what they're called. Please be gentle: I'm trying to acclimate here–both in the cooking world and in our new-again home here in Florida! #thankyouverymuch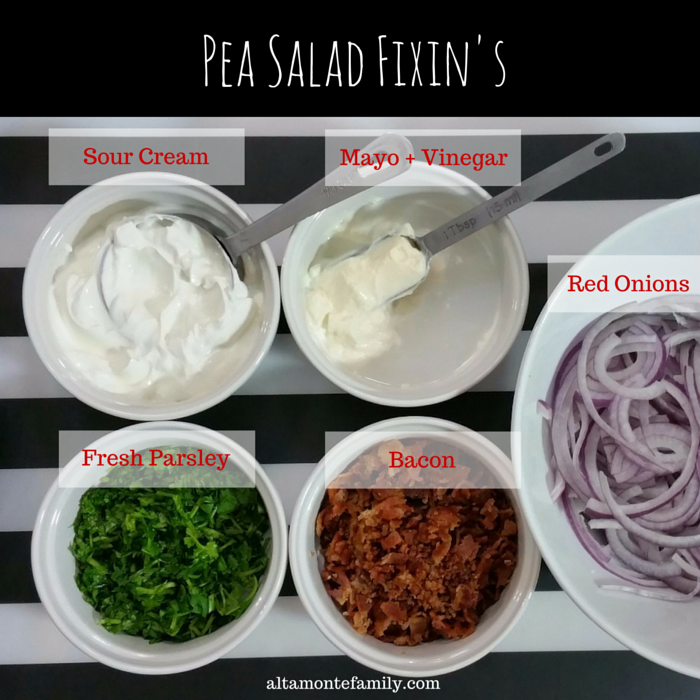 It took forever to make "thin slices" off of a halved onion. Believe me, that's as good as it gets. My excuse? It's much better this way so it's easier for the kids to remove them. Maybe I'll use some kitchen tech next time, like a high-powered blender. Maybe I'll purée the onions next time to eliminate the laborious slicing. I think I can deal with "essence of onion" rather than thin slices of onion. Not sure if my husband would approve of the flavor, though. Oh, well.
I held my breath while chopping up the parsley and the bacon. No, they didn't smell like onions, but they did get me teary-eyed for fear of self-amputation. So, why didn't I just use dried parsley flakes and "real" bacon bits? Beats me.
So, how are you liking my unabridged tutorial thus far?
Sorry, I'm not done yet.
Yup, I added sharp asiago cheese instead of what the recipe called for–which was sharp cheddar or American cheese. Why? Because this is what I had on hand (well, let's just say that this cheese wedge was slightly more accessible than the cheddar). And I like it better. The recipe said to "cube" the cheese. I decided to shred it. Why? Because I'm tired of holding my breath when using knives bigger than the size of my forearm (or so).
Please don't ask me how long it took me to prep all of the ingredients before getting to this point. Now the fun part begins–mixing!
I think making the "dressing" was the easiest part. All I had to do was mix the sour cream + mayo + vinegar + salt + pepper. Bam! We have a dressing, folks! #success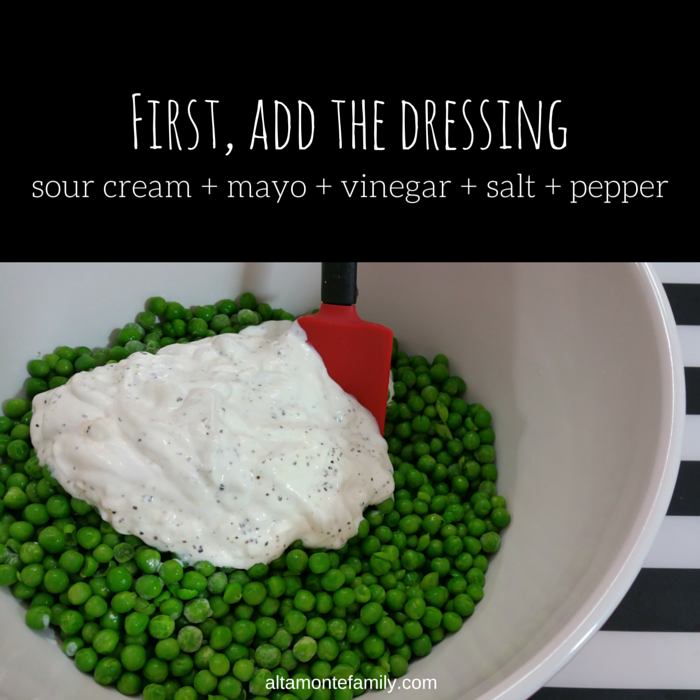 Look at those frozen peas… wait, I meant un-frozen peas. Maybe I left them out too long? Maybe I just took way too long with prepping the other stuff. Thankfully, I didn't make smashed peas (hey, maybe they'd taste just like mash potatoes). To the novice (me), the thawed little veggies looked just right.
It's time to fold in the dressing. No need to hold your breath on this one. I got this.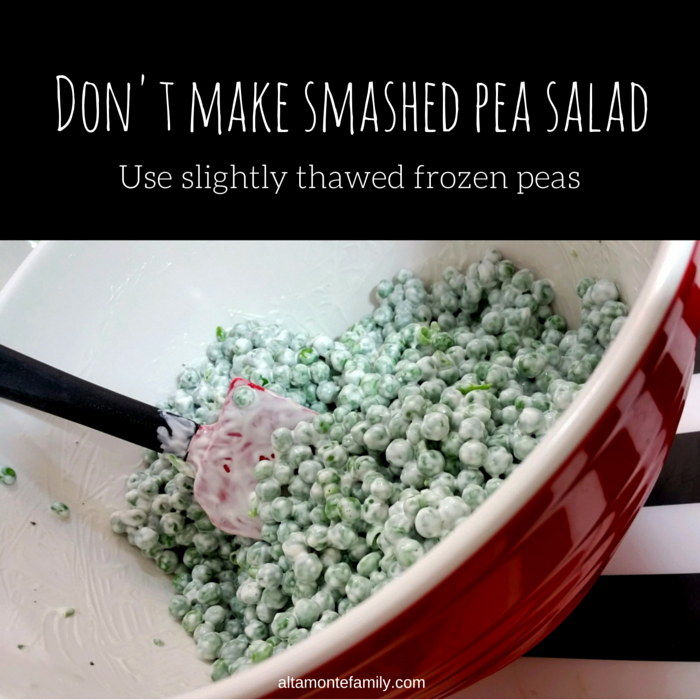 Now, it's starting to look like a party in there!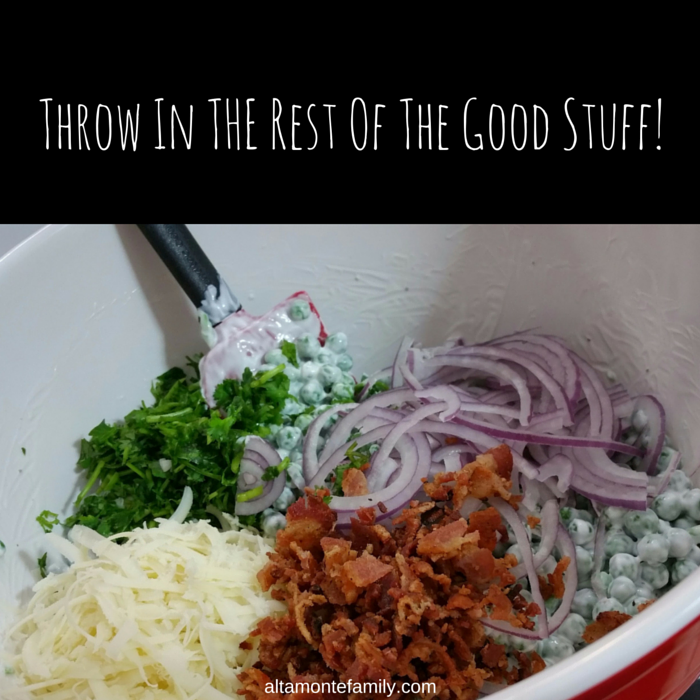 Oohhhh…. don't miss my favorite part! It's time to "just chill".
I covered up the melamine bowl and found a spot for it in the fridge.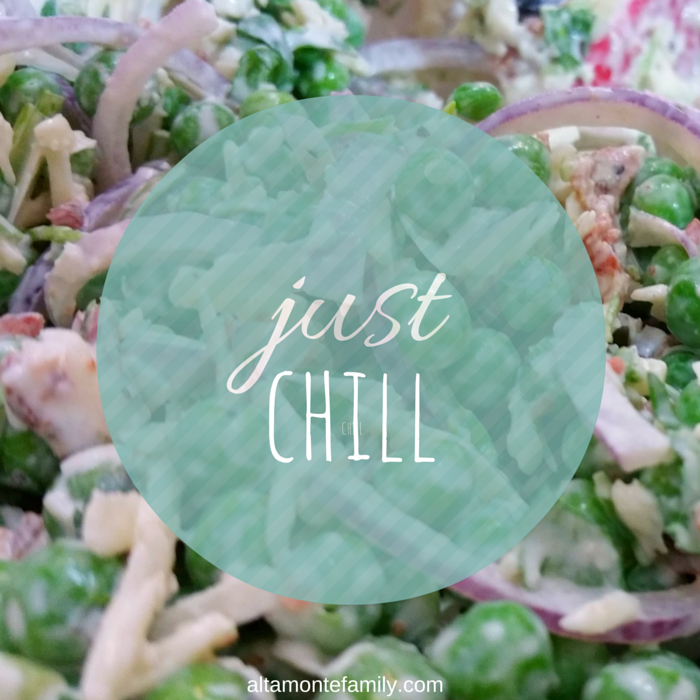 I waited a day just to give the recipe a chance.
I bet if Ree Drummond made it, it would be irresistible.
If I made it, it would be questionable.
My husband said it tasted good. He later offered to add basil. Then paprika. What else?
My husband is so sweet. I love him. Nuff said.
My teenager politely requested (appealed?) if I could just serve steamed sweet peas next time.
Maybe I've got the wrong audience here. They're among the most carnivorous in the pack.
So far, the [Newborn] Baby 4.0 hasn't complained.
Child 2.0 has made no comment. He can't eat it. He's allergic to dairy.
As for Child 3.0, he's another story.
---
So, here's my take on the Pea Salad Recipe…
Feel free to change it back to sharp cheddar or American cheese, if you wish.
Pea Salad Recipe
Ingredients:
32 oz frozen peas
1 cup sour cream
1 tbs mayo
1 tbs white vinegar
1/3 cup fresh parsley, minced
8 pcs of bacon, cooked until crisp, chopped
1/2 red onion, halved, cut into very thin slices (as humanly possible)
1/2 pound aged sharp Asiago cheese
Salt and pepper, to taste
Instructions:
Make the dressing by mixing the mayo + sour cream + vinegar + salt + pepper
In a large mixing bowl, add the slightly thawed peas and fold in the dressing.
Gently stir in the rest of the ingredients.
Cover your bowl and chill in the fridge for 2-4 hours (over overnight).
Option: Sprinkle with more parsley and bacon before serving.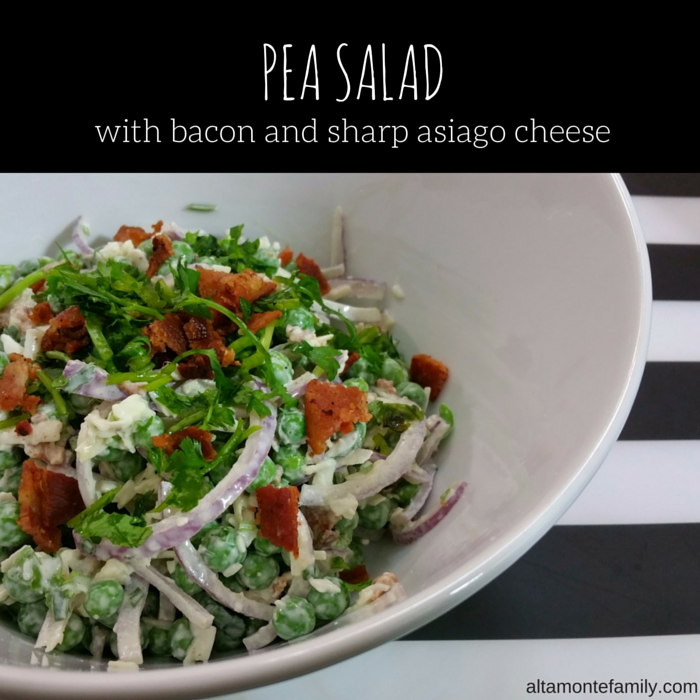 Now, it's your turn. Got any comments to share? 😉
Be kind. #thanks #thiswasfun #kitchenexperiment
---
Don't forget that we're social! Follow us on Pinterest, Facebook, and Instagram for updates.
Disclosure: As of the time of writing this post, AltamonteFamily.com is by no means affiliated with any of the companies or organizations mentioned in this article. AltamonteFamily.com has not been compensated in any way nor has AltamonteFamily.com been influenced to write about these products. This post is a result of the personal observations and independent research of members of AltamonteFamily.com. All opinions solely belong to AltamonteFamily.com.