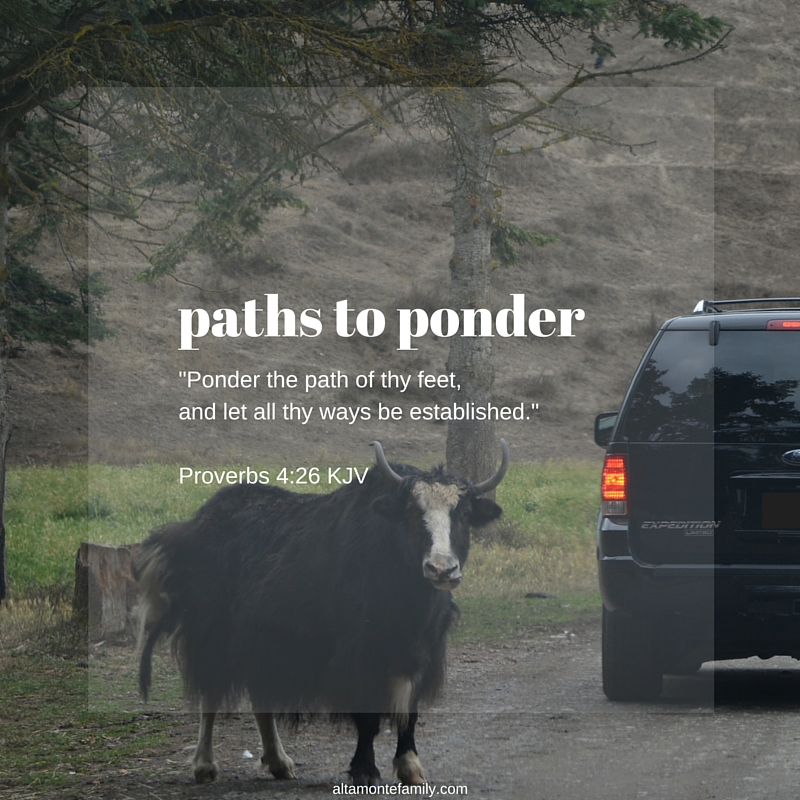 When we toured the Olympic Game Farm in Sequim, Washington, a few years back, we thought we'd never make it out of there unscathed. Let's just say that God delivered us and granted the mercy we begged for the whole time we were in there! While we can still say that it was a fun (and thrilling, to say the least) experience, we sure did ponder every single movement that we made (despite being inside a large SUV). We didn't realize how small we were until our vehicle was flanked by bison on each side (they were bigger)! We also didn't realize that one of us had been wearing a RED shirt until we came face to face with one of the furry residents who decided to run alongside of us (translation: he chased us) until we got to the territory dominated by lions, tigers, and wolves. Thankfully, they weren't running loose like all of the less harmful (?) animals.
Anyway, this photo reminds me of this verse:
Ponder the path of thy feet, and let all thy ways be established.

Proverbs 4:26 KJV
I encourage you to read the entire chapter of Proverbs 4. Picture a father passing down wisdom to his son. The chapter talks about the importance of getting wisdom and understanding and heeding to instruction.
Take fast hold of instruction; let her not go: keep her; for she is thy life. 

Proverbs 4:13 KJV
This chapter isn't just for us to pass down to our own children. It's also meant for us, to remind us to ponder our paths. The paths of the wicked and the just are contrasted, below:
Enter not into the path of the wicked, and go not in the way of evil men. Avoid it, pass not by it, turn from it, and pass away.

Proverbs 4:14-15 KJV

 But the path of the just is as the shining light, that shineth more and more unto the perfect day.

Proverbs 4:18 KJV
Our paths aren't just limited to where we take our feet. Proverbs 4 also talks about guarding our heart, our mouth, our eyes…
 Keep thy heart with all diligence; for out of it are the issues of life. Put away from thee a froward mouth, and perverse lips put far from thee. Let thine eyes look right on, and let thine eyelids look straight before thee. Ponder the path of thy feet, and let all thy ways be established. Turn not to the right hand nor to the left: remove thy foot from evil.

Proverbs 4:23-27 KJV
In our busy lives, it is often difficult to ponder our paths. Competing priorities, distractions… there's just so much noise! Thankfully, God's Word is a powerful Light that can–and will–cut through the noise and darkness if we turn to Him.
Thy word is a lamp unto my feet, and a light unto my path.
Psalm 119:105 KJV
We can be sure that He will direct our paths if we trust in Him.
Trust in the Lord with all thine heart; and lean not unto thine own understanding. In all thy ways acknowledge him, and he shall direct thy paths.

Proverbs 3:5-6 KJV
---
Take action: What are we doing to ponder our path as we go about our day? Let's make the time to memorize Scripture and "hide it in our heart" so that we can draw upon His Word to light our path every moment of each day (Psalm 119:11). If you feel as if you've just been drifting along with no point or purpose in life, be encouraged to know that God loves you and has a perfect plan for you! If you haven't yet accepted Christ into your heart so that you, too, can experience the goodness of our Heavenly Father, this page shows you how you can be His child today.