It's been a long time since I've used my Cricut Explore — like, 6 years if not longer. I found it collecting dust in a not so cheery corner of a storage area. Admittedly, I wasn't sure if it would work again! The front panel had been left open, allowing the dust to settle in, nice and snug. Yikes. Using a Swiffer Duster out of sheer desperation, I dusted and dusted, and… cringed. Am I the only one who lets their crafting tools fall to the wayside? After being sick for what seems like a month, I decided to create a sunflower SVG using my 5 year old iPad Pro and later my 5 year old iMac. Am I in need of an upgrade? For my crafting and business purposes — thankfully, the answer is, "Not yet." Anyway, keep reading to see how you can download the Cricut Explore Free Sunflower SVG.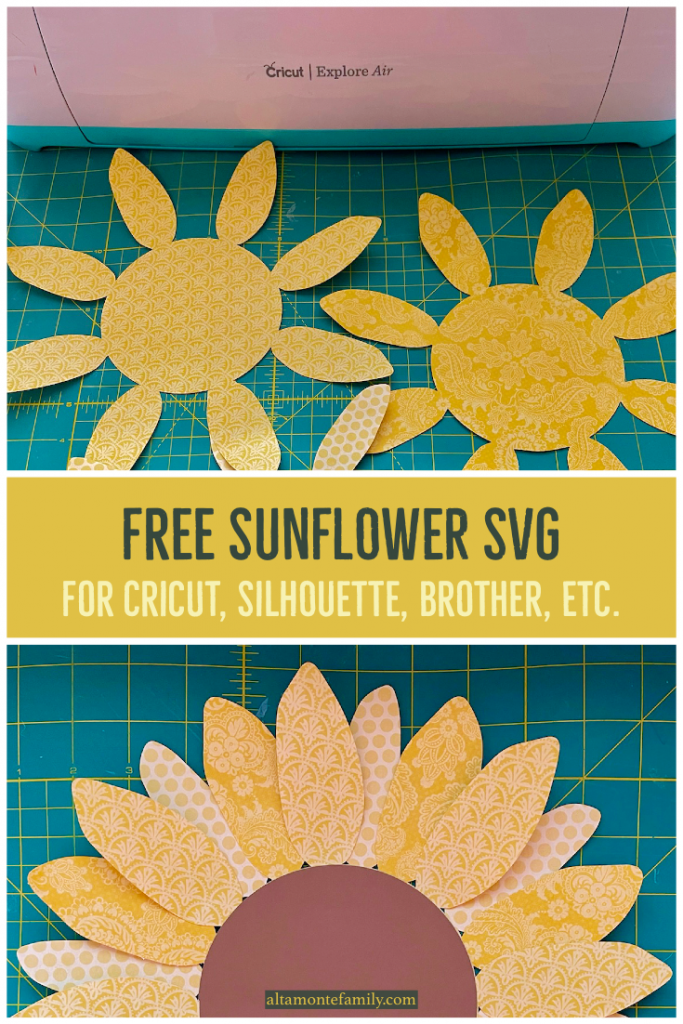 Cricut Explore Free Sunflower SVG Instructions
Scroll to the bottom of this post to find out how you can get the free download. Download the SVG file in a desifnated folder. Keep in mind that this is an SVG file, which will have layers. It is not a "flat" PNG or JPG file.
Upload the Cricut Explore Free Sunflower SVG into Design Space.
Resize the designs according to the desired paper size (keeping in mind your machine's set size limits).
Determine what type of paper you'll be using before instructing your Cricut Explore (or other electronic cutting machine) to proceed with cutting. Some papers seem to need a double pass-through to make sure it's been properly cut.
You should have 4 pieces on hand, once you've finished cutting. Using your choice of glue or adhesive, assemble (layer up) the 3 layers of petals according to your preferences, then add the (brown) circle as your very last (top) layer.
Easy peasy, right?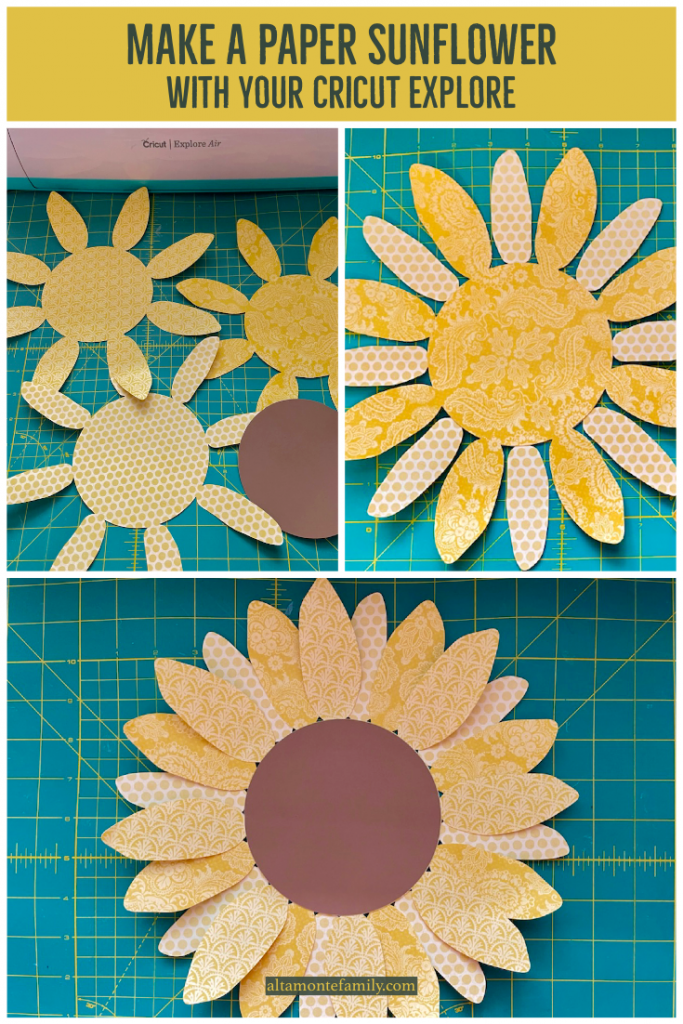 Tips For Using The Cricut Explore Free Sunflower SVG
I do have a couple of tips when working with the Cricut Explore Free Sunflower SVG file, as this design can be customized based on different papers, sizes, applications, etc. I specifically designed it for papercrafting.
Be careful not to size the Sunflower SVG design down to such a small size that the petals can easily rip off.
Be careful when removing the paper / card stock from the sticky mat, especially newer mats as they can be very sticky. The adhesive can easily tear the petals off.
Consider using textured paper for the center of the petals, like brown glitter paper or something similar, for a more textured effect.
The center is a perfect circle; consider adding cut-out words or lettering in the center, for added interest.
If desired, you can skip cutting one of the petal layers. The sunflower will appear to be less full, but it works nonetheless.
Consider using card stock of the same color but different patterns, as an alternative to solids.
Use double-sided card stock if you wish to curl up the petals for a more 3D effect, thus exposing the undersides of the petals.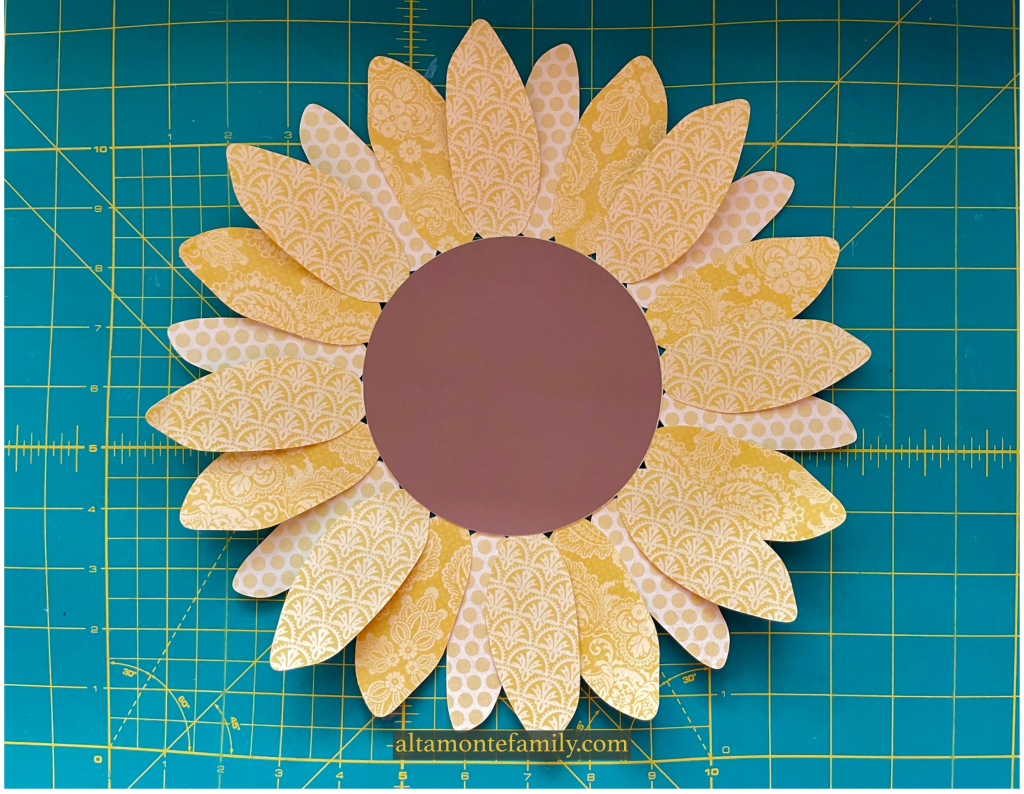 The applications for this paper sunflower designs are many — think, sunflower wall, photo booth, wreath, greeting card, photo frame, magnet, and more! This is such an easy project (only 4 simple layers — you don't need to "weed anything" especially if you're making large paper sunflowers)! If you're looking for something new to cut with your Cricut Explore or Cricut Maker, this project is definitely for you.
Make A Paper Sunflower With Your Cricut Explore — Supplies Needed
To create this beginner-friendly project, you will need*:
Cricut machine or any electronic cutting machine that can read or convert layered SVG files
Optional: Spatula from the Tool Set
Yellow Cardstock (I used 3 different patterns, in yellow)
Brown Cardstock
Adhesive of your choice
* Please note that the above links may contain affiliate links. This means we may receive a small commission if you make a purchase using any of our links cited above. Thanks for supporting our blog. Since 2015, we have chosen not to bombard our posts or pages with irrelevant, distracting banners or inserts.
Get the Cricut Explore Free Sunflower SVG — and start creating!
Ready to create? Click on the button below to be directed to the download file. You can use other electronic cutting machines for this project, as long as it can read or convert layered SVG files.
Click to get the free download