This shop has been compensated by Collective Bias, Inc. and its advertiser.
All opinions are mine alone. #HuggiesNewYear #CollectiveBias

---
Preparing to travel with small children anytime soon? Got two (or more) kids in diapers? Whether you're traveling or just looking for a fun new way to pack a diaper bag for your awesome bundle(s) of cuteness, we've got some tips to spark your creative and adventurous side on how to pack one travel diaper bag for two small kids!
Tip #1: Pack 2 small bags (1 for each child) inside your larger travel diaper bag.
For us, having 2 small bags (in different colors) in a larger travel diaper bag allows us to quickly identify which one to grab when the need arises. It doesn't help to have to dig through a pile of different-sized diapers in an urgent (and emergent) situation.
True story of an urgent and emergent situation: While en-route on a missions trip to another country, one of our young children managed to stop an airplane from taking off. The flight attendant had already phoned in the ready-for-take-off cue, when suddenly, she heard a "loud noise" followed by a series of loud pushes and grunts coming from our direction. As she leaned over to check, she saw our baby smiling at her as if to cover up the mess that he had made. She quickly picked up the phone and asked the pilot to wait until we had changed our baby's dirty diaper (and clothes)!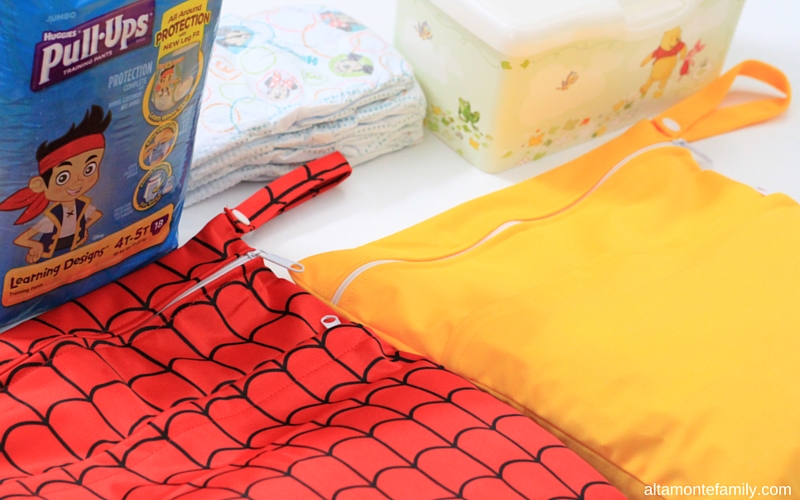 Anyway, we absolutely love using these small, washable diaper bags! The bags come with 2 zippered pockets: we keep the diapers, baby wipes, and extra clothes in the larger pocket while we store the dirty clothes–and when necessary, dirty diapers (sealed in small, resealable baggies)–in the smaller pocket.
Tip #2: Pack baby wipes in resealable plastic bags–and place dirty diapers inside the empty bags before disposal.
We love the practicality and dual use for these resealable plastic bags. We added stickers to match our baby wipes container–of course, you can use any sticker variety or your choice. We opted to DIY ours by using our Cricut Explore Air, this cartridge, and printable sticker paper.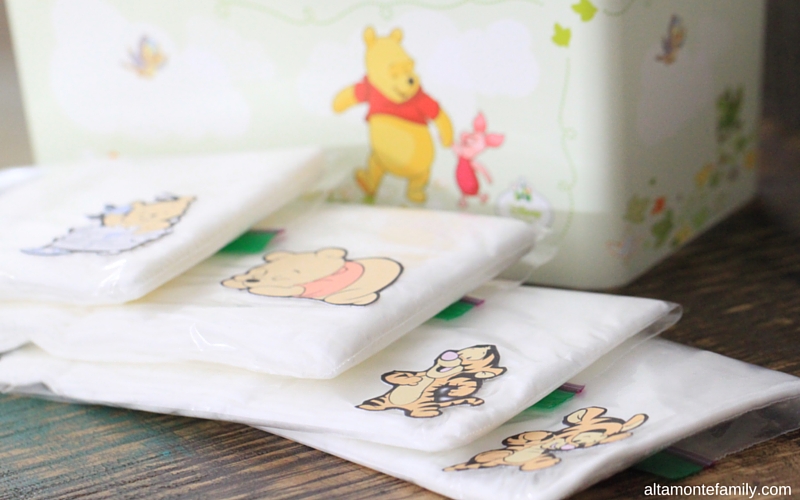 Tip #3:  Pack a set of baby wipes for "heavy duty cleaning" and another set for "light cleaning".
Remember how we said that we use these resealable plastic baggies when disposing of our baby's dirty diapers? Well, it would be a bit of a challenge to do that if we still had some leftover baby wipes in 'em. That's easily fixed by making two different sets of baby wipes baggies: one set is for cleaning up after baby did a "number 1" and another set is for cleaning up a "number 2".
In our case, we made two sets by adding on stickers with two of our most loved cartoon characters.
Tip #4: Pack extra clothes in a resealable plastic bag.
If you had the chance to read our urgent and emergent situation that we shared above, you'll appreciate the idea behind packing extra clothes in resealable plastic bags. They really come in handy for those unexpected "explosive" moments.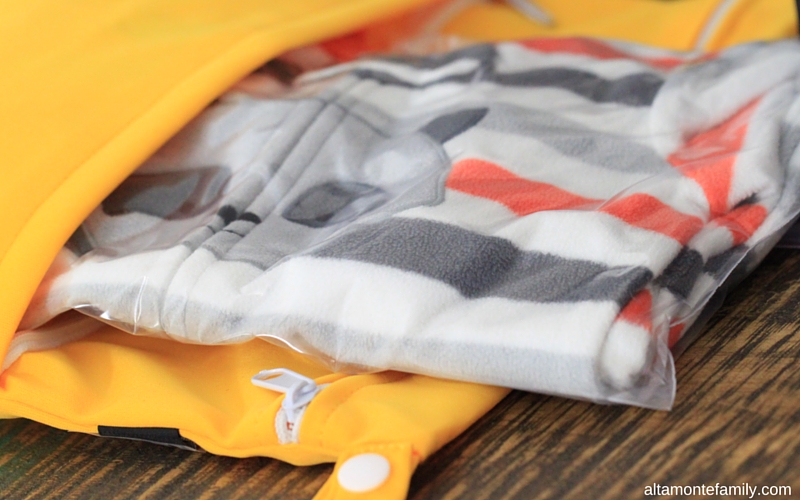 Tip #5: For the toddler-in-training: pack some PULL-UPS® Training Pants, toys, snacks, and other boredom-busting essentials.
We pack a little differently for our little hero in training, besides the PULL-UPS® training pants, baby wipes, and extra change of clothes. We also include a cool and fun tin to store his snacks and toys to keep him entertained during long flights. This tin is small enough to fit inside our travel diaper bag.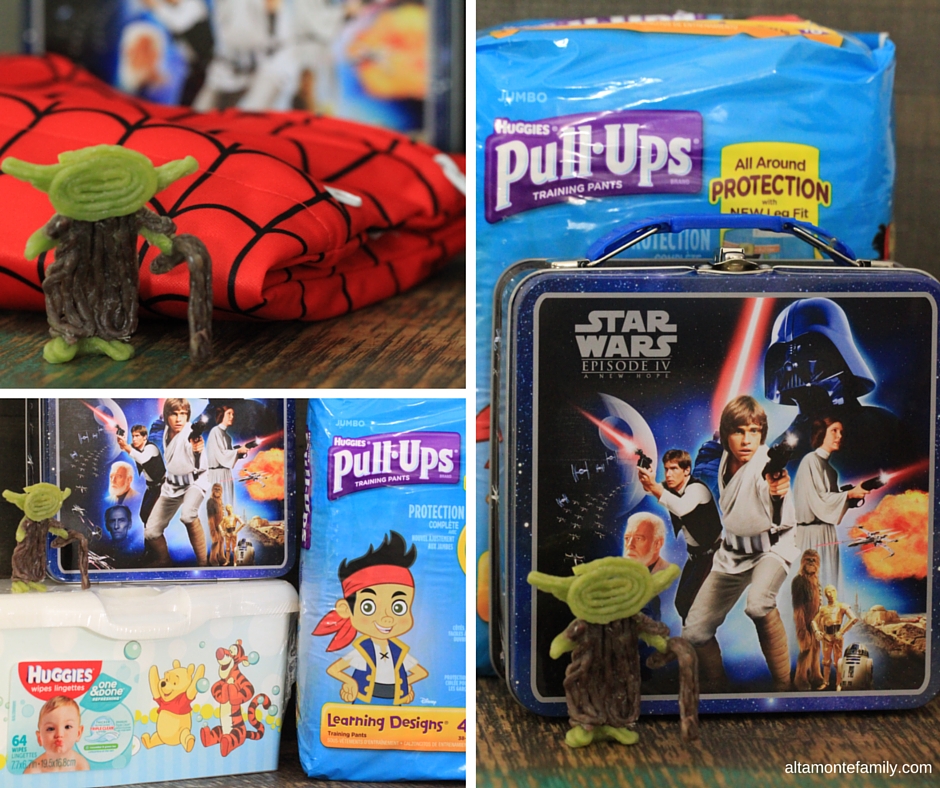 Tip #6: Use any bag of your choice–one that you can easily stow under the seat.
We hardly ever use an actual diaper bag especially while on travel. We tend to overstuff them with too much stuff, which results in the flight attendant telling us to store it in one of the overhead bins, instead. In any case, you can use whichever bag works best for you.
My travel diaper bag also has a flashlight (with gems!) and hand sanitizer keychain attached to it.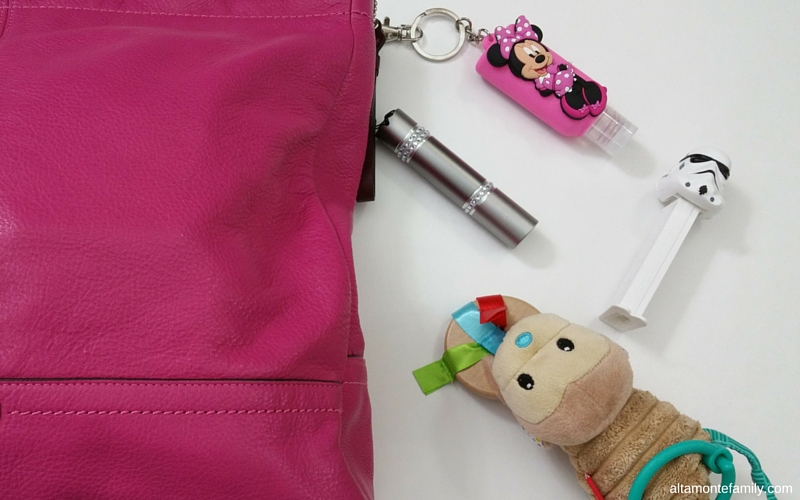 Tip #7: Use a packing list.
It never hurts to use a packing list. Forgetting something is one of the worst feelings to have especially if that something is what's standing between a more peaceful flight for you and the other passengers.
Free Printable Travel Diaper Bag Checklist
If you're looking for other items to pack in your travel diaper bag, you're welcome to get our free printable Travel Diaper Bag checklist to help you with your travel planning:
For Personal Use Only: We created this free printable for your personal, non-commercial use only. Please do not alter in any way. Kindly read our full Terms of Use.
As a busy mom of 4 boys, one of my favorite one stop shops for baby needs at a great value is at our local Family Dollar (all of the great Baby Items you can get at Family Dollar for an every day low price), especially since we're still having to shop for two small kids in diapers!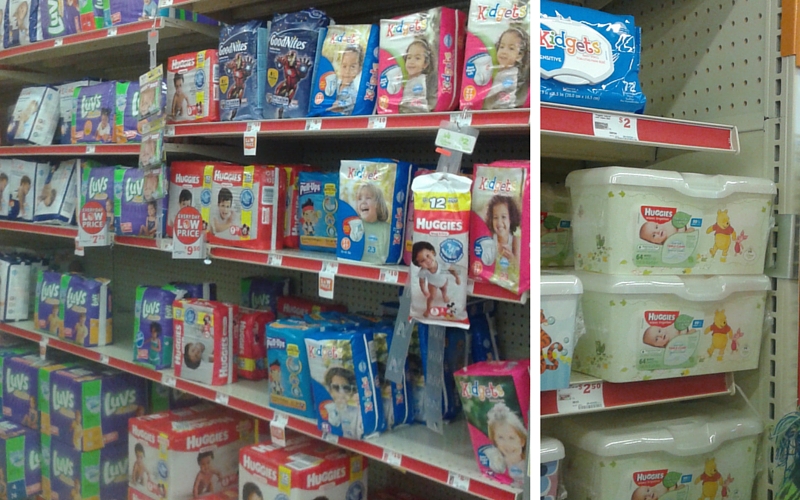 We hope you had fun learning about how we stay prepared for our family travels, especially when it comes to traveling with small children. Children are indeed a blessing from the Lord, and traveling with them is so much fun especially when you're prepared.
What other fun and practical essentials will you be packing in your travel diaper bag?
---
Follow Us On Social Media: Keep checking back for all kinds of inspiration! Follow us on Pinterest, Facebook, and Instagram for updates.