We learned a few valuable lessons after overwintering plumeria in Central Florida for the very first time last winter. They stayed in our garage, in their pots, from the late part of November, all the way to the first day of Spring (March 20th). We could have removed them from the garage sooner than that, but we just got too busy during that time.
Overwintering Plumeria: 1 Month After "Waking Up"
Here are a few photos of our plumeria waking up, exactly 1 month after removing them from the garage. Unfortunately, we had 3 casualties: 2 cuttings from Hawai'i and 1 large potted plumeria plant with 3 tips. They all died from black tip–our hunch is due to excess water that we didn't allow to dry out prior to overwintering them (we should have planned better before going on a long trip).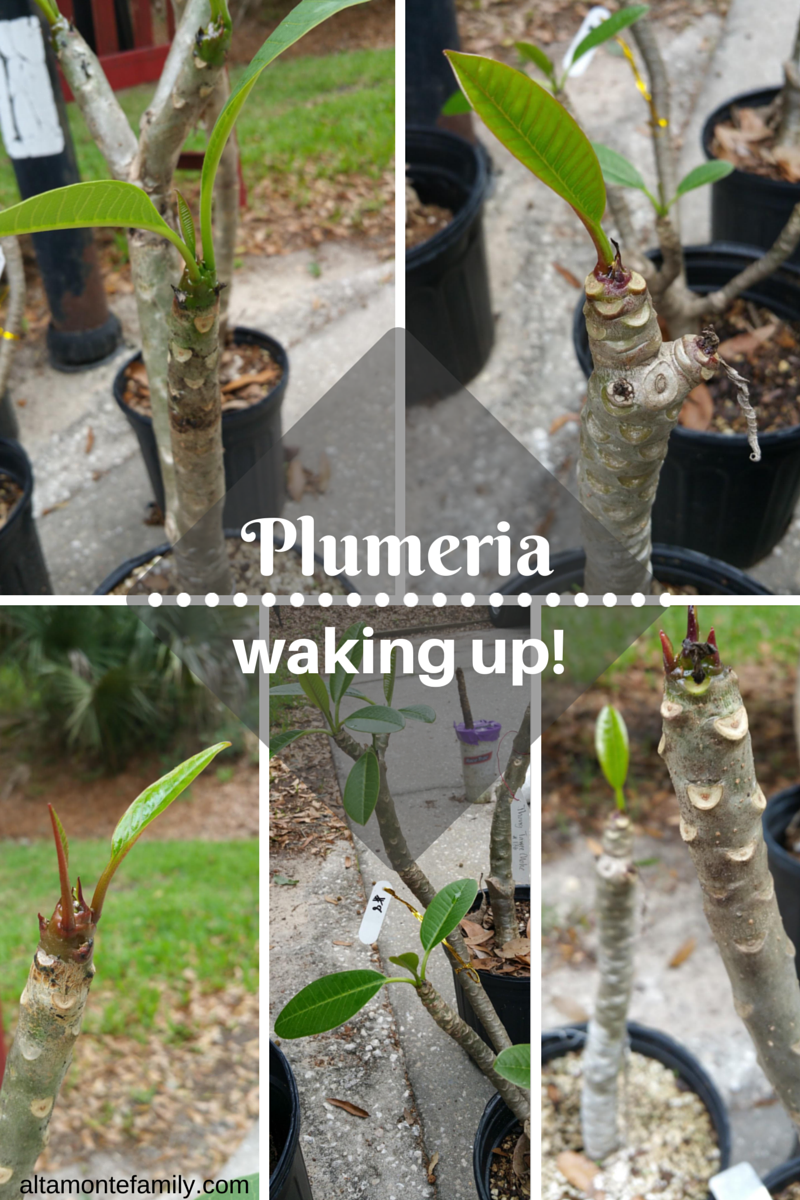 We never had to water our plumeria while they were overwintering in our garage. Some people recommend bare-rooting them when leaving them in the garage. We might just do this for some of our plumeria this coming winter, just to avoid getting any more wood rot issues and risking additional casualties. The temps have dropped below 30 degrees Fahrenheit in Central Florida on certain days last winter, but we didn't have to cover / drape over any of them, neither did we have to turn on a space heater in the garage. Perhaps having 3 casualties isn't so bad after all… but still.
Overwintering Plumeria: Lessons Learned After Season 1
Plan ahead, especially if going on long trips during the winter (holiday) season
Make sure the soil in potted plumeria is dry before overwintering them in the garage
Consider bare-rooting some of the potted plumeria this coming winter as an experiment
Remove potted plumeria from garage a few weeks before the first day of Spring as temps start going up, to give them a chance to "wake up" sooner
We're not the experts–remember, we've only been through 1 season and we're primarily doing this with–and learning alongside–our kids. We're planning on adding some fertilizer since our previously flowering plumeria have stopped blooming this year and have lost their inflo's from last year while overwintering in the garage. The good news is, the overwintering didn't seem to harm our 2 seed pods that were being closely held by their "pregnant plumeria" moms. Both of the seed pods have opened up in the last 3 months (after a 10-11 month "gestation" period), and we are now happy "parents" (or "grandparents", since our master gardener son had been tending to them) to approximately 30 seeds that have germinated! The 2 seed pods produced roughly 100 seeds (combined) and we haven't gotten around to planting all of them just yet.
Anyway, we'll be sure provide updates later on regarding harvesting plumeria seed pods and germinating plumeria seeds.
Until then, enjoy your Summer and we'll see you back in our next post! Happy plumeria gardening!!!
Disclosure: As of the time of writing this post, AltamonteFamily.com is by no means affiliated with any of the companies or organizations mentioned in this article. AltamonteFamily.com has not been compensated in any way nor has AltamonteFamily.com been influenced to write about these products. This post is a result of the personal observations and independent research of members of AltamonteFamily.com. All opinions solely belong to AltamonteFamily.com.