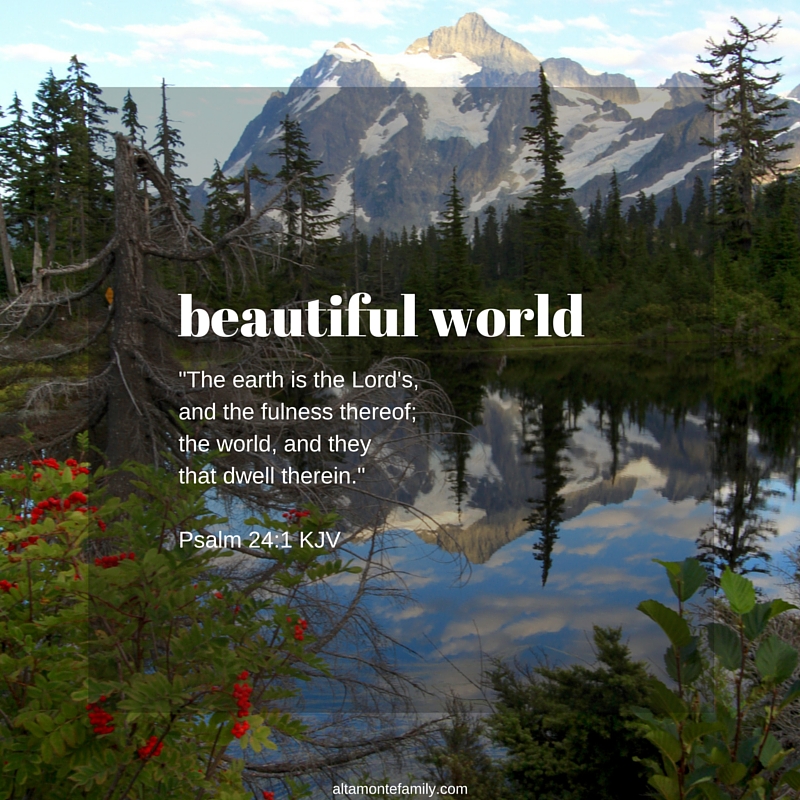 Summer is a popular time for families to get outside and explore the world we live in, especially since the kids are out of school. There's so much to see, so much to learn, so much to enjoy–they're so great, it's often challenging to process all that we've taken in! We just stand in awe.
The earth is the Lord's, and the fulness thereof; the world, and they that dwell therein.

Psalm 24:1 KJV
Just like the beautiful world around us, we are also His Creation. We are also beautiful. We are special, especially in His eyes. He made us for a reason, a purpose… His purpose. All of God's Creation is meant to give credit and glory back to the Creator.
Let the words of my mouth, and the meditation of my heart, be acceptable in thy sight, O Lord, my strength, and my redeemer.

Psalm 19:14 KJV
Something to ponder: Are we living our lives in such a way that others can see the beauty of His Creation? Are we giving back the credit, praise, and glory back to our Creator?
Search me, O God, and know my heart: try me, and know my thoughts: And see if there be any wicked way in me, and lead me in the way everlasting.

Psalm 139:23-24 KJV
---
Take action: Let's take time to pray and ask God to search our hearts–this is not just a one time thing. Let's keep our hearts open to Him: open for Him to see, search, and try, open for Him to clean and renew, open for Him to heal and restore, open for Him to use. If you haven't yet opened your heart to God for Him to enter in and be your Savior, your Healer, your Provider, your Friend, your Heavenly Father, your Master, this page tells you how you can become a part of God's family today.