Hey, hey, hey–it's Friday! This week has just been hectic!! Hectic but good, by God's grace. We discovered a super easy recipe to add to our meal planning and this affordable box of goodness comes packed with a serving size of 6! Anyway, we're going to keep it short so we can all log off early and call it a week. Wishy-wish 😉 So… here's the recipe for our One-Pan Vegetarian Alfredo Penne Pasta!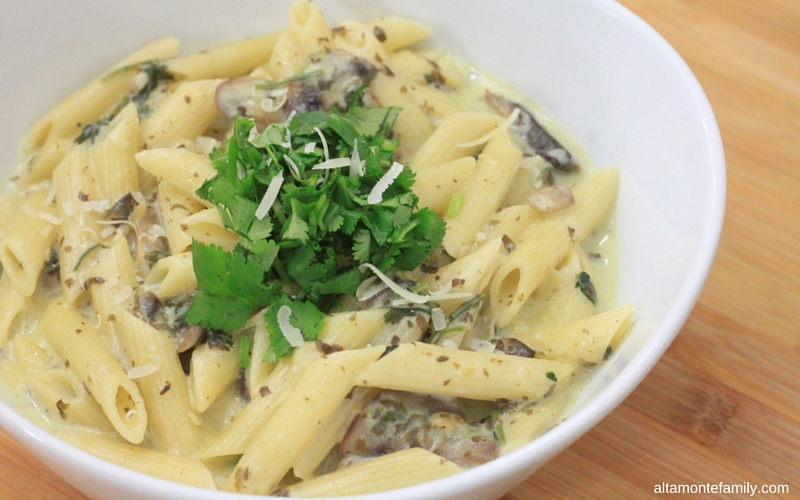 Our favorite part about making this dish is that it's no boil, no drain, and one pan. Super convenient and easy! It tastes pretty good, too, and the fresh cilantro just "lifts" the flavors with bright accents to lighten up your otherwise hectic day.
Recipe: One-Pan Vegetarian Alfredo Penne Pasta
Servings: 6*
Prep Time: 5 minutes
Cook Time: 15-20 minutes (depending on your stove)
Total Time: 20-25 minutes
*For reduced serving size preparation, see side panel of Barilla Pronto Penne Pasta box.
Ingredients:
1 12-ounce package Barilla Pronto Penne Pasta
3 cups cold water
Pinch of salt
1 tbs fish sauce* (optional)
4 tbs unsalted butter
1 tbs organic extra virgin olive oil
1 pound sliced baby bella mushrooms
1/4 cup fresh cilantro, chopped
1/2 of the 6.3-ouce jar of Barilla Pesto Sauce
1 1/2 cup whole milk
1/2 cup feta cheese crumbles
*A chef once told us that he uses a little bit of fish sauce to flavor the pasta he serves in his Italian restaurant.
Directions:
Step 1.  Pour contents of Barilla Pronto Penne Pasta into a large skillet and combine with 3 cups of cold water, ensuring that the water covers the pasta.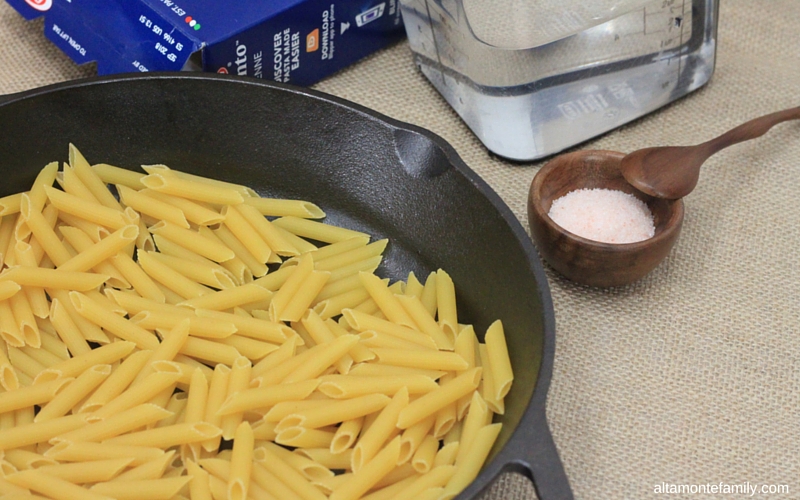 Step 2. Add salt (and fish sauce, if desired), to taste, and cook on high for 10 minutes (depending on your stove), stirring regularly, until most of the water is absorbed.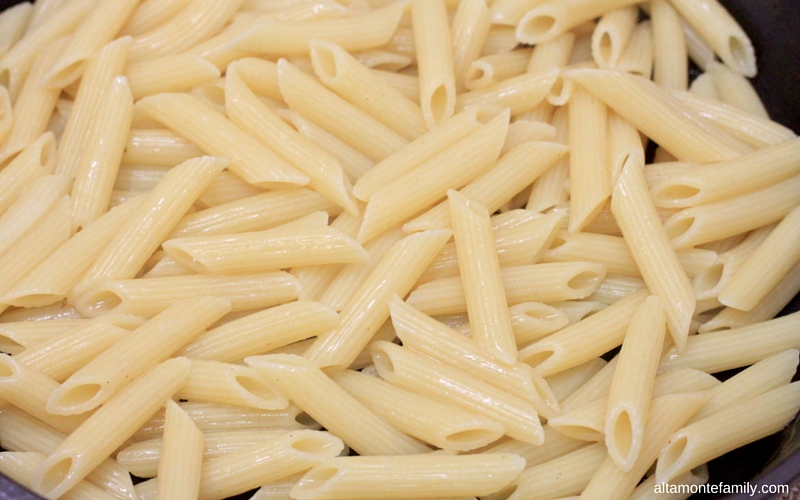 Step 3. Reduce heat on stove, then fold in butter, oil, and mushroom and heat through for 5 minutes, carefully stirring in between.
Step 4. Fold in cilantro, pesto sauce, milk, and cheese and gently simmer (carefully stirring in between) until the milk has reduced.
Tip: Cube up the butter into smaller chunks for faster melting.
Dinner is served!
PS. See? We told ya we'd keep it short! Have a great weekend!
---
We're Social! If you liked today's post, feel free to share, bookmark, or pin it! Follow us on Pinterest, Facebook, and Instagram for more updates on our latest projects and adventures.