This shop has been compensated by Collective Bias, Inc. and its advertiser.
All opinions are mine alone. #DinnerOnDemand #CollectiveBias
---
It's Tuesday! That means, we made it through Monday! Oh yeah, about that… how did your Monday go? Do tell! For me, the day started with a hearty green protein pancake (promise it isn't as bad as it sounds) and ended with this super-easy, great-tasting dinner on demand. I'm talking about a no boil, no drain, One-Pan Shrimp Pesto Penne Pasta!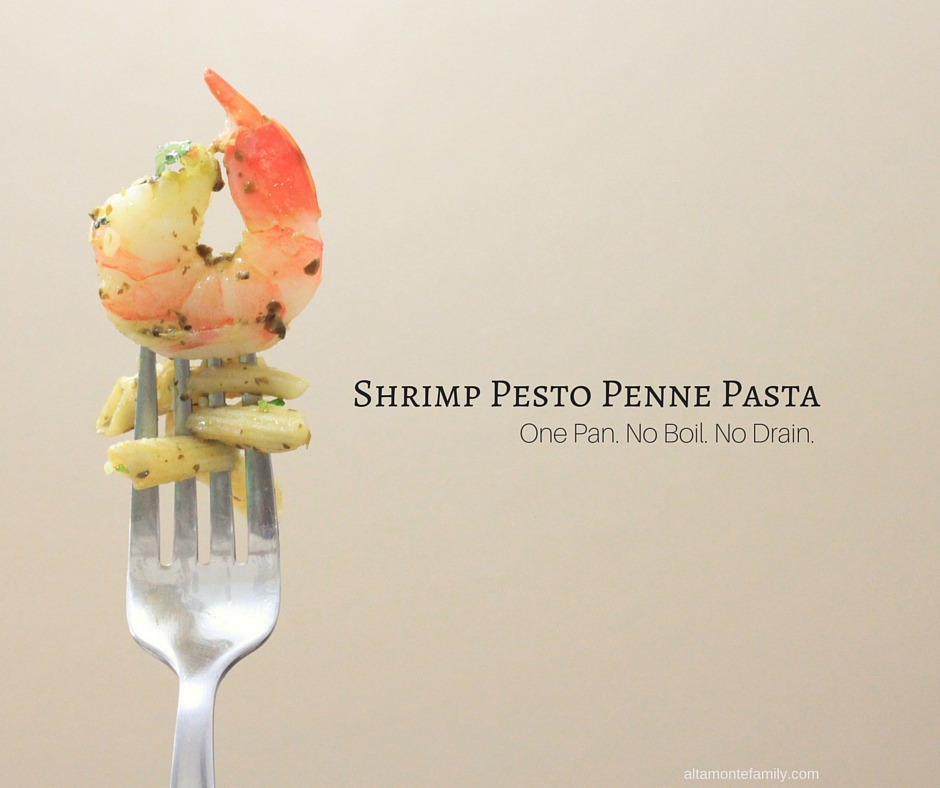 Seriously! No boil, no drain, one pan? Yesss, please! This is key to motivating this time-strapped millennial, yours truly, to cook! I love to eat, but I'm not a fan of washing dishes or spending too much time in the kitchen. Are you with me? Eating out has its perks, but cooking at home has its many pluses (if it's easy enough), especially after a long day at work and/or attending back-to-back events (and wearing 4-inch stilettos).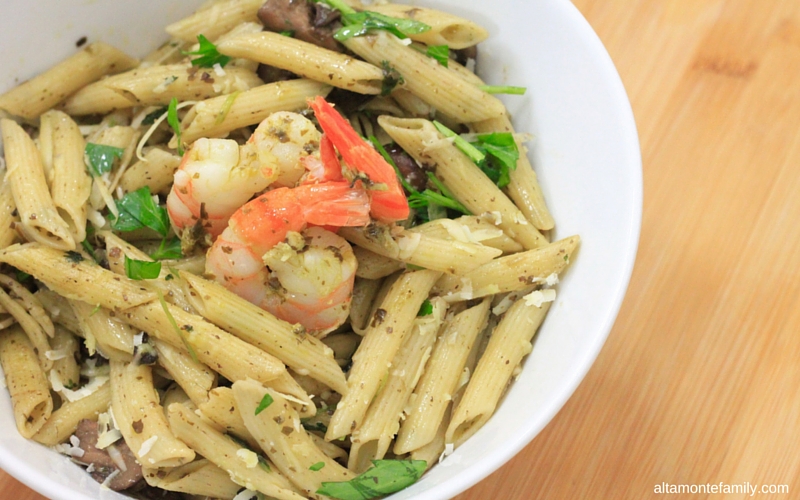 Anyway, I think I just said hello to making more simple, wholesome pasta dishes at home using a brand we trust–Barilla Pronto Pasta (an authentic Italian food brand and the #1 choice of Italy)! If I can do this, you can do it, too!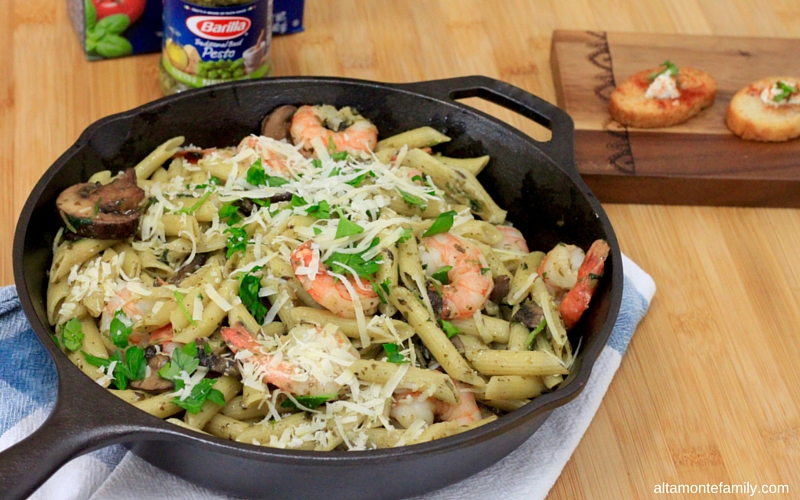 Grab a pen (or stylus), and start making a list of your favorite pasta recipes from your favorite restaurants. Then, bring the experience home by combining the perfect match of high quality pasta + pasta sauce + a few simple ingredients. It's as simple as that! Here's my favorite combo: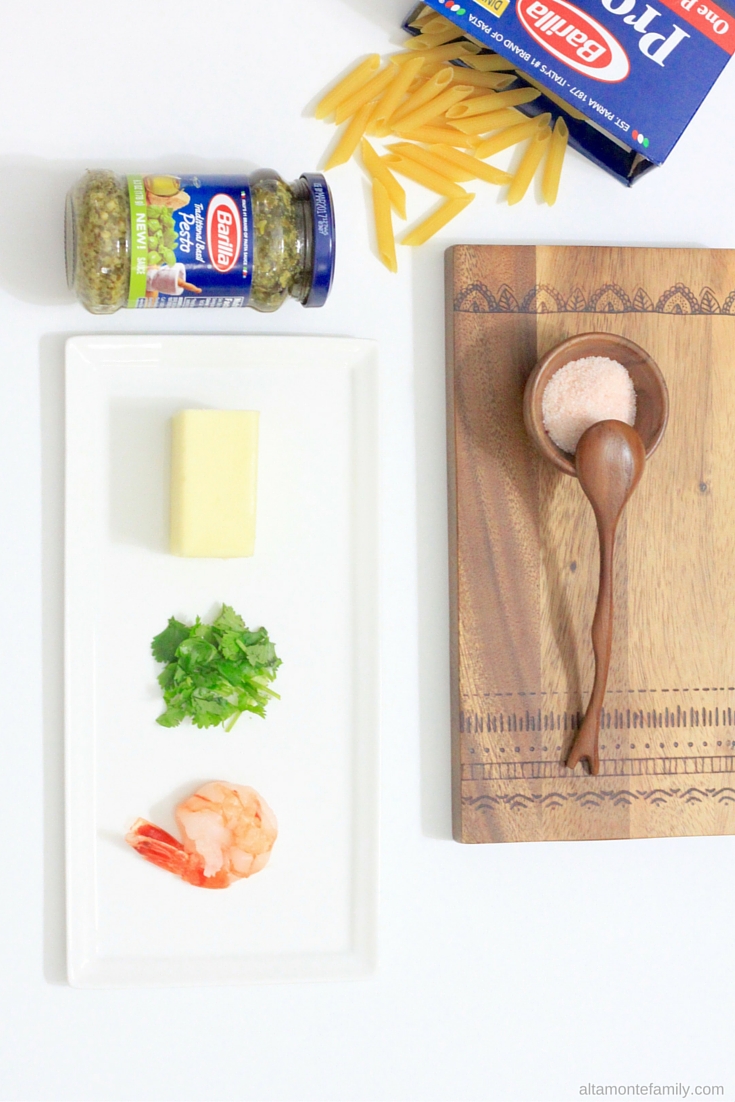 Do you love pesto just as much as I do? Then, you'll probably love the perfect combination of Barilla Pesto Sauce and Barilla Pronto Penne Pasta! I really enjoy the quality taste and well-being this simple combination brings to the table, without the fuss that comes with time-consuming steps.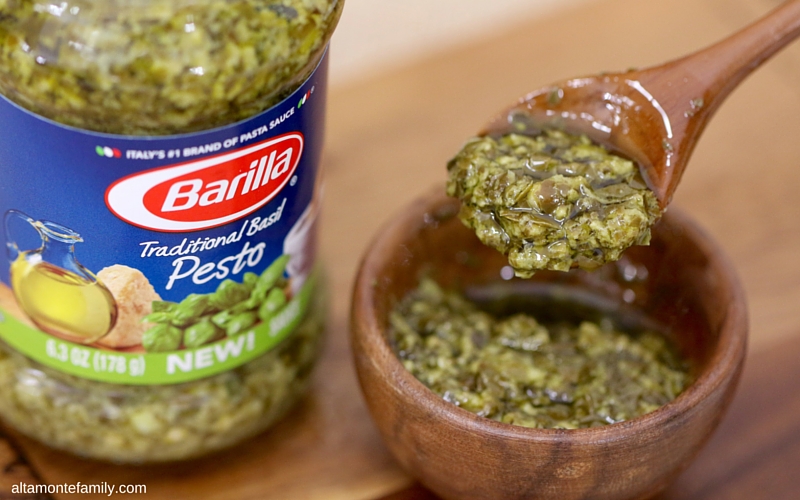 Recipe: One-Pan Shrimp Pesto Penne Pasta
Making your own signature Italian-style pasta at home has never been easier! Scroll down to find the step-by-step photos if you're more of a visual learner like me.
Servings: 6*
Prep Time: 5 minutes
Cook Time: 15-20 minutes (depending on your stove)
Total Time: 20-25 minutes
*For reduced serving size preparation, see side panel of Barilla Pronto Penne Pasta box.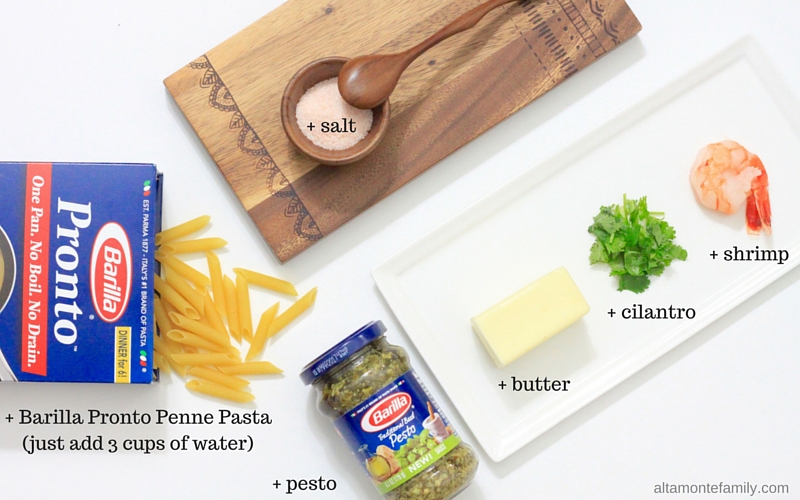 Ingredients:
1 12-ounce package Barilla Pronto Penne Pasta
3 cups cold water
1/2 tsp salt (or fish sauce**), to taste
1/2 of the 6.3-ounce jar Barilla Pesto Sauce
1/4 cup fresh cilantro, chopped

1/4 cup (1/2 stick) unsalted butter

1/2 pound cooked, shelled, deveined shrimp
Optional mix-in: 1 pound sliced baby bella mushrooms (the prepackaged ones work just fine)
Optional topping: freshly grated Parmigiano-Reggiano cheese
Optional garnish: fresh Italian parsley, chopped
**An awesome chef who works at our favorite Italian restaurant once revealed that he uses a little bit of fish sauce to flavor the pasta.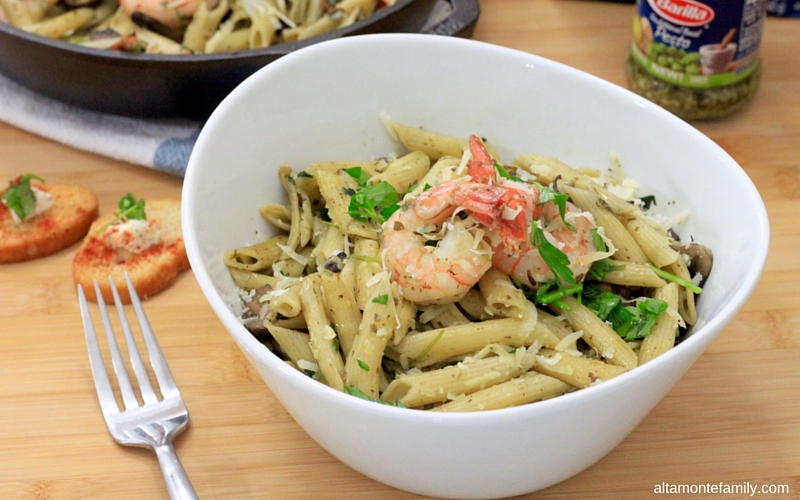 Directions:
Step 1.  Pour contents of Barilla Pronto Penne Pasta into a large skillet and combine with 3 cups of cold water, ensuring that the water covers the pasta.
Step 2. Add salt (or fish sauce), to taste, and cook on high for 10 minutes (depending on your stove), stirring regularly, until most of the water is absorbed.
Step 3. While waiting for the pasta to cook, place frozen shrimp in colander and let sit in running cold water until thawed.
Step 4. Reduce heat on stove, fold in Barilla Pesto Sauce and mix-in's, and heat through 3-5 minutes until butter has melted.
Tip: Cube up the butter into smaller chunks for faster melting.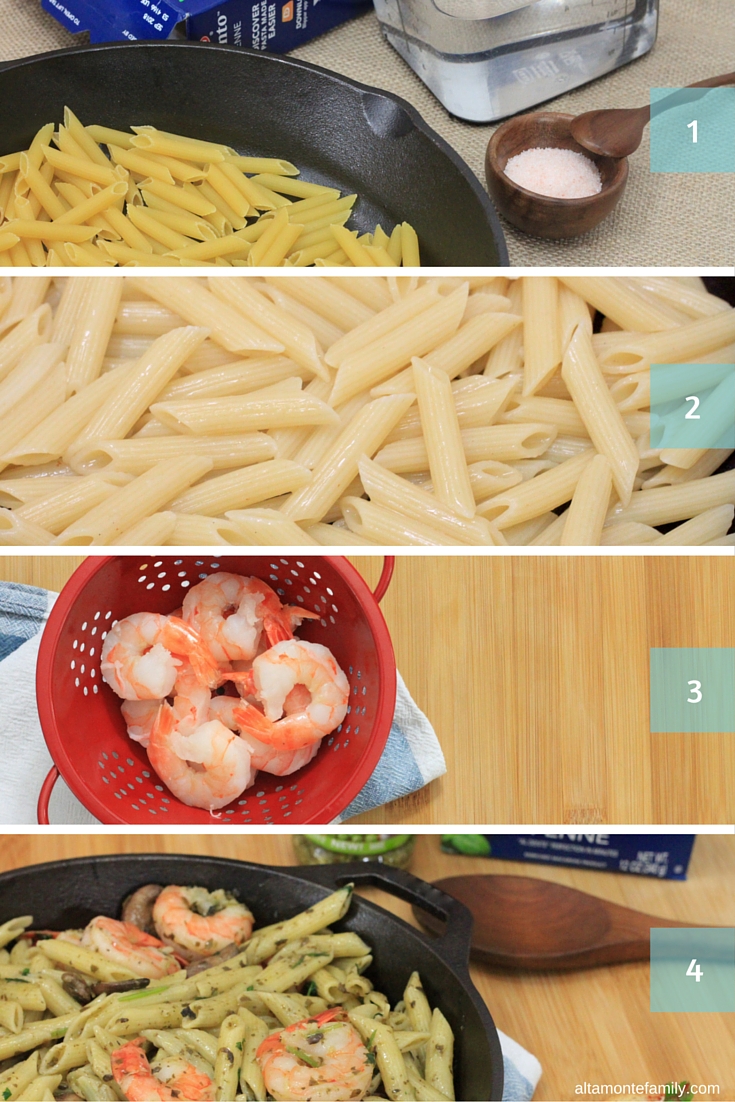 Just like that. If desired, top with freshly grated Parmigiano-Reggiano cheese and garnish with fresh parsley.
Easy enough, right?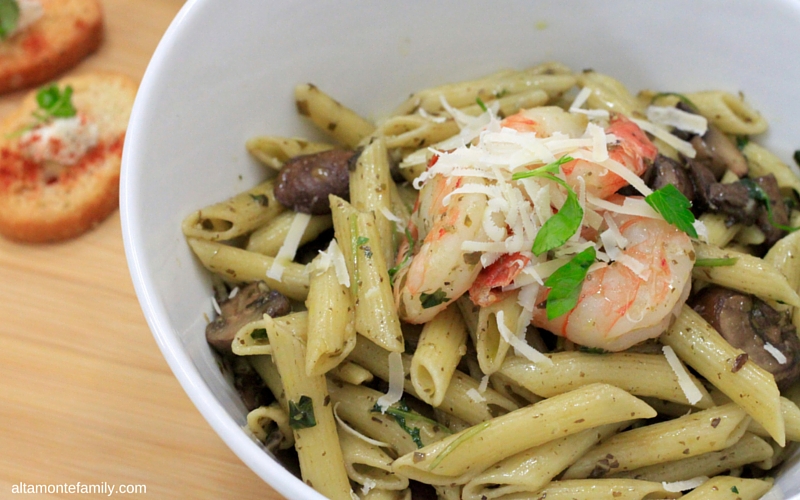 Ready to make your grocery list?
Make sure to choose the Barilla box that says "Pronto" on the front (I used Barilla Pronto Penne Pasta). I found the Barilla Pesto Sauce on the top shelf in the same aisle. It's smaller than the other tomato-based sauces, so keep an eye out for this little green goodness in a jar 🙂
Pssstt— Did you know that Barilla Pronto Pasta won the 2016 Better Homes & Gardens Best New Product award?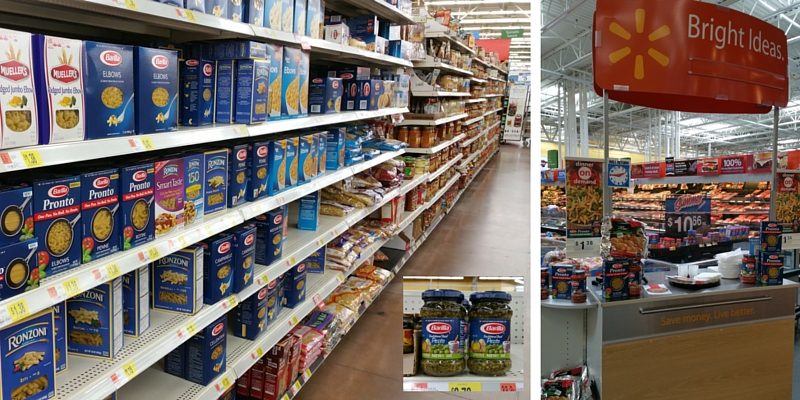 By the way, I attended a product demo at Walmart this weekend and got to learn new ways to make easy and delicious recipes with Barilla Pronto Pasta. See those Barilla Marinara sauces in the photo? Yum!
Want to make your own signature Italian-style pasta recipe? It's super easy with all the different varieties of Barilla Pronto Pasta at Walmart. Enjoy!
---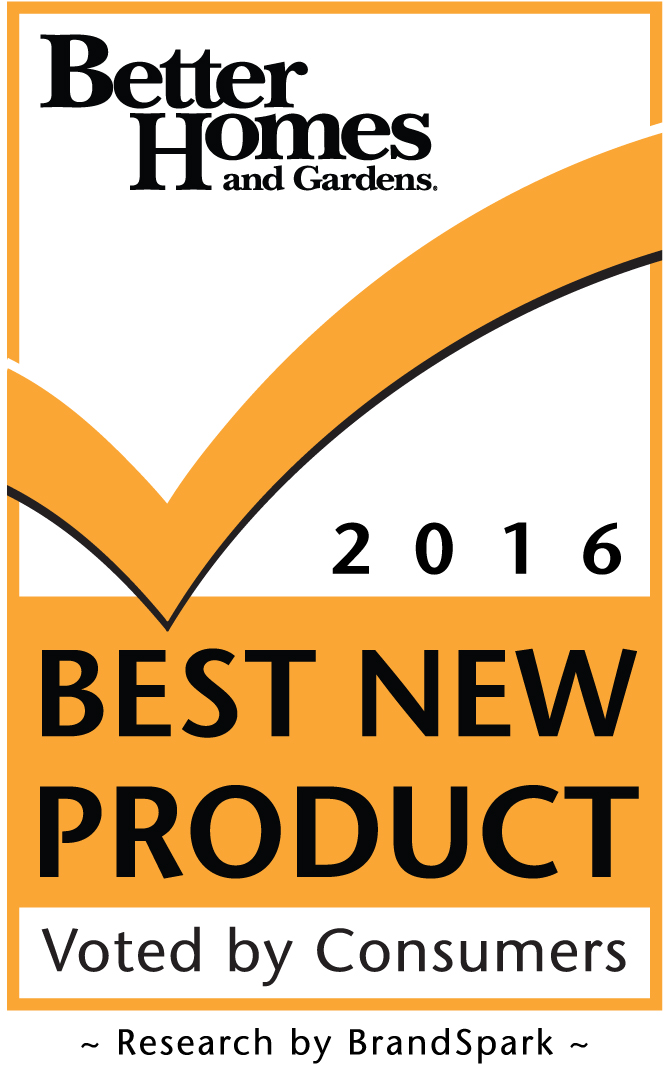 Category of Win: Best Food & Beverage Products
Specific Winning Product: Barilla Pronto Pasta
Specific Year of Win: 2016
Based on the 2016 BrandSpark/Better Homes and Gardens American Shopper Study of 38,000 voters nationwide. For more information visit www.BestNewProductAwards.com
---
We're Social! If you liked today's post, feel free to share, bookmark, or pin it! Follow us on Pinterest, Facebook, and Instagram for more updates on our latest projects and adventures.