Have you ever tried Noosa yogurt before? You know those seemingly overpriced 8-oz tubs of finest yogurt goodness? The cost per tub may seem difficult to justify but truth be told, it didn't take much for us to get hooked.
Noosa Coconut Yogurt: Breakfast Or Dessert?
Noosa for breakfast or dessert? It's really up to you. We still remember the time when Noosa hit the Hawaii market by way of Whole Foods. We were expecting our third child at the time, and boy did we go crazy with filling our shopping baskets with this fine yogurt treat. That's right. We call it a "treat". It's reminiscent of the smoothest cheesecake you will ever find, especially their honey-flavored yogurt. It doesn't taste like your everyday yogurt. It's like eating dessert (without the flashbacks of your mother glaring at you for eating your dessert first). It's yogurt. It's so good, the shelves at Whole Foods in Waialae were always wiped clean of these treats as soon as the shipment arrived (at least such was the case back then when we used to live in Hawaii)! We were obsessed and even asked the Store Manager for the shipment schedule. Blame it on the cravings. Blame it on something… until the doctor tells you to stop eating yogurt (and other stuff) until your headaches and migraines during pregnancy go away (yup, that's what she said after we just filled up our refrigerator with nearly a month's supply–okay, we're exaggerating).
Fast forward to 2015. We're pregnant. Again. This time, with other complications: Gestational Diabetes and Pregnancy-Induced Hypertension. Thankfully, those scary conditions went away shortly after the baby was born (we're still being careful about the sugar and salt intake, though). For a while, we made sure not to buy any Noosa lest we get too tempted to fall into Noosa overdose. The good news is, there's always light at the end of the tunnel–the baby is now a few weeks old and we're able to at least take him to the store with us using our Moby Wrap. Of course, something just had to catch our eye while grocery shopping! There it was. It was calling out our names, one by one. And we each answered and called it right back. Noosa was its name. Now, it comes in new flavors–it's no suprise that they just had to make Coconut Noosa (we heard they've had it for about a year now)! Two 8-oz tubs of Noosa came home with us that night, and guess what one of us had for breakfast the very next morning?
That's right–Noosa Coconut Yogurt!
The 8-oz tub of Noosa Coconut Yogurt comes with 14 grams of protein, 29 grams of carbohydrates, and 27 grams of sugar.
Ahhh! 27 grams of sugar? That's a lot!
That number didn't seem like a lot until Gestational Diabetes paid us a visit during our most recent pregnancy this year.
Adding In KIND Granola To Lessen The Guilt
Perhaps throwing in some granola would lessen the guilt of splurging on eating Noosa straight out of the tub. It was so tempting to do just that, especially when you're sleep deprived, hungry, and not in the mood to make a hearty breakfast from scratch.
Thankfully, adding in the granola wasn't so hard. We had a bag of unopened "KIND" Granola that we've been meaning to try, especially since it has 2 of our favorite ingredients: honey and coconut. We're thrilled that it's low on sodium (especially after having high blood pressure problems) and that 1/2 cup of this granola mix contains 32 grams of whole grains (according to the package details).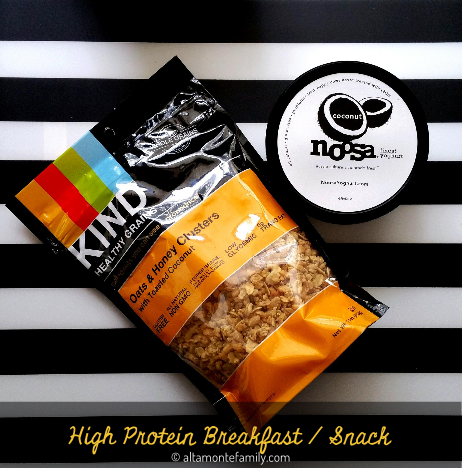 Together, the Noosa Coconut Yogurt (8-oz tub) + KIND Granola (1/2 cup) = 18 grams of protein, 7 grams of dietary fiber, 36 grams of sugar, and 65 grams of carbohydrates.
Whoa! That's a lot of sugar and carbs! But it also comes with a decent amount of protein and fiber, so we're going to look on the brighter side of things 😉 After all, we don't plan on doing this too often–but it sure is a nice, easy, and delightfully yummy way for the sleep-deprived to have breakfast! The yumminess of the Noosa Coconut Yogurt makes a 5-minute breakfast feel like a well-deserved break. The granola was okay, except for the toasted coconut flakes (they didn't taste too fresh) that was in the mix. We'll probably look for a different flavor next time.
Anyway, we'll continue to be on the lookout for yummy, healthy, and super-easy breakfast / snack solutions (for sleep-deprived parents) like this one! If you have any ideas to share, feel free to let us know in the comments!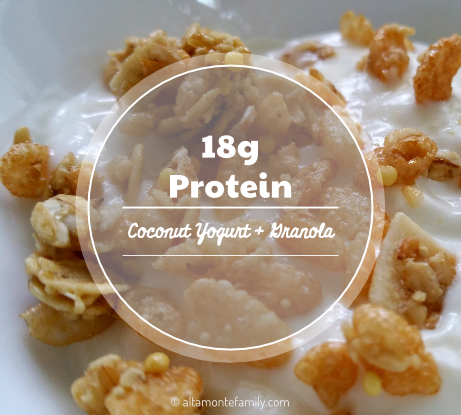 NOTE: We're not the experts, so please don't take this post as medical advice. We're just sharing what works for us based on our own research, observations, experience, and personal opinion. It's always best to consult with your doctor, nutritionist, or any other health care provider regarding your own health and nutrition.
Disclosure: As of the time of writing this post, AltamonteFamily.com is by no means affiliated with any of the companies or organizations mentioned in this article. AltamonteFamily.com has not been compensated in any way nor has AltamonteFamily.com been influenced to write about these products. This post is a result of the personal observations and independent research of members of AltamonteFamily.com. All opinions solely belong to AltamonteFamily.com.