We're well into the first week of the New Year! If you're like us, you probably packed on a few extra pounds during the holidays. Combine that with some winter weather that makes you want to curl up in bed and read a good book, only to get up for a quick break to leisurely sip on some hot chocolate, coffee, or chai. Okay, vacation's over! It's time to power up, get our energy levels back, and start shedding off that bloat (and then some). So, our first stop: the pantry. We searched through what we already had and came up with a recipe for these super-easy, No Bake Chocolate Coconut Granola Protein Bars!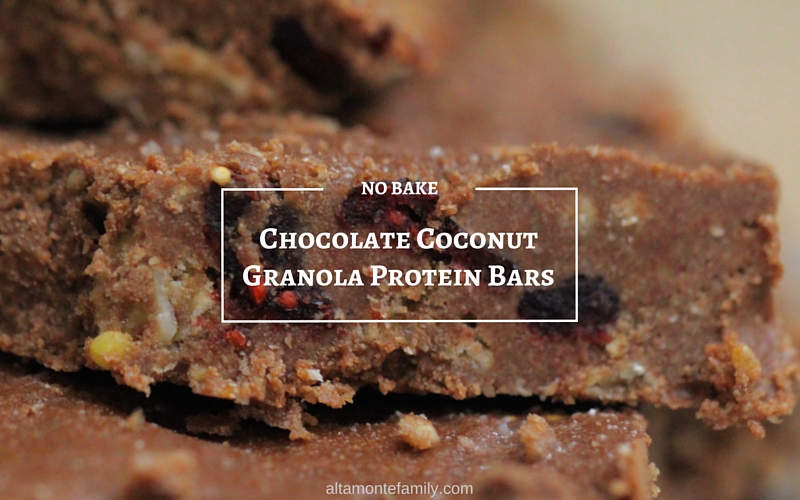 This recipe reminds me of my childhood when my brother and I would raid the pantry for some dry ingredients like powdered milk, cocoa powder (or powdered chocolate drink mix), and whatever any other nutty and fruity snacks that we could find.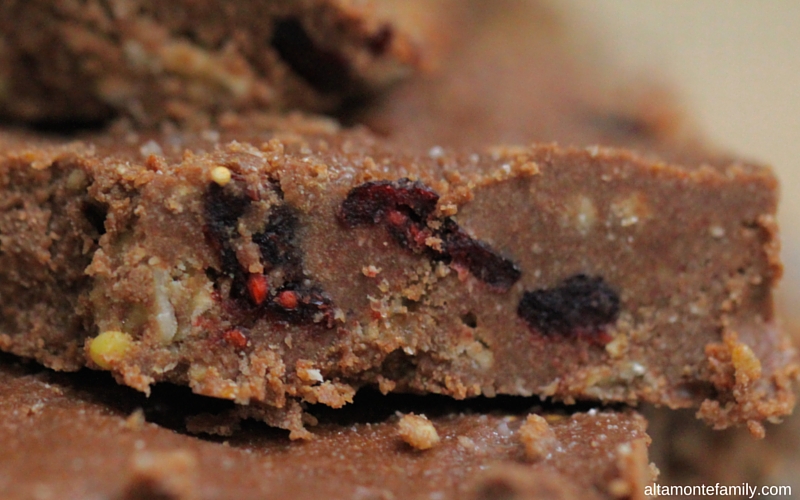 This grown-up recipe for No Bake Chocolate Coconut Granola Protein Bars, however, has much less sugar and much more protein. Our grown-up metabolism isn't as awesome as it used to be 😉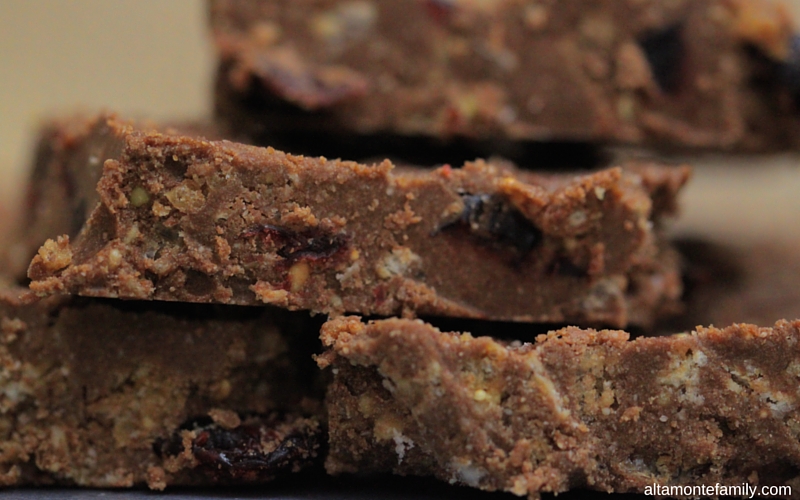 Recipe: No Bake Chocolate Coconut Granola Protein Bars
If you love chocolate, coconut, granola, and dried berries like we do, then this recipe is for you! We didn't have any chocolate protein powder so we used the vanilla protein powder, instead. We think it turned out even better! The vanilla twist is the secret ingredient that made our taste testers think that we secretly snuck in some cheesecake ingredients in there. Ha!
Servings: 25 small squares
Active Time: 5 – 10 minutes
Inactive Time: 15 minutes
Total Time: 20 – 25 minutes
Ingredients:
2 cups vanilla protein powder
1 cup organic coconut flour
4 tbs organic raw cacao
1 cup organic honey granola (with toasted coconut flakes, preferred)
2/3 cup dried cranberries
1 cup organic cold-pressed extra virgin coconut oil (melted, if necessary)
3 tbs organic agave nectar
Instructions:
Combine all ingredients in a large mixing bowl.
Transfer mixture into a 9 x 9 nonstick baking pan.
Chill in freezer for no more than 15 minutes.
Cut into small squares and serve.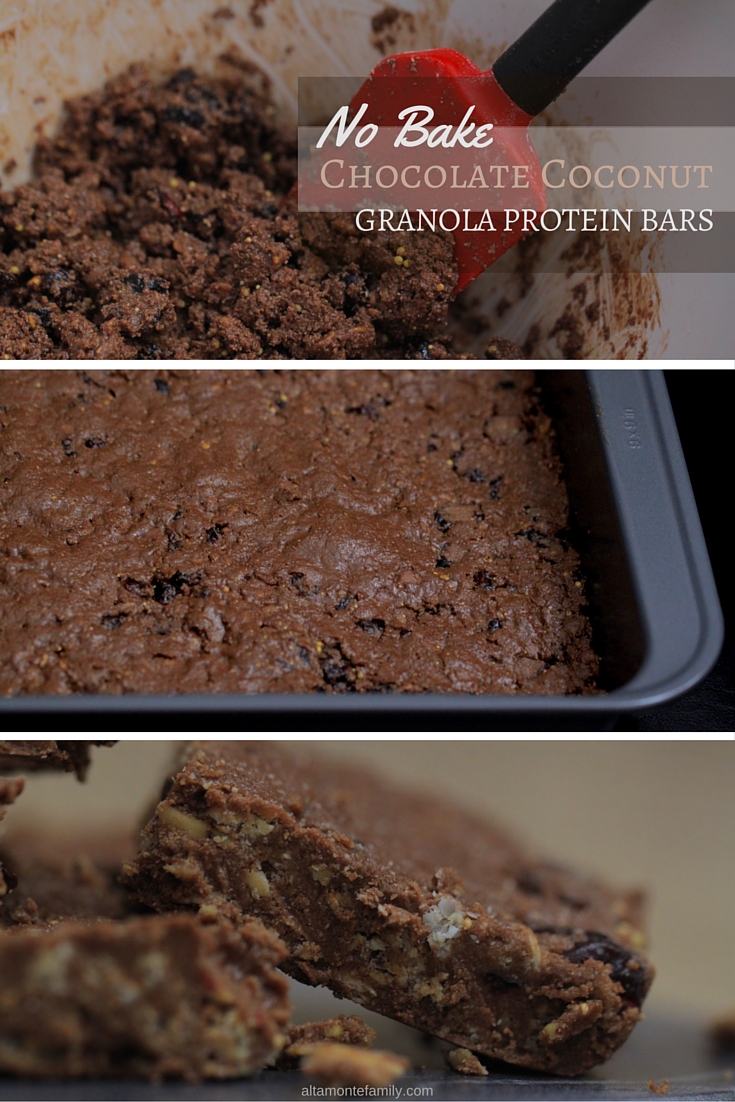 That's it. It's that easy!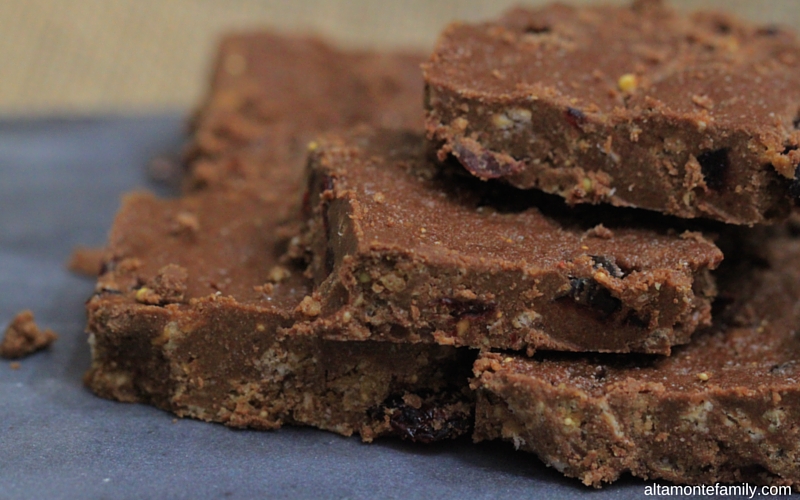 These No Bake Chocolate Coconut Granola Protein Bars are so good, they almost didn't make it to this blog. What you're seeing are the "rescued" squares, but they didn't stay rescued for much too long after we took the photos. Okay, don't pay attention to us anymore and start making these yummies now!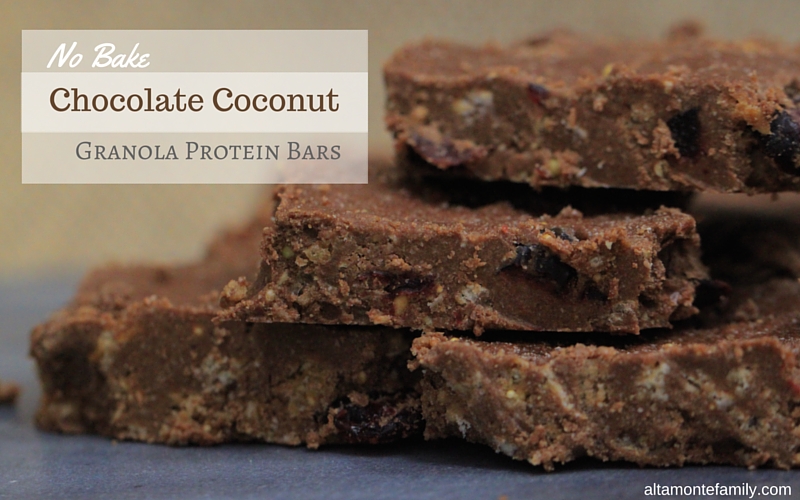 If you're looking for other protein snacks, check out these other recipes that we previously shared:
High Protein Coconut Yogurt Crunch
Flourless Chocolate Walnut Muffins
If you like today's recipe, feel free to share, bookmark, or pin it! Enjoy!
---
We're Social! Follow us on Pinterest, Facebook, and Instagram for more updates on our latest projects and adventures.