If you're looking for patriotic things to do with your family this summer, why not take a road trip over to Plymouth, Massachusetts, to check out the National Monument to the Forefathers?
A Note About Driving Directions: It's off of Allerton Street–the last time we checked Google Maps, we couldn't find an actual address for it, so we just typed up "National Monument to the Forefathers".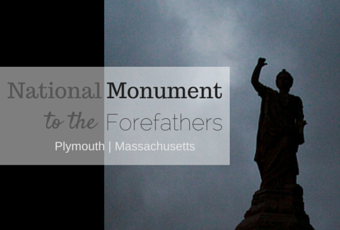 According to WikiPedia (at the time of this post), this monument is not recognized as a federal national monument as understood today from the Antiquities Act of 1906, although the structure is intended as national in scope. This is probably why you won't find prominent driving directions and signage to the place and it appeared to be tucked away, hidden in between lots of tall trees. Nonetheless, we think it's a very important and significant structure that your kids must see!
Spend some time reading and digesting every word on the monument to grasp our nation's true founding and guiding principles. You will find that each part of the structure had been meticulously thought-out by our forefathers to communicate and perpetuate our nation's heritage.
Our family took a moment to pray over our country and our leaders from sunset until it got dark and chilly. We saw other groups of people gathered together around the monument, and they were also praying! Prayer is a powerful thing, and our nation could sure use a lot of it! Even a little bit of light can cut through the darkness.
If my people, which are called by my name, shall humble themselves, and pray, and seek my face, and turn from their wicked ways; then will I hear from heaven, and will forgive their sin, and will heal their land.
(2 Chronicles 7:14 KJV)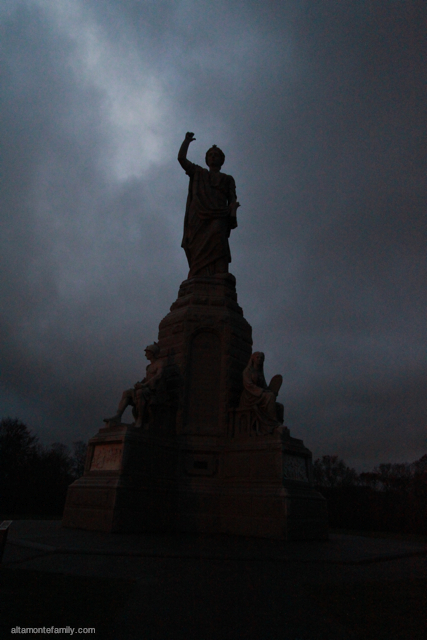 We first heard about the National Monument to the Fathers when we watched Kirk Cameron's film, Monumental. We will be watching the movie again today with our kids to kick off the 4th of July weekend!
There are many things to thank God for, especially on Independence Day! Earlier, we talked about teaching our kids to remember and appreciate our military, especially for their commitment, sacrifice, and bravery. Now, we're teaching them to be thankful for the efforts and great faith of our forefathers. Their journey from England was no easy feat! If not for their undying dedication, we wouldn't have the country that we have today!
We really hope more people would hear about this great structure and would take the time to visit, especially when there's more daylight during the summer months. We visited on Thanksgiving Day and didn't have enough light at night to stick around (the area is not very well lit at all–it's nothing like the Washington D.C. monuments, which are obviously well-funded).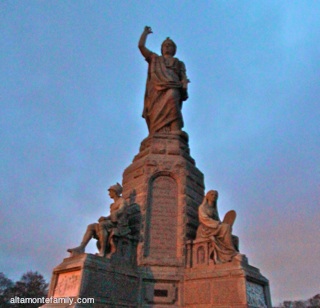 We encourage you to consider visiting the National Monument to the Forefathers in Plymouth, Massachusetts–and perhaps, watching Monumental  before your visit. We hope to visit Plymouth, Massachusetts, again, in the future to learn more of our nation's history with our children.
---
Disclosure: As of the time of writing this post, AltamonteFamily.com is by no means affiliated with any of the companies or organizations mentioned in this article. AltamonteFamily.com has not been compensated in any way nor has AltamonteFamily.com been influenced to write about these products. This post is a result of the personal observations and independent research of members of AltamonteFamily.com. All opinions solely belong to AltamonteFamily.com.