Today, we received an email from Google Webmaster Tools that our manual spam action has been revoked! On June 24th, we received some terrible news that our website (which was then only 2 months old) had been hacked with some spammy links. This resulted in a violation of Google's quality guidelines. We needed to act. Fast.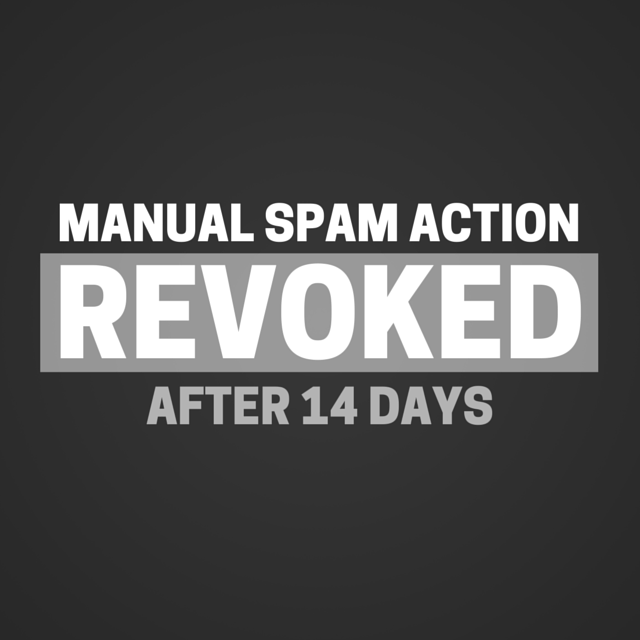 Hacked Site: Manual Spam Action Revoked By Google After 14 Days
After doing tons of clean-up work on our WordPress blog per Google's recommendations for a hacked site, we finally received the message below 14 days after submitting our official Reconsideration Request to Google (this seems to be the average response time, according to what we've been hearing from others who have experienced something similar):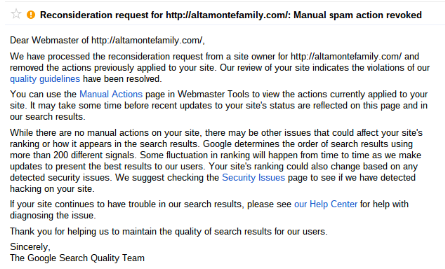 We did mention in a previous post that we received 2 manual actions from Google: one partial and one site-wide. The partial action was removed a few days ago and we didn't receive any emails or notifications about it. We certainly hope that the message above is related to the site-wide manual action and that it's just a matter of time before it is removed from our Manual Actions page (we will keep you posted). As stated in the above letter from Google Webmaster Tools,
It may take some time before recent updates to your site's status are reflected on this [Manual Actions] page and in our search results.
To give you a visual, this is the site-wide manual action notice that's still sitting in our Search Console (Google Webmaster Tools):
Notifications like these can easily make one's heart (and Google Analytics traffic) sink.
Update as of July 16, 2015:
After checking Google Webmaster Tools two days later, we're pleased to say that the manual action notice has been removed from our Search Console. This is what we found, instead (God is good, our prayers have been answered):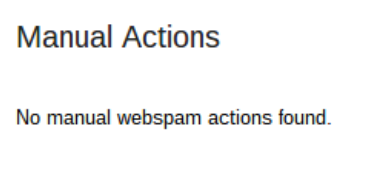 ---
Manual Penalty by Google: The Negative Effects Of A Hacked Site
Despite the good news of having our manual spam action revoked, we're very well aware that it will take some time for our WordPress blog to recover its search rankings. The hacker did a lot of damage in such a short window of time.
Here's the deal: we're not going to give up! Actually, we're looking forward to our blog being born again!
We will continue on with our blog journey and will keep you posted on how our site is recovering, despite the following recent occurrences:
Getting hacked with spammy links
Receiving an alleged DMCA (Digital Millenium Copyright Act) violation notice after the hacker used our site to offer free downloads of books and movies that belong to someone else
Suffering from Google penalties (which included 2 manual actions)
Removing all of our popular posts (which negatively affected our search rankings) since the hackers exploited some of them and made several follow-on attempts to re-hack them
Having our Content Keywords (found in Google Webmaster Tools) skewed following the hacker's actions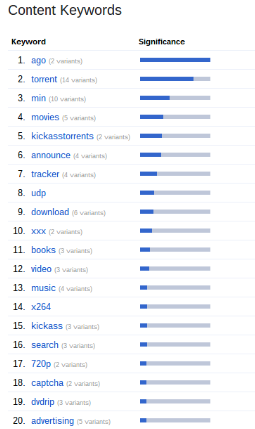 NOTE: None of the content keywords above are relevant to our topics!!!
Having our website's credibility tank due to the questionable internal and external links injected by the hackers (just imagine the hundreds of domains that we had to disavow; we're glad we found this post from the MozBlog to streamline the process)

Experiencing Crawl Depth problems after the hackers exploited our website (not to mention all of the Crawl Errors!)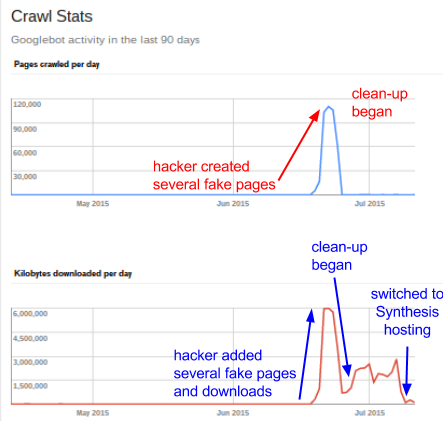 Positive Signs After Switching To Synthesis (Managed WordPress Hosting)
We're not exactly sure why the kilobytes downloaded per day were still climbing up following our clean-up, but we can note that this was happening the same time we noticed the hackers re-attempting to infiltrate our website, every single day. We then decided to switch to Synthesis hosting (they specialize in managed WordPress hosting), and that's when the numbers dropped almost instantly (which is a good thing). We're not sure if it's a coincidence that Google revoked our manual spam action after our switch to Synthesis; either way, we believe we're headed in the right direction.
---
What We Included In Our Reconsideration Request to Google After The Hack
These are the initial steps that we took during the clean-up process; we included them in our Reconsideration Request to Google for the site-wide manual action (we sent a separate one for the partial manual action that followed). It took us days to do the clean-up; we waited another 6 days before sending the request.
Our [previous] hosting service has quarantined the bad PHP files created by the hacker
We deleted all old WordPress files and did a clean WordPress installation of the latest version
We deleted all of our old WordPress plug-in's and re-installed clean, up-to-date copies of the few plug-in's that we decided to retain
We changed our WordPress theme and deleted all themes that we do not intend to use
We deleted all of our old web pages since the attack to make sure that the hacker's hidden code on our good pages are no longer served to our readers (we have since started over)
We installed the VaultPress plugin for backup and security
We disavowed 331 domains that pointed to approximately 5,000 bad URLs
We edited URL parameters so that Googlebots do not index spammy, duplicate content created by the hackers
We read up on SEO and edited our default SEO plug-in settings to make sure that tags are not indexed to avoid duplicate content
We went through all of the steps listed by Google re: handling hacked sites to the best of our ability
We're not saying that this is how you should structure your Reconsideration Request. We're simply sharing our journey with you and hope to have more good news down the road. We're not sure how long it's going to take, yet we remain hopeful. As with all the other storms in life, we trust that God will see us through this one, too! We will not let these hackers dampen our calling to write and blog.
We certainly hope that you don't find yourself in a similar situation, but if you do, we hope that you're able to find some helpful pieces of information from our experience.
Keep on blogging (but don't forget about the importance of security)!
Disclosure: As of the time of writing this post, AltamonteFamily.com is by no means affiliated with any of the companies or organizations mentioned in this article. AltamonteFamily.com has not been compensated in any way nor has AltamonteFamily.com been influenced to write about these products. This post is a result of the personal observations and independent research of members of AltamonteFamily.com. All opinions solely belong to AltamonteFamily.com.