Happy first day of December! The countdown to Christmas has begun! Well, for many of us, it began much sooner than that. Holiday baking started early in our house this year, especially since we started #CookieSwappinGood, our Virtual Cookie Swap Holiday Party! We're coming up on Week 7 already (that's tomorrow), and we're adding our Easy Magic Cookie Bars to our growing list of #CookieSwappinGood recipes!
Our friend gave us the recipe for these delicious "magic bars" or "magic cookies" or "magic cookie bars"… whichever way you want to call 'em! No mixing required! We can't decide if crushing the graham crackers or slicing the cookies or waiting for them to cool down is the most painful part of the process. You be the judge 😉 Our kids seem to agree on the latter. Go figure!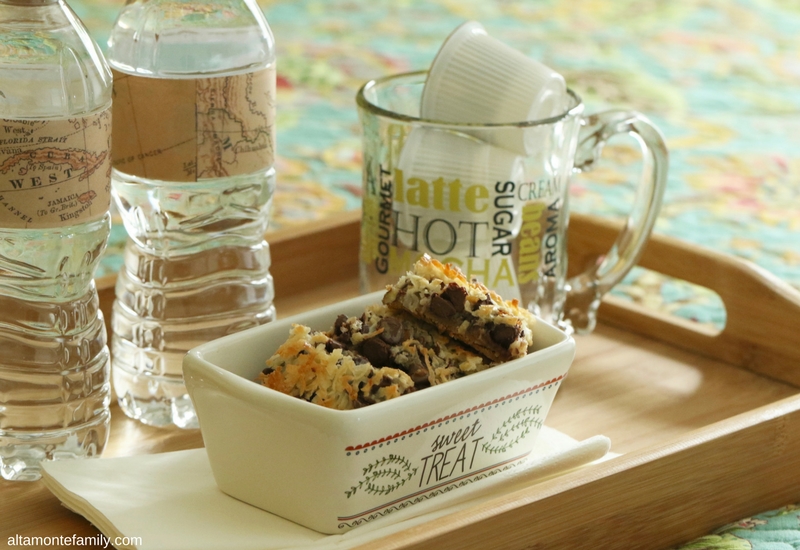 Recipe: Easy Magic Cookie Bars
If you're looking for a super fun and super easy cookie recipe to make with the kids for the holidays, these Magic Cookie Bars just might do the trick! It's ridiculously painless to make–there's no need to mix anything. It's all about the layers!
Servings:       Makes 16 – 20 cookie bars
Prep Time:   5 – 10 minutes
Bake Time:   25 minutes
Cool Time:   15 minutes
Total Time:  50 minutes
Ingredients
1 stick butter
1 1/2 cup gluten-free graham cracker crumbs
1 cup chopped nuts
6 oz semi-sweet chocolate chips / morsels
1 1/3 cup coconut flakes
15 oz (1 can) condensed milk
Directions
Preheat oven to 350 degrees Fahrenheit
Melt butter in 9 x 13 baking pan
Sprinkle crumbs evenly over butter
Add a layer of chopped nuts, followed by chocolate chips, and then coconut flakes
Pour condensed milk on top of all the layers
Bake for 25 minutes or until brown
Allow to cool before cutting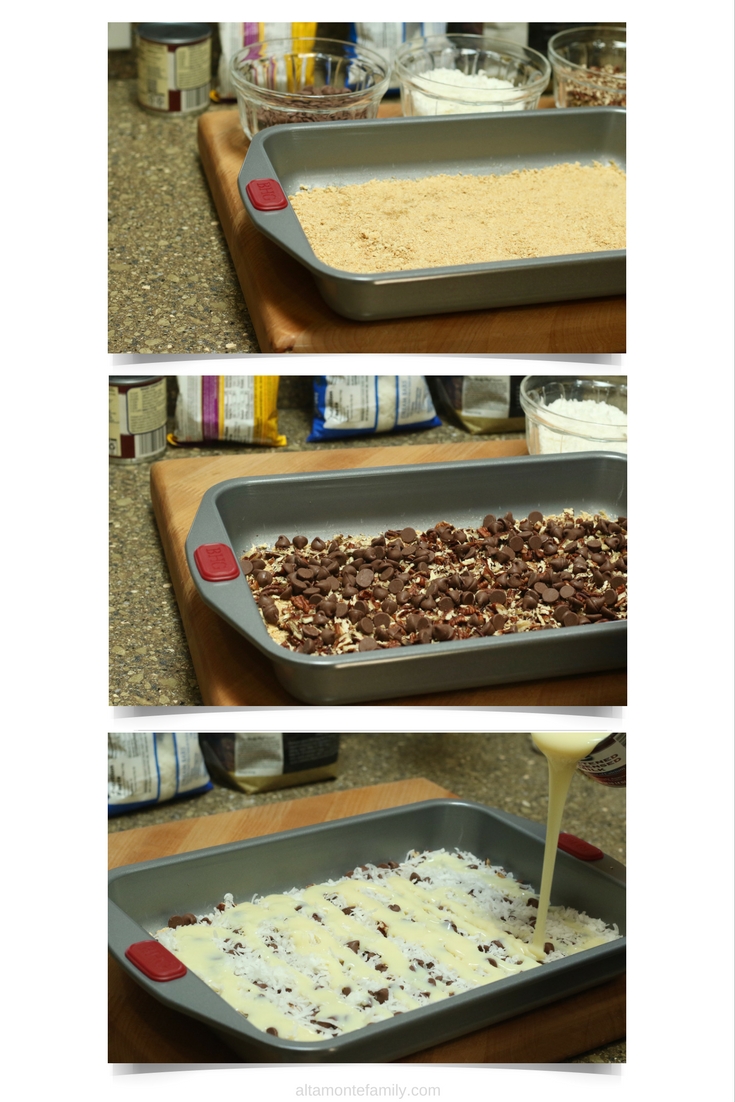 This is what the finished product packed with delicious layers of goodness looks like!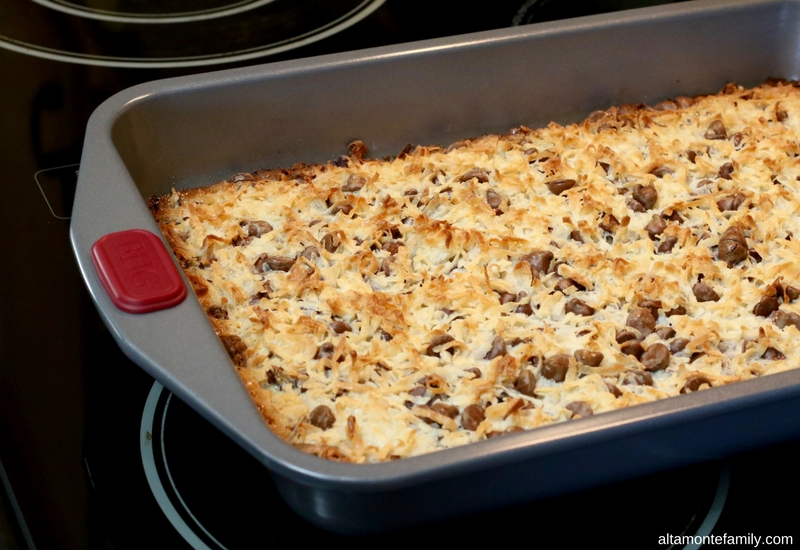 We cut it down the middle, in half, to make slicing a whole lot easier (we used a pizza cutter, if that helps).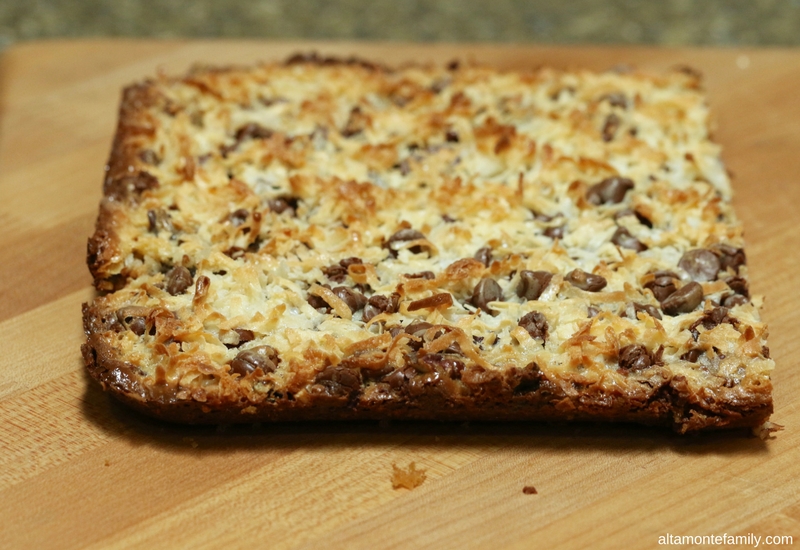 Here they are! The condensed milk (top layer) bound them altogether nicely.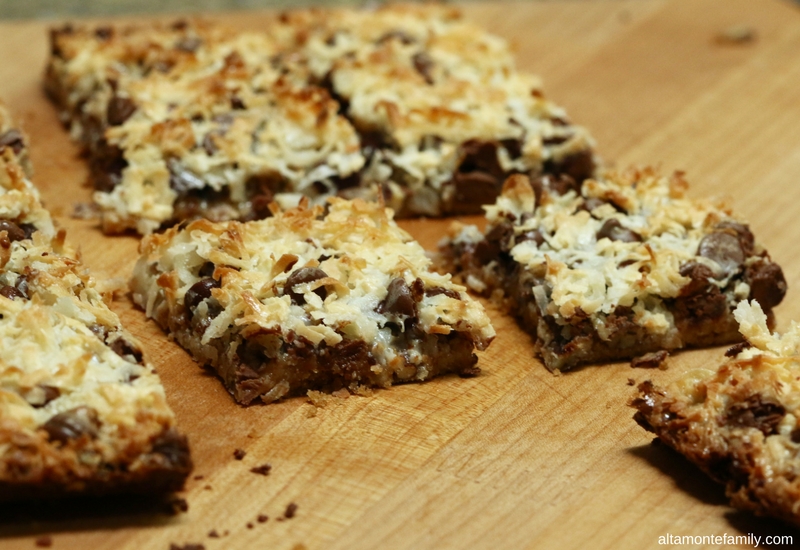 If you need to make cookies in a pinch without breaking open that nice 'n shiny electric mixer of yours, make these Easy Magic Cookie Bars! Less hassle, less dishes, and full of flavor!
To find more sweet cookie inspiration, check out our #CookieSwappinGood page!
Enjoy!
---
We're Social! If you liked today's post, feel free to share, bookmark, or pin it! Follow us on Pinterest, Facebook, and Instagram for more updates on our latest projects and adventures.