This shop has been compensated by Collective Bias, Inc. and its advertiser,
Walmart Family Mobile. All opinions are mine alone.
#YourTaxCash #CollectiveBias
---
We're already one week into Spring, and so far, we've successfully managed to check a few items off of our home maintenance list! This calls for a celebration! After all, everyone in the family agrees that we've been missing our family movie nights! We've always enjoyed the VUDU movie perks that come with our Walmart Family Mobile PLUS Plan, and this weekend, we got to plus up our family night by celebrating small wins with a luau party! It's like a dinner and a show (okay… a movie)!

In case you're wondering what our small wins are all about…
This year, we've been focusing on maximizing our tax return and investing it back into our home and life. It's tempting to simply "spend" this hard-earned "tax cash" on other stuff, but it's so much better when it's "stretched" and invested / reinvested. For example, snagging a great deal on the Samsung Galaxy On5 (regular price is $119.00) + pairing it up with an awesome plan at great value (the Walmart Family Mobile PLUS Plan) allows us to stretch our tax cash even further. We're not only left with more cash to spend on our home maintenance projects, we're also able to enjoy unlimited* Talk, Text, and Data at only $49.88** per month.  (*Includes up to 10GB of 4G LTE data then 2G)
---
**Disclaimer: All prices for phones and plans included in this post are accurate as of the date of posting; however, these prices are subject to change. Please refer to this link or your local Walmart for current pricing.
---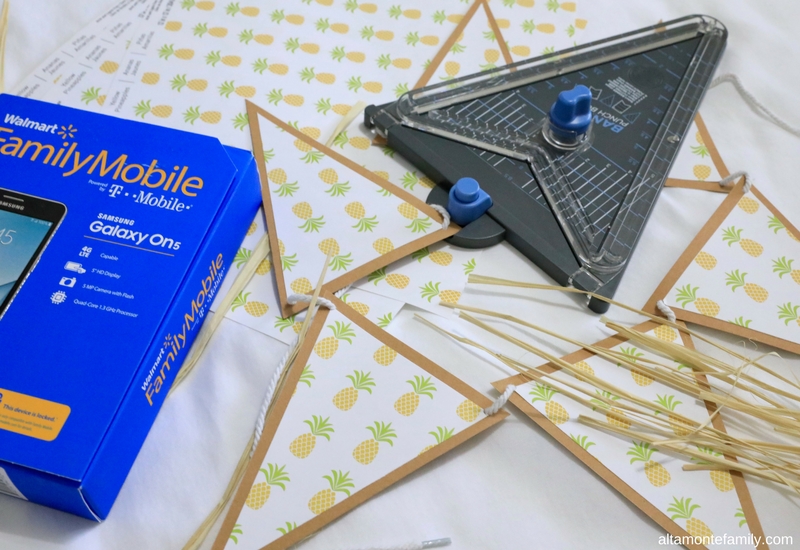 Since the Walmart Family Mobile PLUS Plan comes with a free VUDU movie credit every month per line (a $7 value, the same as a new movie release rental), we're able to plan and enjoy more family movie nights… even on busy, home maintenance project-filled months as these. That right there is the inspiration behind throwing a Family Movie Night Luau Party, along with this cute pineapple paper print that we had gotten on sale a few months back…
… Of course, let's not forget the small wins that we're celebrating: from re-shelving our garage to create more storage space to converting the study into a craft room (yes!!!) to transforming our entryway with color (yellow!). These accomplishments may be small in the home maintenance / home improvement world, but they sure have had a big impact in our quality of life!
Small wins with big impact? Yes, please! Let's celebrate!
How about a family-friendly, island-themed animated movie? 
… as long as it's not a princess movie, according to our boys… and we get to watch it on TV from the comfort of our own home (that's why maintaining and keeping our home comfortable is important to us)!

Luau Party Food
Having lived on O'ahu most of our lives, dare we say that the backbone of every great luau is the FOOD… and of course, the people! The decorations are only secondary. As a matter of fact, most of the luau decor that we see away from home are quite different from what we've grown to know. It's about using what you already have in your home, allowing others to pitch in (everyone who comes over is treated like  'ohana  or family), and enjoying good company and good food!
… Of course, it helps to have some Hawai'i decor on hand to kind of simulate that awesome island experience! (Psstt— good thing we cleaned out our garage! We were able to unearth some treasures that we had once upon a time brought back from Hawai'i!)
Tropical Fruit Trifles
Since we were going for a pineapple plantation feel (we used to live relatively close to the pineapple and sugar cane plantations on O'ahu), we just had to create a tropical fruit trifle recipe reminiscent of the times when we would drive along the North Shore. Talk about nostalgia!
Anyway, we decided to use these small, disposable appetizer cups instead of a trifle bowl to control serving size as well as for easy cleanup. Oh, and don't worry–we'll share the recipe with you at the bottom of this post. It's a super easy one, promise!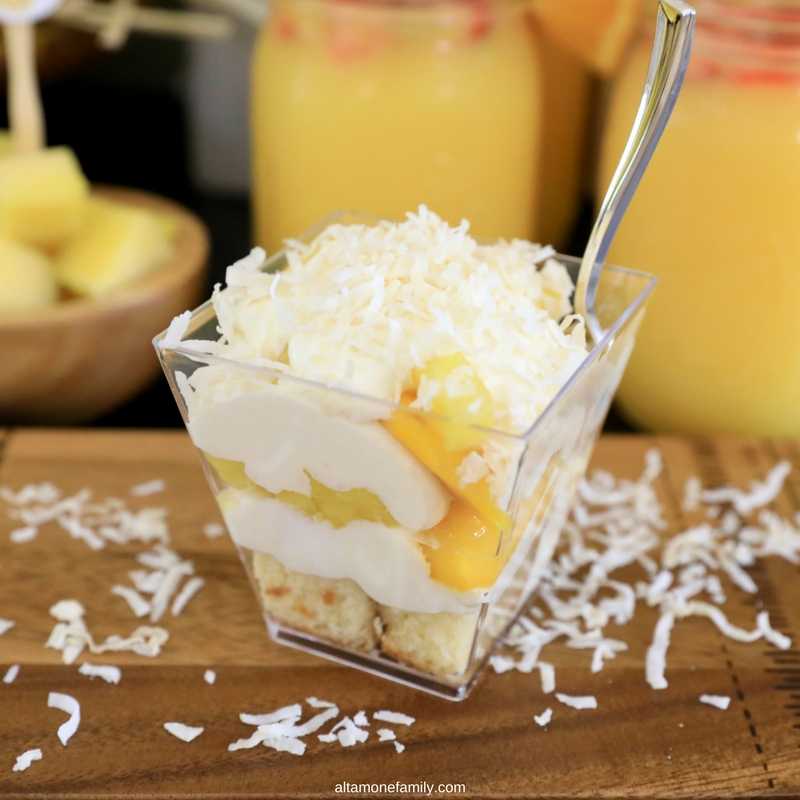 Smoked Pulled Pork Sliders
Inspired by the Kalua Pig recipes we got to enjoy while living on the island, these Smoked Pulled Pork Sliders were so easy to put together. To save time, we used frozen pulled pork from the store and simply threw it in the oven. But… if you'd like to get the tastier, homemade version, we shared a slow cooker pulled pork recipe here.
By the way, we used Hawaiian Sweet Bread… of course.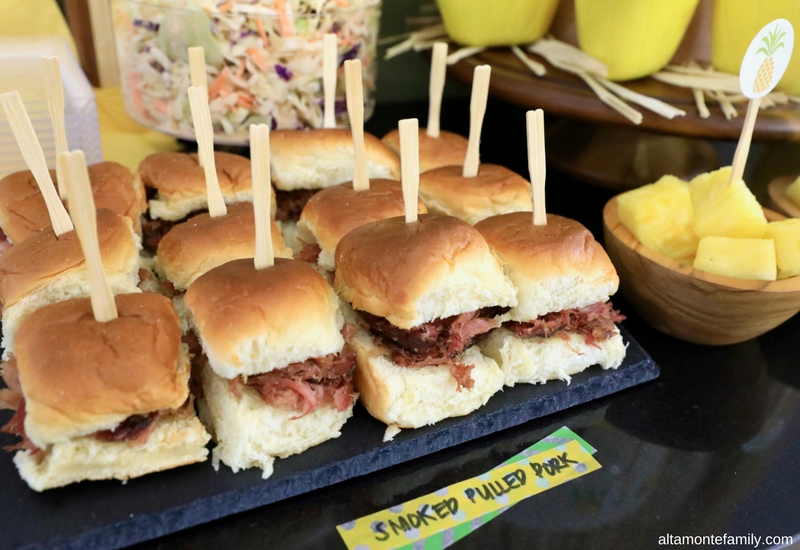 Pineapple Orange Juice
Back on O'ahu, we used to have an orange tree in our backyard that never got to see a day of frost. It produced the sweetest oranges that we could only wish to someday replicate here in the Sunshine State (uhmmm… none of our citrus trees survived the Winter of 2014). Anyway, we simply combined pineapple and orange juice to make this refreshing drink in a mason jar! The fruit wedges added a nice, tropical touch, so did the floating strawberry chunks!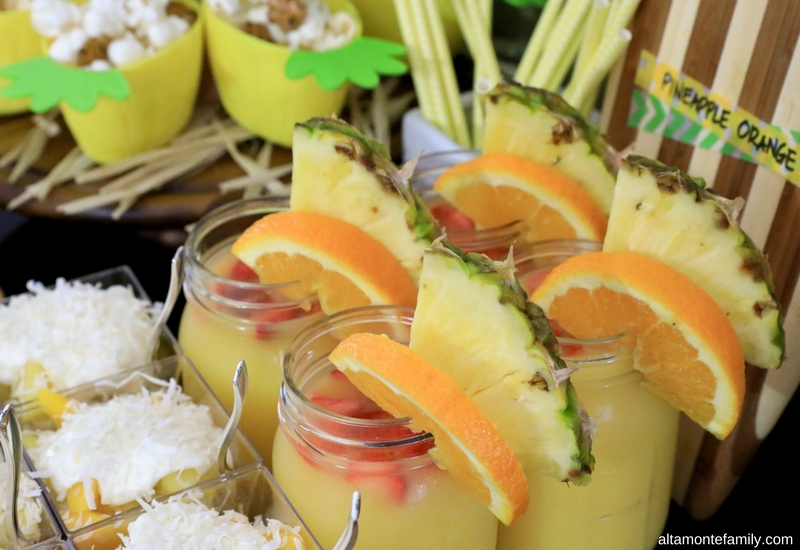 Spicy Slaw
While not a traditional luau menu item, this spicy Asian slaw is quite common in Hawai'i. There are many ways to create Spicy Slaw, and here's one of them (our very own Kimchi Slaw recipe).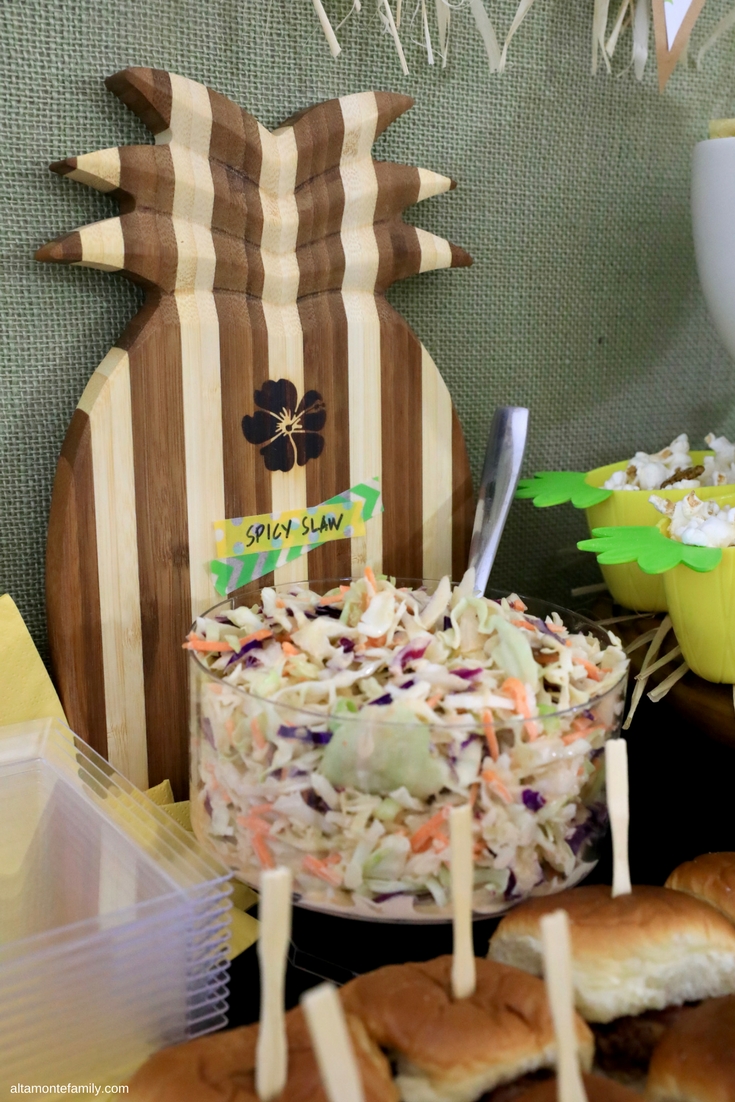 This twist on coleslaw is delicious all on its own or with some fresh pineapple on the side… or as an add-on to that delicious Smoked Pulled Pork Slider! Some would even add fresh pineapple (and potato chips) to dress up that slider! We won't judge…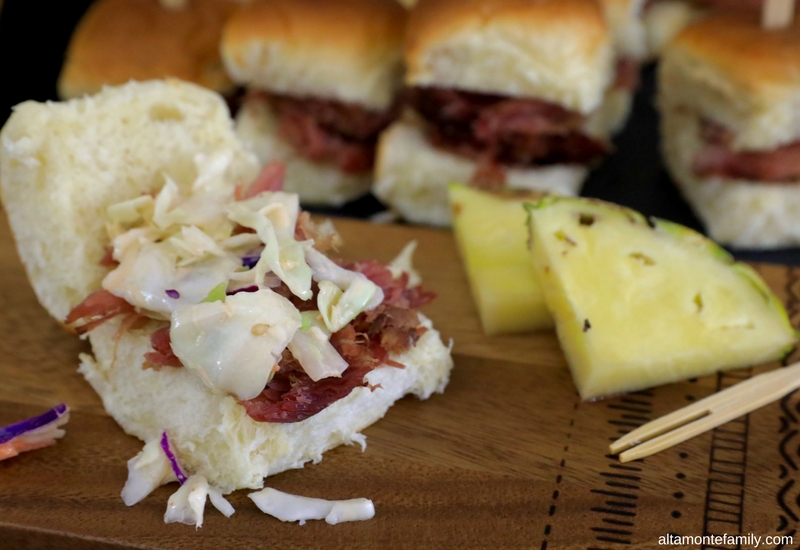 Fresh Pineapple
This one goes without saying… if only we could add pineapple to everything on our luau party menu (oh, yeah… we did)!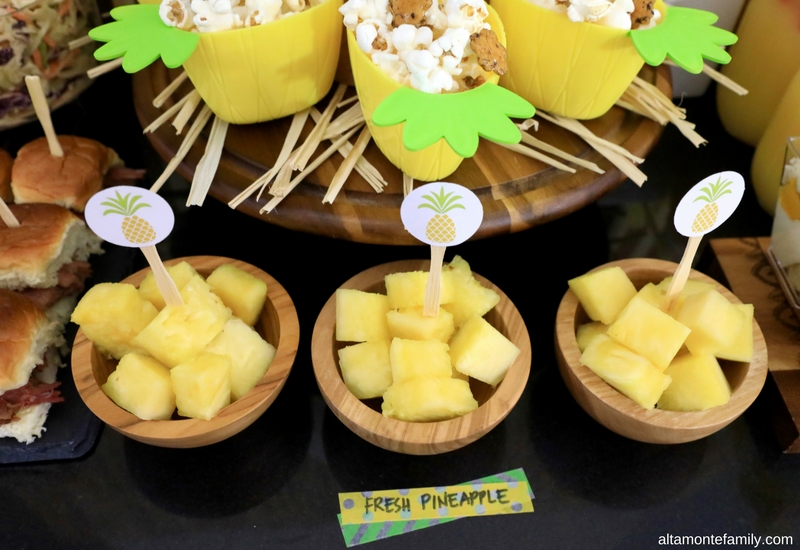 Island-Style Popcorn
For the locals, Kaki Mochi (or Arare or Japanese Rice Crackers) go hand in hand with popcorn. We added dried pineapple to add a touch of sweetness (instead of chocolate candy). Yummy!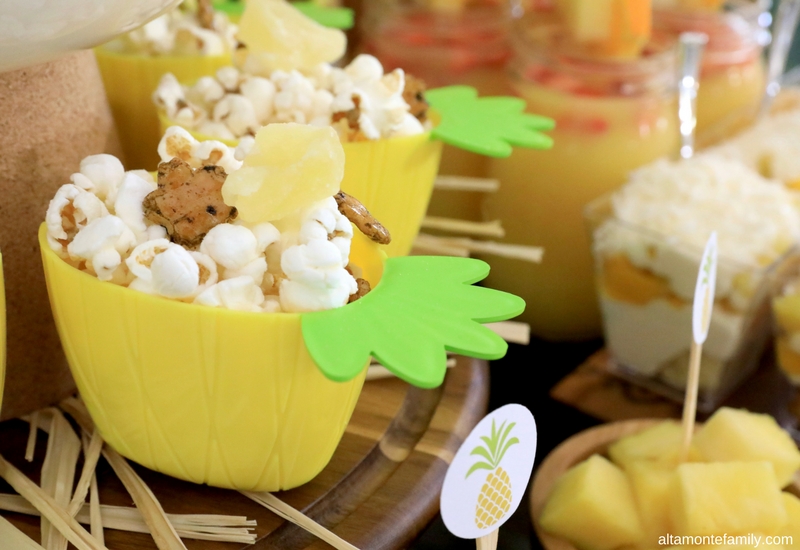 Maui Onion Potato Chips
If you haven't yet tried these Maui-style potato chips and you're a fan of onion-y, crunchy snacks–you're in for a treat! Otherwise, any other potato chip variety will do! No worries!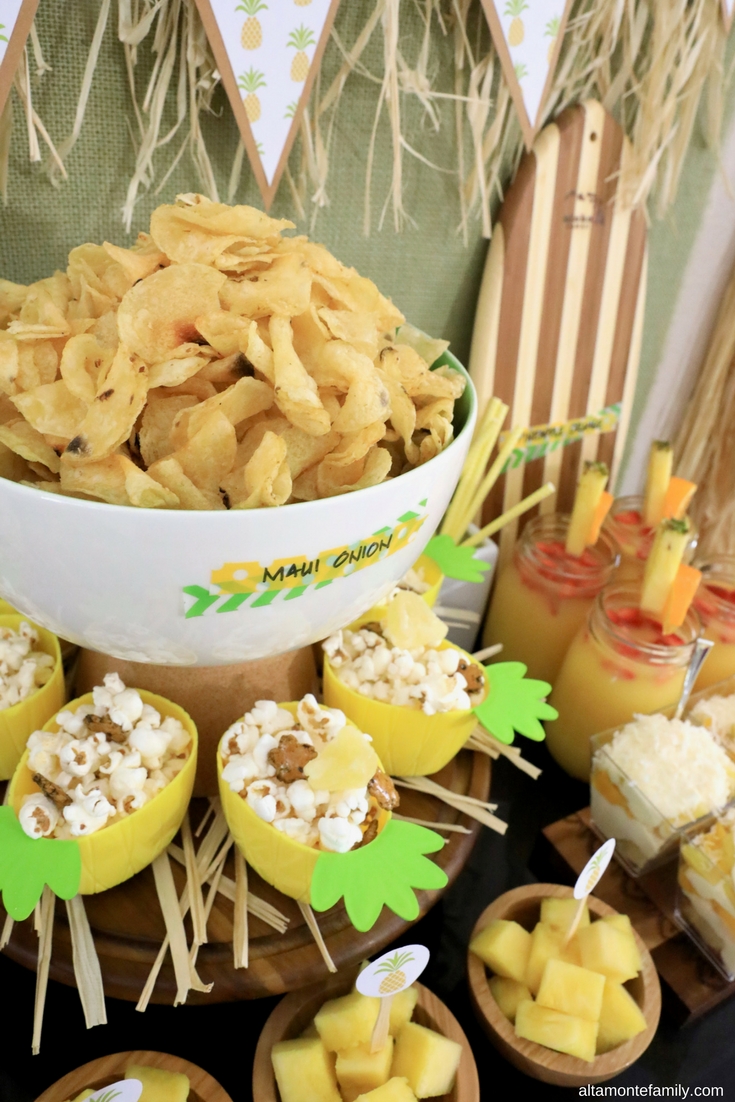 Hungry, yet?
Before you go, don't forget about that delicious Tropical Fruit Trifle recipe!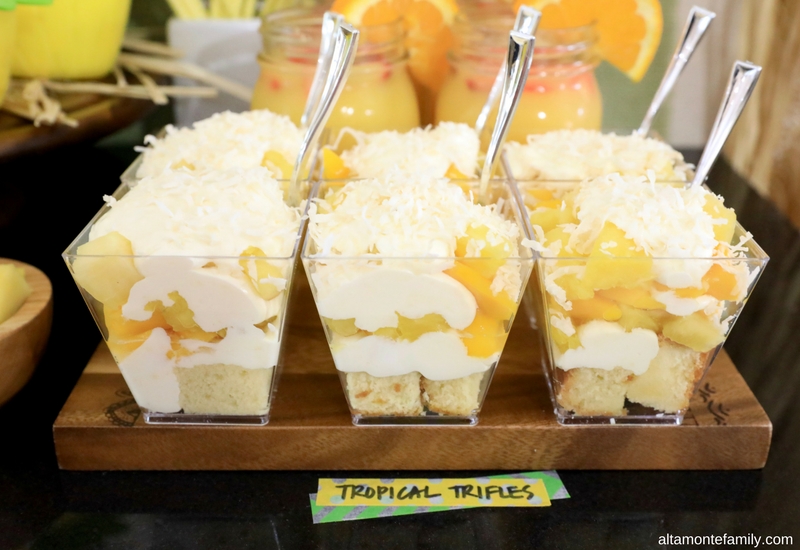 Recipe:  Tropical Fruit Trifle
Just one bite of this delicious Tropical Fruit Trifle will take you on a delightful journey along the pineapple fields of Hawai'i without leaving the comfort of your own home!
If you're cutting back on sugar, we included some notes on a reduced sugar version. 
Servings:        10 – 12
Prep Time:     15 minutes (or less, if using pre-cut fruit)
Cook Time:     0 minutes
Total Time:    15 minutes
 Ingredients
1 1/2 cups ripe mango, cubed
1 1/2 cups fresh pineapple, cubed
10 oz vanilla pound cake (store-bought), sliced into 3/4″ cubes (or no sugar added pound cake, for reduced sugar)
1 1/4 cup cold milk (for reduced sugar, use any unsweetened non-dairy milk, like coconut milk)
1 3.4 oz package coconut cream pudding mix (for reduced sugar, use sugar-free vanilla pudding mix)
8 – 10 oz frozen whipped dessert topping (we used a coconut milk base)
1/4 cup unsweetened coconut flakes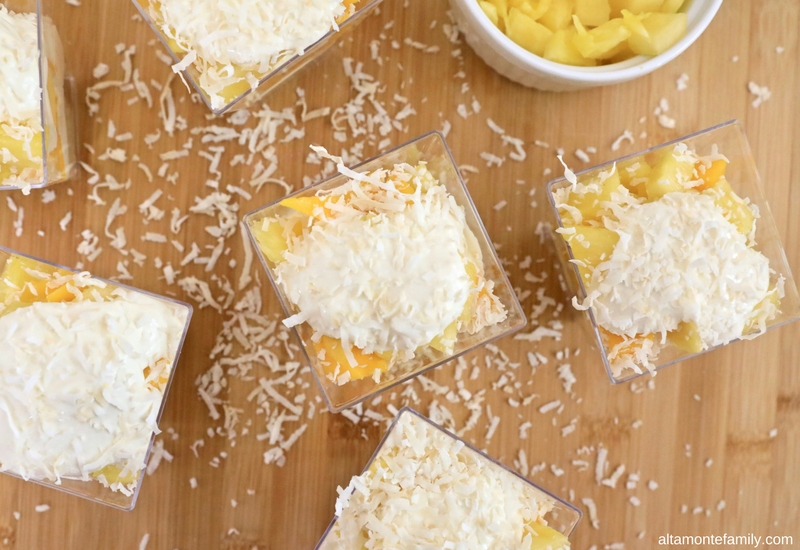 Directions
In a mixing bowl, whisk together milk and pudding mix until thoroughly combined.
Gently fold in frozen whipped topping and mix until thoroughly combined. Set aside.
Place vanilla pound cake cubes on the bottom of the appetizer cups.
Pour in a layer of coconut cream pudding.
Add a layer of mixed fruit.
Repeat the layers until you reach the top of the appetizer cup.
Top with coconut flakes.
For best results, chill before serving.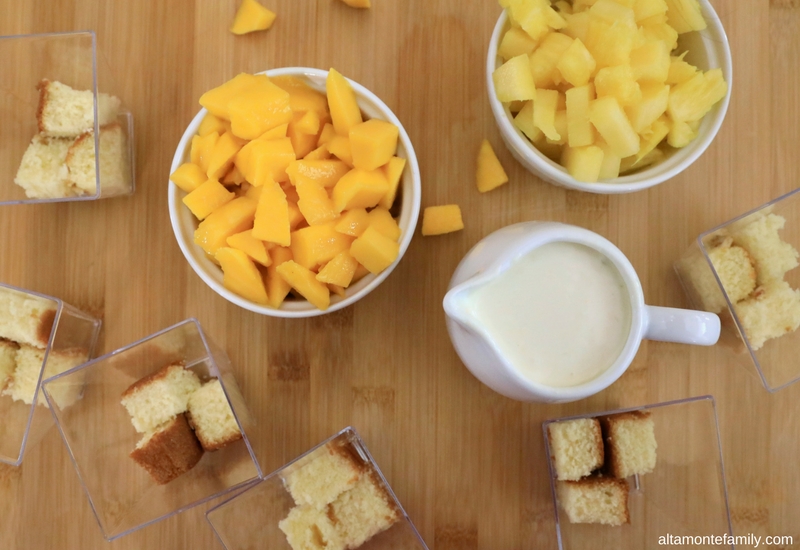 It's all in the layers!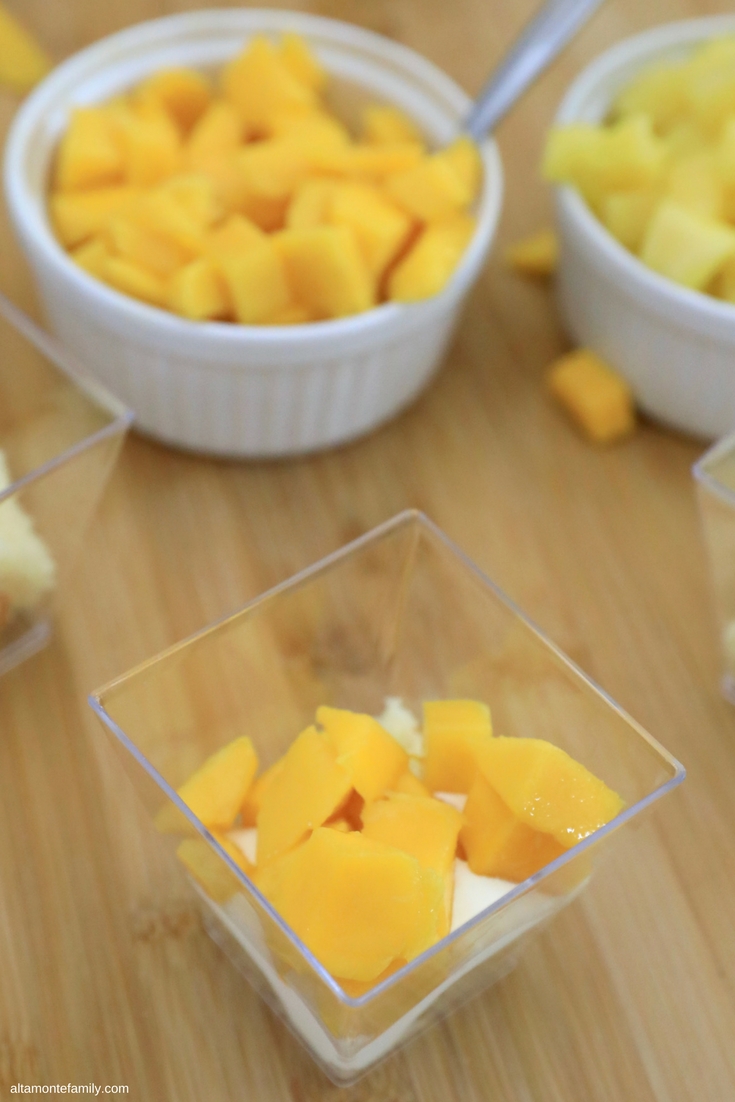 If you prefer a quick, visual step-by-step… or if you're pinning this post for later, we're happy to help with the pinnable image, below! 😉
Ready to maximize your tax cash and celebrate your small wins? Even small wins call for a celebration, especially when they have a big, positive impact on your home and life!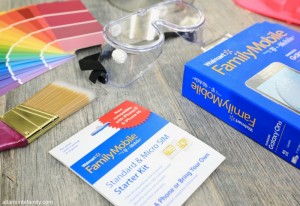 We've certainly been enjoying the big bucket of data that comes with our Walmart Family Mobile PLUS Plan–we've never had to worry about running out of data while watching lots of video tutorials (especially on home maintenance), sharing media files, working on-the-go, and more!
---
When you're ready to make the switch to Walmart Family Mobile, just pick a phone or Bring Your Own, and get your SIM Kit for only $19.88. That simple.
---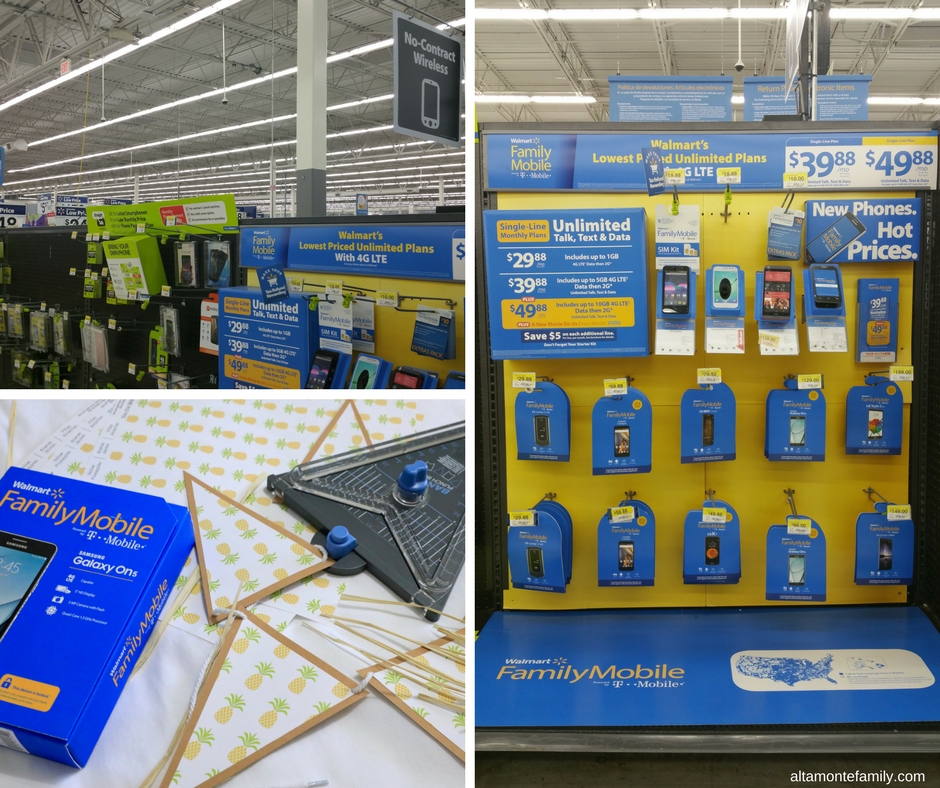 How will you be maximizing your tax return this year? Click here for more ideas and inspiration!
**Disclaimer: All prices for phones and plans included in this post are accurate as of the date of posting; however, these prices are subject to change. Please refer to this link or your local Walmart for current pricing.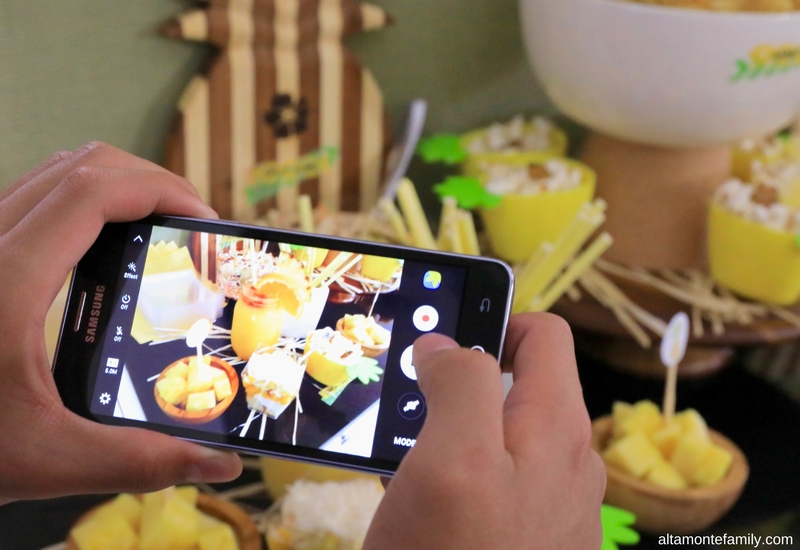 ---
We're Social! If you liked today's post, feel free to share, bookmark, or pin it! Follow us on Pinterest, Facebook, and Instagram for more updates on our latest projects and adventures.