Craving for some Korean food? How about some Kalbi (Korean BBQ Short Ribs)? The thing is, the Kalbi marinade contains a lot of brown sugar. So, if you've been diagnosed with Gestational Diabetes like one of us, you've got some improvising to do. We took a stab at modifying the recipe and substituting Agave nectar for the brown sugar. We wouldn't exactly call the modified recipe "low-carb", rather, it's low-carb(ish)–as a result, we use the marinade in moderation.
The boys love using the marinade for Korean-style short ribs (beef chuck flanken, cut 1/3 to 1/2 inch thick across the bones), beef, chicken–and get this–hot dogs! These marinated hot dogs sure do add a nice twist to our poolside BBQ grinds!
If you would like to make this recipe organic and gluten-free, simply substitute Tamari for the soy sauce.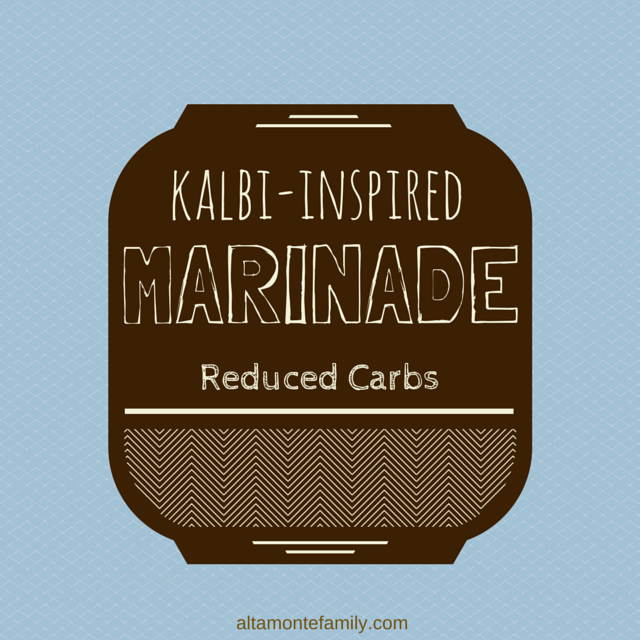 RECIPE: Low-Carb(ish) Kalbi-Inspired Marinade
Prep Time:  30 Minutes  |  Cook Time:  1 Hour |   Total Time:  1 Hour 30 Minutes
Serves: 5 – 6
Ingredients
2 cups soy sauce
1 1/2 cups Agave nectar
1/2 cup Mirin
1/2 cup Sesame Oil
1/2 cup Water
1/2 cup Sesame Seeds
2 large yellow onions, diced
2 large garlic heads, peeled and minced
2 stalks green onion, chopped
1 whole ginger (approx 5 inches), minced
Directions
Add the water to a large pot on the stove, using medium heat.
Add the rest of the ingredients and cook on medium heat until the mixture starts bubbling up.
Decrease the heat to medium-low.
After slow-cooking the mixture for 1 hour, let it cool.
Store in a glass jar and refrigerate for future use, or immediately use as a marinade for flanken cut beef short ribs, beef, chicken, or hot dogs!
Enjoy!
Disclosure: As of the time of writing this post, AltamonteFamily.com is by no means affiliated with any of the companies or organizations mentioned in this article. AltamonteFamily.com has not been compensated in any way nor has AltamonteFamily.com been influenced to write about these products. This post is a result of the personal observations and independent research of members of AltamonteFamily.com. All opinions solely belong to AltamonteFamily.com.