If you're a vegetarian or you just can't stand the taste of meat… or, if you're pregnant like me and recently got diagnosed with Gestational Diabetes (and you also don't like to eat meat, seafood, or poultry), then this low-carb, gluten-free, high-protein snack just might be right for you! It's another recipe that we adapted from Elana's Pantry using blanched almond flour.
We decided to cut out the sweetener and still found it "tolerable"; if you have a sweet tooth, then by all means, just add the sweetener 😉
Important: Do double-check with your doctor or nutritionist if this snack is right for you–and ask about the Goji berries. From what we read, these berries are part of the nightshade family and may negatively affect people with inflammation problems (we personally know someone who tried it and ended up with some back pain shortly after consumption). Please do your own research and consult with the professionals before coming to a conclusion. As with anything and everything, moderation is key.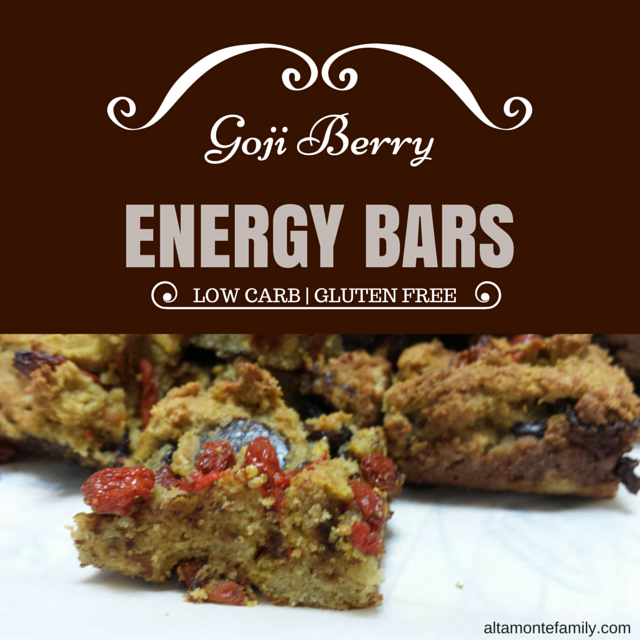 RECIPE: Low-Carb, Gluten-Free Goji Energy Bars
This makes 16 squares.
Ingredients
1 cup blanched almond flour (we use Honeyville)
2 tbs coconut flour
2 tbs golden flaxmeal
1/2 tsp baking soda
1/4 tsp fine ground sea salt
2 eggs, cage-free
1 tsp pure vanilla extract
1/2 cup Goji berries (soaked in 1/4 cup boiling water for approx. 10-15 minutes)
1/2 cup dark chocolate baking chips, 60% cacao (we use Ghirardelli)
Optional:  Sweetener, e.g. Splenda
Directions
Pre-heat oven to 350° Fahrenheit
In a large mixing bowl, combine all dry ingredients
Add in the wet ingredients
Fold in the Goji berries and dark chocolate baking chips
Place batter in 8 x 8 or 6 x 8 baking pan
Bake at 350° Fahrenheit for 15 minutes
Cut into squares
Enjoy!!!
Disclosure: As of the time of writing this post, AltamonteFamily.com is by no means affiliated with any of the companies or organizations mentioned in this article. AltamonteFamily.com has not been compensated in any way nor has AltamonteFamily.com been influenced to write about these products. This post is a result of the personal observations and independent research of members of AltamonteFamily.com. All opinions solely belong to AltamonteFamily.com.