Is it just us or… do you agree that the stores are so quick to change out their seasonal aisles and they're somehow quite successful at getting you to think about the Fall already? Since we keep on seeing "Christmas in July" all over the place, we thought we'd do our version of "Fall in July". Those caffeinated Fall beverages can't come soon enough, don't you think? So, we decided to infuse this decadent dessert with caffeine–so if you'll excuse us for a sec, we're going to enjoy a slice of happiness. Make that a slice of Layered Hazelnut Mocha Cheesecake.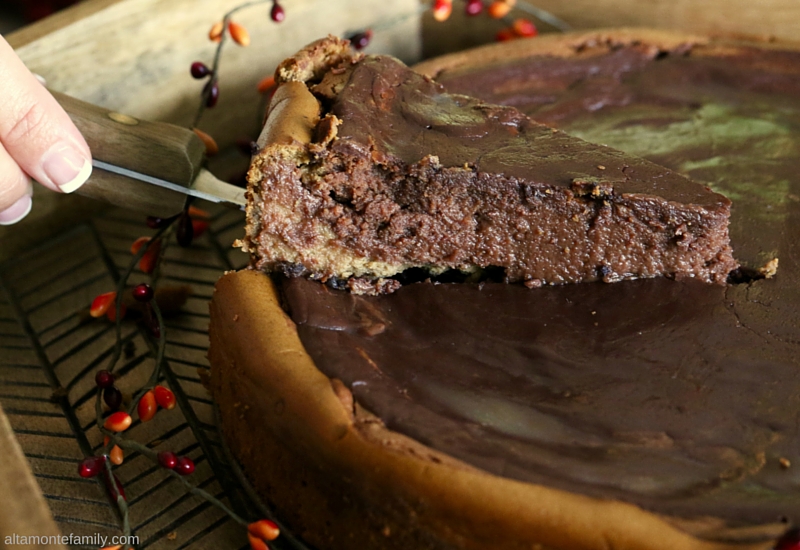 If you like using hazelnut and mocha in the same sentence or if your heart skips a beat at the thought of using them in the same recipe, then this delicious creation will definitely satisfy your sweet tooth. Whether you're looking for "Fall in July" ideas or planning your next Fall party or Thanksgiving dinner / reunion as early as now… this caffeinated cheesecake is sure to please. Just take a look at those gorgeous layers and imagine a slice of this Layered Hazelnut Mocha Cheesecake with your name written on it. Just pure bliss…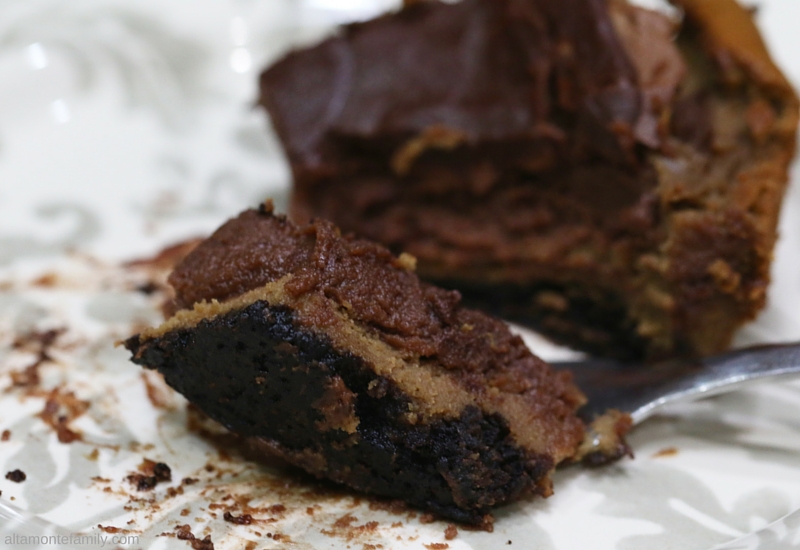 Recipe: Layered Hazelnut Mocha Cheesecake
This cheesecake involves a little labor of love but is totally worth it! We included step-by-step photos, for your reference.
Servings:       10-12
Prep Time:   30 minutes
Bake Time:   65 – 75 minutes
Chill Time:   2-4 hours (for best results)
Total Time:  1 hour 45 minutes (plus chill time)
Ingredients
For the crust:
1/4 cup butter
1 1/2 cup crushed chocolate sandwich cookies (approx. 18 cookies)
For the batter:
4 8oz cream cheese packages
1 1/2 cup white sugar
1/4 cup flour
2 tsp vanilla
4 eggs
For the coffee mixture (to be added to half of the batter):
1 tbs hot water
2 tbs and 1 1/2 tsp instant coffee granules
1/4 tsp cinnamon
For the chocolate hazelnut mixture (to be added to half of the batter):
13 oz chocolate hazelnut spread
For the glaze:
1/2 cup semi-sweet chocolate chips
3 tbs butter, melted
Directions
Preheat oven to 325°.
Make the crust by combining the melted better and cookie crumbles and pressing firmly onto the bottom of a 9-inch greased Springform (cheesecake) pan
Soften cream cheese, then add sugar and flour, and beat together until smooth
Add vanilla and continue mixing
Add 4 eggs, one at a time, mix low, until combine
Divide batter in half (approx. 2 3/4 cup each) and stir in coffee mixture in one and chocolate hazelnut spread in the other, then pour in layers into cheesecake pan (we poured the chocolate hazelnut mixture first, followed by the coffee mixture)
Bake at 325° for 65-75 minutes* (test knife may still look like soft batter, but will set up after a few minutes), then cool for 10 minutes before running knife around pan to release sides, then add glaze on top
*Tip: Place in oven with a pan of water below (to reduce cracking, during baking). For best results, chill cheesecake in refrigerator for 2-4 hours before serving.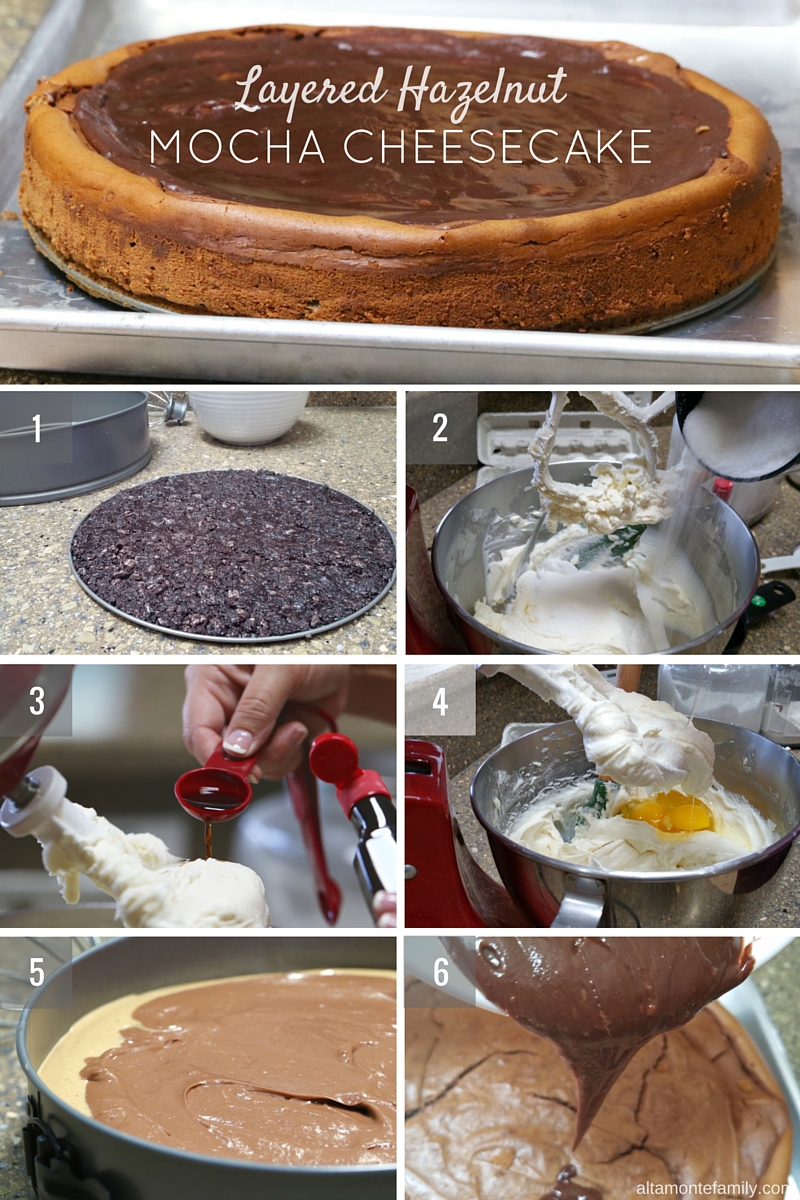 Isn't she a beauty? Makes us want to flip our calendars and planners over to October (or November) already!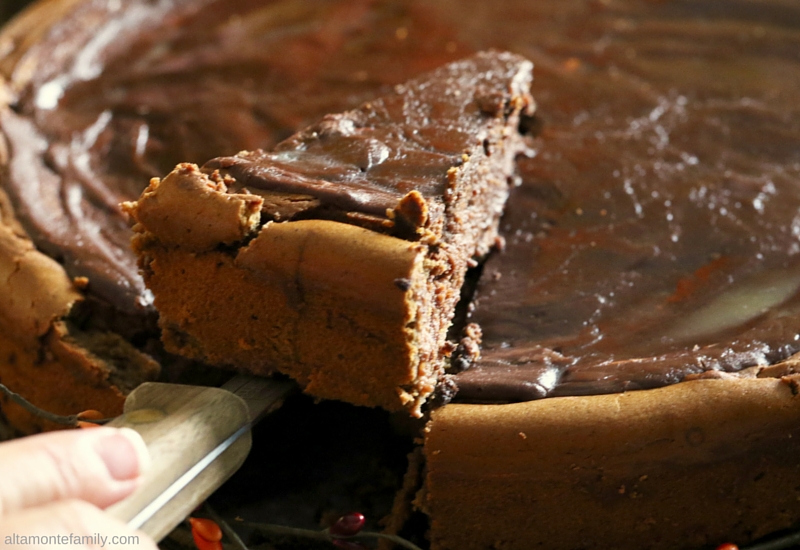 We hope you'll enjoy making this delicious Layered Hazelnut Mocha Cheesecake. Let us know if you made it! We'd love to hear from you 🙂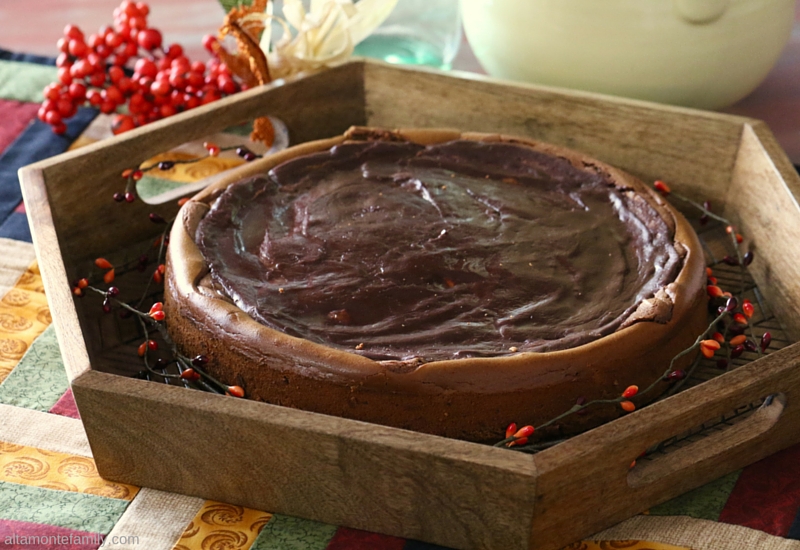 Enjoy!
---
We're Social! If you liked today's post, feel free to share, bookmark, or pin it! Follow us on Pinterest, Facebook, and Instagram for more updates on our latest projects and adventures.