The holiday season is fast approaching, and it's so easy to get into panic mode–especially when you receive a phone call / text about an unexpected visit from friends and family! So much to do, so little time! No worries–whether or not you have your holiday decorations up yet, you can still squeeze in some last-minute entertaining with a Last-Minute Nacho Bar!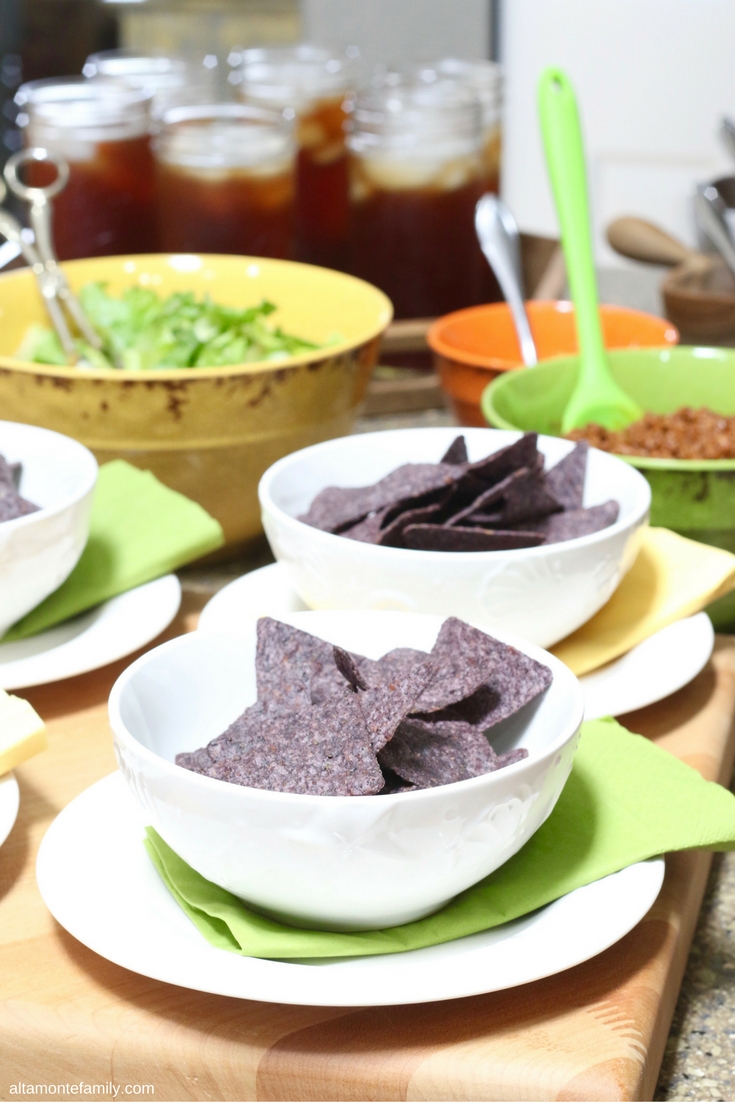 These last-minute "opportunities" are often solved by "make-ahead" or "buy-ahead" meals and snacks! Also, we like to keep our guests busy by having them "build their own meal"–whether it's a Nacho Bar, Trail Mix Bar, Veggie Bar, Dessert Bar, etc.
Last-Minute Nacho Bar Essentials
There's still time to plan for the busy holiday season that's only a week away! Stock up on these last-minute nacho bar essentials so you can be prepared to entertain friends and family at any given moment (holiday or otherwise)!
Taco Beef
Whether you're making or reheating taco beef in the crock pot, it's a good idea to stock up on the ingredients and then freeze the taco beef once it has cooled down (by the way, this has been a proven strategy for sticking to our diabetic-friendly diet).
Recipe: Taco Beef
Servings:       10-12
Prep Time:    5 minutes
Cook Time:   20 – 30 minutes
Total Time:   35 minutes
Ingredients
1 lb extra lean ground beef
1 onion, chopped
1 pkg (1-1/4 oz) taco seasoning mixture (usually combined with 1/2 – 3/4 cup water)
2 tsp cold-pressed organic coconut oil
To prepare: Soften the onions on a lightly greased skillet over medium heat (approx. 4 minutes), then add in the ground beef and cook until completely browned (approx. 7-10 minutes). Drain any excess grease, then fold in taco seasoning mixture, stir, and bring to boil (simmer on medium-low heat for approx. 10 minutes, stirring occasionally).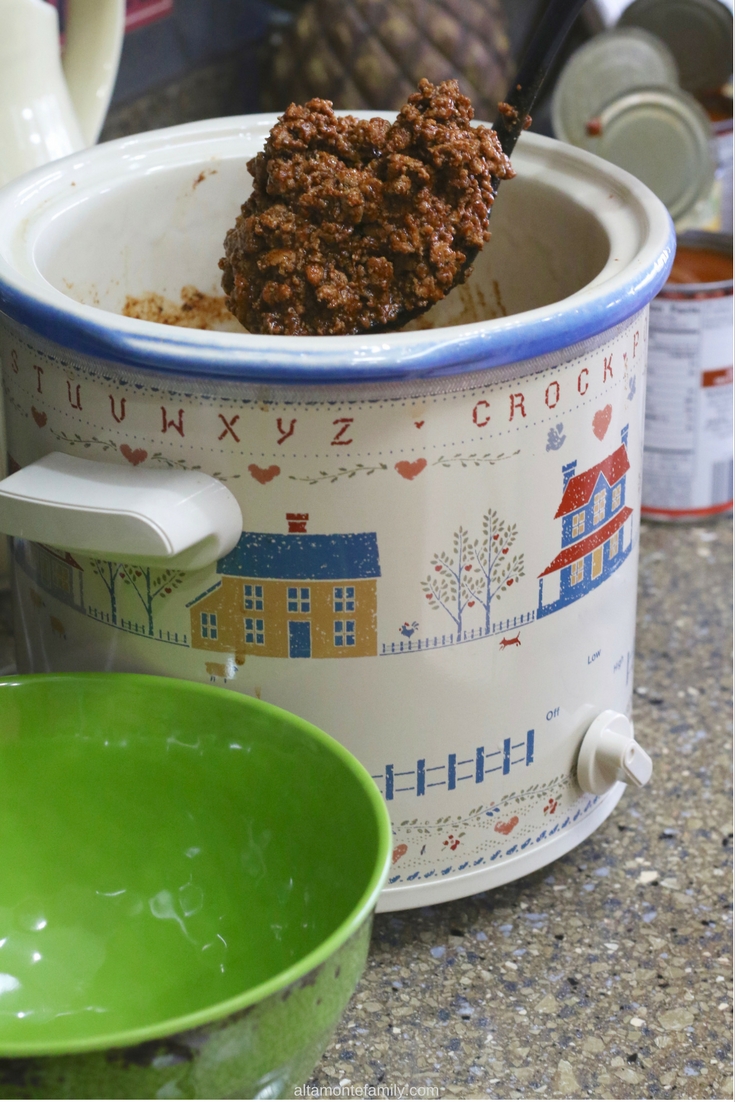 Nacho Fixin's
Of course, a last-minute nacho bar wouldn't be complete without the fixin's! Here's what we got:
Chopped lettuce
Shredded cheese
Chopped tomatoes
Sour cream
Salsa (homemade* or store-bought)
Blue corn tortilla chips
*We shared a make-ahead recipe for Grilled Sweet Corn & Mango Salsa here.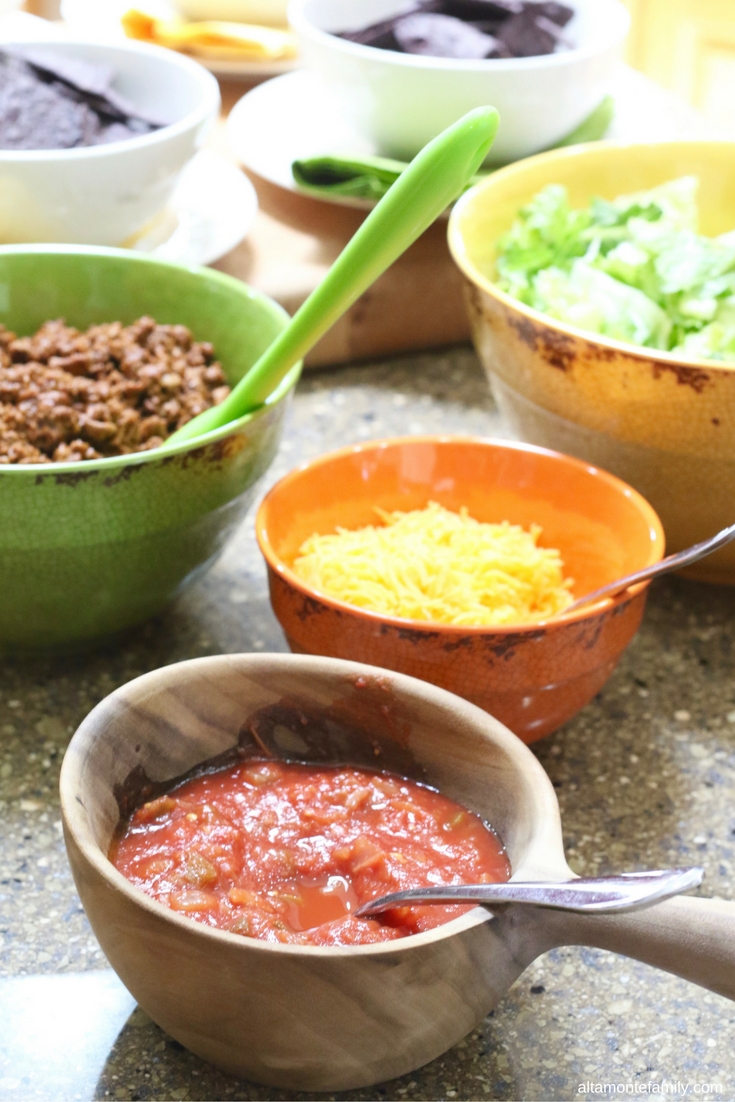 Serveware
Your holiday serveware may or may not be ready yet, so get ready to grab the colorful bowls you have on hand (you'll need these for the nacho fixin's). If you don't have any colorful bowls, white is just fine–feel free to add some color by using disposable dinner / luncheon / beverage napkins in different colors (brights go really well with a nacho bar). If you have some disposable partyware, even better (and less clean-up)!
Beverages
Last but certainly not the least, have some beverages ready (besides water). To conserve space in our pantry, we stock up on single-serve coffee and tea pods and we make batches as needed. Here's our recipe for Pineapple Peach Iced Tea! We get quite a lot of warm days here in Florida–even during the holidays–so iced tea still makes for a good choice!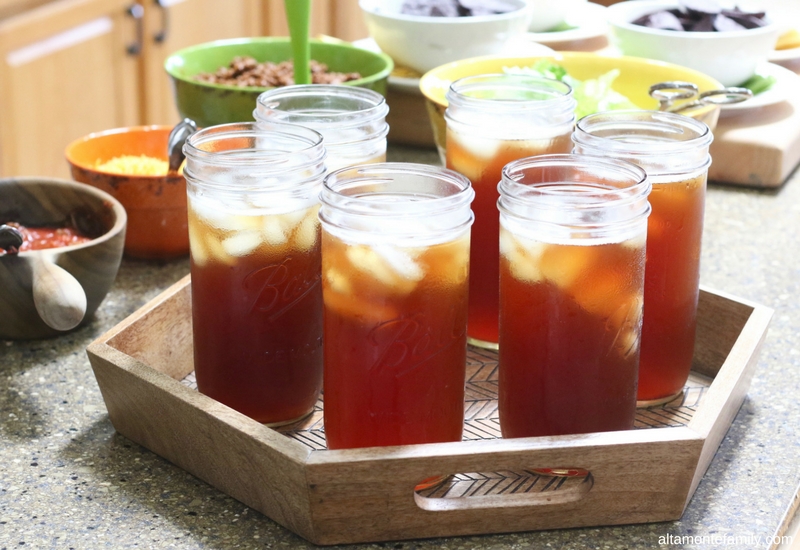 So, how's your holiday planning been coming along? What do you do to prepare for those last-minute visits from friends and family?
For more inspiration, check out these other last-minute entertaining ideas:
Enjoy!
---
We're Social! If you liked today's post, feel free to share, bookmark, or pin it! Follow us on Pinterest, Facebook, and Instagram for more updates on our latest projects and adventures.