This post is sponsored by SheSpeaks, Inc and Simply Orange Juice Company​® #SimplyHolidaysAtSams
---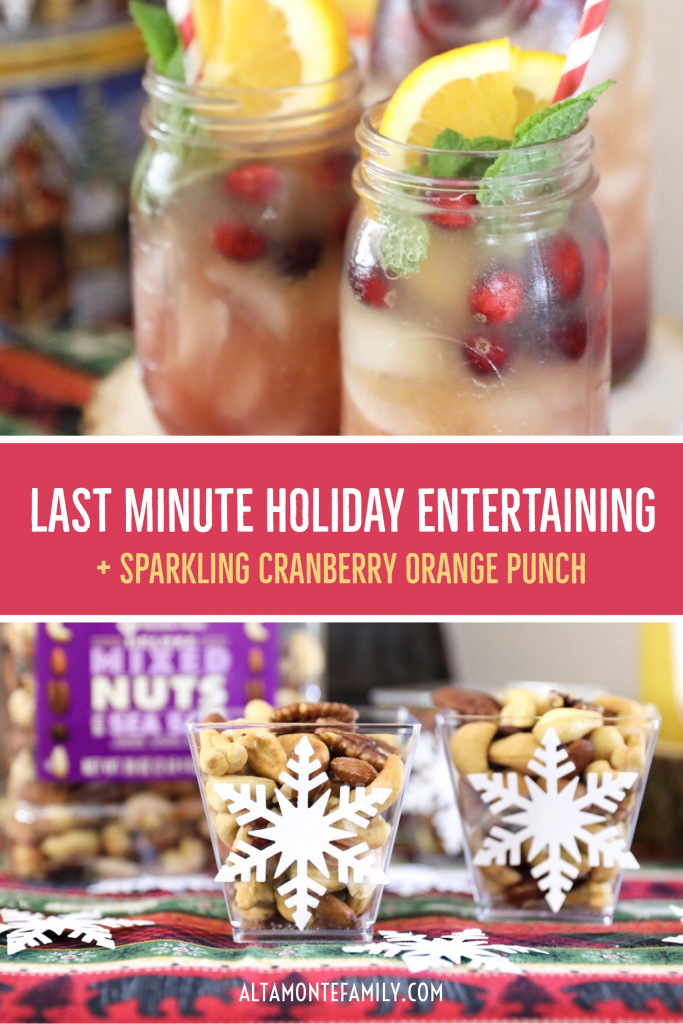 Last-Minute Holiday Entertaining
'Tis the season for lots of family and friends to be flying into the Orlando International Airport to come and celebrate with us during the Christmas season… and to ring in the New Year! What does this mean for us besides lots of fun, faith, and fellowship? Lots of last-minute holiday entertaining!!! Here are some of our tips (and a deliciously easy drink recipe) to help fill in whatever holiday planning gaps you may have!
Stock up on the essentials
One of the first things we do after writing a grocery shopping list is hop on over to Sam's Club to stock up on some holiday entertaining essentials: paper towels, disinfecting wipes, trash bags, resealable bags, disposable dinnerware and flatware, dinner napkins, snacks and refreshments (including the ingredients for making our super easy Sparkling Cranberry Orange Punch made with deliciously simple, Simply Beverages® juices), bite-size desserts (for easy clean-up), and everything else in between (depending on what we've got planned).
Make an easy, festive drink
A refreshing drink is one of the first things we offer our guests the moment they walk into our door! Here's our recipe for a quick and easy Sparkling Cranberry Orange Punch!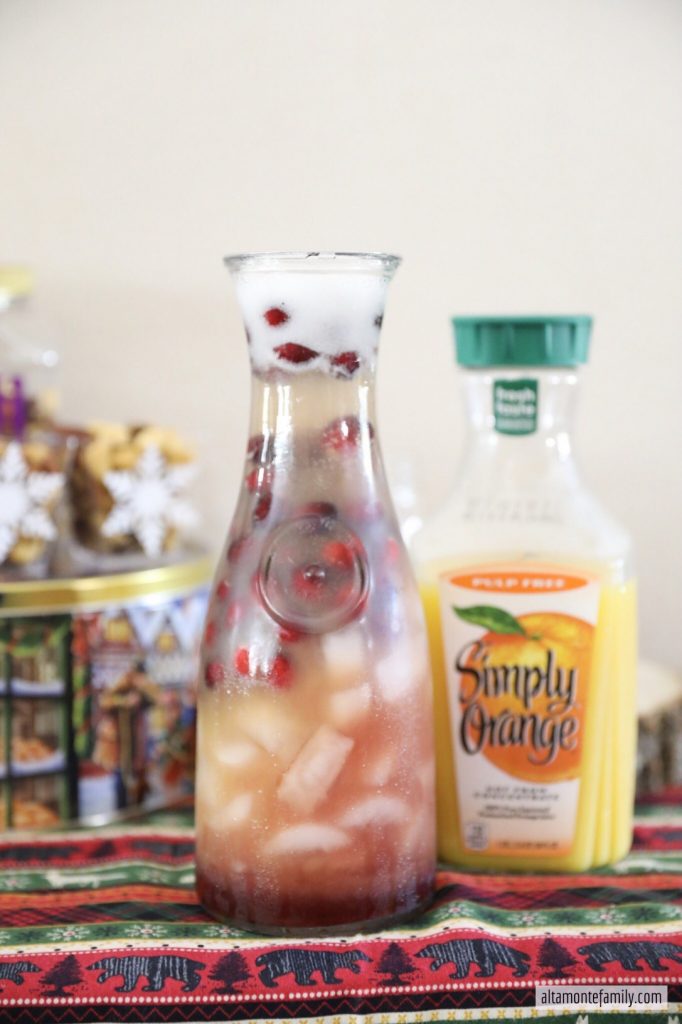 Sparkling Cranberry Orange Punch Recipe
Ingredients:
2 parts Simply Orange®

2 parts cranberry juice

1 part sparkling cranberry soda

Ice cubes

Garnish (optional): fresh cranberries, organic fresh mint leaves
Directions:
Simply combine all the ingredients, chill, and serve.
TIP: Use Simply Orange® to give your drink recipe that natural, great taste of fresh oranges!
Build a theme by using what you already have
For the most part, we keep a list of what we already have on hand and do our very best to put them to good use. For example, we start with a theme, then we shop our craft / home decor stash (to add festive, decorative elements to our party spread), then we start adding the food. It all comes together in the end.
For example, we started with a table cover, mason jars, and wood slices, to build up to a Woodland Christmas theme…
Decorate with fresh produce
To keep things "fresh", we like to choose fresh produce that complements our party theme. As we all know, the classic holiday color palette consists of red and green (with hints of yellow for the Christmas lights)! Since we knew that we would be making our version of a Sparkling Cranberry Orange Punch for the occasion, the decision to use fresh cranberries as a garnish came all too naturally. Fresh, organic mint leaves add that nice, refreshing touch with a punch!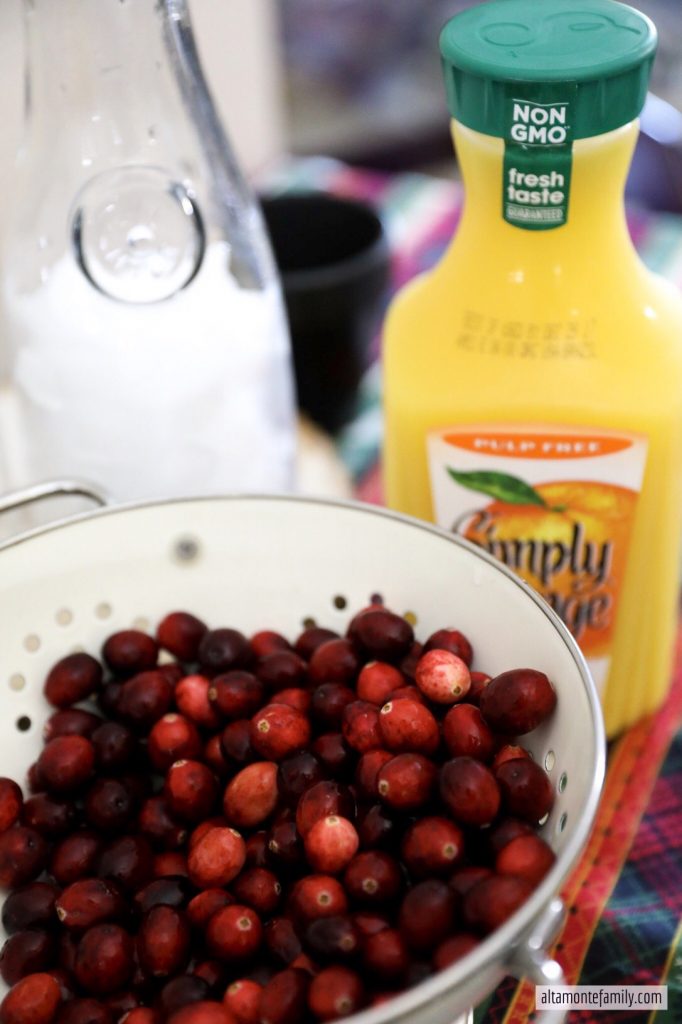 Say it with Straws
Are we the only ones who like to keep a stash of paper straws (with matching straw toppers) for these last-minute holiday get-togethers? They really do come in very handy when you need to touch up your party spread in a pinch!!! Details do matter–even more so when you can incorporate them effortlessly, flawlessly, and affordably. Who's with us??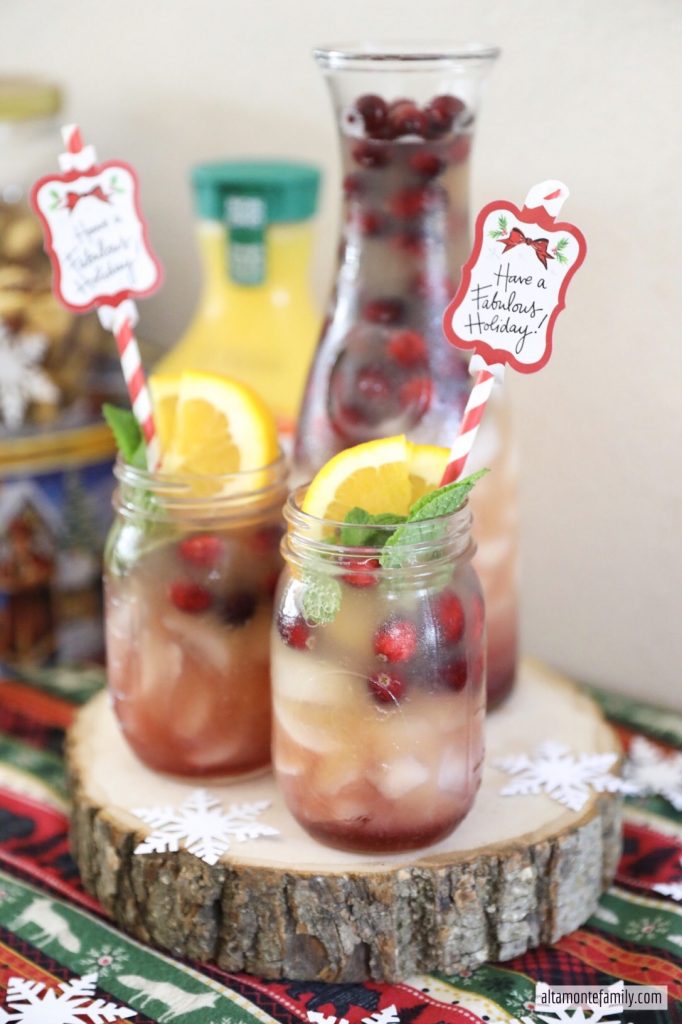 Go big on the confetti
Sometimes, you just may want to "go big" on the confetti–like, literally. We used a craft punch to make these jumbo snowflake confetti. The snowflakes carried the winter theme–as well as added a nice, light contrast–on our table cover (which had deep tones).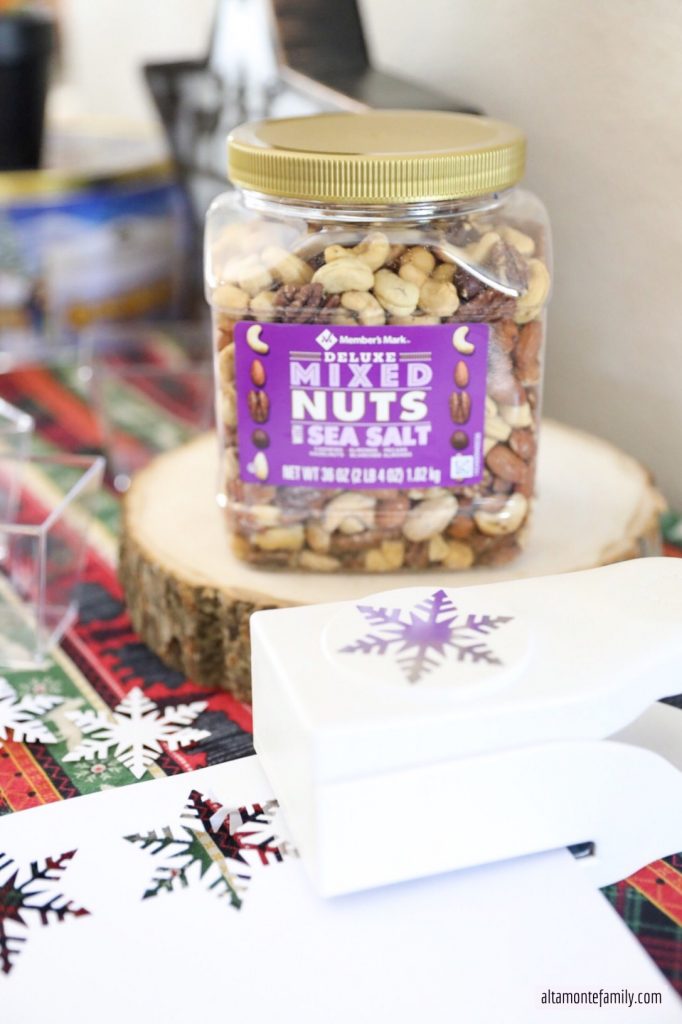 Jumbo confetti like these are much, much easier to clean up. They also add life to the party table when attached to our disposable party bowls filled with Member's Mark Mixed Nuts.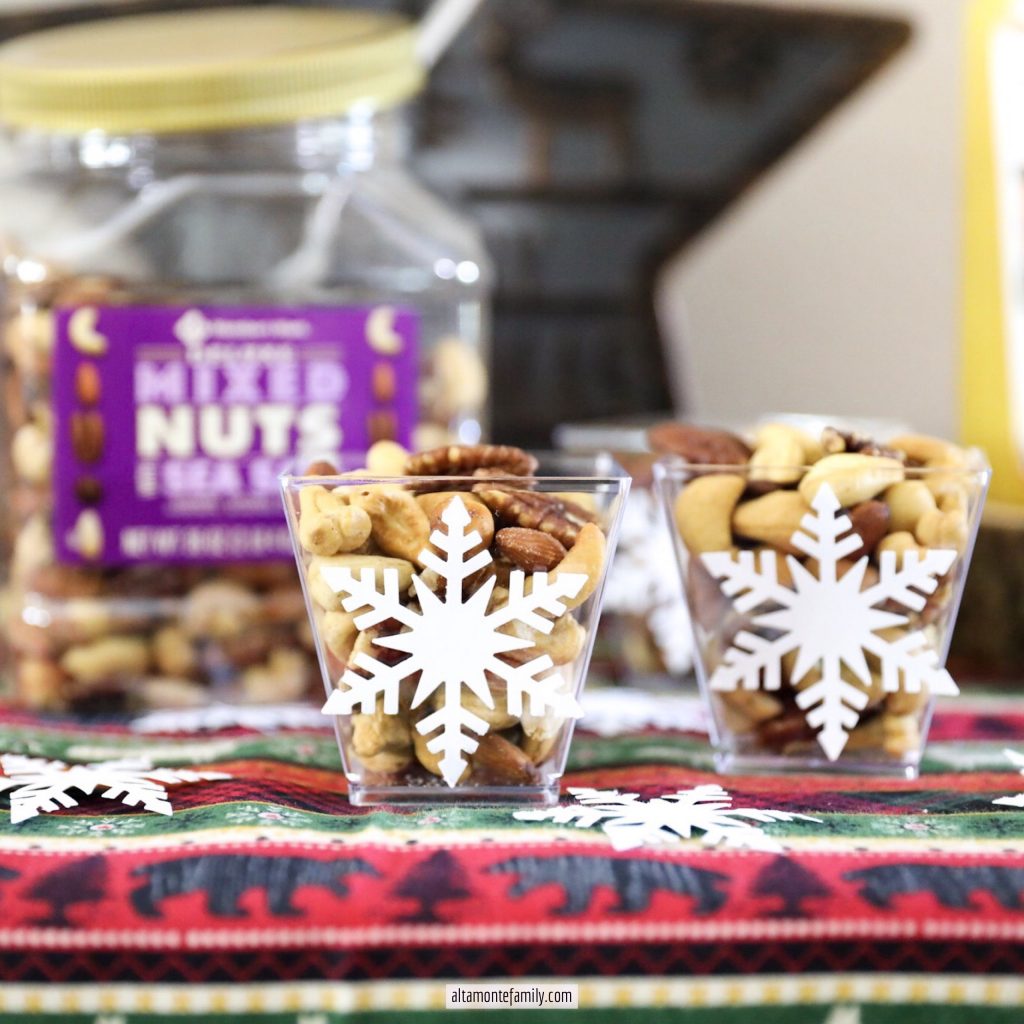 Send them off on a good note
Non-food party favors seem to be growing trend within our family (and friends). Spread some Christmas cheer and turn some of your favorite Christmas CDs into party favors; or "go handmade" and make something totally crafty with jingle bells!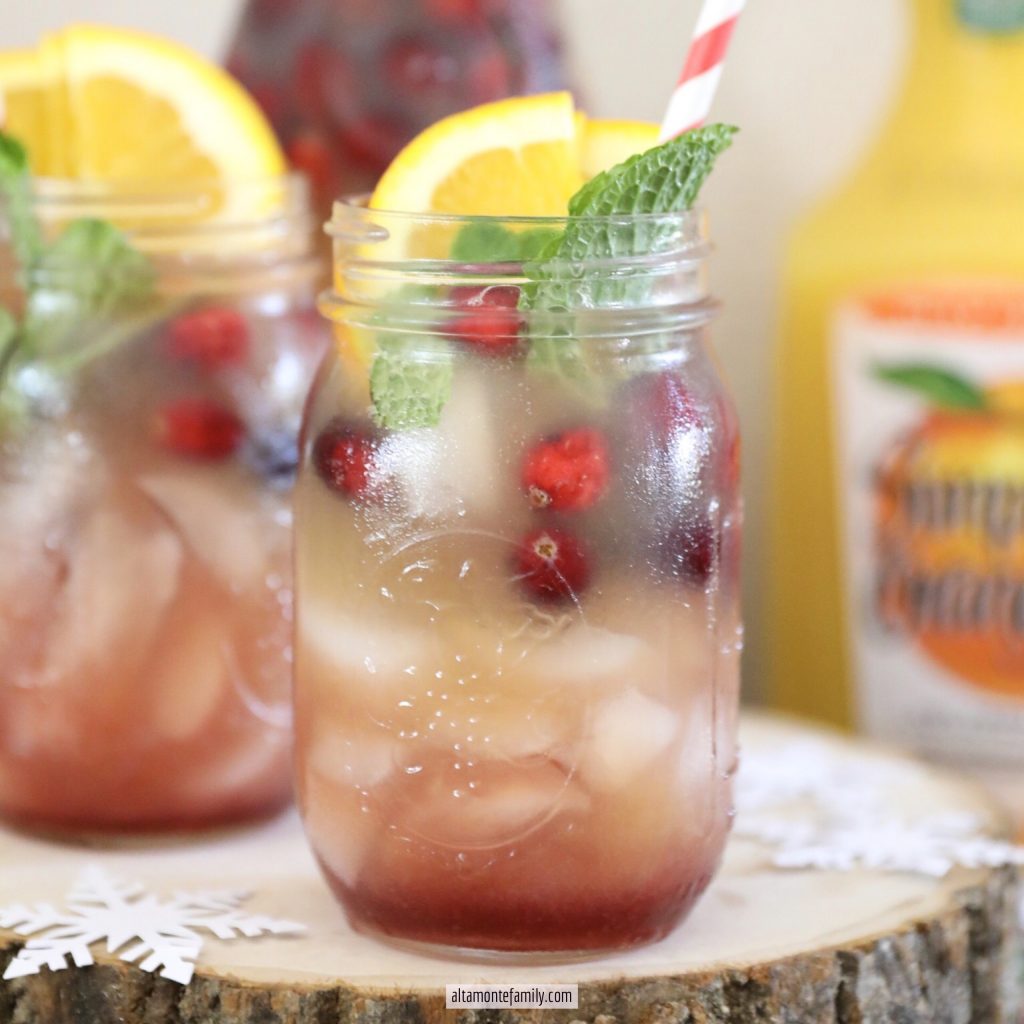 So, are you ready to entertain for the holidays? Don't forget to start that shopping list–stock up on essentials and build up that theme starting from what you've already got!
Do give our Sparkling Cranberry Orange Punch recipe a try and pick up some great-tasting, 100% juices and juice drinks by Simply Beverages® in the refrigerated section of your local Sam's Club.
Enjoy the holidays!!!
______________________________________________________
Connect With Us On Social Media!
Follow us on Pinterest, Facebook, and Instagram for updates.