Have you ever been on a nature adventure and felt like you were being watched?
That moment when you finally find what's been looking at you the same time you've been looking at all of the different kinds of species of birds in the area?
…And you're trying to figure out whether that "thing" is smiling at you…or something else?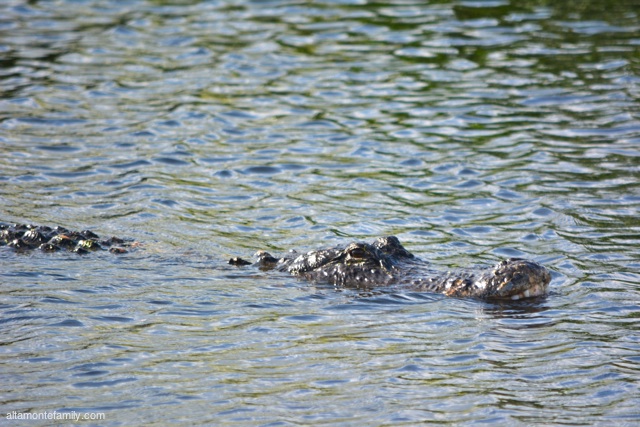 Turns out it's a 4-ft++ alligator in hot pursuit of another reptile in the water…
A snake.
In the water.
It's been a long time since we've seen a snake swimming (that fast) in the water!!!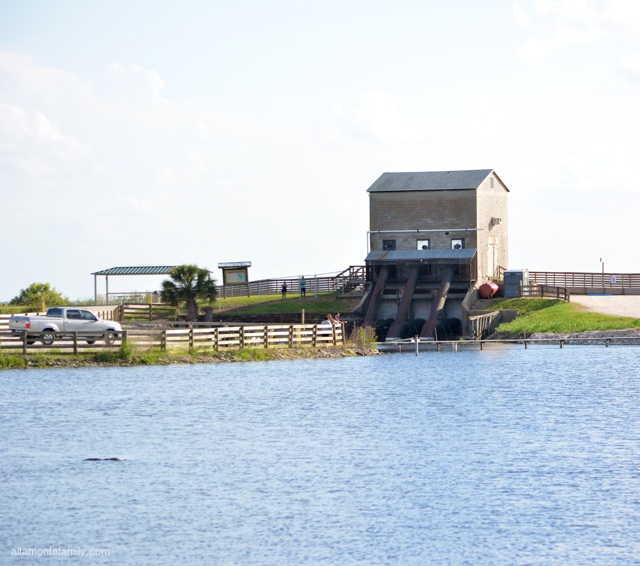 Anyway…if this is your kind of thing (can you spot the lurking gator in the photo?), and you don't mind stepping out of your vehicle to use the restroom, only to find 1 HUGE gator (wait, not 1 but 2…wait, we see 3 now…oh, there are 4…uhhhh…here comes some more!) in the lake surrounding the facilities, then this place is definitely for you!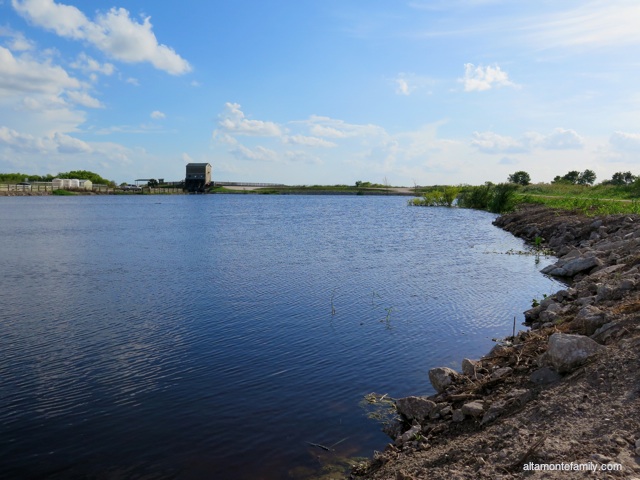 Make no mistake…this lake is laden with alligators…
…And so are the surrounding bodies of water all throughout your 11-mile journey.
Thankfully, you get to stay inside your vehicle the entire time!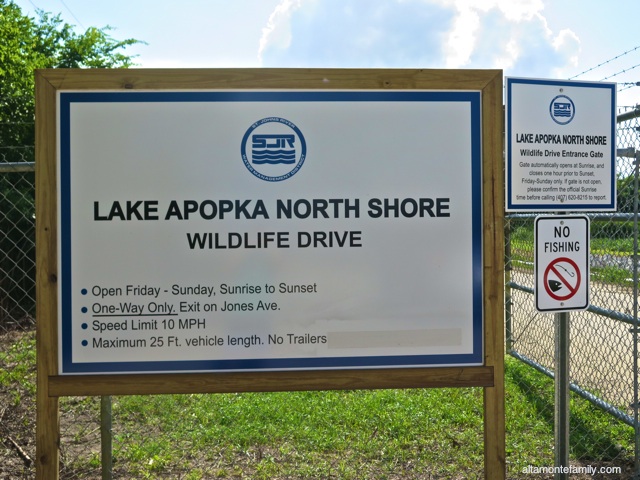 Yup, that's right! It's a Wildlife Drive!
And we don't live too far away from it.
And we don't have to worry about the highly aggressive mosquitoes and scorching heat of the sun while we stop at designated "pull over" spots to take some photos.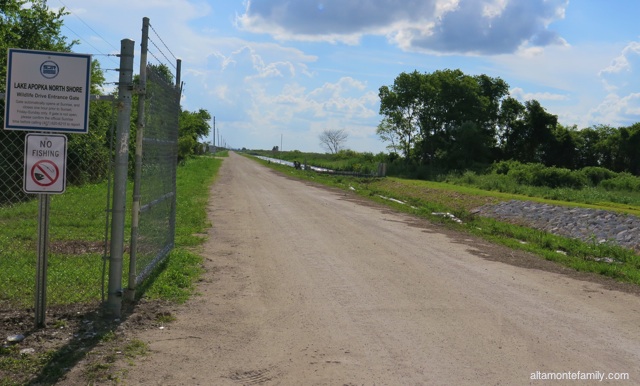 It's a little bit like the Florida Everglades…but you don't have to worry about tripping over an alligator down a winding blind corner during your walk along the trail.
We think the unpaved roads add a nice, rugged touch to the overall experience! It is similar to Black Point Wildlife Drive at the Merritt Island National Wildlife Refuge in Titusville, Florida.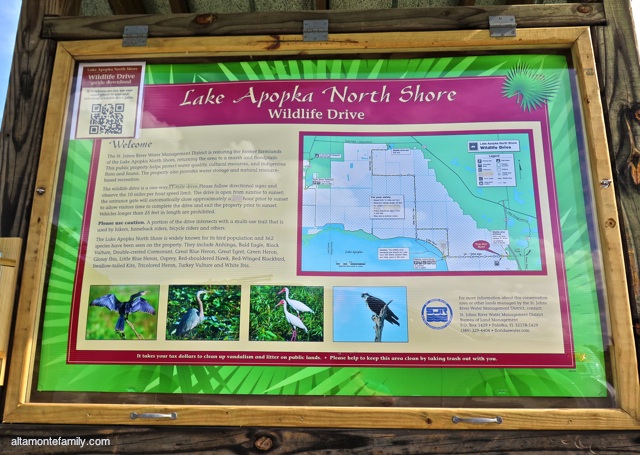 Welcome to the Lake Apopka North Shore Wildlife Drive!
At the time of this post, this facility is only open on Fridays, Saturdays, and Sundays–and on federal holidays. We put together some FAQs for you, as these were some of the questions we had before our visit.
Frequently Asked Questions: Know Before You Go!
How do I get there?
At the time of this post, we could not find an actual address online–neither could our smartphone's GPS. We went to the St. Johns River Water Management District website, clicked on the Google Maps locations link, and it gave us the GPS coordinates telling us to enter from Lust Road. The Drive ends at Jones Road, an industrial area that leads you all the way to U.S. 441, where you will see Pokey's Lake Gem Citrus Nursery in Zellwood, Florida, across the street.
How long is the drive?
It is a one-way, 11-mile drive.
How much time should I allot during my visit?
Approximately 1 hour. The facility measures 20,009 acres, according to the St. Johns River Water Management District website.
Is there a speed limit?
Yes. 10 mph.
Are there any vehicle restrictions?
Yes. Please check the St. Johns River Water Management District website for more information.
What is the cost to get in?
At the time of this post, it is FREE.
What are the operating hours?
At the time of this post, it is open between sunrise and sunset on Fridays, Saturday, and Sundays, as well as on federal holidays. The entrance gate closes approximately 1 hour prior to sunset to allow visitors to finish their drive before sunset.
Are there any restroom facilities?
Yes. We found one at around midpoint (as pictured and captioned in one of the photos above).
Will I need a map?
Not necessarily. It is a one-way drive and there are plenty of directional signs along the way. Sometimes, you may find the road splitting but it eventually leads to the same exit.
Are there any places to stop and take photos?
There seems to be an abundance of designated "pull over" areas to stop and take photos of wildlife and nature.
What kind of wildlife will I see?
According to the St. Johns River Water Management District website, bird diversity is extraordinary in the area. The bird list continues to grow: as of late 2014, it includes 362 species (16 are exotics). Other wildlife include alligators, turtles, otters, bobcats, and coyotes (of these, we only got to see gators–lots of them + a few turtles).
Photos of Wildlife at Lake Apopka North Shore Wildlife Drive
Here are a few photos that we were able to shoot during our visit. Maybe one day, we will return with the appropriate bird photography lens (*wish*).
So, what do you think so far?
We plan on returning when the birds are roosting. The place somewhat reminds us of  the Wakodahatchee Wetlands in Delray Beach, Florida–only that the latter is not a Nature Drive but it is STUDDED with birds at roosting time (it appears as though there were more birds than branches on trees enough to support them).
Friends of Lake Apopka
The vast array of birds at the Lake Apopka North Shore Wildlife Drive is phenomenal! If you would like to support the restoration of one of Florida's largest natural resources, check out "Friends of Lake Apopka"(FOLA) to see how you can participate in the cause. FOLA is a citizen advocacy group with a mission and purpose to restore Lake Apopka to its once pristine condition.
Have a wonderful nature trip with your family (and your vehicle)! Remember, respect wildlife–and please do NOT feed the alligators! Let's marvel at the God-given natural beauty that continues to shine at Lake Apopka despite the challenges and mismanagement it once faced.
Disclosure: As of the time of writing this post, AltamonteFamily.com is by no means affiliated with any of the companies or organizations mentioned in this article. AltamonteFamily.com has not been compensated in any way nor has AltamonteFamily.com been influenced to write about these products. This post is a result of the personal observations and independent research of members of AltamonteFamily.com. All opinions solely belong to AltamonteFamily.com.