It's been a long time since we last visited the Kennedy Space Center–6 whole months!
Today, our toddler asked if we could go back to the Space Center. Something happened between those 6 months: he announced that he is going to become an astronaut. So, off to the Space Center we went. When he saw a photo of the NASA Z-2 Space Suit (photographed below), he exclaimed,
Hey! That's me!
He has been fervently praying to become an astronaut for quite a few months now. One time, we overheard him arguing with his older brother,
I am going to become an astronaut, and you're not coming with me!
This is the same older brother who protected him at the Space Center playground today.
As with any other playground, you'll find some bigger, older kids who seem to like to bully the little ones around. When asked if he had fun, our toddler replied,
Yes! I had a lot of fun! I had to say, 'Excuse me', to a lot of kids because they wouldn't let us have a turn.
Such is our little boy–he's quite articulate.
Our toddler's experience at the Space Center playground became a great teaching moment. We explained that astronauts need to get along in outer space, especially since they'll be working in tight spaces.
Even countries need to get along. We had a brief lesson on "international cooperation" today, as depicted by the number of flags representing the International Space Station.
Before our son turned 2, we introduced him to a number of paid Astronomy apps on the iPad. He loves outer space (he loves skeletons, too, since he discovered our medical / anatomy apps that we had downloaded when we were preparing to go to med school 3 years ago).
We've never directly influenced our son on what he should become when he grows up. We do love to buy him a bunch of educational resources, as is the case with the rest of our children. Thankfully, we don't always have to spend a ton on such resources. We found that we simply have to limit the amount of time / exposure to video games.
It's interesting to note that, the more we limit our children's exposure to video games, the more interested they become in real-world activities like visiting the Kennedy Space Center, going to science centers and museums like the Smithsonian Institution as well as the Florida Museum of Natural History, and checking out historical sites like the National Monument To The Forefathers.
Perhaps, it's not the same for every family, for every parent, for every child… by God's grace, it has worked for us.
Regardless of whether or not our toddler does become an astronaut one day, we're happy to give him as much exposure as God allows possible… which includes meeting an astronaut.
Unfortunately, we missed the opportunity today since we didn't arrive in time to meet veteran astronaut Jack Lousma. (Update as of 10/25/2015: My husband and three of our boys got to meet veteran astronaut Jack Lousma and our family got to take a photo with him!)
  In any case, we were still able to walk around and enjoy the cooler weather that the Fall season brings. It was a gorgeous day!
We even got a little refresher on Florida history during our visit…
We were hoping to go to the nearby Black Point Wildlife Drive after the Space Center closed at 6:00PM. Because daylight is shorter nowadays, we were unable to go since the sun started setting at 6:44PM. Maybe, next time (we're working on getting out of the house earlier). We'll be sure to do a follow-up post if we ever make it back to the Kennedy Space Center within the week. If not, we at least hope we could make it to the grand opening of this… It's slated to open next Fall.
So, do (or did) you have any children who have expressed wanting to become an astronaut? Let's chat 😉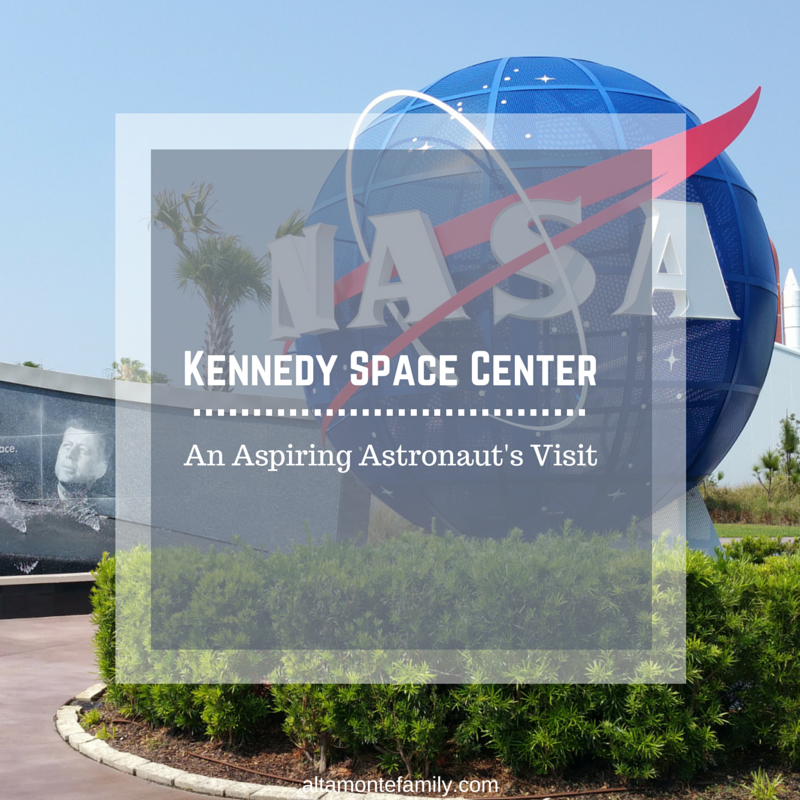 Disclosure: As of the time of writing this post, AltamonteFamily.com is by no means affiliated with any of the companies or organizations mentioned in this article. AltamonteFamily.com has not been compensated in any way nor has AltamonteFamily.com been influenced to write about these products. This post is a result of the personal observations and independent research of members of AltamonteFamily.com. All opinions solely belong to AltamonteFamily.com.