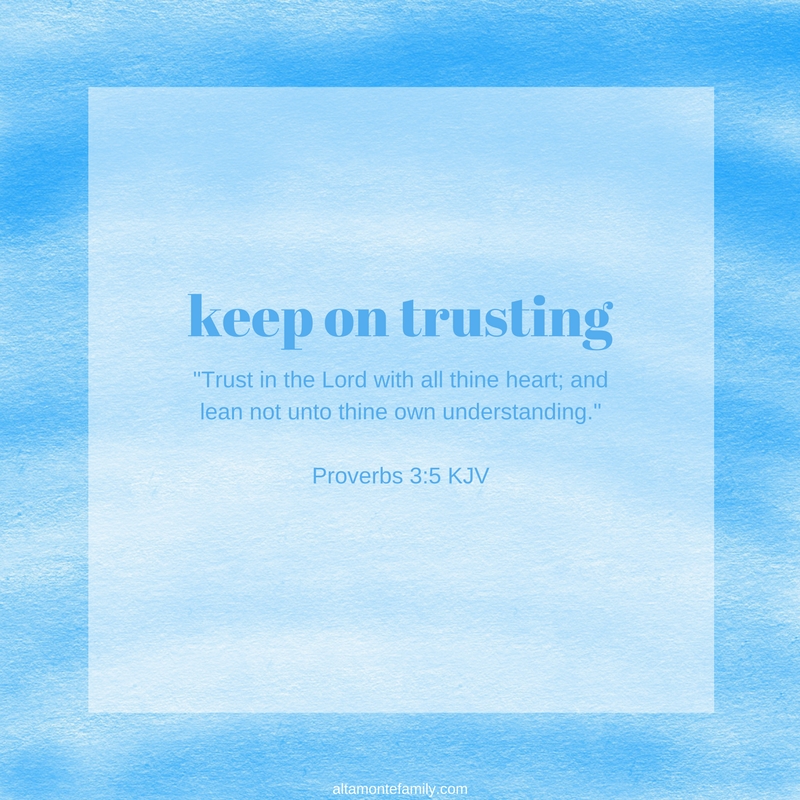 I've been thinking a lot about "trusting God" lately in light of the many blessings just came pouring down on us in the last few weeks. God has blessed us yet again with an answer to prayer–a longstanding prayer request that had lasted over two years! While we faced many difficulties while waiting for His answer, He got us through all of them!
In my Christian walk, it seems as if it's been easier (or more natural) to keep on trusting God when things are tough… when my hands are tied and there seems to be no other way out but through God. The truth is, He is the Only Way!
Now that God has put us up on a plateau or even on what may seem like a mountaintop high, the temptation to rely on our own understanding sets in without us even knowing it. We may even reason that God expects us to be good stewards of His gifts–which include our talents, skills, abilities, money, and other resources–and we quickly reject anything that simply doesn't make sense.
It doesn't make any business sense. That doesn't seem to be a very practical choice. What if… 
I'm personally guilty of these thoughts.
I'm not saying, go ahead and throw caution out the window.
All I'm reflecting on today is, whether we're in a position of feast or famine, we need to keep on trusting in God and not on our own understanding.
Trust in the Lord with all thine heart; and lean not unto thine own understanding. In all thy ways acknowledge him, and he shall direct thy paths.

Proverbs 3:5-6 KJV
I must seek God first and ask myself:
Have I carefully weighed such thoughts and asked God to search my heart? What if these thoughts are getting in the way of God showing me "great and mighty things"?
Will my decision-making be based on what I think is best or on what God has revealed to be His best? Is my reasoning getting in the way of His still, small voice?
Feast or famine, I am resolved to "trust in the LORD, do good, and delight in Him".
Trust in the Lord, and do good; so shalt thou dwell in the land, and verily thou shalt be fed. Delight thyself also in the Lord: and he shall give thee the desires of thine heart. Commit thy way unto the Lord; trust also in him; and he shall bring it to pass.

Psalm 37:3-5 KJV
---
Take action: It's always a great time to do some "trust accounting", allowing God to search out our hearts and reveal to us whether or not our trust has been set on the right foundation. If our trust has been misplaced, it's never too late to turn around, get on our knees, and place our trust on Him! If you haven't yet placed your trust in Him for your eternal salvation, this page tells you how you can take care of that today.