Akemashite omedetou gozaimasu.  Happy New Year! It's 2016 already, can you believe it? Did you have a great celebration? If you're old enough, you probably still remember the Y2K New Year and the scare the Y2K bug brought upon our computers (glad nothing really happened). Anyway, we're finally able to share the details about our Japanese-Inspired New Year Mini Party with you!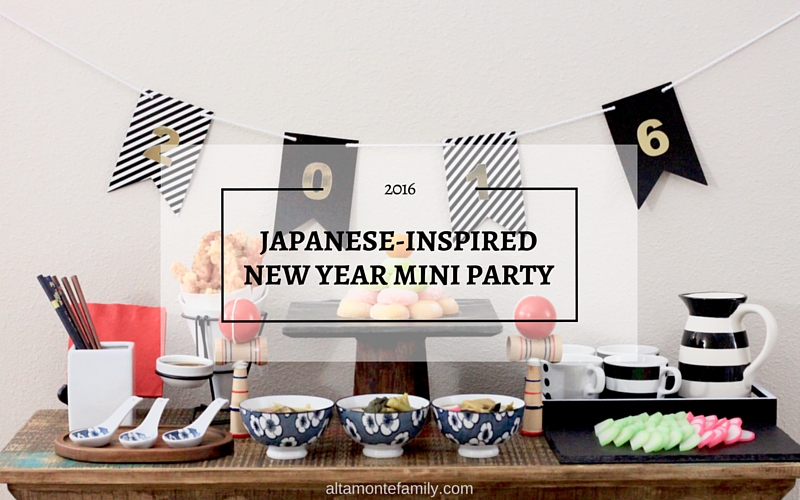 We're a multi-racial family (more heavily bent on the Asian side). We're also Hawaii transplants living in Florida. Blend all of that together and you have a smorgasbord of flavors, colors, cultures, and traditions. In the spirit of keeping things simple (and manageable), we decided a few years ago to celebrate one culture at a time (unless we're throwing a huge party). Since we got married, we agreed that a Japanese New Year celebration will be the way to go. We're calling it "Japanese-inspired" since we don't have all of the traditional / ceremonial supplies on hand and have started blending in a little bit of modern and a little bit of Chinese (we also have Chinese roots).
The Party Games / Activities
We kicked off the party with a Kendama challenge. A Kendama is a Japanese toy and this is what it looks like in resting position. Once you unsecure the ball and loosen the string, you're supposed to get the ball in one of the arm cups using only one hand. It's way easier said than done. Needless to say, it's a great activity especially for those who are starting to fall asleep at midnight.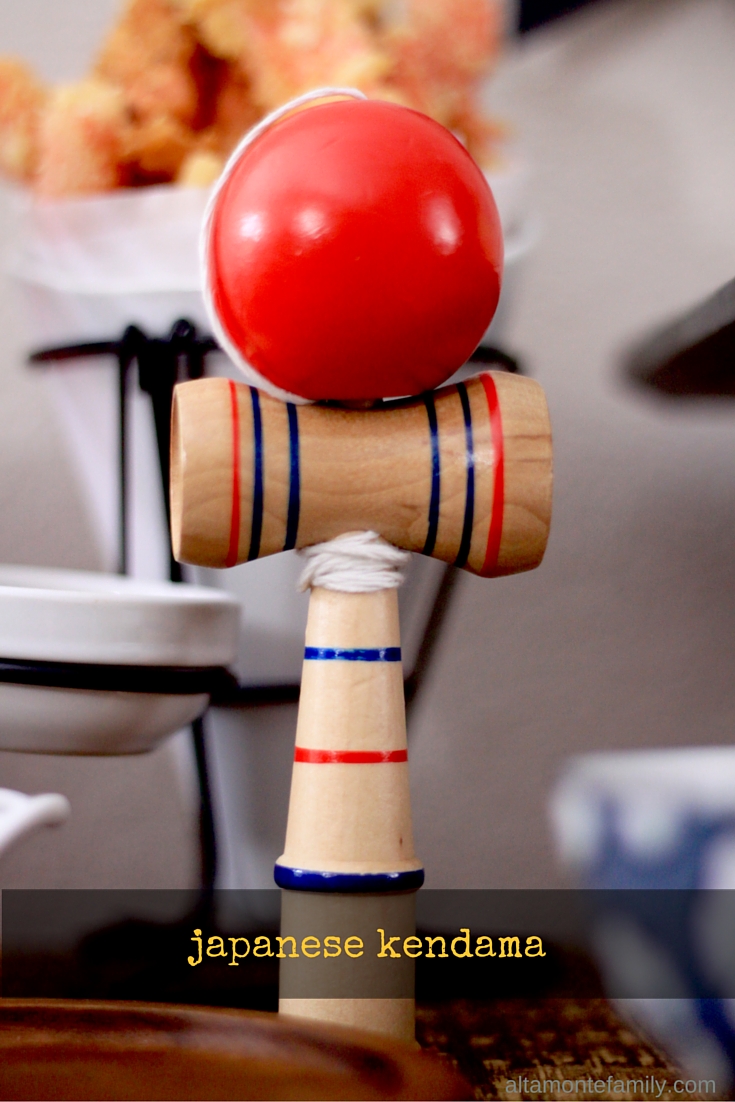 While we also had some origami paper on our activity table (not pictured here), it was barely touched, since we started our party pretty late. The older we get, the more difficult it is to stay up late (unless the baby, a.k.a. "Boss Man", commands us to do so).
The Chopsticks
Known as hashi in Japanese, chopsticks come in a variety of beautiful designs. We could've chosen the disposable chopsticks for an easier clean-up, but we just couldn't. There's just too much beauty and art in these little things.
Traditionally, chopsticks that are tapered on both ends are used for ceremonial purposes. We couldn't find any of those special chopsticks in our search so we settled with these beauties, instead. Technically, these chopsticks are a blend of Japanese and Chinese: the floral design with the split petals are cherry blossoms (Japanese) while the flowers with round petals are plum blossoms (Chinese).
The Appetizer
For the appetizer, we made some crab tempura. You can use King crab or imitation crab legs with tempura batter and Japanese-style bread crumbs. Mind the heat when you're cooking the tempura; it's the high heat that makes them super yummy and crispy.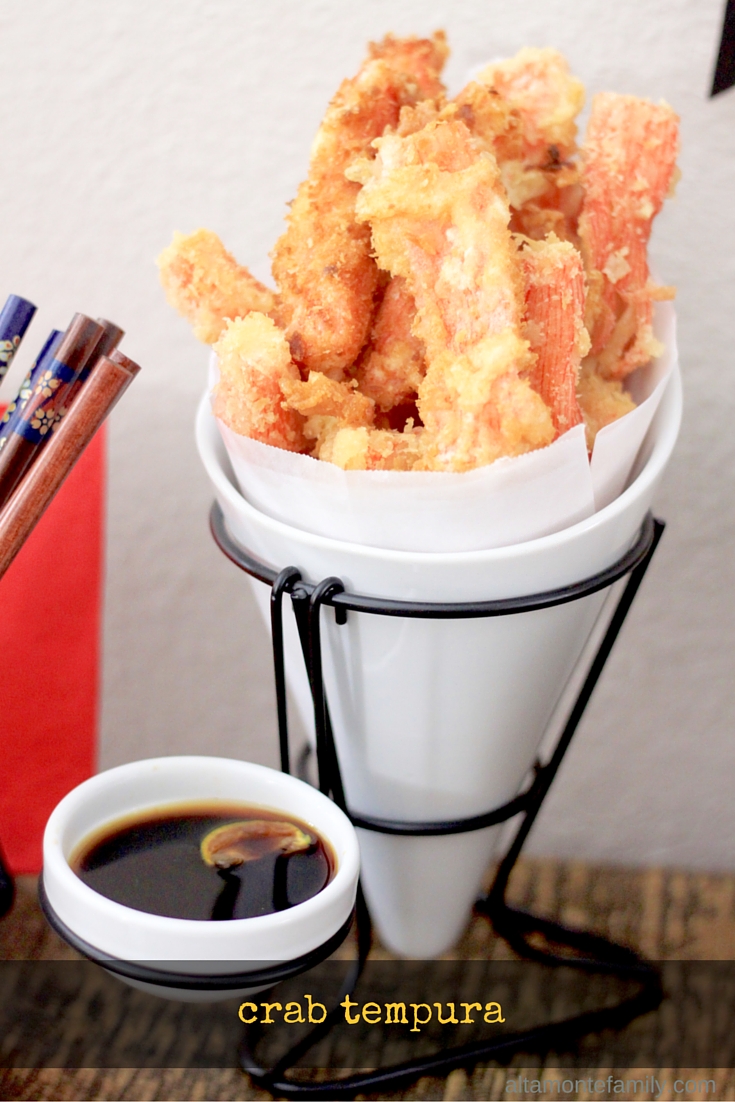 The Tempura Dipping Sauce
We like to make our own tempura dipping sauces. For this party we made a Citrus Chili Tempura Sauce.
Ingredients:
1 part Ponzu sauce
1 part Tempura sauce
1 part rice vinegar
Dash of chili oil
1 calamansi or calamondin citrus fruit per cup of dipping sauce
The Traditional Soup
As a tradition, we eat ozoni in the morning on New Year's Day. You'll find many variations of ozoni depending on the region, household, and seasonal ingredients. For example, we make ozoni a little differently in Hawaii vs. here in Florida due to the availability (or lack thereof) of some ingredients.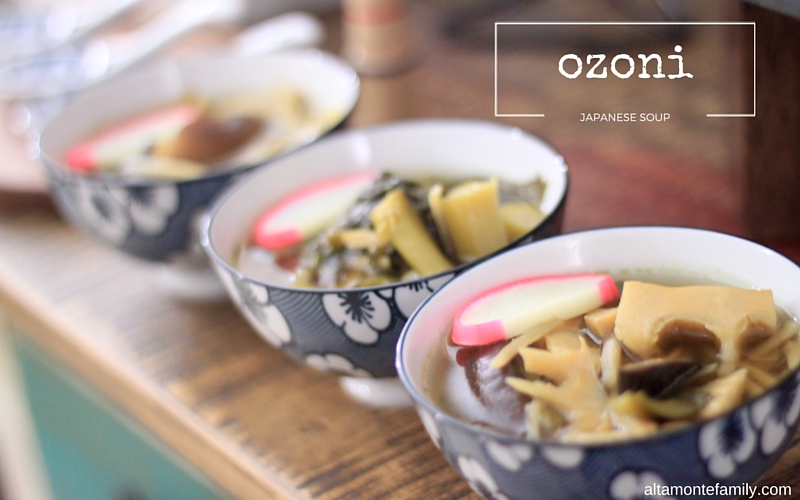 This year, we made the ozoni in the crockpot for the very first time and we all agreed that it's the best one yet! The slow cooking process blended the flavors and textures beautifully.
Instead of using the traditional soup bowls (which we don't have), we served them in rice bowls with a plum blossom design. The bowls came with matching porcelain spoons! We believe this is more of a Chinese design than Japanese. In any case, the Japanese translation for plum is "ume".
The contents of our ozoni included dried shiitake mushrooms, bamboo shoots, mustard greens, Kamaboko (Japanese fish cake), and mochi, in a chicken broth, shoyu (soy sauce), and ginger soup base.
The Side Dish
We sliced up some Kamaboko in 2 different colors so we can add more to our ozoni, if desired.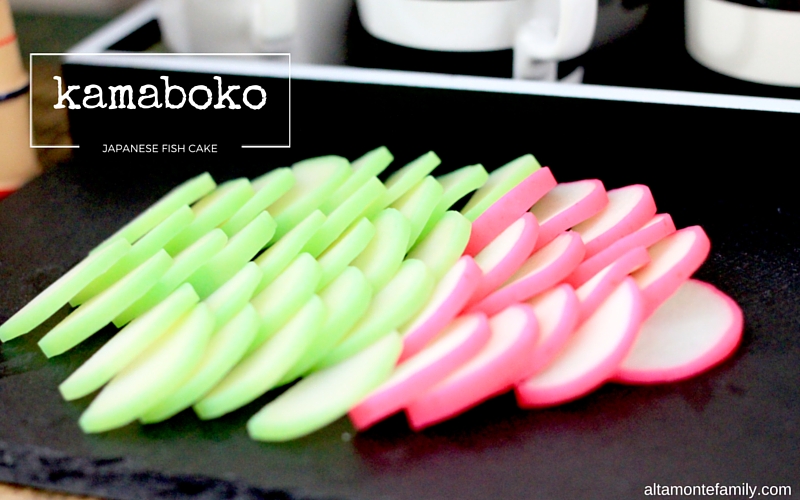 Kamaboko can also be eaten by itself or added on as an ingredient or topping to many other popular Japanese dishes. It's quite versatile!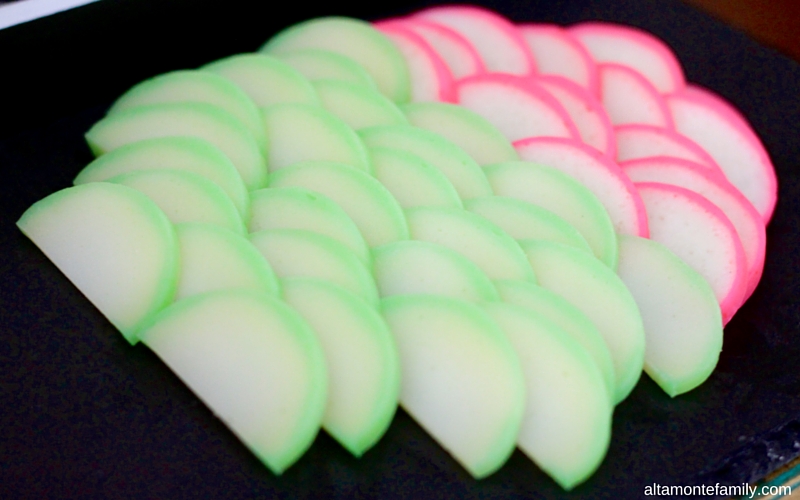 The Sweets
How could we not serve mochi for this celebration? We honestly think that mochi is awesome for any occasion 🙂 They're sitting pretty on a dessert stand with a black marble top and wooden base.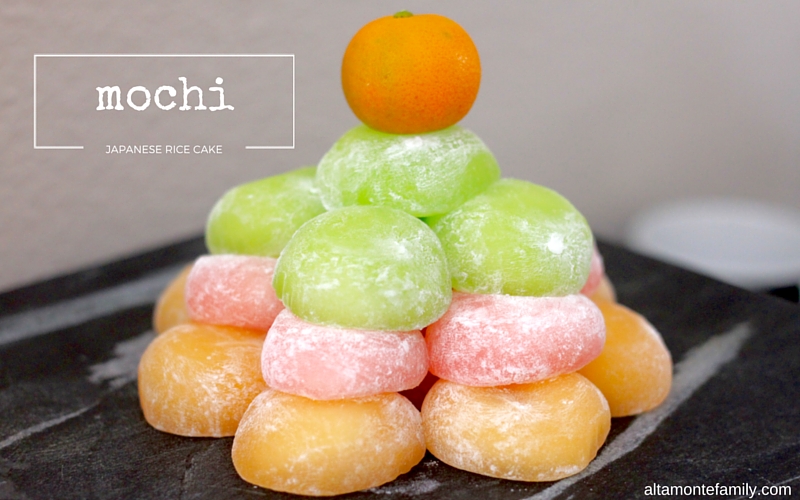 Our mochi came in a variety of flavors like strawberry, melon, and green tea.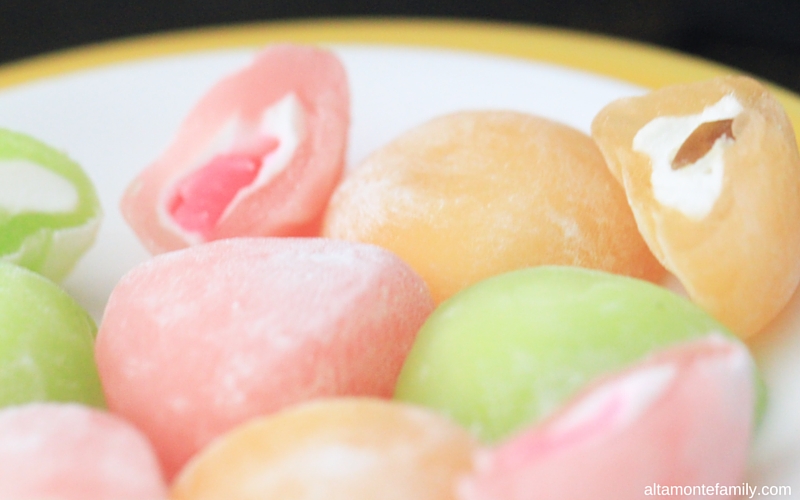 Green Tea
We served Japanese green tea in modern, nontraditional ceramic ware.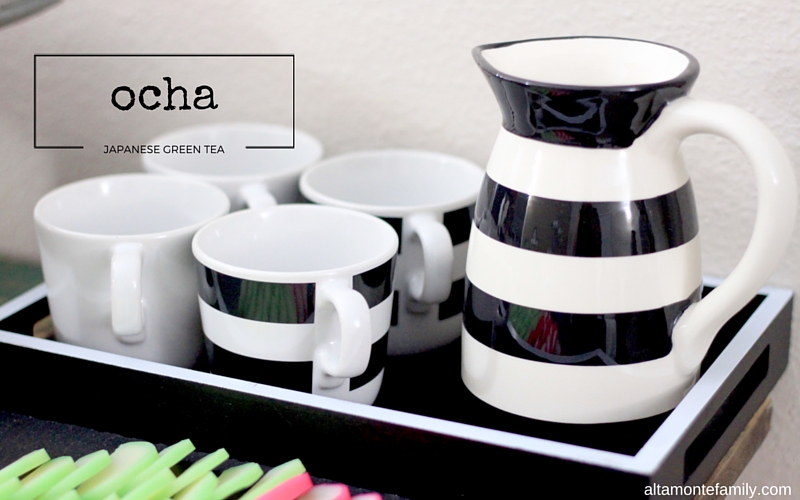 We didn't serve any rice or sushi for this celebration since we wanted to keep the meals light (we started our party at midnight).
The Party Bunting
We purchased our party bunting from Target and simply added on the numbers using our Cricut Explore Air and gold foil paper.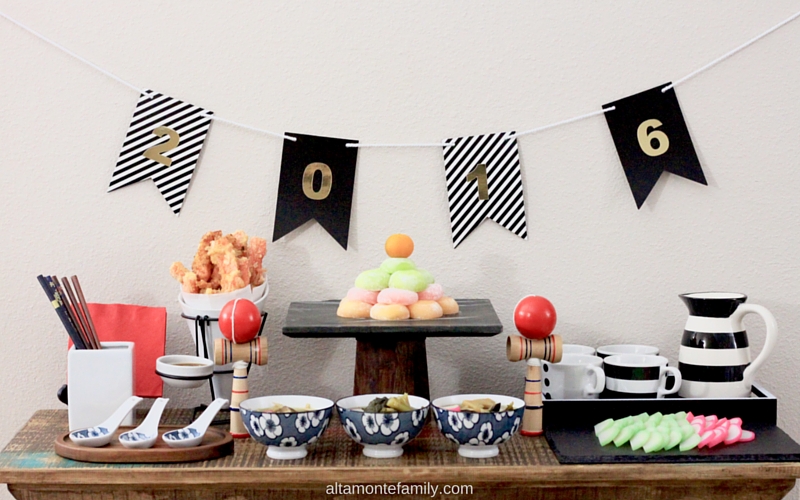 We hope you enjoyed celebrating a little bit of Japanese culture and tradition with us. Happy New Year!!
If you liked today's post, feel free to share, bookmark, or pin it! Enjoy!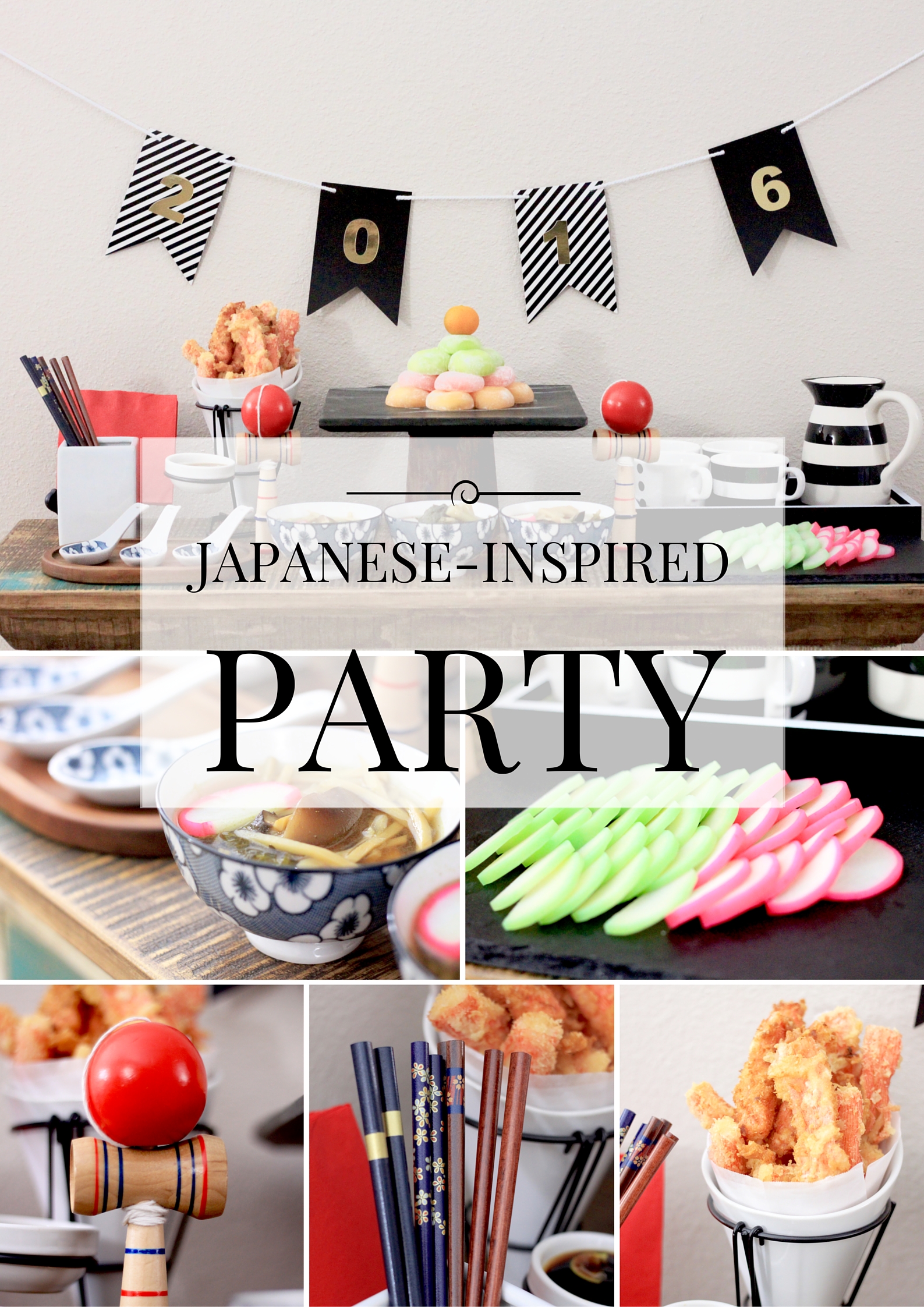 ---
We're Social! Follow us on Pinterest, Facebook, and Instagram for more updates on our latest projects and adventures.