Happy Friday! What's been cooking in your kitchen lately? If you're looking for some inspiration, we've got an amazing round-up of recipes from some amazing bloggers whom we've been following. From colorful and fun snacks you can make with your kids, beautiful fresh stacks decked with salmon, fruit, herbs, and a whole lot of other goodness, to delicious and convenient dinner solutions, we've got something for everyone to enjoy! We also made a simple, refreshing papaya fruit bowl to help you cool off if you happen to live in the warmer states like us. Anyway, you're probably getting HUNGRY like we are, so we'll get of your way. Let's go!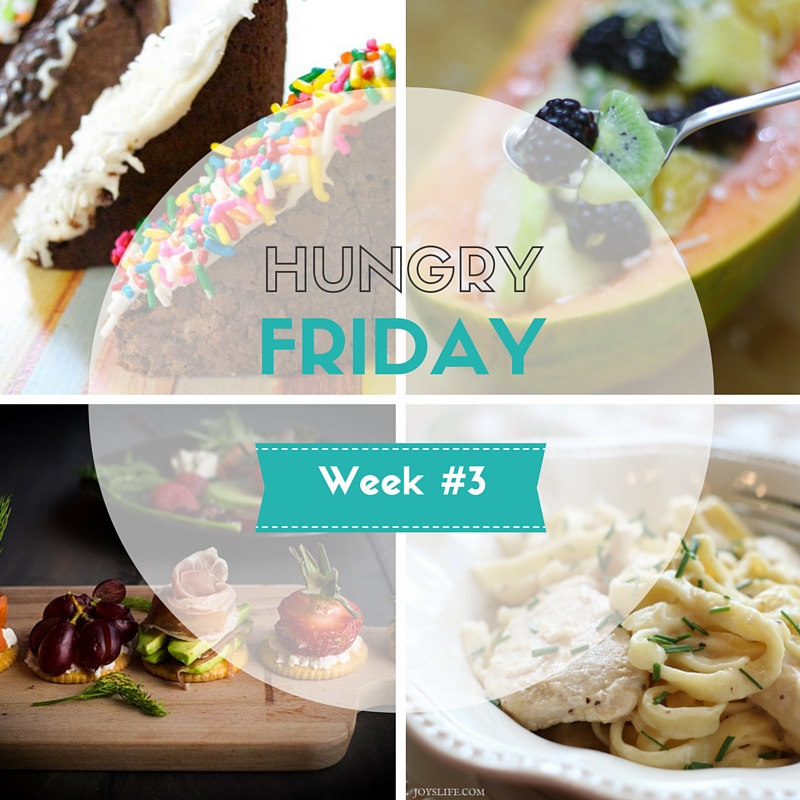 Hungry Friday – Week #3
Here's what's on the Hungry Friday Yummy Board:
Gourmet Fresh Stacks, 5 Ways | by Marvellina at What To Cook Today
Creamy Chicken Fettuccini Alfredo | by Joy at Joy's Life
Refreshing Papaya Fruit Bowl | by yours truly
Sprinkled Brownie Bites | by Jenn at Ever After In The Woods
Salads and Starters
Marvellina at What To Cook Today made 5 different, scrumptious Gourmet Fresh Stacks. All of them look oh-so-good, oh-so-appetizing! What's not to love? If you need some fresh ideas for hor d'oeuvres, she's got you covered!
---
Entrée
Joy recently shared an amazing dinner solution on her blog, Joy's Life. This Creamy Chicken Fettuccini Alfredo caught our eye, and when she revealed the secret to making this beautiful meal, we were in for a treat. Plus, she only used one skillet to make it! Life is getting a whole lot busier in our house as the summer approaches. We could certainly use simple dinner solutions like this! We'll definitely be back to visit Joy's post!
---
Dessert
We're already in summer mode over here in Central Florida. It is hot! This refreshing fruit medley thrown into a Papaya Fruit Bowl make for a delightful, lightened-up dessert. It's both delicious and nutritious! Plus, it's so easy to make!
---
Snack
These adorable Sprinkled Brownie Bites by Jenn at Ever After In The Woods are making us drool, especially when she described them as "rich and decadent with a chewy fudge center".
Our mind is going crazy thinking of all the fun toppings! She made these with her daughter–so, if you're looking for new recipes to make with your kids, definitely add this one to your list. It's definitely on ours–and we think these make the cutest food gifts! Who do you think could use a box of these yummies?
---
Hungry yet? Check back next Friday for more recipe inspiration!
The weekend is upon us–now, go forth and make some good food!
---
We're Social! If you liked today's post, feel free to share, bookmark, or pin it! Follow us on Pinterest, Facebook, and Instagram for more updates on our latest projects and adventures.