Happy Friday! We've got this burning question to ask you: do you sometimes find yourself daydreaming about food? How about staring at food? We're stuck between those two most times and somehow managed to convince ourselves that it's our new diet plan. The more we daydream and stare at food, the less likely we are to consume more food. Now, please don't judge. It's just a silly hypothesis from a bunch of hungry foodies 😉 Anyway, let's get this party started since we can't stop talking about food!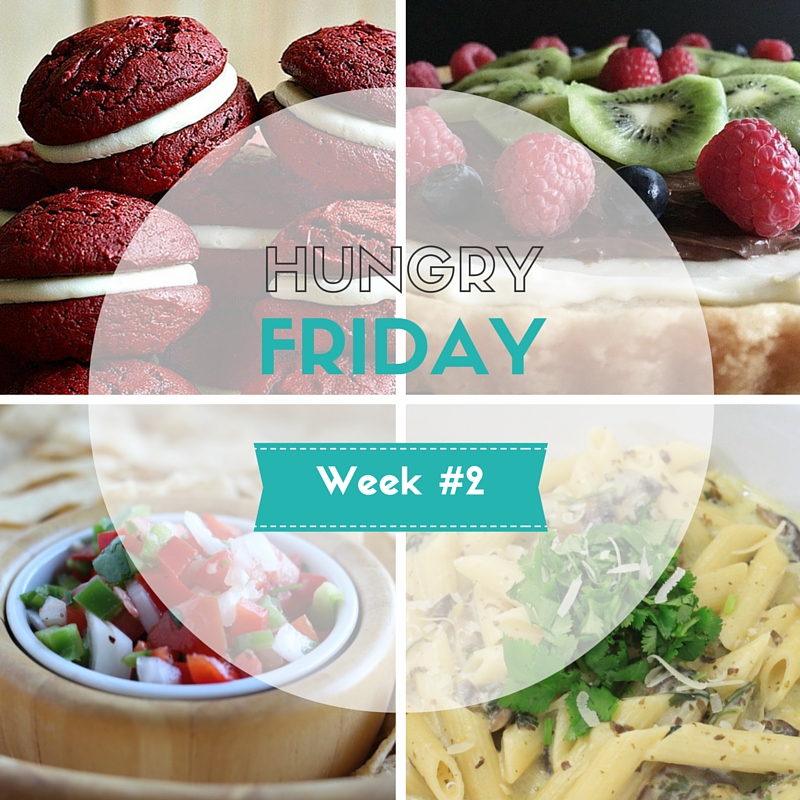 Hungry Friday – Week #2
Here's what's on the Hungry Friday Yummy Board:
Homemade Pico De Gallo | by Mary at Living A Sunshine Life
Fruit Tart | by Bernie at A Gouda Life
One-Pan Vegetarian Alfredo Penne Pasta | by yours truly
Red Velvet Whoopie Pie | by Andrew at Scrappy Geek
Salads and Starters
Mary at Living A Sunshine Life made this delicious Homemade Pico De Gallo (btw, we love that wooden bowl, Mary!)
Pico De Gallo is so versatile! With Cinco De Mayo coming up, you might just want to whip up a batch to kick up your appetizers!
---
Entrée
We picked up a bunch of fresh cilantro this week and thought we'd go vegetarian on a weeknight. This super easy, one-pan, no boil, no drain Vegetarian Alfredo Penne Pasta sure is a lifesaver when you're having a hectic week and you're craving some Italian-style pasta.
---
Dessert
Bernie over at A Gouda Life impresses us yet again with this beautiful Fruit Tart! She even has a funny story about this being a zero-calorie fruit tart at one point! We can't help but stare at those delightfully fresh toppings–oh, and that chocolate hazelnut spread! Adapt this for any occasion!
---
Snack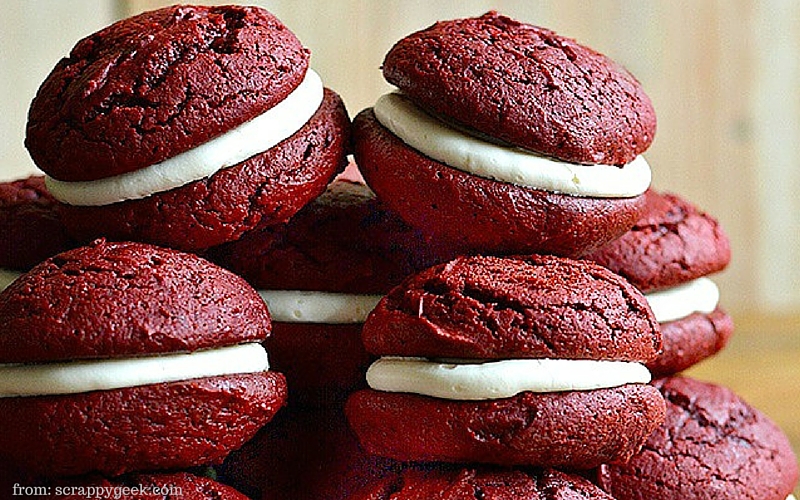 Now, here's a sweet treat that's sure to delight! How about snacking on a bite or two of these Red Velvet Whoopie Pies? Andrew at Scrappy Geek inspired us with an easy recipe! We're thinking of bringing these to the office and giving them to someone as a delectable homemade treat. Who will you surprise with these Red Velvet Whoopie Pies?
---
Hungry yet? Check back next Friday for more recipe inspiration!
Have a fantastic weekend–and go forth and make some good food!
---
We're Social! If you liked today's post, feel free to share, bookmark, or pin it! Follow us on Pinterest, Facebook, and Instagram for more updates on our latest projects and adventures.