Happy Friday and welcome to our first ever Hungry Friday post! We're celebrating our blog's first anniversary this month and we're just so thankful to have made a handful of blogging friends along the way. While we've made the most connections through Instagram, the friends whose work we're featuring today come from different online and offline communities. We're super blessed to have met them during our first year of blogging and we hope you'll take some time to get to know them, too!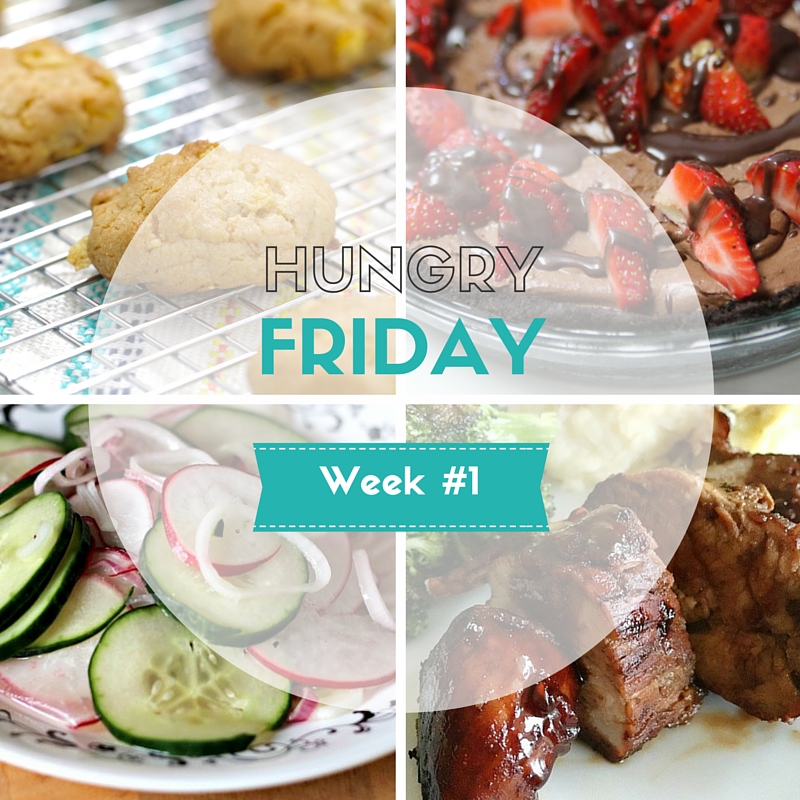 Hungry Friday – Week #1
Here's what's on the Hungry Friday Yummy Board:
Cucumber Radish Salad | by Mary at Living A Sunshine Life
Honey Balsamic Pork Tenderloin | by Bernie at A Gouda Life
Chocolate-Covered Strawberry Pie | by Keikilani at All My Good Things
Honey Almond Cornflake Cookies | by yours truly
Salads and Starters
For the salads and starters, we picked this delicious Cucumber Radish Salad prepared by Mary at Living A Sunshine Life. Don't the cucumbers look oh-so-refreshing? Makes us wish we could've picked them straight from the cucumber farm ourselves!
---

Entrée
Oooohhh… now, look at that glaze! This flavor fusion's got a little kick to it, so hurry over to Bernie's Honey Balsamic Pork Tenderloin recipe at A Gouda Life to get the scoop!
Learn how to prepare this delicious goodness in as short as 20 minutes tops, from stove top to table.
---
Dessert
As much as we'd love to go to the strawberry patch, this dessert's got us thinking that we just came from a local U-Pick farm! Keikilani over at All My Good Things has got us drooling over her Chocolate-Covered Strawberry Pie. Mmmm….
---

Snack
Okay, so here's our Hungry Friday contribution: Honey Almond Cornflake Cookies! These are seriously super good, you can't possibly go wrong how you go about making them with just a few ingredients. Pssstt–the secret is in the cereal! Make a batch and give a homemade gift to a friend, just because 🙂
---
Hungry yet? Check back next Friday for more recipe inspiration!
Have a fantastic weekend–and go forth and make some good food!
---
We're Social! If you liked today's post, feel free to share, bookmark, or pin it! Follow us on Pinterest, Facebook, and Instagram for more updates on our latest projects and adventures.